Welcome to my 10 Minute Traffic review.
I'm not going to lie to you. Free traffic is the best! Do you know why? You see, the conversion rate from cold to buyer traffic is 10x higher than with paid advertising. Free traffic is better because you're searching for people who are already searching for you.
Now, I'm used to seeing products and courses that promise to show you how to get tons of free traffic to your site, funnel, or a blog in less than 24 hours, without any hard work, or content creating, entirely on autopilot.
If this sounds familiar, it means that you've seen the sales page and now, you need an honest 10 Minute Traffic review. Is it possible to get free traffic in 10 minutes? Can you make money on autopilot with this course? Is it going to work like advertised or 10 Minute Traffic is a scam?
If you're looking for the answers, please, follow me in my review…
10 Minute Traffic Review – Overview
Product Type: Traffic Resources
Product Owner: Shawon Kayium
Product Price: $10 + Hidden Upsells
Money-Back Guarantee: 30-Days (questionable)
Recommended?: See Below…
Quick Summary: According to the sales page, with 10 Minute Traffic method, you'll discover:
The platform to earn an easy, recurring income
Exact strategy for creating profitable campaigns
How to get set up on the platform yourself
How to get started promoting (and earning!)
How to COPY & PASTE campaigns and results
How to get paid
And as you go through the sales page, you keep reading how this product is going to help you to make money in less than 74 hours, working only 10 minutes per day, and many other unrealistic claims. So are they real or false?
Well, for $8, you're getting access to a short training course where you can learn how to leverage YouTube and Quora to get free traffic to your sites, campaigns, or funnels. But this training is not comprehensive, and in my opinion, this is not the best way to get free traffic.
Long story short, 10 Minute Traffic is an overhyped training course that is best for owners. You see, those $8 turns into $ 100's as soon as you enter the sales funnel. Keep reading my review for more info…
Or, if you are sick of overhyped programs that advertise overnight success, but they never work as advertised, make sure to check out a PROVEN WAY to making money online…
THE BEST WAY TO MAKE MONEY ONLINE IN 2023 >>
What is 10 Minute Traffic About?
10 Minute Traffic is a brand new method for making consistent affiliate sales with the most effective free traffic entirely on autopilot. The technique allegedly works without a website, email list or any technical skills on your side.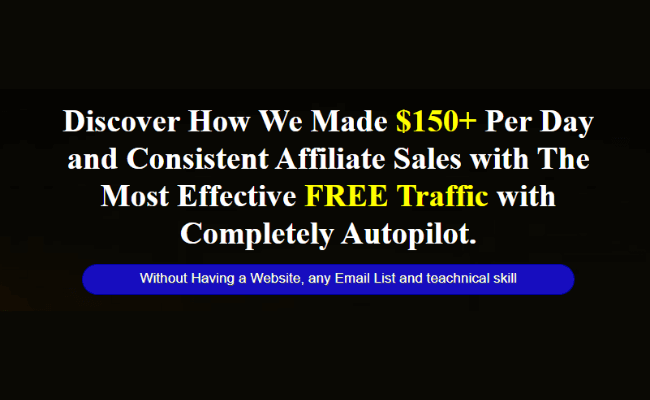 Features and Benefits
The PROVEN method with results … and it's working better today than ever!
Completely beginner-friendly – no skills or experience needed
A UNIQUE twist on free traffic & monetization that's NEVER been shared before
See consistent results in as little as 72 hours
Generate MULTIPLE streams of 100% passive income in under 10 minutes per day
Set & forget' passive income machines take minutes to create … and KEEP generating profits
Copy Paste guides show you how to DUPLICATE Our $150 DAILY profit results of the system creator
And do you want to hear the best part?
The method is so simple and easy to use, and it is going to bring you results in as little as 72 hours. All you have to do is work for 10 minutes per day to activate this free traffic, and you'll be making daily profits of $150 or more!
That is, of course, what the sales page has to say about 10 Minute Traffic. However, the other side of the story is somewhat different from that you have had a chance to hear so far.
So what is it then? Is it a scam or legit?
You see, 10 Minute Traffic is a short training program that teaches a few simple and widely known methods for getting free traffic. There's nothing new or secret about these methods. In fact, if you're an active affiliate or a blogger, I'm sure you've been using one or all methods at least one before.
So no, it's not a scam, but more about this later in the review. Let me tell you how this method works.
Related: Traffic Takeover Review
How Does 10 Minute Traffic Work?
Within the training is of 10 Minute Traffic, you'll discover a set of very low-quality training videos where the owner is going to show you how to get free traffic from YouTube. That is the secret method you've been waiting for.
But in all fairness to the creators of this training program, I wouldn't say that this is going to live up to those expectations from the sales page.
You see, the training is not even a real training. All you get is a basic overview of YouTube video marketing. They show you how to how it works, and they explain video SEO. True, YouTube videos are a fast way to get rankings on Google and thus to get some traffic.
But what about the rest of the system?
It's not enough to show you how to rank videos on YouTube. If you don't know how to leverage this method effectively to promote product and services through affiliate marketing, then what's the use of this training?
Like I've said, 10 Minute Traffic is an overhyped training program that promises too much. This is just one of those low-quality training programs that you want to avoid. I'm not going to say it is a scam, but it's very tempting to say it is.
Just ask yourself. If posting videos on YouTube is enough to make money online, then why everyone isn't doing it?
The answer is simple. It's because it's not that easy to earn revenue from YouTube as they want you to believe. As I said, YouTube SEO is faster than Google SEO, but it requires the same amount of work, passion, and expertise to achieve significant results.
So can you achieve any results with this?
Well, I've never seen someone started with affiliate marketing and said he or she had made $ 100's in just a few days. This is not possible with free traffic. Why? Well, because you need to create a lot of content to get a significant flow of traffic. It's not enough to post one or two videos and expect floods of traffic and cash.
I'm not going to say that you can't achieve results with this training. All I'm saying is that you shouldn't be expecting to earn 100's per day as soon as you start.
In my opinion, 10 Minute Traffic is, as I said earlier in this review, a low-quality and overhyped product that does not live up to the claims from the sales page. That said, let's see what you get with this.
What is Included With 10 Minute Traffic?
In the previous sections of my review, I was talking about the 10 Minute Traffic training. Let me now show you the content of the training as well as the rest of the program. This way, you can decide for yourself whether it is a scam or not.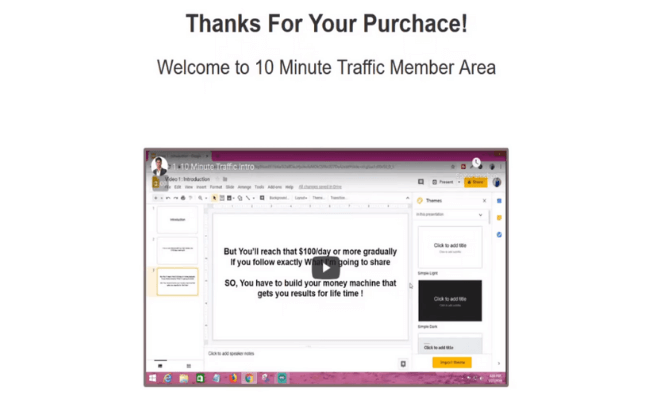 Training Videos
Lesson #1 – Intro
Lesson #2 – The Method Overview
Lesson #3 – How It Works
Lesson #4 – Video SEO
Lesson #5 – On-Page SEO
Lesson #6 – Final Overview
Lesson #7 – Everything is DFY
Lesson #8 – Problem Solver
Lesson #9 – More Money In the Table
Lesson #10 – Get Free Traffic From Quora
Lesson #11 – The Basic Overview
Lesson #12 – How to Use YouTube Video as an Answer on Quora
Bonuses
Bonus #1 –

10 Minute Traffic Ultimate FREE Traffic Method

Bonus #2 –

10 Minute Traffic Commission Booster

Bonus #3 –

VIP Facebook Community & Coaching

Bonus #4 –

Shawon Exclusive Bonuses
Inside of the 10 Minute Traffic program, you're going to find two more features. On is called a Quick Start Guide and it's designed to help you set up the system faster. The second feature is a Case Study video where you can see how the owners are making money with this system
Also, you're going to get another chance to buy upsells within the members' area. The first chance is going to be right after you pay to get access to this training. Speaking of which, let's take a look at the full price.
How Much Does 10 Minute Traffic Cost?
According to the sales page, the regular price of 10 Minute Traffic is $97. However, the price is lowered down to only $7,95 one time. In my opinion, this is precisely how much money this course is worth it. Not a cent more…
Also, since this course was designed to make money for the owners, they will push you into buying expensive upsells.
OTO #1 – 10 Minute Traffic Done For You Pack ($27)
As its name suggests, this OTO will provide yours with entirely done-for-you templates. You can use these campaigns to replicate the proven results. You get the same promo text, video and the rest of the campaign including the products.
OTO #2 –  10 Minute Traffic Super Simple $300/day Method ($37) 
This OTO gives you access to some method that is supposed to ensure you make 3- figure days alongside the primary process.
OTO #3 –  10 Minute Traffic FULL Resale Rights ($47) 
If you take this OTO, you'll be able to resell the 10 Minute Traffic training program and keep 100% commission across the entire funnel, upsells included.
OTO #4 –  10 Minute Traffic One on One Coaching ($197) 
the last OTO is giving you access to 1-on-1 coaching with owners of the training program. They promise to show you how they are earning $ 1000's per day selling top-level programs.
Related: iTrafficX Review
What I Like About 10 Minute Traffic
Honestly speaking, 10 Minute Traffic is a cheap crash-course that teaches about Youtube marketing. Sure, YouTube is a faster way of getting free traffic, and this course does contain some useful info, but it's far from legit.
A good thing about this offer is that you can get your money back. However, even though the information from the sales page says so, I would advise caution.
Sometimes, product vendors will ignore your refund request until the 30-day period passes, which is not a cool thing and could lead someone to say that 10 Minute Traffic is a scam.
But that's just a warning…nothing else.
Cheap Course on YouTube Marketing
30-Days Money-Back Guarantee
What I Don't Like About 10 Minute Traffic
Huh! Where to begin? First of all, I don't like the sales page for 10 Minute Traffic. I know a lot better and those promises seem like straight-up lies to me. And those income claims. Wow! What a load of overhyped BS.
Then, once you get access to the training area, you'll find a low-quality training course. So basically, you were hyped up to get inside and spend money, but the quality behind does not match the offer and that is a problem in my opinion.
In my opinion, just like many schemes out there, 10 Minute Traffic is designed to make monye for the owner. As you can see in my review, there are some upsells waiting for you as soon as you sign up.
And lastly, I haven't seen any user testimonials that could convince me that this offer is a real deal. And since there's no testimonials, I'm inclined to say that this is just another overhyped crash-coursde that does not work for its users.
Overhyped Sales Page
Unrealistic Income Claims
Low-Quality Training
Expensive Upsells
No Testimonials from Users
Is 10 Minute Traffic a Scam?
It's time to answer the dilemma. Is 10 Minute Traffic a scam or legit? Well, in my honest opinion, it's a legitimate product. I found a training program that talks about YouTube marketing which is a legitimate method of making money online.
But if I have to be completely honest with you (which I always am), I'm very close to saying that 10 Minute Traffic is a scam. I mean, they have told you how you can set and forget this method and make $ 100's per day on autopilot, which is not the real representation of what this product can do for you.
In my opinion, it's unethical to promise such things. And the reason why they do so is that they are looking to make as many front end sales as possible and then to sell you some more upsells. In other words, the whole thing is geared toward making money off you.
Yes, you do get the training inside. However, this is not something that I would classify as a legit training that helps people to make money online. It's very close to being called a scam. I don't see any value in this product at all.
Related: 10 Minute Paydays Review
Do I Recommend 10 Minute Traffic?
My aim with this review was to help you find out what exactly this product is about and whether or not it is worth your time and money. That said, I don't recommend 10 Minute Traffic. It's not a 100% scam, but it's very close.
You see, I never recommend products that make such a blood claims like "Generate MULTIPLE streams of 100% passive income in under 10 minutes per day" or "Set & forget' passive income machines take minutes to create … and KEEP generating profits."
Those claims are entirely unrealistic and have nothing to do with YouTube marketing, getting traffic, and making money online. It's all about painting an overhyped picture to make you buy this product without giving it a second thought.
Moreover, I haven't found a single testimonial that could confirm that this training program works and that could convince me to say that I recommend it.
Conclusion and HONEST Recommendation
At the end of my 10 Minute Traffic review, I want to say thanks for reading. I hope this review was helpful, and I hope you now know all you need to know about this product.
If you don't want to waste your time and money on another scam that is best for people behind it, I want you to click the button below and discover a proven training for making money online.
The training program that I recommend on the next page is a leader in the industry for over ten years and has helped 1000's so far to start a successful online business.
I personally used this exact system to go from $0 to earning $100's per day!
Make sure to check it out. See you on the next page!
THE BEST WAY TO MAKE MONEY ONLINE IN 2023 >>
If you need any help or you have a question, feel free to contact me.
And don't forget to share this review with your friends and family!
All the best, Ivan. Founder, and CEO @freeaffiliatemarketingbusiness.com