AD Code Review – It Smells Like Another Banner Ads Scam!
Welcome to my AD Code Review. The site guarantees profits up to 5K per day starting today! It all looks fine and dandy, but there's a possibility that the AD Code is a scam. I've inspected the site thoroughly to help you learn more. Let's go!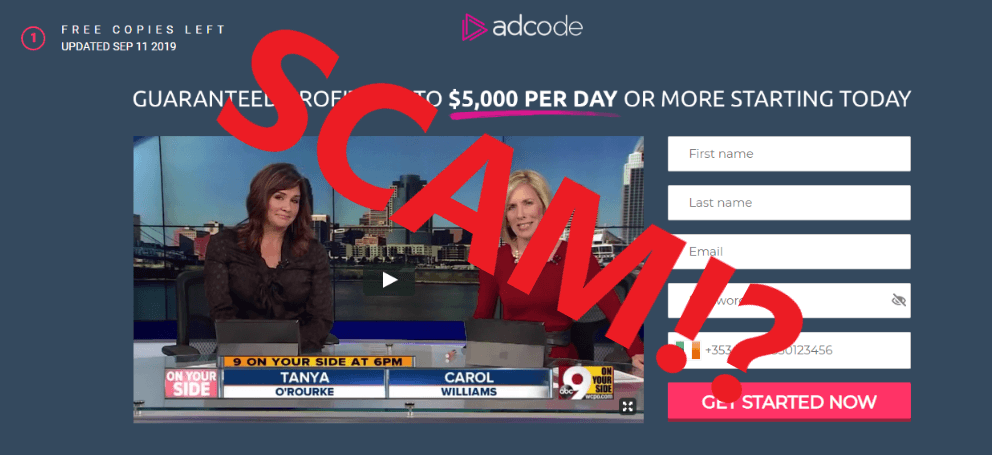 Official Website: adcode.io
Product Type: Banner Fliping Platform
Owner: Rob Goldman (Fake Name!)
Price: Free to Join + $300 Deposit + Thousands Afterward
Recommended?: No!
Quick Summary: AD Code is a site designed to funnel you to ClickRally. It's a bogus trading platform where you can lose your entire savings. Everything related to this site is fake. The owner is a fake character. Customer testimonials are Fiverr actors. Earning claims are fake. Media endorsements too. Loong story short, I do not recommend this. I believe that it's a scam designed to rip you off. I have plenty of evidence laid all over this review.
==>Click HERE for My #1 Recommendation<==
Many websites online are doing a great job to convince you that you can start making money as of today! To me, those statements sound ridiculous. In most cases, I prove them to be wrong.
Is it the same case with the AD Code?
Truth be told, making money flipping banner ads online is impossible!
The website you're interested in claims that you can start profiting quickly by doing nothing. The promotional video is designed to make you believe that you can get rich quick with little to no effort. It sounds too good to be the truth, and it is.
Rob Goldman has created a lot of hype around his site. However, he is not 100% honest with you.
In this AD Code review, you'll learn what's behind the promo site, how much it could potentially cost you, how it works, is it a scam, and more! By the way, I congratulate you on researching before believing these shady people.
What is the AD Code? 
According to the promotional video, the AD Code is a 100% legal app that allows you to profit from anywhere in the world. Of course, it's nothing like you have ever seen before. This magical app has nothing to do with Internet marketing, forex, cryptos, stock, gambling, or MLM.
Rob continues the story by saying that this app is entirely done-for-you. It provides a way to a secure, consistent income without having to risk your life savings. He claims that the AD Code is the most powerful way to make money online using banner ads.
To make you even more excited, Rob claims that he's going to give you a free cash bonus to get started! Now that's one generous guy.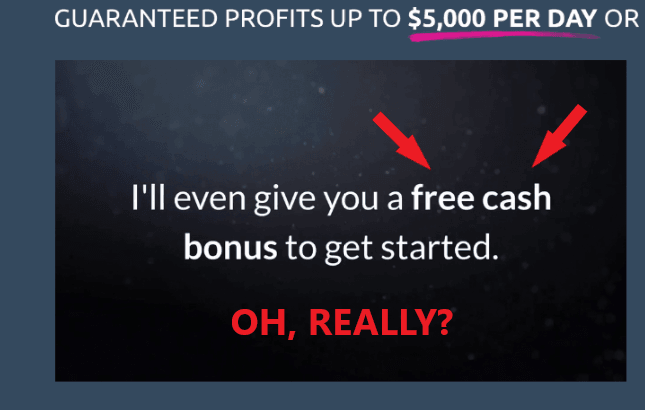 Rob sounds mighty convincing. What do you think? Is he telling the truth?
Naah…
If you watched the video, you had a chance to see a few people who claim that they have been making ridiculous amounts all thanks to Rob and his app. But if you look more closely, you'll see that they are reading the script.
So what does it mean?
It means that these people are faking it. I'll prove it under the AD Code Warning Signs headline. And that's not the only lie you can stumble across. There are many! The whole thing is most likely a scam that is designed to bleed your wallet dry while selling you some crappy story about making thousands doing nothing.
You see, the AD Code is not even a real thing. After I inspected this website, I learned that it serves only as a doorway to something else. If you enter your details, you'll land on a completely different site, which I'll discuss under the What's Inside headline.
Who is Rob Goldman?
I lost a few hours surfing the net trying to find out who Rob Goldman is.
Since he is not sharing more about himself, I Googled the name a few times in the hope that I'll find more about this guy. I've searched for Rob Goldman the AD Code founder and CEO. I even looked up the stock images database in the hope to discover something more.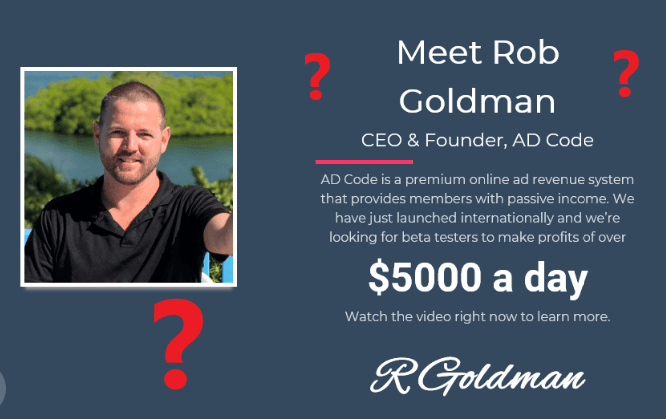 Unfortunately, no results came back to me. Zero!
The situation led me to believe that Rob Goldman is probably not even a real person.
He might be a fake character designed to make you trust the words from the video. You see, many scams online are using the same tactic to trick people into buying. It looks like this one is doing the same.
==>Click HERE for My #1 Recommendation<==
What's Inside of the AD Code?
As I've said earlier, the AD Code is a webpage designed to funnel you to another site.
Once/if you fill in your details, you'll be redirected to a site called ClicksRally.com. Here, you will get an account that you can use to flip banner ads as explained by the video. But as I've said, it doesn't work as it should have. I'll explain this in a few short moments.
I tried to learn more about ClicksRally. I was wondering if its a real deal or a scam.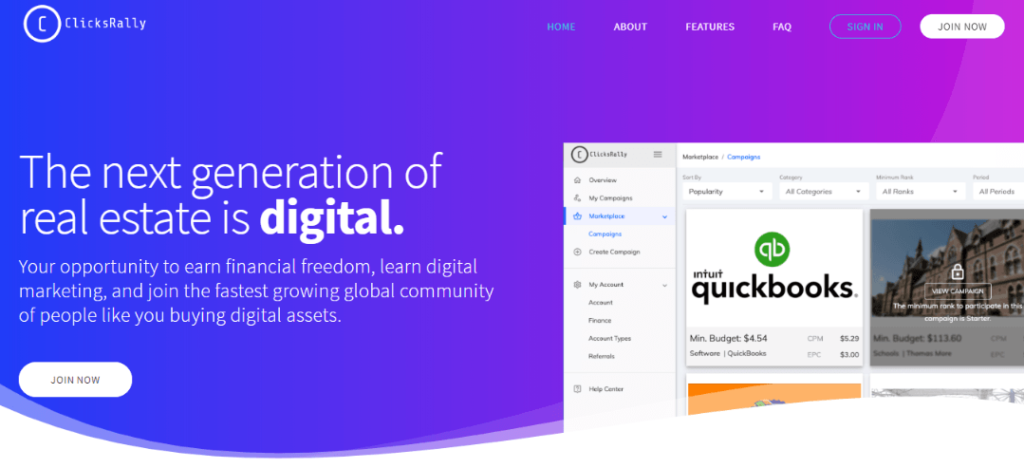 I have discovered that the site was launched nine months ago and that's it. There isn't too much information available about them.
No online reviews, no customer reviews, zero, nothing!
I feel the smell is getting stronger and stronger.
There's another thing that I've found confusing.
The company is registered under Leo Capital Ltd, with the address in Bulgaria and with head office in Dublin, Ireland. However, after a quick Google research, I discovered the same company only this on is based in India and not a single word about the one in Bulgaria or Dubline came out.
That's strange.
I don't know about you, but the whole thing looks like a massive scam to me. I reviewed a similar scam called ClicksDealer. It seems like the same story repeats itself here as well.
How Does AD Code Work?
In theory, and based on the info from the promotional video, the AD Code (ClicksRally) works in a way similar to flipping real estate.
Once again, in theory, you need to register with the site, make a deposit, buy a banner ad and that's all to it. You can choose to run your ad to earn an ROI, or you can sell it (flip) for a higher price to someone else.

Does it sound too good to be the truth to you as well?
Hmmm, guess what?
You see, flipping banner ads is not even a real business opportunity. These guys are watching for newbies to the make-money-online world. The main goal is to get you in through sexy video so that you can start making deposits.
Chances that you'll see your money again are close to zero.
How do I know this?
Well, I'm not the only one who is on a lookout. One of my trusted resources did a great job to learn more about these ad flipping websites such as AD Code, Clicks Rally, and already mentioned, Clicks Dealer. He proved what we were suspecting. These banner ad flipping sites are scams!
These scams are designed to look like a once in a lifetime opportunity. People behind them did an excellent job to make it look like it's a real thing. I've reviewed a few others that work on the same principle. You can take a look at The Bitcoin Code, for example.
==>Click HERE for My #1 Recommendation<==
Can You Make Money With AD Code?
Once again, in theory, and according to the spokesperson in the video, you can make thousands doing nothing at all.
However, I strongly disagree once again. I've seen this too many times. It never works like that.
Let me explain.
In a nutshell, they catch you with the video like you've had a chance to watch earlier. Then they pull you in because it's free to join the site, like Facebook or any other. But before you can start making those fat checks, you need to deposit a few hundred to get started.
Logic, right?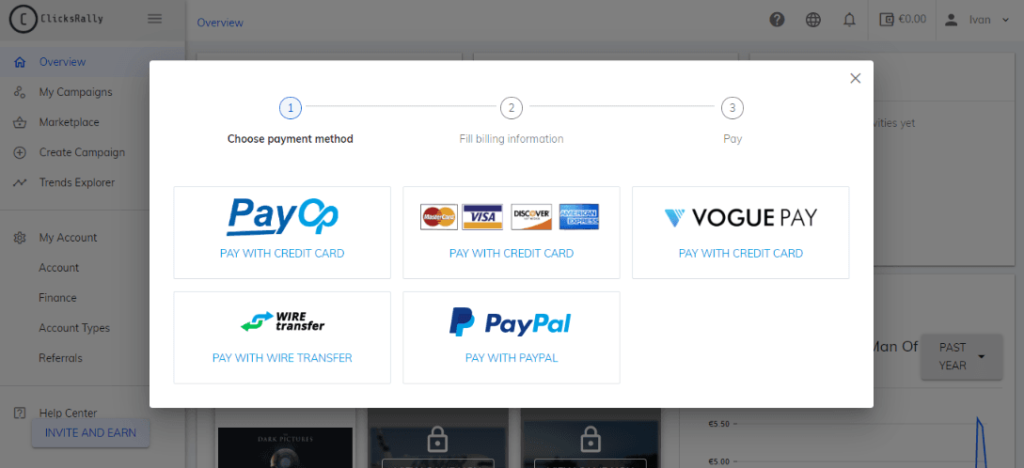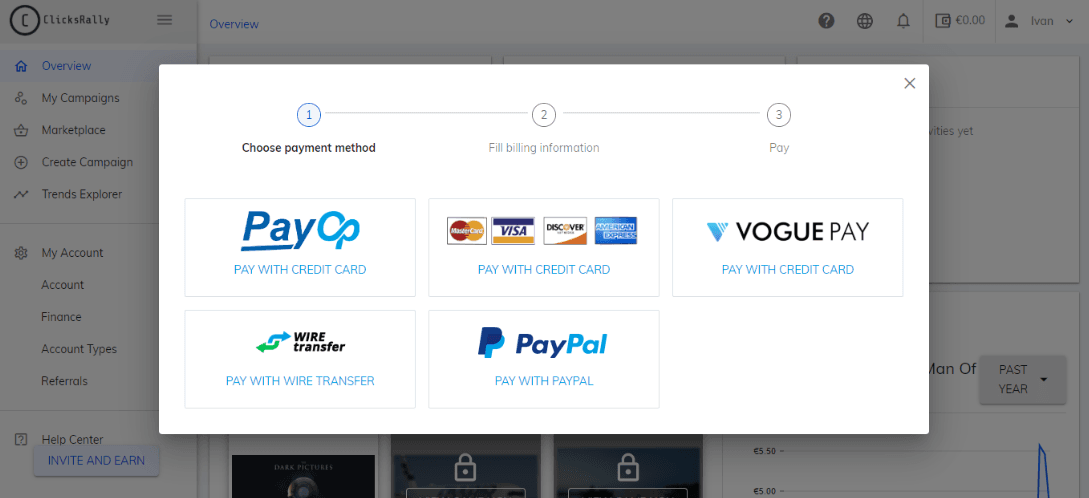 This is what happens after you make a deposit. Your account will start to grow slowly. The feeling of success will make you trust these sites even more. And if you are like most of us, you'll start making new deposits while it's hot.
Once you hit the minimum payment threshold, you can take some of your winning out. If you try to do so, it's not going to take a long time for you to realize that you've just been scammed! The whole thing is rigged to steal your confidence and your hard-earned cash.
So my answer is, NO! You can't make money with the AD Code. If it's possible, you shouldn't have any problems finding a pair of genuine testimonials. And, if it's possible to make money flipping banner ads, don't you agree that everyone would be doing it?
What's the Price of the AD Code?
As you know, you don't have to pay anything to join the website behind the AD Code. However, you'll need to start making deposits if you want to make the system work, which I strongly suggest that you don't do!
Also, these guys are offering a few packages to their members.
These should allegedly help you to make more money by reducing the platform fees. Also, give you access to premium features such as direct chat with the customer service agent and other BS.
As you can see from the image above, these packages are not cheap! And, I believe that they are nothing but another dirty attempt to get more cash out of your pocket.
AD Code Warning Signs:
1.) No Info About Rob Goldman – The Owner
The first thing that appears to be strange here is a severe lack of transparency. Yes, the guy flashes a few pictures, but that's all there is. No about me page, no social media link, nada, zero!
If the owner doesn't show his real face or give you his real name, you can be sure that he or she is doing something shady. If the product or service is legitimate, the guy would be proud to give his true identity.
2.) Fake Scarcity
The counter that counts how many copies have left is actually a widget. It designed to automatically count from seven to one every time a new prospect lands on the AD Code webpage.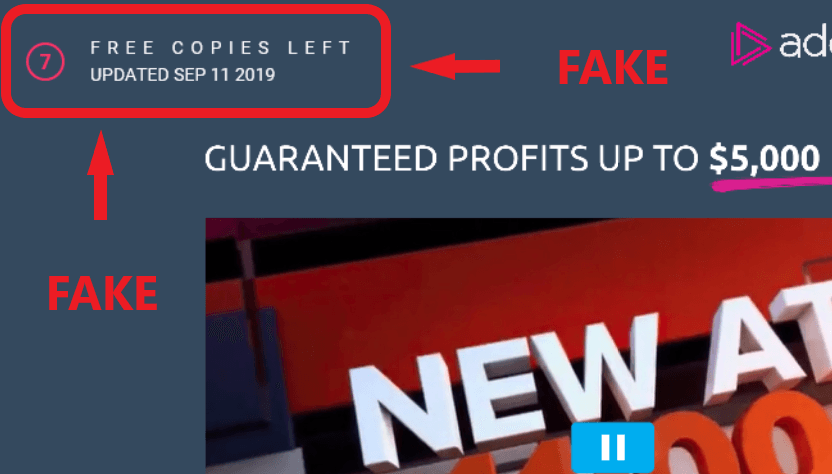 The widget is not the only trick they use to put pressure on your decision. As you move through the video, the guy is trying to scare with sentences like "if you dilly dally you'll lose you free lifetime access" and many others. It's all fake!
3.) Clicks Rally is Shady & Not Trusted Site
AD Code doesn't even exist. They make you believe it's a real website. But it only serves as a funnel to Clicks Rally, which is a site that I wouldn't trust, not even in my wildest dreams!
No matter how young the company appears to be, you should be able to 'Google' them and find a few testimonials, reviews, or just general information. Clicks Rally is flying under the radar, and that worries me a lot.
4.) Outrageous Earning Claims
Sites like the one in the review are usually full of get-rich-quick BS. The same trend follows here. If you take a look at the image below, you can see some of the most outrageous earning claims I've ever seen.
These numbers are fake. They serve only one purpose. And that is to trick gullible newbies into believing that making this kind of money is possible as soon as they start.
Note: Making money online comes as a result of hours of hard work and study. It's possible but not by a push of a button like it's advertised on the AD Code site.
5.) Flipping Banner Ads is Not a Real Business
If you don't trust me and everything that I wrote about flipping banner ads and making money off the same, please, do Google research on the business and let me know if you have found anything.
It's a fact that flipping banner ads to make money is a hoax. It's not a real business opportunity! The only one who is going to make money with it is the guy behind the whole charade.
6.) Fiver Actors Appear in the Video
As it's promised, I'll show you how I know that those testimonials are fake. I've recognized a few of them as soon as they've appeared in the video.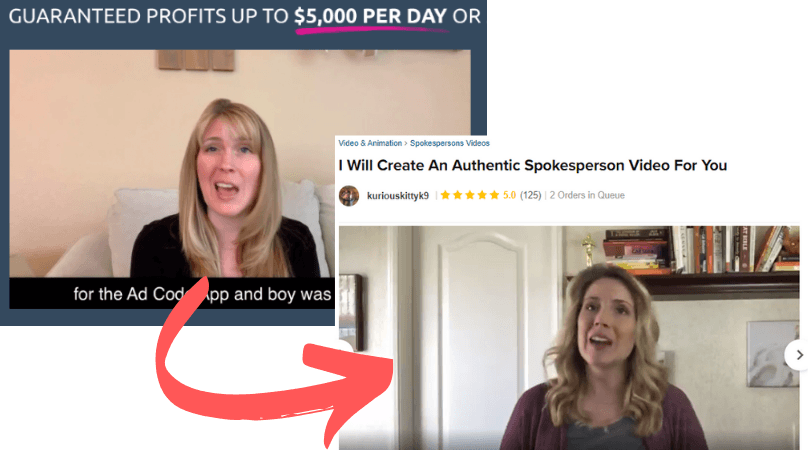 Those people are Fiverr actors. They offer a spokesperson video service for products like the AD Code and other scams. You can visit my reviews section and take a look at some of the not recommended courses. You'll find them in there as well.
Is AD Code a Scam?
You've got enough evidence to decide whether or not the AD Code is a scam.
While I was researching the material to write this review, I've got access to ClickRally. I didn't take any action, nor have I deposited my money. However, I wanted to terminate my account, so I've contacted the company through the email address they've left on the site.
Every other (legit) company responds to its customers within the first 24 hours, most of the time, the response is immediate.
Since I've sent my request, I'm still on hold for someone to answer me back. But it could be that I will wait in vain.
You see, fake companies like ClickRally stay online for long enough to get a few 'customers.' As soon people start to notice that something is wrong there, and negative reviews start to pop out, they will close the site and move on to making the next one.
==>Click HERE for My #1 Recommendation<==
Do I Recommend the AD Code?
Based on everything you've had a chance to read in this review, it would be foolish to say that I want you to have anything to do with AD Code or ClicksRally.
The whole flipping banner ads scheme smells like a rotten fish to me. And do you know what they say? If it smells terrible, it tastes the same. Or something like that.
Anyway, I recommend staying away from those two sites. Do not deposit your hard-earned cash and stay safe.
How to Start an Online Business for Free?
Thanks for coming to the end of this AD Code review. It shows that you are a serious person who takes every step with the most attention.
If you are interested in learning how to start an affiliate marketing business for free and make money online, I got here a great alternative to those money-sucking offers.
This process is proved by thousands of online marketers all over the globe. You are looking at the one right now. 🙂
Wealthy Affiliate is, in my experience, the best affiliate marketing training course on the internet. These guys are teaching people how to start an online business and super-successful affiliate marketer every single day! Traffic training included!
The best thing is, it entirely safe and free to join. Make sure to check it out!
If you need any help or you have a question, feel free to contact me.
All the best, Ivan.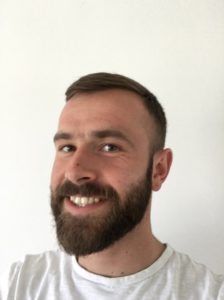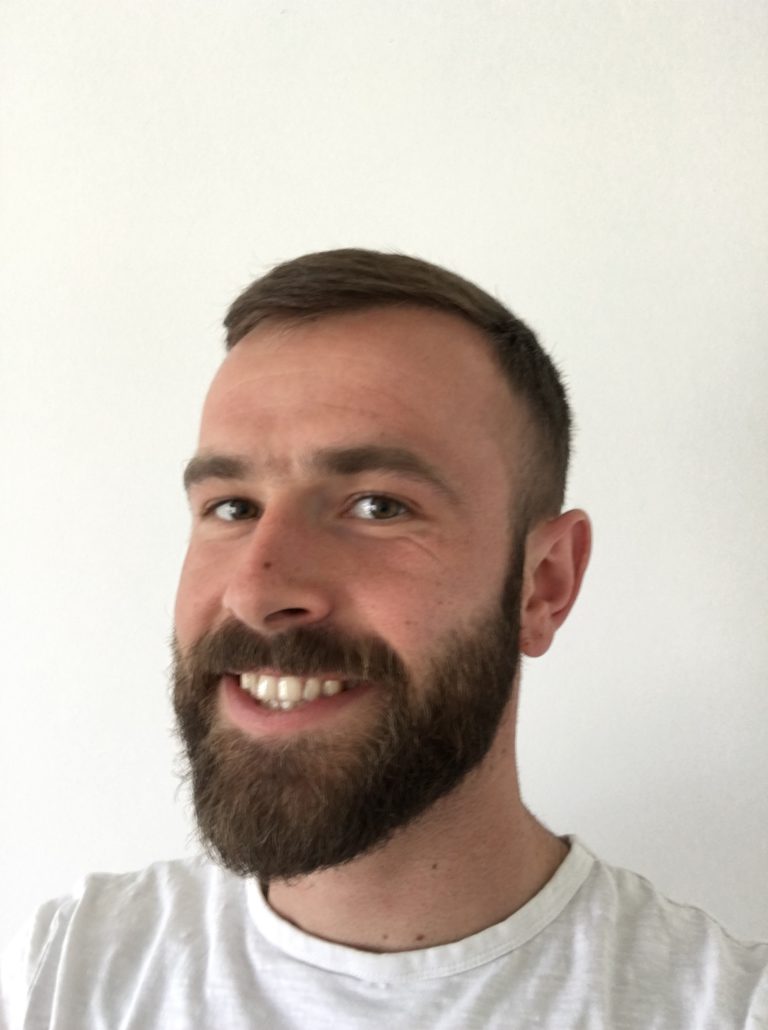 Founder, and CEO @freeaffiliatemarketingbusiness.com