Welcome to the AD Formula review.
A few days ago, I had the opportunity to review another website that looks like a copy-paste version of AD Formula.
Both sites claim that you can get rich quickly if you fill in your details and become a 'beta-tester.' No charges whatsoever!
These guys claim that you can make money without having to do a thing. Just fill in the form, buy some banner ads, and watch how the profits grow.
But if it's so easy to make money, don't you agree that everyone would be doing it? Unfortunately, those who unfortunately fall into a trap could lose a lot of money.
The only person who is really making cash is the person behind this scheme. So is the AD Formula a scam or legit?
By the way, congratulations on researching before giving away your hard-earned cash. If you are tired of scams and fake websites, check out the best way to make money online.
In this AD Formula review, I show you what's really behind the webpage and a few scam signs as well. In my opinion, the AD Formula is a scam and I'll show you why exactly so let's go already, shall we?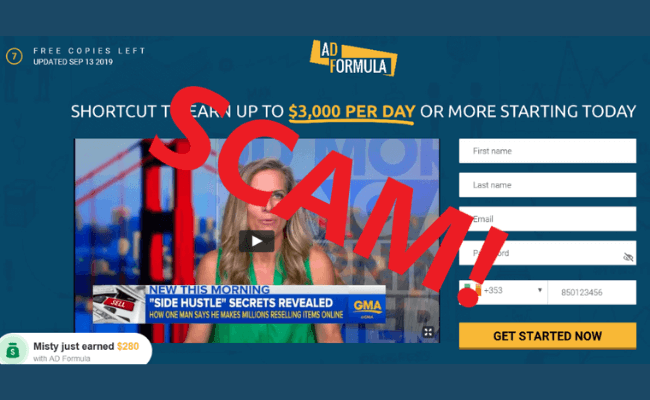 AD Formula Review – Overview
Product Type: Ad Banner Scam
Product Owner: Jack Heaton (fake person)
Product Price: various
Money-Back Guarantee: not available
Recommended?: NO! See the summary below…
Quick Summary: Jack Heaton claims that AD Formula is a revolutionary system for making money online using nothing more than the power of banner ads.
It's not a get rich quick scheme or a passing trend. It's also not some fancy software either. The system provides members with a passive income, and it does everything for you. Wow!
In other words, it means that AD Formula is every person's dream come true. I've heard this several times before. How about you? Sounds familiar?
You see, Jack claims that you can make money every time someone clicks on your banner ad. Also, you can even sell banners for up to five times or higher than the price you paid for it.
Hence the term flipping banner ads. But once again, it would be freaking amazing if the system works.
I've researched the net for hours to find a legitimate platform or a website that can offer the same service.
Guess what I've found? Nothing!
This whole AD Formula banner ad flipping thing is a scam designed to put its hand into your wallet. Not only that, but Jack Heaton is not even a real person, testimonials are fake (see evidence in this AD Formula review), earning claims are fake, etc.
In other words, the AD Formula is a scam and you should stay away from it.
My #1 Recommendation is a 100% legitimate online platform that helped me to go from $0 to earning $100's per day with affiliate marketing. Wanna follow in my footsteps?
THE BEST WAY TO MAKE MONEY ONLINE IN 2023 >>
Who is Jack Heaton?
They did an excellent job to make you think that Jack Heaton is the man.
He seems like a legit guy, right?
However, if you google the name Jack Heaton, CEO & founder of AD Formula, the results you're going to get are similar to what you are about to read here.
In other words, Jack Heaton is a fake character. He doesn't even exist. I'll prove this at the end of my AD Formula review.
What's Behind the AD Formula Webpage?
The AD Formula webpage is a funnel, meaning, that it's designed to lead you onto something else.
I've reviewed a few others that are doing the same thing. And every time it ends the same.
In other words, it turns out to be a scam.
In this case, you are redirected to a platform called Blue Lable from where you can start "flipping banner ads."
I tried to find more information about this company. But nothing came back. There's no website or any other source of information that can prove that this company is legit.
As it turns out, it doesn't even exist.
But here's what I did found. If you take a look at the image below, you'll see two same websites.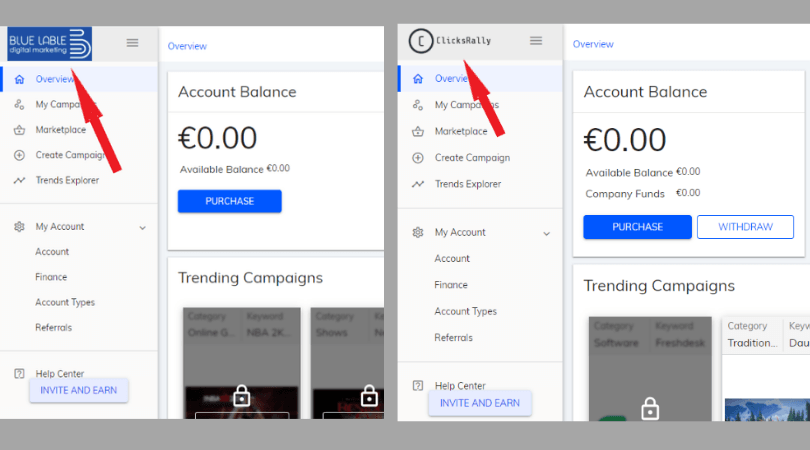 Blue Lable is a just rebranded version of Clicks Rally.
In other words, both sites are designed to scam you for your hard-earned money.
How Does AD Formula Work?
Here's the theory. To make money with AD Formula, all you need to do is buy the banner ads of your choice.
You can choose to buy banners from a variety of categories some of which include, sports brands, automotive, health and fitness and more.
All these ads have been pre-designed and are ready to start making money.
Now every time someone sees your banner ad and clicks on it to make a purchase, you get paid a commission.
And of course, the more banner ads you own, the more money you make.
Sounds like a perfect way to make money online without any work, right? Well, the reality is a bit different.
You see, the more banner ads you own, the more money Jack, or whoever is behind AD Formula scam, makes.
The whole system is rigged to steal your confidence.
They trick you into buying more and more ads by making you believe that you are making money off the same.
And naturally, the more money you make the more confident you'll be to buy more expensive packages (I'll show you these in a second).
But if you try to withdraw the money, you'll stumble upon a wall of silence because the company doesn't even exist.
In other words, you realize that you've been scammed.
And it could cost you a lot of money and nerves to find out that what I just said is as real as your nose.
Can You Make Money With Banner Ads?
A short answer is no. A bit longer answer would be, hell no.
There's no chance that you can make money flipping banner ads!
This is what happens if you try to deposit your hard-earned cash in the hope that you'll make some money with AD Formula.
As soon as you buy a banner ad, you'll start winning money.
Naturally, because we are all greedy by nature, you'll begin to put even more money because it's a logical thing to do.
But little did you know that the whole thing is designed to work that way.
Now once you decide that it's enough and try to withdraw your winnings, you'll be ignored by the side of the company.
In other words, you'll realize that you've been scammed and that the whole thing was set against you ever since the moment you've laid your eyes on that video.
How Much Could AD Formula Cost You
The spokesperson from the AD Formula video hasn't mentioned how much you need to invest if you want to start.
He claims that it's free to join and begin flipping these ads.
But once you access the Blue Lable platform, you'll see that all banners are locked.
It means that you'll have to take at least a Starter package to get going. That is going to cost you $300 to start.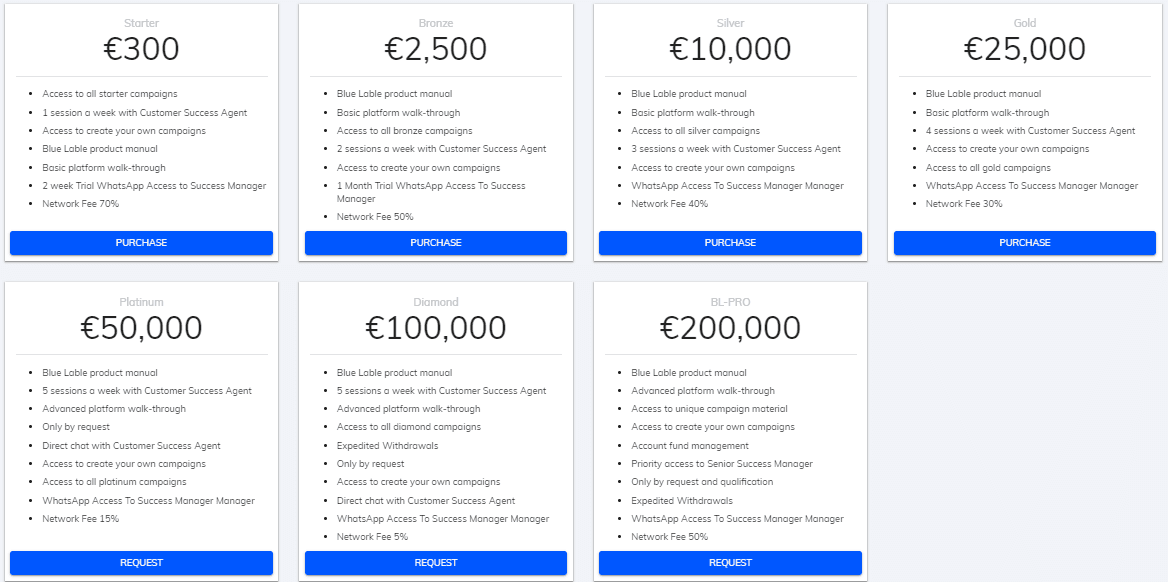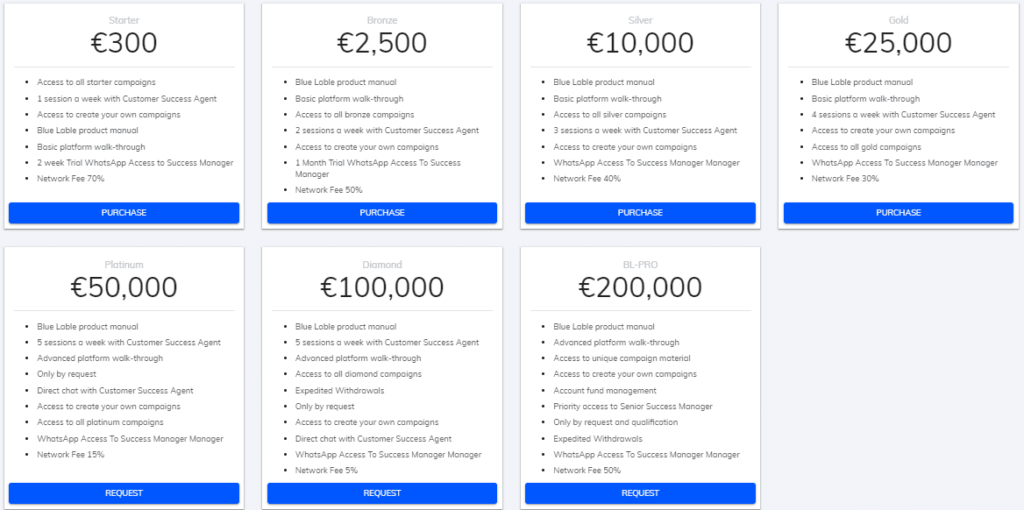 And if you take a look at the image above, it can cost you a lot more than $300, a lot more!
Imagine investing $200,000 in banners only to learn that you've been scammed. Even worse. Imagine this happened and you can't get your money back!
However, based on everything that I wrote here in this AD Formula review, you know already that it's all fake and I know you won't deposit a cent.
Related: AD Code Review – It Smells Like Another Banner Ads Scam!
AD Formula Signs of a Scam!
We have gone through the most important parts of AD Formula scheme. I showed you what could happen if you ever decide to join this offer.
Now, in the next section of the review, I will put all the scam signs in line so that you can see why you should be staying away from this website and all other that promote getting rich quickly.
Customer Testimonials are Fake
The only money that the young man on the image below has earned was the amount he has got for giving the testimonial.
You see, he never tried or had anything to do with AD Formula, it was just a gig for him.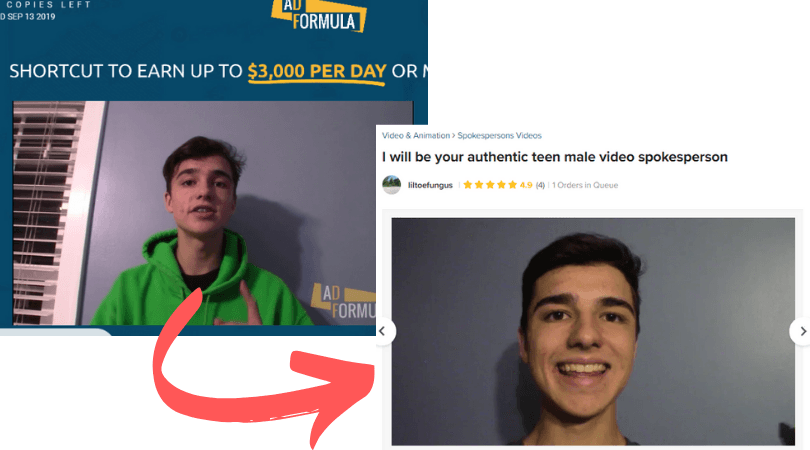 The rest of the gang did the same. They are all actors from Fiverr, a popular freelancing site.
There, they offer a video spokesperson service to people who need one.
Webpage Widgets are Fake
As you can see in the image below, there are a few widgets that appear on the webpage.
One is counting down how many copies has left. By the way, it's a digital product. What copies???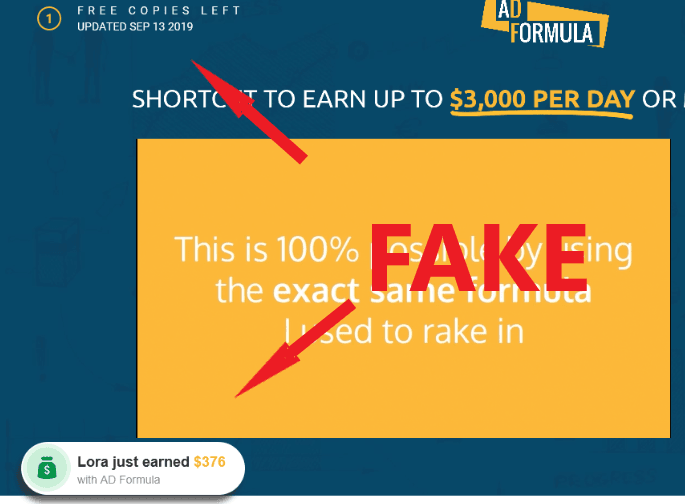 The second one is in the bottom left corner that shows how much some random people earn in real-time.
Guess what? It's fake, like the rest of the site.
Jack Heaton is a Fake Name
As you know, Jack Heaton is not a real person and here's the evidence.
A person behind AD Formula scam has created Jack's character to make the whole thing look legit.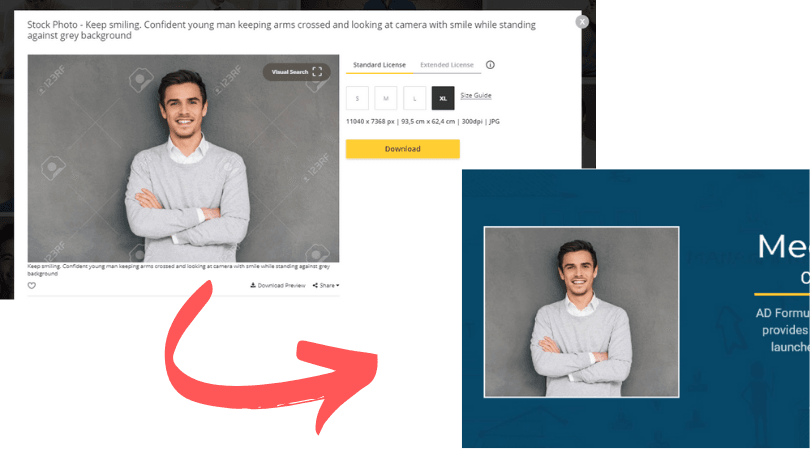 But as you can see in the image above, Jack is a photo model.
You can buy his pictures at stock photo sites like 123rf and others.
Earning Claims are Fake
The AD Formula scam, like every other fraud, claims that you can start making hundreds of thousands and even millions in just a few months.
These guys flash you, at least a dozen times, with some of the most unrealistic earning claims.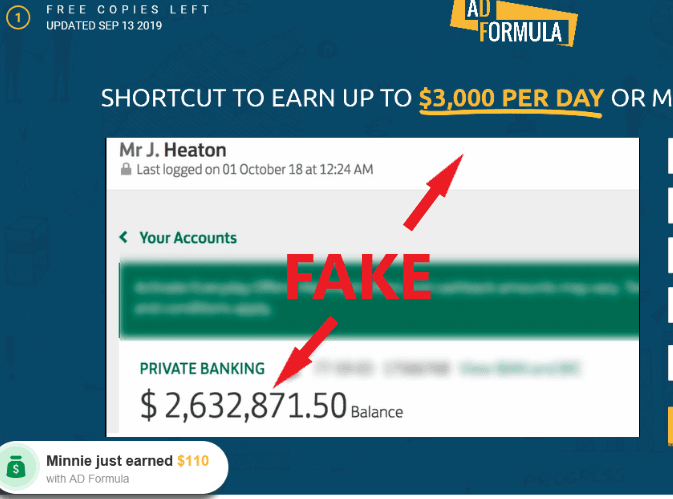 Understand that 'get-rich-quick' doesn't exist.
There's no pushbutton systems or banner ad flipping software that can help you make that kind of money.
Flipping Banner Ads Business is Fake
The story from the video and the whole idea about flipping banner ads is a product of someone's imagination.
The AD Formula webpage and AD Code and all other sites that offer the same service are designed to scam people.
These sites are clones of one another and who knows how many are out there.
All they do is change a few colours, headlines, and the name, of course, to make it look different next time.
Related: Profit Clicking Review – More Like Profit Stealing!
Is AD Formula a Scam? – Final Verdict
AD Formula is a scam. You've been given a lot of information to reach the same conclusion.
Everything that you've seen on AD Formula website is fake. They use fake testimonials, scarcity, earning claims and even fake owner (Jack Heaton) to get you inside of a banner ads scam.
The whole website is designed to trick people into giving up their hard-earned cash in the hope that they'll make millions. It's a cruel and dirty scam, nothing else.
And AD Formula is not the only banner ads scam out there, so be careful.
In a nutshell, they create fake webpages where they serve you with a lot of BS about making money overnight.
The intention is to get you fired-up about some ground-breaking system that will make you a millionaire.
And that's just a first step.
After/if you get hooked, you'll be forced to deposit some cash.
They do so by calling you on your phone or sending you tempting emails.
Then, you'll start making money to feel confident that you've made the right decision and that you can trust these guys.
However, as you know, if you try to withdraw your earnings, the company will completely ignore your request.
Steer clear from banner ad scams!
Thanks for reading my AD Formula review. It shows that you are a serious person who takes every step with the most attention.
Start Making REAL Money Online!
If you are interested in learning how to start making money online, I got here a great alternative to those money-sucking offers.
Affiliate marketing is process is proved by thousands of online marketers all over the globe and it has nothing to do with investing in banner ads scam like AD Formula.
And Wealthy Affiliate is a 100% legitimate training course where you can learn how to start a successful affiliate business.
I've reviewed over 300 courses so far, and haven't managed to find better ways to make money online than affiliate marketing and Wealthy Affiliate.
In a nutshell, they will show you how to create simple websites (blogs) and make money with affiliate marketing.
This is the same process I'm using to make money online every single day. And I've seen 1000's of the super successful affiliate who are doing the same.
If you want to read more about my own experience, make sure to click the button below to learn more!
>> Check Out My #1 Recommendation Here <<
If you need any help or you have a question, feel free to share them in the comment box below.
And don't forget to share this post with your friends and family!
All the best, Ivan. Founder, and CEO @freeaffiliatemarketingbusiness.com