Attention beginners! If you're looking for an honest Affili Weapon Review, you've come to the right place.
You've had a chance to see that Affiliate Weapon is advertised as a brand new push-button system that drives free traffic to a done-for-you offer in 60 seconds with just a few clicks.
And now, you have a hard time believing that these claims are real.
In other words, it looks, sounds, and smells like a get-rich-quick scam designed to grab newbies and rip them off hard! And it's not far away from that, you see.
Jason Fulton and his associates do not shy away from using OVERHYPED claims to promote their products. And that is a sign of a scam in progress! Do you think it is possible to make money in 60 seconds with push-button software and without any work? These guys are ridiculous!
On the other hand, I must congratulate you on doing your own research. So make sure to keep reading my Affili Weapon review to understand what this product is about, how it works, and most importantly, whether or not Affili Weapon is a scam!
Keep reading for more!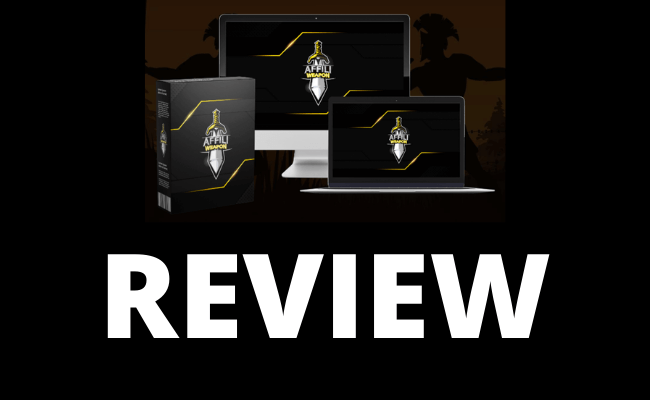 Affili Weapon Review – Overview
Product Type: Affiliate Marketing
Price: $19 + UPSELLS
Owner: Jason Fulton
Rating: 2/5
Recommended?: No
Quick Summary: Right from the start, you get blinded with tons of get-rich-quick claims on the Affili Weapon sales page such as:
Brand New Push-Button Software
Drives Free Traffic In 60 Seconds
Complete Money-Making System
Make Money As Soon As Today
Takes Only 3 Simple Steps
Write Your Own Paycheck
Make Daily Commissions Online
And the sales page keeps on and on about how you can use this app to make big cash as soon as you start with affiliate marketing. However, in my Affili Weapon review, I reveal what this offer from Jason Fulton is really about.
In short, we could say that this product is a shiny object and a marketing scam. All you get is an app that builds landing pages for affiliate marketing and tons of upsells so that the owner could make even more cash from newbies who will believe in the crap from above.
I'm 100% against these overhyped products from WarriorPlus because they NEVER work as advertised. Your time and money are safer elsewhere.
If you are looking for a legitimate way to make money with affiliate marketing, my advice is to stop chasing these shiny objects and scams, and check out my top recommended program below!
THE BEST WAY TO MAKE MONEY ONLINE IN 2023 >>
What is Affili Weapon?
We have seen what Jason Fulton has to say about Affili Weapon. He says this software is designed to get you free traffic with a push of a button and make money in 60 seconds.
And everything is DFY. Boy, I wish I had a dollar each time I heard Jason saying these things.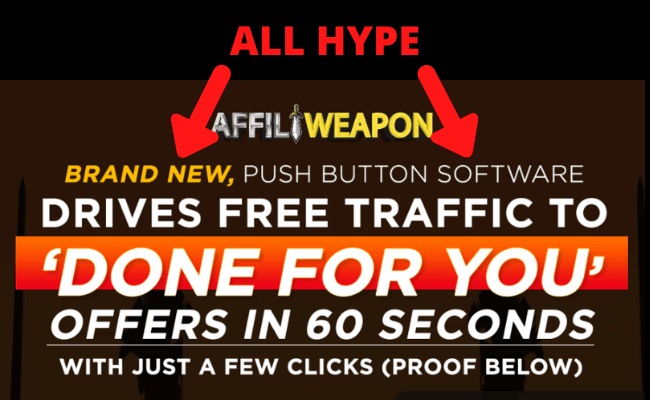 You see, Affiliate Weapon is not even close to what you've been told. The only truth about this product is that it is software. Everything else looks like it has come out of a scam book!
They even say how you can make money with this today…I mean, why?
Well, the truth is, this product has been crafted to attract newbies.
You see, people like in a false belief that making money online with affiliate marketing is some magic scheme that prints money, and guys like Jason Fulton are happy to leverage this false belief, which they have helped to build, by the way, with their overhyped products like Affili Weapon.
Let me show you more…
Who Is Behind Affili Weapon?
The faces behind another overhyped product from Warrior Plus are Jason Fulton and Seun Ogundele. And Affili Weapon is not alone. Jason has released tons of these shiny objects so far.
Just take a look at the list below:
And the list goes on!
You see, Jason Fulton is really an internet marketer who has made $1000's so far during his online career. And I believe he has a lot to teach people about making money online with affiliate marketing.
However, Jason is a "guru." In other words, he creates these overhyped products on track and only cares about making commissions.
Just take a look at the screenshot below…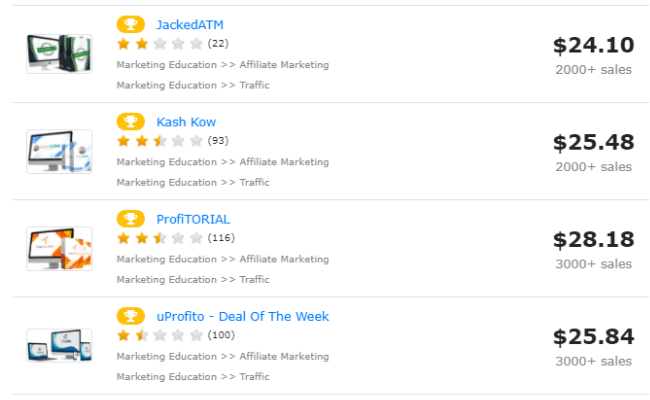 I believe the image speaks 1000 words. As you can see, customer satisfaction is at a shallow rate. Jasons products really get more than two stars.
This fact gives you a clear indication of why Affili Weapon could be a scam.
How Does Affili Weapon Work?
Affili Weapon software drives free traffic (remember, it takes a push of a button LOL) to done-for-you affiliate offers in just three steps.
And if you will remember, it takes only 60 seconds to start seeing commissions in your bank account. What a scam, ha!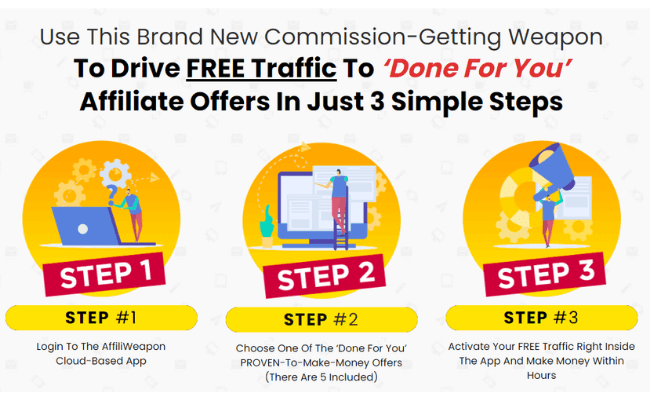 In reality, guys, this software is not going to work as Jason told you. You see, you do get the software, which is similar to those expensive page builders like ClickFunnels.
Affili Weapon is a cheap version of ClickFunnels and other related tools, that's all.
They just added a few DFY landing pages to the package so that they can say all those BS they just did.
And the process of making money (if any) with this software is called affiliate marketing.
They show you how to use the software to create landing pages and promote other people's products via affiliate marketing. The point is to sell and earn commissions.
And to do so, you need a substantial amount of traffic. When I say substantial, I mean to say, you need 1000's and 1000's of clicks to make a decent income. And to get tons of traffic to your Affli Weapon funnels, you will have to hustle hard.
Traffic generation is the hardest part of affiliate marketing. Jason knows this too. That's why he creates these "make money in 60 seconds with push-button traffic" systems. He sells dreams to people who are LAZY to hustle for traffic.
And worst of all, with Affili Weapon, you will not get to learn how to attract traffic to your funnels. I saw this many many times with products like this. They will give you a few short instructions on how to use that software, and that's all you get.
But what about the "traffic included" part? Well, those where lies too.
All you get is a few buttons that will help you to share your pšages on social media. Also, as you're about to see in the next sections of my Affili Weapon review, they will sell you additional training about traffic generation as an upgrade.
Related: Wealthy Affiliate Review – One-Stop Shop For Building A Successful Online Business
What Do You Get With Affili Weapon?
Here's the list of the features you get with this product:
Affili Weapon Quick Start Video Training
Access To The Affili Weapon App
5 Done-For-You Offers
Free Profit-Boosting Traffic Built-In The App
Bonus #1 Insider Success Community
Bonus #2 From Scratch To Profit Training
Bonus #3 Underground Secrets to $2K Webinar
The free traffic feature of this app is complete BS. As I said in the previous section of my review, there's no such thing. You can't push a button to get profit-boost traffic for free.
All you get, in reality, is a quick way to share your pages on social media, which is not going to work unless you own a massive list of subscribers, which I'm guessing you don't, am I right?
Who is Affili Weapon For?
Jason and his buddies say that this app is for complete beginners. And truth be told, that's the only group of people who are going to fall on a product like this.
Experienced marketers know that the Affili Weapon app is nothing more than a marketing scam.
How Much Does Affili Weapon Cost?
The app is valued at $19. It's a one-time fee, which means there are no recurring fees. And for $19, you get access to the app, video training on how to use it, 5 DFY offers, and the "push-button" traffic.
Now, here's the real reason why the Affili Weapon app comes with such an overhyped sales page and a seemingly low-price. You see, those two aspects of this product are designed to pull you in. And if you fall for it, here's what is going to happen.
Upsells, Upsells, Upsells, and Some More Upsells
Upsell #1 Secret Commission Sites – $47
Upsell #2 Advanced 500x Edition – $67
Upsell #3 DFY Affiliate Profits – $197
Upsell #4 Auto Profit Boosterz – $77
Upsell #5 Autopilot edition – $67
Upsell #6 Licence Rights – $197
I hope you now see what the real intention of Affili Weapon is, can you?
What I Like About Affili Weapon
I'm aware there are a few Affili Weapon reviews out there that praise this product. They give an extensive list of bonuses and benefits and swear this app is the best thing you'll find out there. But in reality, those reviews are fake.
In other words, they've been written to support the owner and his intention so that they could earn some commissions once you get pulled into the sales funnel.
On the other hand, I'm honest here. As you can see, my review does not contain any affiliate links to this product. That said, I don't have anything to put in this section. I'm not too fond of this product, and the way it has been promoted is a scam to me.

What I Don't Like About Affili Weapon
Let me debunk all the BS from the sales page. Here's the list of things I don't like about this app. In my opinion, these red flags are sufficient to call Affili Weapon a scam in disguise.
This App is NOT a Push-Button Software
The truth is, they give you some software. According to my research, you can use this software to build sales pages and funnels. The app is straightforward to use and does not require any special skills. As I said, it is a cheap version of ClickFunnels or Landing Pages apps.
However, I'm 100% sure that all those other epithets that have been said about this app are 100% BS. This app is not going to build DFY affiliate offers with a push of a button!
This App Is NOT Going to Make Money in 60 Seconds
Also, I'm not too fond of those claims about making money in 60 seconds and a few clicks from now. I know that this is what most of you guys want to hear, and so does Jason. That is why he gives such BS promises.
But in reality, there are no apps that are going to make you money in a few seconds. That is not how making online money works. I mean, if these apps were real, why every marketer on this planet is not using them?
This App Is NOT Going To Get Free Traffic
You've been told that Affili Weapon is going to drive 100% free traffic to your offers. Moreover, all you need to do is push a button, and traffic starts to flow all over your pages. What do you think? Is this just another false promise?
I'm doing affiliate marketing for a few years now. I tried both paid and free traffic. You see, paid traffic takes money, of course, and you have to spend hours to find the perfect formula. On the other hand, free traffic is time-consuming and requires a LOT of work.
So if you hear free traffic on tap again, you should better start running because it is a scam.
There's NO Real Affiliate Marketing Training Inside
You've been promised video training once you get inside. And it's partially true. You do get a set of videos where you can learn how to use the Affili Weapon app to build landing pages. But that's all you get.
In other words, you will not get real affiliate marketing training with this software. And without real training on making money online, you can't make any. You can have tons of apps like this one, but what's the use if you have no idea how affiliate marketing works?
There Are Tons Of Expensive Upsells
And in the end, I have a feeling (actually, I'm convinced) that the whole matter of things is geared toward getting you inside of a sales funnel. In other words, all those promises and fake BS from the sales page, and the software itself are designed to make you spend even more money on expensive upsells.
You see, that is how these "gurus" earn their bread.
Is Affili Weapon a Scam?
Now, the real question. Is Affili Weapon a scam or legit? Truth be told, it's not a scam for the reason that you get a product in return for your money. But that's the only reason to say this is a legit offer. Everything else tells me that Affiliate Weapon is a scam.
You've been told that this push button app is going to get you 100% free traffic to DFY pages in 60 seconds and will make you money as of today. Now, have you noticed that there are no testimonials? That's because this app is a hoax. In other words, no one is going to use this to make money!
And once Jason and his team collect enough commissions and get another 2-star rating from their customers, Affili Weapon is going to fall into oblivion and Jason is going to turn his attention to creating another scam to trick more newbies into spending $100's on upsells.
The only good thing (this is also questionable) is the 30-days money-back guarantee. However, there's a big chance that the refund policy is not working. In other words, they could ignore your emails and keep the cash.
It happened to me more than once when I was buying Jason Fulton's products…
Conclusion and HONEST Recommendation
As a conclusion to this Affili Weapon review, you need to know that I DON'T recommend this product. In my opinion, this is an overhyped app for making sales pages, that's all. I don't believe this is going to make money for its users.
And one more thing.
I'm a member of the affiliate marketing industry for a few years. During these few years, I've seen a lot of products, systems, and ways to make money online. I even bought a bunch of them to make more money. Needles to say, I fell for a few scams as well.
There's only one affiliate marketing product/training that I'm more than happy to recommend to my readers. And that product is Wealthy Affiliate. If you don't know, WA is the leading platform in the affiliate marketing industry for over ten years, and they have no plans of stopping!
Now, you have two options.
You can either waste your time and money on the Affili Weapon app to learn what failure/scam is.
Or you can join a 100% legitimate platform like Wealthy Affiliate where you can get access to 120 video lessons about making money online with affiliate marketing, all the tools integrated into the platform, and tons of real humans ready to give you a hand whenever you need it.
If I were in your shoes (I was a few years ago), I would take my advice and consider the Wealthy Affiliate platform.
These guys have helped me to earn $1000's so far doing something I love to do, and most importantly, I get to make money online without having to scam people…
THE BEST WAY TO MAKE MONEY ONLINE IN 2023 >>
If you need any help or you have a question, feel free to contact me!
All the best, Ivan.
Founder, and CEO @freeaffiliatemarketingbusiness.com
Legitimate Affiliate Marketing Training Programs