Welcome to my Affiliate Shortcut review.
Here we are with another super-duper system for making money online created by Jaime Lewis. This time, Jamie says you can use the Affiliate Shortcut system to plug in your affiliate links into vacant sites and turn them, once again, into profits.
As per usual, Jamie has done a fantastic job with marketing. We have overhyped claims, a funny and entertaining sales video, low-price and everything else that should attract you to buy Affiliate Shortcut. But you're well-aware that the truth is not in the looks of things and you need more information.
That is why I want to, first of all, congratulate you on doing the research. That's how you avoid scams and find the best way to make money online. Secondly, I want to show you my Affiliate Shortcut review so you can make a well-informed decision before going any further.
In this review, I'm going to be covering:
What Affiliate Shortcut is about?
Does it really work as Jamie Lewis claims?
What you get inside
Can you make money with his system?
Is it a scam or legit?
And more!
Follow my lead…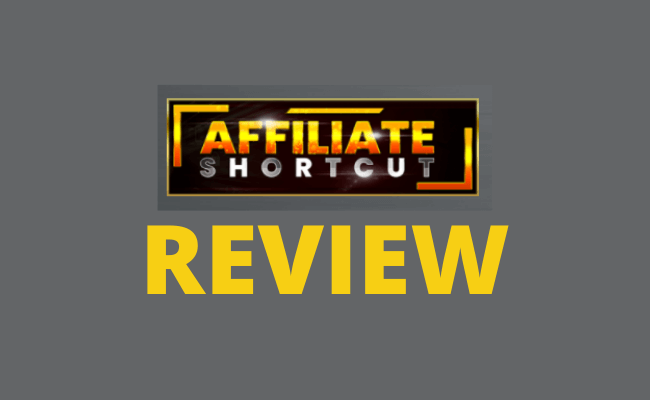 Affiliate Shortcut Review – Overview
Product Type: Affiliate Marketing
Product Owner: Jamie Lewis
Product Price: $27 + 6 UPSELLS
Money-Back Guarantee: 30 Days
Recommended?: Not really…
Quick Summary: Affiliate Shortcut is a new product in the production of Jamie Lewis that lets you plug in your affiliate link to abandoned, internet real estate and turn it into a profitable business.
Jamie claims that you don't need any skills or previous experience to leverage this system. He goes on to say that you can profit from more than 12,000 vacant "profit properties" and you don't need any website or pay for ads to do so.
Just like you, I got interested in Affiliate Shortcut, so I dug in to find out how it works.
Affiliate Shortcut is a legitimate program that comes with video training and software that lets you find and claim these abandoned websites and shows how to leverage affiliate marketing to make money.
The product is selling for $27 one time payment via WarriorPlus, comes with a 30-day money-back guarantee, and six upsells altogether! That's right! Six upsells! This is nothing new to me when I review Jamie's products, folks.
However, I have some concerns about this product. Therefore, make sure to read the rest of my Affiliate Shortcut review to discover what you get with this, how it works, and more…
If you're tired of overhyped products, upsells, and generally, if you're tired of failure, click the button below!
My #1 Recommendation is a 100% legitimate affiliate marketing training program that helped me to go from $0 to earning $100's per day in one year! Wanna follow in my footsteps?
THE BEST WAY TO MAKE MONEY ONLINE IN 2023 >>
What Is Affiliate Shortcut About?
Jamie Lewis is usually very secretive when it comes to the content of his programs and system, and believe me, he has a lot of them out there! In this case, he was very open and showed you what Affiliate Shortcut is all about, which is much appreciated.
In a nutshell, Affiliate Shortcut is software that finds expired domains that were previously used to drive traffic and sales and show you how to use these domains once again to make money.
The system is based on affiliate marketing, which means that Jamie is showing how to plug in your affiliate links to these sites and promote products from Amazon, ClickBank, etc.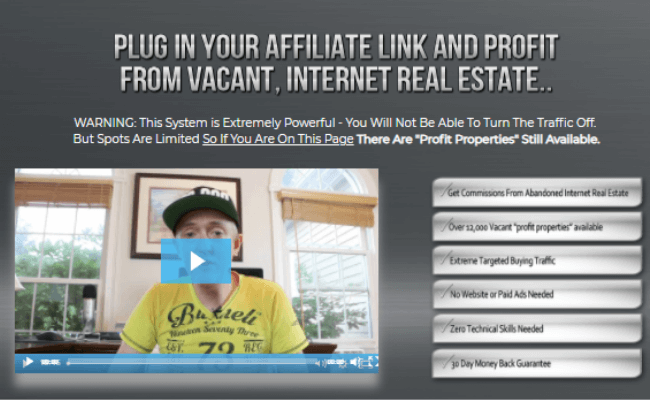 But it is going to be as easy as "plug in your affiliate link and profit from vacant, internet real estate?" Or is Affiliate Shortcut a scam or simply another get-rich-quick scheme that does not work at all?
I'm of the opinion that it could work. But also, Affiliate Shortcut seems like a scam to me because it promises unrealistic things such as fast income, easy cash, and other things like that.
But from the technical perspective, Jamie seems to have put together an interesting system that he claims makes money for him on daily basis. So how does it work?
The trick is to find a product that matches the niche of the site you're going to use and then redirect the site's traffic to your affiliate link. For example, if you find a site in the sport's shoe niche, you need to promote shoes with that site. Simple, right?
Well, not so fast. As per usual, Jamie has done a great job making things look simple, even too simple compared to reality. That said, let's take a look at the next section of my Affiliate Shortcut review to show you how it works in real life.
Related: Profit 365 Review
How Does Affiliate Shortcut Work?
In theory, there are three steps you need to take:
Find an Expired Domain
Plug-In You Affiliate Link
Make Money
As always, everything looks simple in theory. However, despite Jamie's claims, you'll have to work a lot to make something with this system. Don't get me wrong. The affiliate Shortcut system makes sense, and it could work, but the success of it depends on many factors.
First of all, you need to find an expired domain. Now, not every domain will do well and make you tons of money. You have to keep it real. Don't let Jamie excite you with his flashy videos and overhyped claims. His products never work as he says on the sales page.

Now, the point of Affiliate Shortcut is to find an available domain that has a history and had been heavily advertised in the past by the previous owner. This means that the domain should be having some leftover traffic coming to it from links that have build up in the past. And in theory, this traffic is going to waste because the domain is abandoned.
Now, let's say you manage to find an abandoned domain that was used before to sell weight-loss product from Amazon, and it still receives some trickles of traffic. You can use this domain and its traffic to plug-in your own Amazon affiliate link and make money off someone else's past efforts.
To do so, you need to redirect the domain name to your affiliate link and thus, to the product sales page, which can be Amazon, ClickBank, JVZOO, etc.
And that is how Affiliate Shortcut works in theory. And in reality, it could work well if you know what you're doing. But keep in mind that this affiliate system has its drawbacks too. For example, redirects were a thing in the past. Today, Google has a bit tougher rules toward expired sites that use redirects.
Also, this system is a gamble because you never know how active the traffic is and will it make you any money. Moreover, those domains that are still valuable are going to cost you a few $ 100's at least. Think about it. No one is going to sell you a Premium site for $15 or even $50…
What You Get With Affiliate Shortcut
Jamie is well-known for creating a lot of noise about his products. You've had an opportunity to see this for yourself. This is because most of Jamie's products are aiming at newbies that have no idea and will fall for anything. Sadly, I was in that place a while back ago.
And then, once you get inside of the Affiliate Shortcut members area, you will fall hard on the ground and realize that you've bought some generic video training that hardly makes sense because Jame rushed through the videos. As always, that's the sad reality with a lot of Jamie's products.
In any case, I still think there's some value in Affiliate Shortcut training, but I'm not so sure this is going to work as Jame said. Here's what you'll find inside.
Training Videos
Inside the Affiliate Shortcut training area, you can find a set of 21 training videos where Jamie talks about buying expired domains and using them as a shortcut to affiliate marketing and making money online. These videos are more like a demonstration of the system than they are an actionable training program.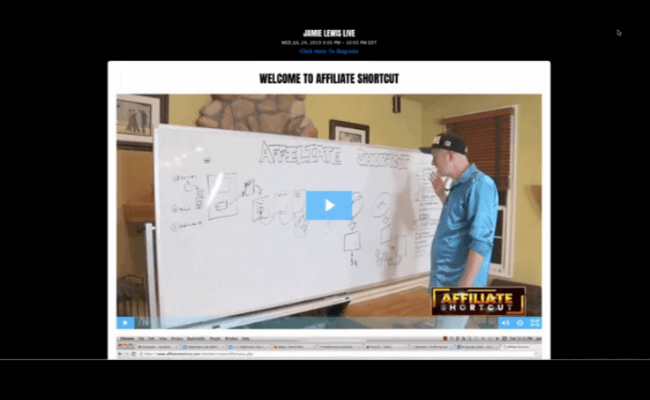 Affiliate Shortcut Intro
Expired Domain Philosophy
Expired Domain Walk Through
Ultimate Domain Tutorial
Business Models
Tutorial For The Newbies
Tutorial Traffic Part 1
Tutorial Traffic Part 2
Tutorial Traffic Part 3
Tutorial Traffic Part 4 (final)
Tutorial On Signing Up For Amazon Associates
Warrior Plus Wallet Tutorial
Profit Injector Demo
Bonus Philosophy
Expired Domain Search Tool
The essence of the Affiliate Shortcut product is an Expired Domain Search Tool. This piece of software is designed to find expired domains and show you some metrics related to a domain such as:
domain name
Appraised value
Broad searches per month
Exact searches per month
Released date
Actions (Register & SEO Report)
Trends Calculator
I have to be honest and say I have no idea what this is and what its purpose here really is. It looks like some calculator that you can use to put some numbers in and it shows you how much you can earn with the Affiliate Shortcut system.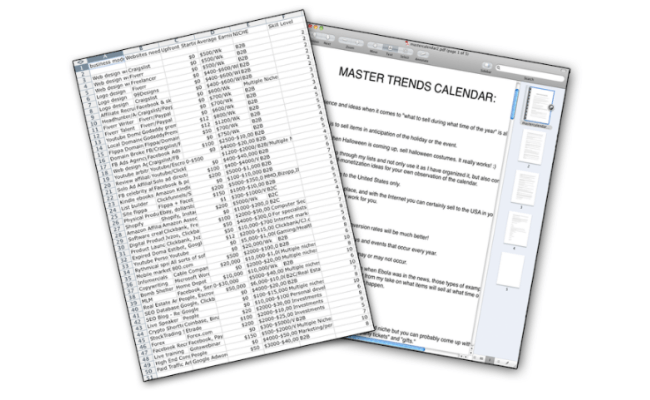 In any case, this tool is just a bonus, which means that it is not that much essential for the success of the program.
Also, within the members' area, you will get a chance to upgrade your system with some upsells. But that's the topic for the next section of my Affiliate Shortcut review.
Related: Jamie Lewis Annihilation Review
Affiliate Shortcut Price and OTOs
You can get Affiliate Shortcut via WarriorPlus for $27 one time. The purchase includes the training videos, expired domains search tool, and that calculator as well. And since Jamie is well-know for upselling, he didn't miss a chance to sell you a bunch of things that you probably don't even need.
OTO #1 – Affiliate Shortcut GOLD
OTO #2 – Unlimited Live weekly training with Jamie
OTO #3 – Ultimate download
OTO #4 – Launch Creator
OTO #5 – DFY YouTube channel
OTO #6 – Custom website and a product on Clickbank
When I say that you probably don't need these upsells, I meant to say; you don't need them at all. You see, this is how Jamie exploits gullible newbies to make more cash, nothing else.
Also, I have to give you a warning about the refund policy. You see, Jamie claims that you can give Affiliate Shortcut a try and if you don't fancy the product, he's going to give you your money back. You have 30 days to do so.
However, Jamie Lewis, as well as a bunch of other WarriorPlus vendors, will most likely ignore your request no matter how hard you try to reach them. In other words, they give empty refund policies.
What I Like About Affiliate Shortcut
One of the things that I like about Affiliate Shortcut is that it is based on a system that should work and is legitimate. Also, you get software that helps to find these expired domains, which is pretty easy to use. And if you don't like Affiliate Shortcut, you can get a refund.
The System is Viable
Software is Easy to Use
30-Day Money-Back Guarantee
What I Don't Like About Affiliate Shortcut
I have to be objective and tell you about a few cons of this product. First of all, there are no guarantees that you will make money with Affiliate Shortcut. Secondly, I feel like Jamie's training is (as per usual) pretty disorganized and hard to follow.
On top of that, the Affiliate Shortcut method is not easy to implement as Jamie claims. Most of these domains that have good stats are Premium domains, which means that you'll have to shell out serious money to acquire them.
And lastly, I didn't like six upsells that are directly tied to Affiliate Shortcut front-end training. It shows that Jamie's main intention is to make money off you. And sometimes, if you ask for a refund, he could ignore your request (it happened to me before)
Ther Aren't Any Guarantees
Training Is Disorganized
Premium Domains are Expensive
Six Unrelated and Expensive Upsells
Jamie Could Ignore Your Refund Request
Is Affiliate Shortcut a Scam or Legit?
Affiliate Shortcut seems to be a legitimate product for making money with affiliate marketing. It's not a scam in my opinion.
Jamie has put together a decent system that is based on a workable method that is based on finding expired domains and using the leftover traffic to promote affiliate products.
There are tons of ways to make money with affiliate marketing, and most of them are very simple. Find a product, set up a website, drive traffic, and promote the product to earn an income. Affiliate Shortcut is one of those systems that could help to put this process into action and get results.
However, as always, there are no guarantees that you'll make money with this system. In other words, you have to be prepared to hustle for success. No software is going to do the work for you, and even if you do everything well, there are no guarantees.
So, to conclude this Affiliate Shortcut review, Jamie Lewis's system is real and legit. You could give it a try if you're interested in making money through abandoned sites and affiliate marketing. Best of luck!
This is not a scam. Jamie is even ready to give you your money back if you don't get results. I just hope he's going to respect his refund policy.
Related: Commission Shortcut Review
How I Make Money Online
I've got a much better solution for you. There's one sure way to earning an income online with affiliate marketing which is working for 1000's marketers all over the world, and it has nothing to do with buying expired domains and hoping to get traffic and sales…
With this program, you get a chance to build your own traffic and income-producing website in four simple steps. You don't need any skills or previous experience. All you need is a will to learn a few new things and this training program.
I used this PROVEN SYSTEM to go from $0 to earning $100's per day with affiliate marketing in one year!
So, make sure to hit the button below to discover more…
>> Check Out My #1 Recommendation Here <<
And don't forget to share this Affiliate Shortcut review with your friends and family!
All the best, Ivan. Founder, and CEO @freeaffiliatemarketingbusiness.com