Hey, fellow online entrepreneur, welcome to my Affiliate Takeover review.
Have you ever tried to rank a video or a blog post on page one of Google or YouTube? Well, I have, and I did so a lot of times very successfully. But I'm always looking to improve my skills to get even more rankings.
And if you share my experience, then you know that ranking your content on top of the search engines is not an easy task. It involves a lot of work and effort and most importantly, a lot of patience.
Today, I want to share a review of the product called Affiliate Takeover that claims to help you to "bend" Google and YouTube to give you page one rankings for every product. Sounds like an overhyped claim? Could the Affiliate Takeover be a scam? Is it even legit?
It's good that you're here. Follow me in my Affiliate Takeover review to discover everything you need to know!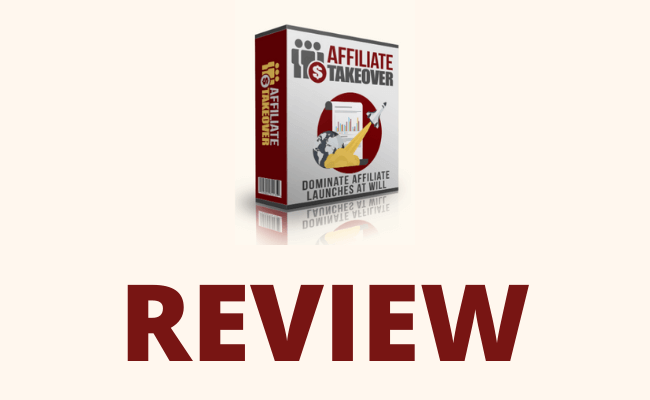 Affiliate Takeover Review – Product Overview
Product Type: Affiliate Marketing Training
Owner: Lenny Rowell
Price:$47 + UPSELLS
Recommended?: Yes and no.
Quick Summary: Affiliate Takeover teaches how to create video reviews and post them on YouTube to get free traffic and earn income via affiliate marketing. This method is my favourite way of getting traffic and making money online,  but it's time-consuming.
The good news is, Affiliate takeover is not a scam. I find it to be a legitimate training course that could show you how to rank videos and make money with affiliate marketing.
On the other hand, I'm sure that Affiliate Takeover is NOT the best course in this category. It's short and got only three training modules. In fact, you can find a lot of free resources on this topic all over the net.
In any case, You should read the rest of my Affiliate Takeover review to see whether it is for you or not. I found some interesting things that I want to show you before you decide.
My #1 Recommendation is a 100% legitimate affiliate course that helped me to go from $0 to earning $100's per day with affiliate marketing! Wanna follow in my footsteps?
THE BEST WAY TO MAKE MONEY ONLINE IN 2023 >>
What Is Affiliate Takeover?
Affiliate Takeover is a digital marketing training course created by Lenny Rowell. Lenny specialized in promoting products via YouTube and Google so he created this concise course where he shares the methods that have worked for him successfully over the past years.
Affiliate Takeover program is designed to teach you exactly why you need to know and do to get rankings and dominate the competition. At least, that's what Lenny claims. The main goal is to rank for popular keywords that potential buyers are searching for during the launch of a new product.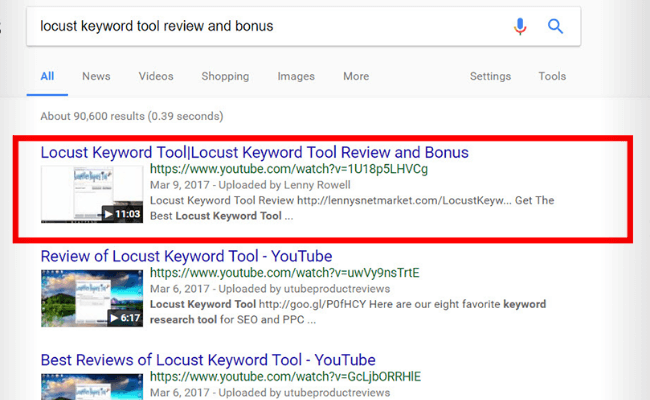 The training inside of the course is in step-by-step format and contains three basic modules as well as two advanced modules where you can learn about YouTube ads (paid traffic). During these sessions, Lenny shows how to become a product reviewer and earn an income by promoting products online.
In other words, the system is all about affiliate marketing. And reviewing products is indeed one of the beginner-friendly methods. However, we still don't know if Affiliate Takeover is a scam or legitimate program that could teach you how to become a reviewer.
The fact is, you do get some training videos where you can learn how to use this method to make money online. But the problem is that like with every other course these days, the content is concise. I have a feeling that the creator could have done a better job with it.
All you get are three modules that barely cover affiliate marketing. That's not good enough, in my opinion. Keep reading my Affiliate Takeover review to learn more!
How Does Affiliate Takeover Work?
The main science behind that Affiliate Takeover method is to find a product that is in the pre-launch phase and create a product review that includes affiliate links. Most of the content of the program is designed to show you how to do so using videos and YouTube.
I've done some YouTube product reviewing in the past, and I can vouch that this is a legitimate method. Here's a breakdown of the three main training modules.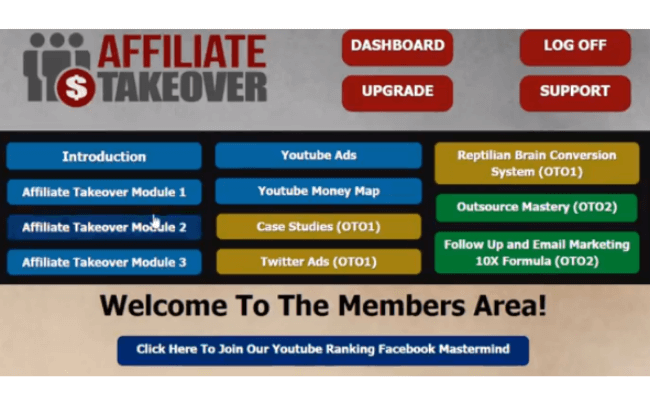 Module 1 – Product Selection and Review Preparation
The first module will teach you how to find the product on the internet that are worth your time and resources. In other words, you need to find hot products that people are going to be looking for.
The next few videos of this module of Affiliate Takeover course will teach you how to prepare for a review by researching the product once you have made you selection.
Module 2 – Review Video Creation and the Secret Sauce
The second module is focused on teaching you how to create review videos. You get four videos on review creation, one that shows how to optimize your video for YouTube and Google, and a few more bonus videos where you get to learn a secret sauce tactic.
Module 3 – Locks, Traffic, List Building, Additional Tips and Course Wrap Up
The third module is about using different advanced tactics used in marketing such as list building to boost and scale your results. This is the last module of the course and where Lenny says goodby.
Although it seems like a short course (only 3 modules), it's not really. You get a fair amount of videos in each module. Some videos are short, but most of them are on point and are well-organized.
That said, so far so good. I haven't found anything yet that could tell incriminate Affiliate Takeover. In other words, there are no signs of a scam so far, but let's keep looking.

Who Is Affiliate Takeover For?
Anyone who desires to learn how to create YouTube reviews to promote products online could find Affiliate Takeover a good place to start. It's pretty basic and short so it could be ideal for beginners.
But as I said earlier in this review, Affiliate Takeover is a concise course. I'm sure that beginners will have no problems understanding this affiliate model, but I'm also sure that this is not enough content to get you started on the right foot.
I mean, I've seen tons of free videos on YouTube that could show you how it's done. But still, to make something out of it, you could need more than you get with Affiliate Takeover.
Affiliate Takeover Price
If you're interested in learning how to rank video reviews on YouTube with Lenny's help, you'll have to shell out $47 one time to get access to the training from the above. And if you do so, you have 30-days to make up your mind whether you should keep taking action or ask for a refund.
Affiliate Takeover comes with two upsells as well.
Upsell #1 – $47
With this upsell, you can get access to two case studies that will walk you through the step-by-step process of how you can get page one rankings.
Upsell #2 – $47
This one gives you access to follow-ups and email mastery course where you can learn how to boost your income using advanced email marketing techniques.
What I Like About Affiliate Takeover
The first thing I like about Affiliate Takeover is that YouTube video marketing is a legitimate and proven method for making money online. Also, the program comes with step-by-step training that could help to get started.
Another thing that I like is the low price and 30-days refund policy. $47 one time is not a lot of money and if you don't like it, you can get your investment back during the first 30 days.
YouTube Video Marketing is a legitimate method
Step-by-step video training included
Low one-time cost
30-day money-back guarantee
What I Don't Like About It
Affiliate Takeover is good, but it's short. I feel that these three modules do cover all the critical aspects, but there's much more to affiliate marketing than this. In other words, I would like to see more content.
Secondly, this course and the affiliate marketing method is not for camera-shy people, which means that not everyone will find it useful. This should also be disclosed on the sales page before you enter!
Affiliate Takeover comes with two hidden upsells. I personally hate to see hidden upsells. It tells me that there's more to the course that you've been told. And in this case, you'll have to buy both to get advanced training and case studies.
Training could use more content (only 3 modules)
It's not for camera-shy people
Hidden upsells are not my favourite thing
Advanced techniques will cost you extra
Is Affiliate Takeover a Scam or Legit?
Affiliate Takeover is not a scam. The training course is focused on teaching how to find products online, create review videos, optimize them for search engines, and promote the same products to potential buyers. In other words, everything about this course is legitimate.
But as much as it may sound like an easy thing to do, I would like to suggest some caution as well. You see, I have a YouTube channel where I did something like this. The thing that you don't learn in courses like Affiliate Takeover is that you have to rinse and repeat this process a lot to achieve success.
You shouldn't expect any significant results in the first few months with this method. In other words, this method requires at least one year of content creation (at least 3-5 videos per week).
Related: Millionaire Bizpro Review
Affiliate Takeover Review – Final Words 
So there you are. I hope my Affiliate Takeover review was helpful, and I hope you can now make a well-informed decision. If you have some questions feel free to reach out.
In my opinion, this course is legit. However, I'm not going to recommend it too much.
You see, there's some good content within Affiliate Takeover. But I just don' see why should you pay for something that you can learn on YouTube for free. Seriously, there are tons of free tutorials on this topic.
Much Better Alternative
If you're looking to pay to find the best ways to make money online, you should be looking for a comprehensive training course that comes with all the tools, live help, and it shouldn't be too expensive.
Sounds like a dream?
Well, I found such a course a few years ago. It's called Wealthy Affiliate, and it is the best alternative to Affiliate Takeover. Wealthy Affiliate is about five leagues above this course.
With WA, you get access to a comprehensive step-by-step affiliate course where you can learn how to rank content (reviews as well) on Google and YouTube and promote affiliate products to earn an income.
Moreover, you get access to all the tools and live coaching and support 24/7 for as little as $49 per month. Best of all, you can join for free and take it on a free trial for as long as you want. I'm sure you're going to love this.
I used Wealthy Affiliate to create a successful online business too. You can read my story below!
>> Check Out My #1 Recommendation Here <<
If you need any help or you have a question, feel free to contact me.
All the best, Ivan. Founder, and CEO @freeaffiliatemarketingbusiness.com