Hi, and welcome to my AMZDFY review. What is it about? Is AMZDFY a legit automated system? Is this program really supposed to create an Amazon FBA business for you without any work from your end?
Or is this just another system that is not worth your time and money?
In other words, is AMZDFY a scam? You're in the best place to find out!
I have tried and tested 600+ courses, scams, and all sorts of schemes to find the best way to make money online.
In other words, I'm passionate about knowledge that helps to improve our lives, build a business online, and more.
Throughout my review, we will take an in-depth look at AMZDFY and see if this is a legit Done For You system or a scam by taking a look into some pros and cons.
Also, you can rest assured that you will get an honest and unbiased review from me in this review.
I will also answer all your questions about AMZDFY. My review should give you a clear understanding of the program and see if it is worth your money.
AMZDFY Review – Overview
Product: AMZDFY System
Type: Done-For-You FBA Business
Owners: Kevin David and David Arnett
Price: $40,000
Money-Back Guarantee: No
Recommended?: No
Overview: AMZDFY is a system created and owned by Kevin David and his business partner, David Arnett.
Kevin David is an Amazon FBA guru, and in the past, he created some quality/popular Amazon FBA courses.
However, the AMZDFY is not a course but a Done For You (DFY) Amazon FBA business.
It is a system where you will invest your money, and Kevin David and David Arnett will create the business for you.
They will also handle everything for you like picking products, shipping, and more. All you have to do is fund your campaigns to continue to get results.
However, the problem is that you have to invest a big amount of money to get qualified, and the worse part is that there is no guarantee that you will succeed.
If' you've been learning about FBA then you know that it's not a cheap online business to get into.
And in my opinion, this fact should be disclosed on AMZDFY pages before you decide to invest a single cent into this program.
So it would be better for you to learn how to do it yourself than to spend a lot of money on a system that has no guarantee.
That said, I don't recommend AMZDFY because, in my opinion, this is not the best way to start making money online. Read the rest of my AMZDFY review to learn more before you make your own decision.
Alternative: My #1 recommendation is a top affiliate marketing course that helps to build a successful online business from scratch! I used this exact system to go from $0 to earning $100's per day! Learn more below!
THE BEST WAY TO MAKE MONEY ONLINE IN 2022 >>
What is AMZDFY?
AMZDFY is a Done For You Amazon FBA system founded by Kevin David and David Arnett.
It is an automated program that will do the heavy lifting for you, like finding a product, negotiating costs, paying Amazon fees, Shipping, Product inventory, and more.
It is said that this system is designed to create an automated Amazon FBA business for you. However, you will have to shell out a huge chunk of change to do so.
And if you do so, Kevin David and David Arnett, the other owners, will handle the shipping and all the other tasks needed to make money with Amazon FBA.
Now you might think that this is the positive solution to your financial freedom but guess again because you will be in for a surprise as you read this AMZDFY review.
Related: Amazing Selling Machine Review
About The Founders of AMAZDFY
Who is Kevin David?
Kevin is an entrepreneur.
He started his first business when he was 14, selling baseball cards.
After that, he then tested the 9-5 life as an accountant, but he realized that it wasn't for him.
So he decided to look for ways to make money online because he wanted financial freedom.
In 2015, he began selling products on Amazon, and since that year there was less competition on the platform, Kevin could make enough money to quit his job.
Since then, he has found multiple ways to scale his internet income through course sales and developing software services under his ZonBase brand.
He also has a Youtube channel that has over 1.30M subscribers.
Who is David Arnett?
David Arnett has been selling physical products online since 2014 when he started selling on Amazon & eBay.
In 2016, he launched an FBA Experts Training course that teaches you how to sell on Amazon, and in 2017, David invested in a warehouse to store products and ship them to Amazon.
In 2019, Kevin and David began a joint venture, AMZ Automation. Kevin provided the promotion and marketing with his huge social following, and David provided the fulfilment using his warehouse.
Related: Modern Millionaires Review
How Does AMZDFY Work?
Like I said earlier, AMZDFY is a Done For You System where the team will supposedly build an Amazon FBA business for you.
Kevin and David will be the ones who will run your business for you. To do that you have to pay them to do it and give them a cut of the profits.
So how is this done exactly?
Kevin and David will give you a product that they recommended. You, on the other hand, will be the one to buy them yourself to sell so you won't have to think about what kind of products you want to sell.
Also, instead of storing your products in Amazon warehouses, Kevin and David will store your products in their warehouses.
That is how AMZDFY works in a nutshell. But there are some things you need to know about this program first so make sure to read the rest of my AMZDFY review here.
How Much Does AMZDFY Cost?
AMZDFY has a few different packages, and each package has a different price. Here's a breakdown of each package.
The first package is called Amazon FBA Automation Emerald, and it costs $30K.
Then the second package is the Semi-Automation, and it cost $10K.
The third package is the Amazon Done With You Silver with a price tag of $5K.
Now, if you're an Emerald member, you have an additional option.
Kevin and his team will continue running your business after your Emerald Launch service expires.
For Kevin to continue running your business, you have to pay $500 or 30% of their profits, whichever is higher.

Can You Get a Refund On AMZDFY?
According to their Terms and Service, there is a NO REFUNDS policy, which means you have to think about it before investing a lot of money in this service.
As you can see it is very expensive, and if this business doesn't work out you lose a lot of money.
So think first before you invest.
Related: Walmart Automation Alliance Review
Who Is AMZDFY Best For?
In an ideal world, AMZDFY is best for people who are interested in outsourcing the entire business setup to Kevin David and David Arnett.
Since this program requires a huge financial investment, it's best suited for people who can bear it.
Keep in mind that I would recommend this eCommerce program only to people who already have experienced success with this business model.
Newbies should definitely stay away from DFY systems like this.
What I Like About AMZDFY 
The Owners Are Successful Entrepreneurs
The two founders of AMZDFY are proven to be successful with selling on Amazon.
Both of them are multimillionaires and are well-known marketers.
Having them running your business on Amazon has some benefits.
Everything Here Is Done For You
As you already know, the system is run by Kevin and David, and they are the ones doing all the hard work for you.
So in a nutshell, all you need to do is purchase the AMZDFY system, have a conversation with them, agree to their terms, and hope for the best.
I personally don't like done-for-you systems, but in some rare cases, they could actually work.
Related:
What I Don't Like About AMZDFY 
They Will Take A 30% Cut On Profits
According to Sellercentral Amazon, you can have only one account on Amazon unless you have a reason to open up another one.
In other words, you can only have up to two Amazon Seller Accounts.
The idea behind AMZDFY is for Kevin and David to run multiple accounts in different niche markets simultaneously.
That is why they choose the products for you and then take 30% of your profit margin.
Furthermore, since there are only two of them, they can spread across four different niche markers with Amazon FBA, which is precisely why they are ready to do everything for you.
Also, they want to sell their products using your Amazon Seller accounts to allow them to work across many different niche markets simultaneously and minimize their end risks.
Here is why AMZDFY is not nearly as lucrative as it may look.
You Shoulder All The Risk
Remember Kev and David recommend you a product for you to sell.
However, don't expect that you will get make money on those products.
You see, if you don't sell your products, you'll be the one with a big loss, not them.
Also, the 30% cut is just an additional income for them.
Not just that, even though if you sell a product, it will be hard for you to recover what you invest here.
So, you'll hardly be left with anything.
AMZDFY is Very Expensive
You already know how much money you have to invest with AMZDFY.
It is very expensive and not just that there is no guarantee that you will succeed here, so all that money you invest will end up nothing.
That is why it would be better to learn how to do it yourself than spend your money on a system that has no guarantee that you will succeed.
In case you like the video review, below is Arron Chen's AMZDFY review where he talks more about the price and why it is not worth it.
You Assume All The Risk
What happens if you invest the $40,000 you spend on products that don't end up selling?
Of course, you lose a lot of money except for Kevin and David because the money you invest is already in them, so they got nothing to lose.
Also, not all Amazon business they set up succeeds, which means there will be big-time losers here.  
AMZDFY Doesn't Offer Refunds
With such a huge investment, having a no-refunds policy is not something that I like.
However, there are many reasons for a person to change their mind after investing in something like AMZDFY.
Related: Covert Commissions Review
Is AMZDFY A Scam?
No, AMZDFY is not a scam in my review. However, I don't recommend this system to you.
As you can see, it is very expensive, and this might be the most expensive Done For You system that I have ever seen.
Not just that, the reason why I don't recommend this to you is that you have no control of your business, and you don't know how much you'll be making.
Kevin and David are both successful people, but how the system works and how much it will cost you is not worth it.
Also, spending more than $40,000 on a system is very risky, and if that system fails, you lose a lot of money.
Overall, the system is nice because you don't have to do everything. After all, they are the ones doing it.
But again, investing in a system that has no guarantee that you will succeed is not worth investing.
That is why I prefer that you find a better alternative to invest your money in a system that works and, of course, find a system that doesn't cost much money.
There are a lot of products, systems, courses, and businesses out there that are worth investing in.
But of course, before you invest, make sure that you do your research first to see if they are legit or not so that you won't end up wasting your money.
On the other hand, if you're looking for the best business model to earn passive income online as a beginner, there are other, more suitable, and cost-effective alternatives.
My top-rated course has helped me to go from earning $0 to $100's per day!
THE BEST WAY TO MAKE MONEY ONLINE IN 2022 >>
Final Words and HONEST Recommendation
Now you know about AMZDFY and why you should not invest your money in this system.
Don't be fooled by the marketing hype, and all the success stories around this program, because there is no guarantee that you will succeed as one of them.
There are other cost-effective alternatives to starting your own online business and leveraging Amazon to make money online.
That is why you should junk AMZDFY and invest your money in learning online business models yourself so that you can take full control of your business and scale it as much as you can.
Instead of investing your time and money on Amazon FBA, which has very thin profit margins, you can consider dropshipping or affiliate marketing.
Dropshipping involves being a middleman between a manufacturer or product creator and a buyer.
Also, you don't have to keep products in stock in your inventory, and all you have to do is to take customer orders and handle customer inquiries.
Not just that, with dropshipping, you have to do everything like finding suppliers and handling customer complaints.
If you are looking at how to make money online, I recommend you to check Affiliate Marketing.
Here you can earn decent money, build your online business, and can work from the comfort of your home.
Thank you for reading my AMZDFY review. If you have any questions? Want to share your experience and reviews of ApperWall?
Feel free to leave a comment in the comment section below!
How To Start A Legitimate Affiliate Marketing Business?
If you're looking for ways and means to start a legitimate affiliate marketing business to earn an income online, you should check out my top-rated program first.
The program that I recommend on the next page has helped me to reach the status of an online entrepreneur in a short period, and I'm confident it could help you too!
I went from struggling marketer to earning $100's per day promoting ANY products I choose and I want to show you how you too can do the same.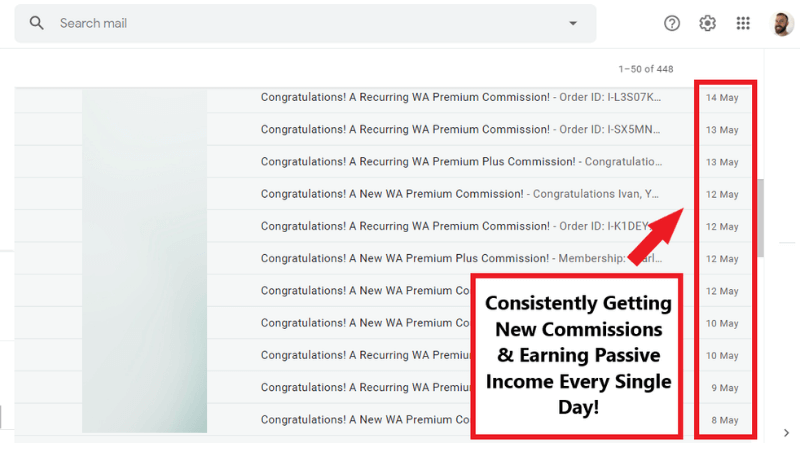 Among the best features of my # 1 ranked course is that you can start for free. You will get one complimentary site and access to the very first ten lessons from the course to try things out.
Furthermore, this program is in fact all-in-one. You get everything that you need to make money online.
This consists of detailed training, all the very best tools, hosting and websites, live assistance, community aid, technical assistance, one-on-one coaching, and so much more!
After evaluating over 500 programs on the web, my conclusion is easy. This is the best method to make money online.
And if you're looking for the very same, click the button below!
THE BEST WAY TO MAKE MONEY ONLINE IN 2022 >>
And don't forget to share this AMZDFY review with your friends and family!
All the best, Alex. contributor @freeaffiliatemarketingbusiness.com
Related: Secret Email System Review