Welcome to my Auto Traffix Pro Review.
You are here because you have doubts about some statements from the sales page. If you are like me, then you don't believe the hype. You need to know the truth.
When you hear that you can create reviews, get traffic, and start making commissions in as little as 60 seconds, you get excited.
I know I do. However, then you think about it twice and search for a review. Smart you!
You see, Auto Traffix Pro is another cloud-based software created by Jason Fulton and Mosh Bari, two well-know serial product creators from WarriorPlus.
In the past, I've reviewed a few of their creations, and I was not thrilled. The same case is here. In other words, a lot of hype followed by a questionable product. Let me explain more.
By the way, congratulations on researching before getting into things headfirst.
If you are looking for something real, check out the best way to earn an income online.
Within this Auto Traffix Pro review, I'll explain how the whole thing works. I'll show you some warning signs and give my take on whether this is a scam or a legit way to make money online.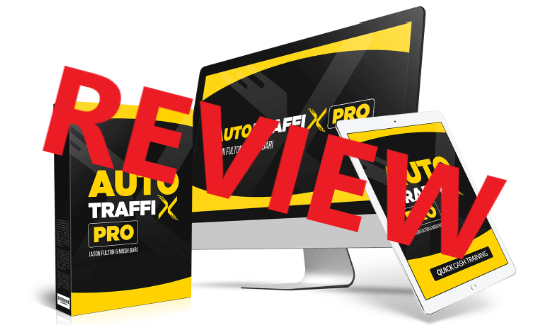 Auto Traffix PRO Review – Overview
As you scroll through the sales page, you can see tons of overhyped points about Auto Traffix PRO software, such as:
The push-button, cloud-based AutoTraffixPro software
DUPLICATE The Exact Process 'Super Affiliates' Use To Make 6+ Figures Per Year
AUTOMATED TRAFFIC Built-In: Earn Commissions & Get Free Traffic Without Ever Creating Videos
Earn Commissions & Get Free Traffic Without Ever Creating Videos
Instantly Find Reviews & Turn Them Into Promotions 1-CLICK
Create Unlimited Campaigns with Unlimited Offers
FAST RESULTS Without A Website or Hosting Needed – We Got You Covered.
Cloud-Based App Creates "Done For You" Affiliate Reviews In Just 60 Seconds!
Automatically Select High Converting Offers From Within The App To Create Your Campaigns
Automatically Adds Content, Images, Graphics & Call to Actions For All Affiliate Offers.
Get Automatic Updates & Automatic Content Updates.
That's all good, and I support some of those claims. But most of them are nothing but sales hype, that's all.
You see, the truth is, just like many other half-baked products from WarriorPlus, Auto Traffix Pro is missing a critical component.
The system is designed to generate an automated review and use the same to market-related products form various online marketplaces.
The method is called affiliate marketing, but Auto Traffix PRO is nowhere close to being recommended.
I'm not fascinated with cloud-based software that creates reviews for you, and worst of all, you will have a hell of a time trying to get traffic to your reviews, and I don't mean it in a good way.
Search engines hate automated content, and if you don't have a huge social media following, you won't make any money.
The solution to this problem is, as always, probably in UPSELLS. In my opinion, it is best for the owners.
Make sure to read the rest of this Auto Traffix PRO review if you want to know more.
If you are tired of scams and bogus websites, check out the legitimate way to make money online below I used to go from $0 to earning four-figure passive income online!
THE BEST WAY TO MAKE MONEY ONLINE IN 2023 >>
What is Auto Traffix Pro?
Auto Traffix Pro is a new 1-click software that creates reviews in 60 seconds that earn commissions and get traffic for free. Everything is completely free and works on autopilot without ever creating anything yourself.
Well, at least that's what the creators of this program claim. And I know, it sounds like it's too good to be true. Well, guess what? If it sounds like a scam, it probably is a scam.
I mean, they literally say it's software that will solve all your affiliate marketing worries. How nice.

But if you put all the hype on the side, you will see that Auto Traffix Pro is just a simple content generating software.
Much like every other of its kind, it throws out generic content. This means that you will get access to DFY content like every other user out there, which is not going to turn out well. Trust me.
Worst of all, this type of content is dull and not human-friendly. And who are you writing reviews for? Humans, not robots. This means that Search Engines like Google will never give attention to these sites.
As you can see, my main content on this website is product reviews. I spend my time searching for legitimate make-money-online opportunities and then write reviews of the same.
One of the first rules of blogging, in general, is to have human-friendly content.
This is something that Auto Traffix Pro software and robots will never be able to do. In my opinion, it's a gimmick that is never going to work as advertised.
So what about the free traffic and real commissions and all those claims from the sales page?
Well, I'll explain that in just a few moments in the next section of my review. Let me say more about the owners of the Auto Traffix Pro.
Who are Jason Fulton and Mosh Bari?
As I've mentioned at the top of this Auto Traffix PRO review, Jason Fulton and Mosh Bari are the creators of Auto Traffix Pro.
These two guys are serial product creators. Most of their creations can be found in the WarriorPlus marketplace.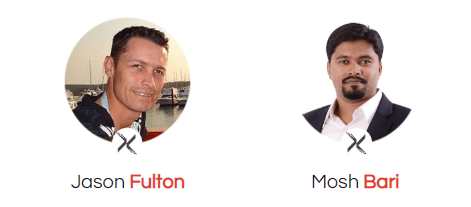 I've had a chance to review a few of such creations, and honestly, I was never impressed.
Well, to be completely honest, they impress me with the sales page every time. It's always so nicely done and promising.
But the product, well, the product is always a disappointment in one way or another.
Most of the time, they rehash and rebrand the old and questionable product and resell it over and over again to make more cash.
For example, you can take a look at Rapid Profix Pro, which even shares a similar name with Auto Traffix Pro. And there is the Affili Weapon scheme and AffiliSites Pro.
All of these offers are basically rehashed version of Auto Traffix Pro, which could mean that it is a scam, right?
How Does Auto Traffix Pro Work?
In a nutshell, Auto Traffix Pro works on a method called affiliate marketing. In simple words, affiliate marketing is a process of earning a commission by promoting other people's products or services.
Every time you make a sale, you earn a piece of the profit. In most cases, affiliate commissions are passive.
Ideally, you need to find a product that converts. Not any product will do. Some convert visitors into buyers, and some don't.
After you find a perfect promotion, you need to build a website or a sales funnel.
Lastly, you need to attract visitors to your site to make money — otherwise, no traffic, no dough.
Now, here's the first problem with Auto Traffix Pro. They promise traffic on autopilot and a few seconds and other things that sound too good to be real.
But there's a reason for that, you see.
Something They Don't Tell You
Now, Auto Traffix Pro can help to bridge the first two steps. It helps to cut the time in research for a perfect product by offering you DFY campaigns.
And as I mentioned a few times so far, it creates cloud-based sites and funnels as well.
I'm not a fan of those sites because you don't own them, which means that you are not in control of your campaign, which then means that you don't even own your business. Bummer.
The real problem is not cloud-based sites. In my opinion, the real problem is traffic generation and generic content.
Auto Traffix Pro helps you to share your reviews on social media.
But if you don't have a social media presence, you will have to create one first, which takes time.
Also, and this is even worse, the content you get is not going to get you any traffic from Google and other search engines because these guys hate and usually rank low sites that use automated content.
This might have worked in the past, but not anymore. Search engines are getting smarter and smarter as we speak.
Can You Make Money In 60 Secs With Auto Traffix Pro?
In the ideal world, you could make some cash with Auto Traffix Pro. These systems always look good on paper.
However, they rarely prove themselves in the real world. That's why there aren't any real testimonials out there. Those testimonials you can see on the sales page are all coming from people associated with the owners.
Therefore, they are biased and shouldn't be taken seriously.
I'm not going to say that you can't make money with it because the system is based on a legitimate method that I use personally to make money online.
You need to try it out yourself and work hard to get paid.
In my opinion, Auto Traffic Pro is not going to work as advertised. It's just a simple software that creates review sites. But there are too many problems with it that I'm inclined to say it is a scam rather than legit.
There are no 60-second solutions and other gimmicks. Hard work is the only thing that pays off. Just remember that.
How Much Does Auto Traffix Pro Cost?
Since we live in a funnel mania, naturally, programs such as Auto Traffix Pro come in pieces.
In other words, you can get the software for $19.95, which gives you the right to use it for only ten reviews, or you can take expensive, Unlimited Edition for $22.
But remember, for this price, you'll get only the software and simple video instruction on how to use it. That's all.
If you want to make something out of it and, of course, to make some money, you will have to take some of the following upsells.
Upsells
Ultimate Done-For-You Campaigns $97 (downsell $77) – Get access to DFY campaigns for the previous best hot products from Mosh and Fulton.
Commission Jacker $67 (downsell $47) – Steal other people's websites (legally and ethically) to make more profits.
$1K Paydays $197 – The secret methods for generating multiple $1k paydays using just one simple technique.
Non-Stop Traffic $77 (downsell $57) – The ultimate viral referral marketing system that builds you an army of people desperate to promote your AutoTraffixPro campaigns with little to no advertising on your part.
License Rights $197 (downsells $147) – sell Auto Traffix Pro and keep 100% of the profits.
What I Like About Auto Traffix Pro
This is not the worst product from Mosh and Fulton production.
Honestly, as much as I hate automated content, which I'll touch under the cons, I can see a few good things about it.
Based on a Legitimate Method
As explained earlier in this Auto Traffix Pro review, the program works on a method of affiliate marketing, which is an entirely legitimate way to make money online.
Fulton & Bari are Real 
Although I don't recommend and approve more than half of their products, Jason Fulton & Mosh Bari are legit marketers.
You can contact them with your questions and problems.
You Get 30-Days Money-Back Guarantee 
If you don't like the software, you can get a refund within the first 30 days.
You might have to explain the reasons and beg for your money, but it's worth a try.
Related: Auto Affiliate Machine 2.0 Review – Not Another Push-Button Scam!?
What I Don't Like About This
This review is not like other Auto Traffix Pro reviews out there that are biased and designed to promote to product to make commissions for the owners.
I want to share the unbiased truth about this program. Here's what I think is wrong with it.
Sales Page is Overhyped
In my opinion, the sales page is misleading and full of hype.
Of course, it's designed to sell the product, but it's totally off the track compared to how it really works.
You Don't Own Your Sites
Since this is a cloud-based app, it means that you don't get to own your sites.
This means if the company goes out of business, down goes yours with it — not a good thing.
Automated Content Is a Bad Idea
Automated content will never be like the one written by a human.
Readers notice the difference as well as the search engines.
Hard to Get Traffic
Also, good luck with getting free organic traffic from the search engines with automated reviews.
I'll be the first to outrank those fake reviews. Besides, Google will bury your content at the bottom of the search.
Social media might work, but you need the following first.
Expensive Upsells
Auto Traffix Pro comes with a flashy sales page and low price for a reason.
In other words, they want you in so that you can start buying more expensive upsells so that the owners can make more money.
Not a fan!
Is Auto Traffix Pro a Scam Or Legit?
As I've mentioned earlier during this review, I use this site to expose scams and promote legitimate ways to make money online.
Although Auto Traffix Pro is not a scam, I don't recommend it for more than one reason.
You need to keep in mind that, first of all, it is a sales funnel designed to get you in so that you can start spending your money on upsells.
The main intention of the whole thing is to make money for the owner.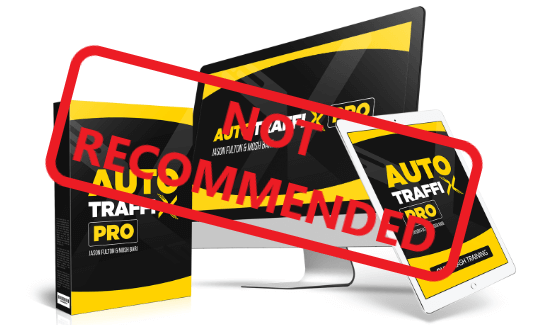 The quality of the program and your success are in second place.
Besides, to make it work and to make some cash yourself, you'll need to grind and also spend a lot more than just $22.
There's a vast possibility that you'll have to take at least a Traffic upgrade.
And who knows, maybe even pay for traffic to your sites via PPC to make some sales.
As I've said, it sounds good in theory, but the reality is something else.
Related: Affiliate Traffic Bots Review – A Scam or Unlimited Traffic?
Auto Traffix PRO Review – Conclusion
We all get excited when we figure out that we can make money online, there are no exceptions. And then, we have products that are going to do their best to convince you how earning an income online is a piece of cake.
But in reality, all those overhyped programs, like Auto Traffix Pro, are designed to make money for the owners. Their quality is poor, and the probability of success is tiny.
The bottom line is, there are no quick fixes to success with affiliate marketing.
If you want to make it happen, you have to invest a lot of time, money, and work into your business before you can succeed.
Ask any marketer out there, and you'll get the same answer.
Thanks for reading my Auto Traffix PRO review. I hope it was helpful. If you are interested in earning an income online, I have a great recommendation below.
How I Make Money Online
The program that I recommend is all about taking the small steps first and then slowly but confidently scaling your knowledge, skills, and success as high as you want.
That's the true formula for success!
Make sure to click the button below and learn more!
If you need any help or you have a question, feel free to contact me.
Also, don't forget to share this post with your friends and family!
All the best, Ivan. Founder, and CEO @freeaffiliatemarketingbusiness.com