Welcome to my Banner Banc review.
How did you hear about Banner Banc? I've got an email asking me to confirm an account that I've never opened.
I clicked out of curiosity and landed on a site that claims that I can become the next millionaire if I invest in banner ads.
The website might seem like an excellent opportunity to get rich quick at first glance.
But those of you who are aware that getting rich quick is not real, luckily, you are smart enough to read a review first.
By the way, congratulations on researching yourself!
It shows that you are serious about finding the best way to make money online.
You see, I busted a few of these invest in banners and become mega-rich sites.
Banner Banc is a scam, and with this review, I want to show you why is and help you to save a lot of your hard-earned cash from going to waste.
Let's get rolling, shall we?
Banner Banc Review – Overview
Product Type: Banner Ads Network
Product Price: $250+
Product Owner: Unknown
Money-Back Guarantee: No
Recommended?: No! SCAM ALERT
Overview: Banner Banc is another site where you can invest in banner ads to earn a profit. However, the business model is not a real thing.
After inspection, I discovered five red flags that show that Banner Banc is a scam.
Testimonials are fake as well as the rest of the page. There is no info about the owner or creators, not even an address.
Lastly, it's a rebranded version of a bitcoin investment scam. I suggest seeing the warning signs and staying away from them.
In the rest of my Banner Banc review, I'm going to show you everything in more details.
If you are tired of scams and bogus websites, MLMs and pyramid schemes, check out a 100% legitimate way to make money online below I used to go from $0 to earning four-figure passive income online!
THE BEST WAY TO MAKE MONEY ONLINE IN 2023 >>
What is Banner Banc?
According to the official website, Banner Banc is a group reserved exclusively for people who jumped on the insane returns that Digital Ad revenue offers and have quietly amassed a fortune while doing so.
The members of this site enjoy retreats around the world every month while they make money on their laptop in just a few minutes of "work" each day.
Here's an example of one of the Banner Banc fake earnings testimonials.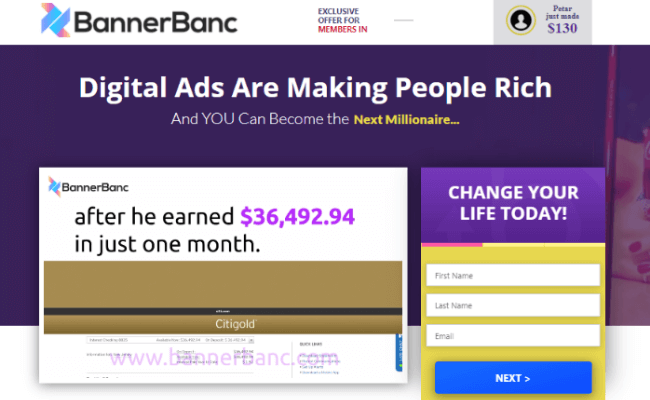 Wow! I don't know about you, but my mind immediately translates it into a few words like BS, get-rich-quick scheme, scam, etc.
I've seen a lot of these banner ads sites. All of them claim the same crap.
According to the sales page, again, Banner Banc is an automated platform that lets users run multiple digital ads campaigns at a push of a button, with no digital marketing experience required.
Also, the science behind the platform allows it to automate campaigns so that withing the minutes of starting, the ad revenue will start flowing into your account.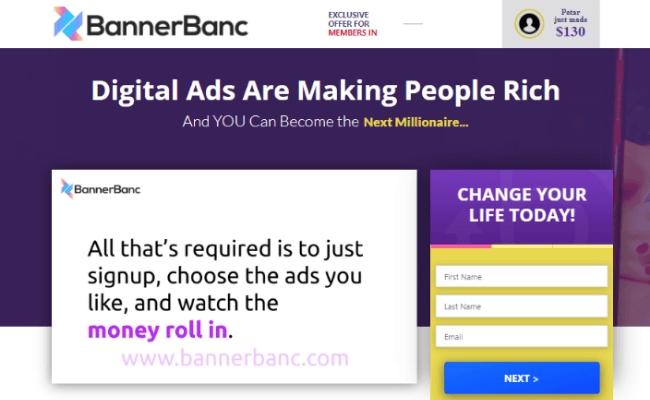 It all sounds fine and dandy, and an untrained eye could easily fall for these misleading claims.
But in reality, guys, investing in banner ads is a bogus scheme that doesn't work like described on the Banner Banc website.
Actually, it doesn't work at all.
Let's continue this Banner Banc review to discover what else is there.
Who is the Owner?
After a few failed attempts to discover who owns the Banner Banc site, I have no idea who is behind this scam.
There is no about page, no our team page, no address, no social network links, nada, nothing, zero!
If this is a legitimate operation, you wouldn't have any trouble discovering who is a proud creator of this platform.
This way, all I can think of is that this is a scam.
Besides, I'll prove it to you by the end of this Banner Banc review with some evidence that this site shouldn't be trusted at all for plenty of other reasons too.
How Does It Work?
According to the sales page, Banner Banc works in three simple steps.
Those are, open a free account, fund your account with a minimum of $250, and choose the banners you like and run them on high traffic third party websites to earn revenue each time someone clicks on your ad.
After you follow the steps, you are free to go dring margaritas on a tropical beach because the money will flow into your account automatically.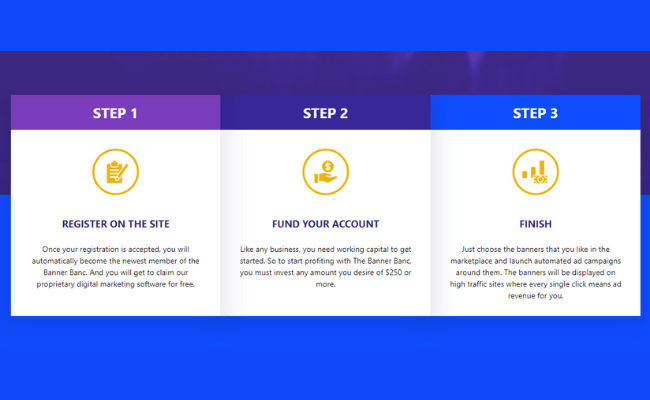 I hope you can understand the scepticism in my words.
You see, in the past few months, I reviewed a few sites that claim the same.
That is, fund your account, and automated software will do everything for you.
Those sites are Banner Code, Click2Sell, AD Code, and plenty of others that sell the same crap.
I conducted extensive research to discover how the whole scheme works. It turned out that the software is rigged.
It all starts with a marketing campaign such as Banner Banc. Then, you're lead to believe that you can start for free.
The next step is to fund your account with at least $250.
As soon as the money shows up on your account, your task is to start choosing DFY banners and invest your findings into one or more campaigns.
Once you fund your campaigns, the money will indeed automatically start flowing into your account.
The immediate winnings will push you into investing mode for obvious reasons.
However, many people have reported that once they decided they had enough and tried to cash out their earnings from Banner Banc, the company had ignored them because the company is not real.
Long story short, the internet is full of complaints that Banner Banc is a scam so my best advice is not to invest a single penny into banner ads.
Can You Make Money With Ads?
You see, many people do run ads through Google, YouTube, and social networks like Facebook and Instagram, and they do make money.
But there's a world of difference between the methodology described here and the one you need to learn if you want to profit from online advertisement.
There's a whole science behind online advertisement, and there's no way to automate the process just like that.
On the other hand, the Banner Banc site claims that you can profit from the first minute as soon as you run your campaigns.
Not only that, but they say you can make your first million in the next 60 days. It doesn't' stop there!
They claim you can make a minimum of $1300 per day, working only 20 minutes.
Guys, I know you are smarter than that, that's why you are here reading this Banner Banc review.
THE BEST WAY TO MAKE MONEY ONLINE IN 2023 >>
Banner Banc Warning Signs!
Here's are a few red flags that show that Banner Banc is a scam designed to trick you into spending your hard-earned cash without a second thought.
Web Page Testimonials are Fake
A quick Google Images search has discovered this charming young lady's photo being displayed and many other sites.
On Banner Banc, her name is Jeniffer. In some other places it is Kathy, and so on.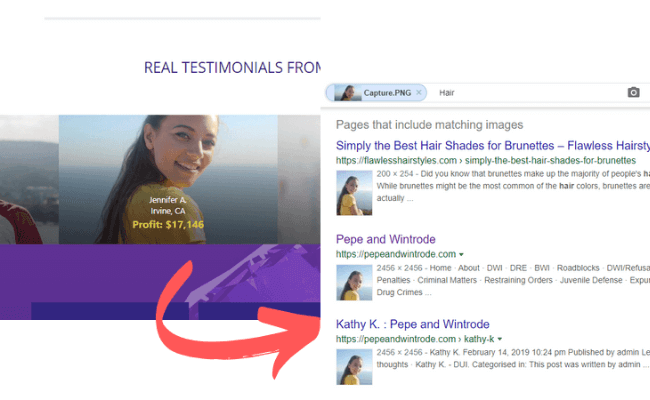 The point is that her testimonial is fabricated along with others, as well.
The creators of the site have gotten the photo from stock sites and used it to create fake testimonials.
In addition to stock photos, as you can see in the image above, those people that appear in the video are actors from Fiverr.
In other words, they are paid to say that it's a real deal.
They Use Fake Scarcity to Get You In
I took a screenshot the night before writing this Banner Banc review, and another one today.
As you can see in the image below, they haven't closed the registration. And if you come back tomorrow, it'll still be there.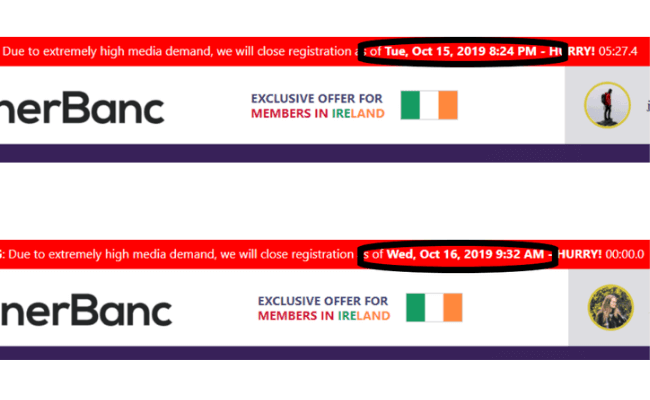 In other words, the red ribbon on the top of the screen is a widget designed to spread fake scarcity.
Sales Video is Full of Overhyped BS
The sales video repeats itself over and over in other banner ad scams. It's the same story just under a different name.
The pitch is full of 'wake up tomorrow as a millionaire' BS that has nothing to do with real life.
Anyone could have easily photoshopped those checks and other earning claims.
There's no real evidence that real people are making real money with Banner Banc.
Why?
Well, because there really aren't any people out there (except the owners) who are making money with this platform.
Banner Banc is a Copy-Paste Page of Bitcoin Trading Scam!
As you can see from the image below, the two sales pages are identical. Well, almost identical.
One is a bitcoin scam, and another one is a banner ads scam.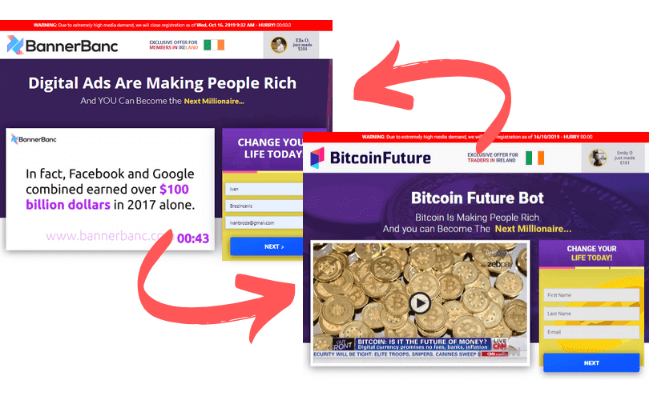 Basically, someone is just copy-pasting sites to funnel you to a trading software where you can start making (losing) money.
Investing in Banner Ads On Autopilot is Not Real
Investing in banner ads using magical software is bogus. It's true that Facebook and Google host ads on their site to earn a significant portion of their revenue.
However, Banner Banc has nothing to do with it.
If you try to Google it, you'll discover that flipping banner ads, and investing in the same, is nothing but a hoax.
As I've said, there is a whole science behind making money by investing in ads, and this is not it!
Is Banner Banc a Scam? – Final Verdict
I firmly believe that Banner Banc is a scam that has nothing to do with making money online. Besides, this is not the first site that claims that you can make millions in 20 minutes of work per day.
There are many, so beware!
My review is packed with evidence that Banner Banc is not a trusted site. I wouldn't give my shoe size to sites like this, let alone my hard-earned cash.
Here's a quick recap.
Basically, the whole sales page is fake. Real-life testimonials are actors from Fiverr and random stock images.
They tell you that you can start making, on average, $1300 in 20 minutes of work or even become a millionaire within the first 61 days.
Also, Banner Banc is a copy site of Bitcoin Future and many others.
All websites use some automated software to make trades and invest for you.
However, based on many reviews all over the net, people claim that once they've tried to withdraw their money, they were ignored or simply declined.
As I've said, I don't trust these sites, and I believe they are scams.
Thanks for your attention. I hope you've found all you needed about Banner Banc here in my honest review.
Are You Tired of Scams?
If you are tired of scams like Banner Banc, if you can't stand another get rich quick scheme or push-button solution, make sure you click the blue button below.
Wealthy Affiliate is a highly trusted training platform where you can learn how to make money online with affiliate marketing.
WA has helped me and thousands of others to make their first dollar online.
You can open a free account, no credit card needed, and stay a free member for as long as you want.
You'll get a free site so you can learn affiliate marketing at zero cost. Also, you get free basic training as well as access to a live community of like-minded people who can help you to start making money online!
It's a completely safe, and highly trusted platform, make sure you don't miss the chance!
THE BEST WAY TO MAKE MONEY ONLINE IN 2023 >>
If you need any help or you have a question, feel free to contact me.
And don't forget to share this review with your friends and family!
All the best, Ivan. Founder, and CEO @freeaffiliatemarketingbusiness.com