I've spent a lot of cash to find the best training. My mission is to help you discover which one is the most suitable for beginners as well as more advanced marketers without spending too much money. I'm happy to pay a monthly fee to participate in the course that I've chosen. Moreover, I'm recommending it to everyone who is interested in earning money online.
Imagine coming to a farmers market.
Have you ever been to such an event?
Those of you who have experienced how crazy things can be at the farmer's market, you can easily relive the moment by trying to find the best affiliate marketing training course.
Wherever you turn your head, you're bombarded with offers!
Buy me! I'm the best! I can show you how! Pick me! 🙂
A person can develop a stress disorder just by asking the question who has the best affiliate marketing training course online?
Wealthy Affiliate is in my objective opinion the best online marketing training service for many reasons.
If you are interested in learning why is that so, please, keep reading.
You see, the success stories are traveling the internet rapidly.
More and more folks are aware that there is some serious money involved in this new industry.
The sooner you hop on board, the faster you will be able to tell your own success story.
The rest of this post is the actual storyline of how I found the TOP training today.
It all started one breezy autumn afternoon back in 2017.
Related: What is the Best Affiliate Marketing Training Program For Beginners?
Internet Jetset/Super Affiliate System -Burn #1

Huh!
Where to even begin with John Crestani's Internet Jetset?
You see, almost two years ago I bumped into this guy on YouTube. The ad was for his affiliate marketing course Internet JetSet. Now, it is a Super Affiliate System.
I think it's the same s*** but in a different package.
The course itself had some great information. I have to admit that I have learned a thing or two about affiliate marketing from Crestani's training course. He is not bad at showing this stuff.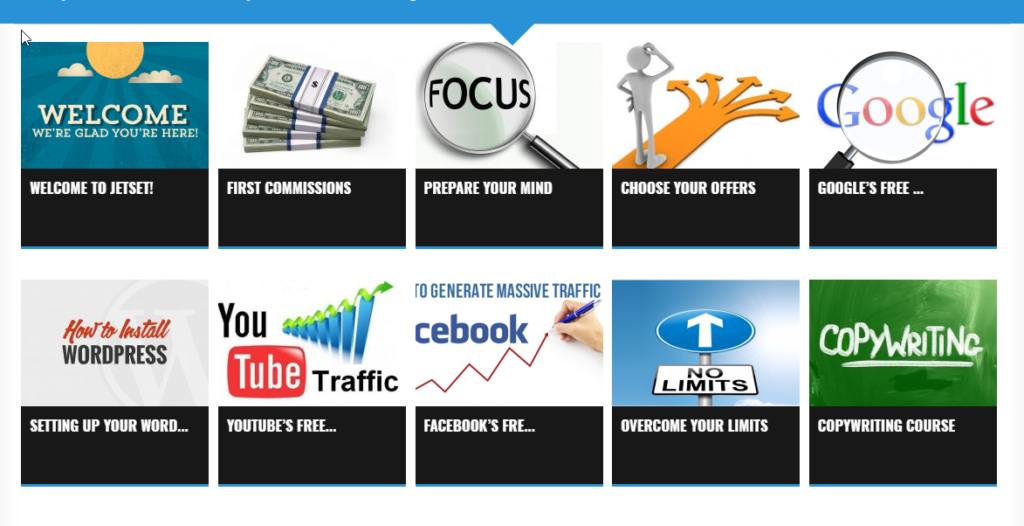 All though, I think I could find all the stuff on YouTube and have it for free.
However,  as a paying customer and a person who was eager to learn a thing or two and make a buck or two with the affiliate marketing, I was soon repulsed by Crestani's constant up sales system.
It was like this.
Here you go Ivan, two pieces of the puzzle for $50. If you want other ninety-eight pieces, please pay us $1000 more, and we'll be happy to give it to you.
Up-salles was the name of the game.
Then the worst thing happened.
Keep in mind that I was a paying customer.
You see, after three monthly subscriptions, I've decided to stop with Crestani's program.
The deal was if I ever decide to quit the course, I am free to do so, and I can keep access to a fundamental part of the training.
Naturally, that was what I expected because I've paid $150 for each month of the training.
One day I went back to go over some lessons because I was still eager to learn.
The shocker!
My access credentials were not working. I couldn't open the training platform again.
After one angry email, I managed to reaccess the training platform.
However, after a few months, I was banned from the training completely.
That was the end for me.
I don't know what's the story today, but from what I can see it's more or less the same s***.
This program still excites people. That means that there must be some value in it.

However, there are many bad reviews out there which suggest that Crestani is again doing things the same way.
I'm not saying that this course is terrible. All I can say is that it was not for me. If you have a couple of hundreds to spend, while being pulled by your nose, you might be getting some money in return. 
In the end, Super Affiliate System is still alive which proves that his training works for some people. I can see a lot of testimonials out there.
I wonder, are they real or fake?
Let's move on to my second pick.
Related: Build an Affiliate Marketing Website for Free
Affilorama Systems – Burn #2
My burning desire to learn more about affiliate marketing business was still alive. The failure of Crestani's course was not a failure of my own.
I am a guy who forgives quickly.
That's something which you have to develop if you want to succeed in this business.
As I was getting deeper and deeper into this world, I was looking at some fantastic opportunities.
The second chance came in the form of affiliate marketing training course Affilorama by Mark Ling.
Full of hope to continue my operation, I entered Affilorama because it was for FREE.
However, soon, I was out again.
You might be thinking that the problem was in me. 🙂 But it wasn't.
You see, affiliate marketing is a business model which can be made simple and easy to understand by a five-year-old kid. However, trainers all over the internet are the ones who are making it complicated because they can make more money out of complicating simple things making us believe that it is rocket science.
Let's keep it moving here.
Once I got into the Affilorama's system, I was immediately overwhelmed by tons of free video and lesson.
My excitement went up and high once again!
I've opened the first lesson within Ling's course and turned into one big ear.
After a couple of videos, I was dizzy again. 🙂
None of the stuff these guys were talking about had the sense to me even though I had some previous knowledge that I've got from Crestani.
Honestly, it was too much for a beginner at this stuff.
The whole point of their free trial was to confuse people. Ultimately, it makes you buy one of the three upgrades that Affilorama has to offer.
Crestani's course was repeating itself one more time.
Here are three Premium Affilorama systems.
AffiloTools $161
AffiloBlueprint $197
AffiloJetpack $997
Total sum, $1355!
My stomach is feeling sick right now.
However, I must explain all those upgrades to give you a clear picture.
You see, Affilorama is free. You can get a ton of beginner-friendly video to see, no charge. The videos are very professional, and they do give value. You can learn a thing or two about affiliate marketing and how it works. No doubt at all!
If you have two years of your life to waste on nothing but watching videos, then go for it.
You see, once you reach half of the way in free lessons, you will want to upgrade to learn a thing or two about how can you build your business for real.
I wanted!
But I didn't.
Why?
It made me wonder, why the hell they offer three different premium upgrades when they can merge them into one big course.
I am not in the position to say is this course worth the money because I haven't tried it for real.
$1355 was a ridiculous sum in my mind.
Yes, it's not a one-time payment, but somehow it seems that I would be paying the whole sum if I go for it.
If you want, you can try it and then give me your feedback.
Anyway, I've decided to move forward in my search for the best affiliate marketing as soon as I dropped out of Affilorama.
I've found something much much better.
Related: Turn Your Hobby Into an Online Business in 5 Steps
Wealthy Affiliate – Finally!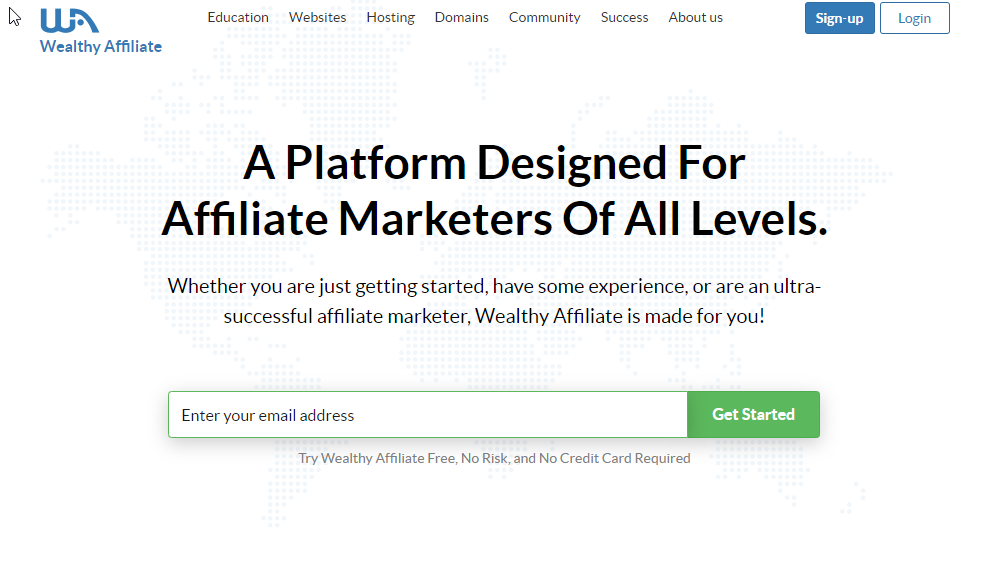 At this point, I was more disappointed than angry.
You see, affiliate marketing is a perfect thing for a person like me. If you like to surf the net or maybe you've played video games or hang on social networks frequently, you will discover that you can profit a lot from this business.
The idea of having a business operation managed by a single laptop is something that is going to take over the world fast.
Moreover, it's taking over as we speak.
My mission here is to help everyone who is interested in having more money, more time, and more freedom, in finding a perfect person who can show you how to attain all those things and create all those circumstances in your life.
After I moved away from Affilorama, I've met one more course briefly.  It was Six Figures Mentors or SFM by two guys. I think they are Australians.
It was the same story once again. Up sale was the name of the game.
Then one day, while having a break at my old job at Tesco DC I went out to soak up some sunshine and check my email.
One particular email has poked my eye because it looked and sounded familiar. I've been seeing this email in my inbox from time to time, but I haven't acted on it because my eyes were full of fog that Crestani, Ling, and the gang were throwing at me.
It was an email from Kyle and Carson at Wealthy Affiliate.
I remember looking at it and thinking should I or shouldn't I go once again. Then I turned around, saw that big box where I was working, and registered at Wealthy Affiliate immediately!
I must admit that I was skeptic toward these guys as well.
Who wouldn't be after all those scammers!
However, my skepticism was soon gone. I've discovered the world of affiliate marketing in a real sense of the word.
Online Entrepreneur Certification by Wealthy Affiliate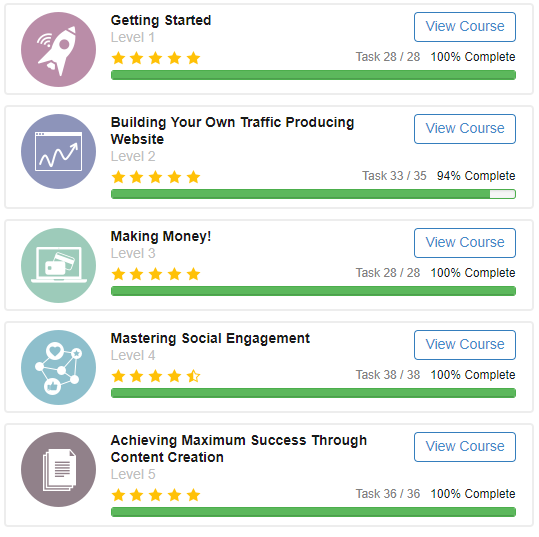 If you are serious about starting an online affiliate marketing career, if you want to create a passive income, learn how to leverage Google, Facebook, Pinterest and others to earn money online by helping the people to find what they need, you are at the right place!
Wealthy Affiliate is the only affiliate marketing training course online which is 100% honest in doing business.
The course itself is free. You can get a taste of it to see what can you expect for $50 per month.
FREE membership will let you access the first ten lessons (out of fifty in total) of the Online Entrepreneurship Course. You will get two FREE websites and the opportunity to learn the basics.
If, however, after a FREE TRIAL you decide that this is something for you then go Premium!
You'll get the first month for just $19!
After that, it's a steady sum of $50/monthly.
NO MORE UP-SALES!!!!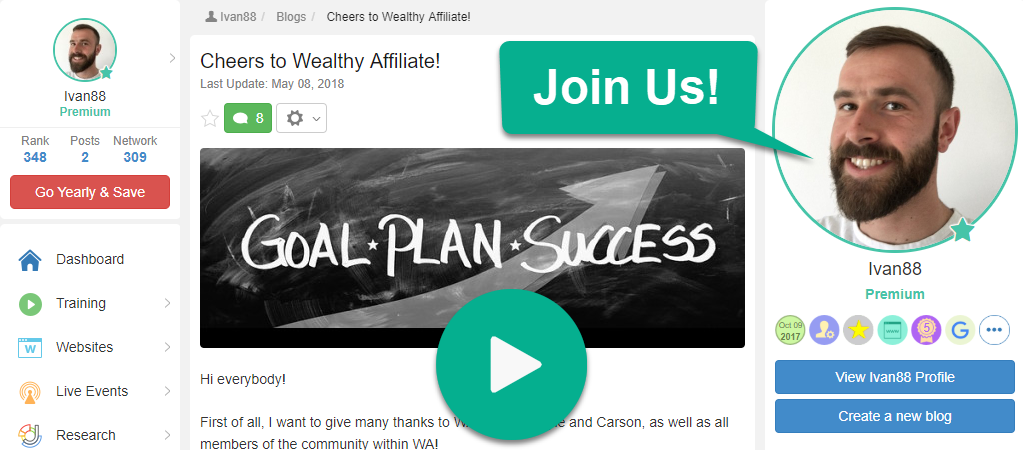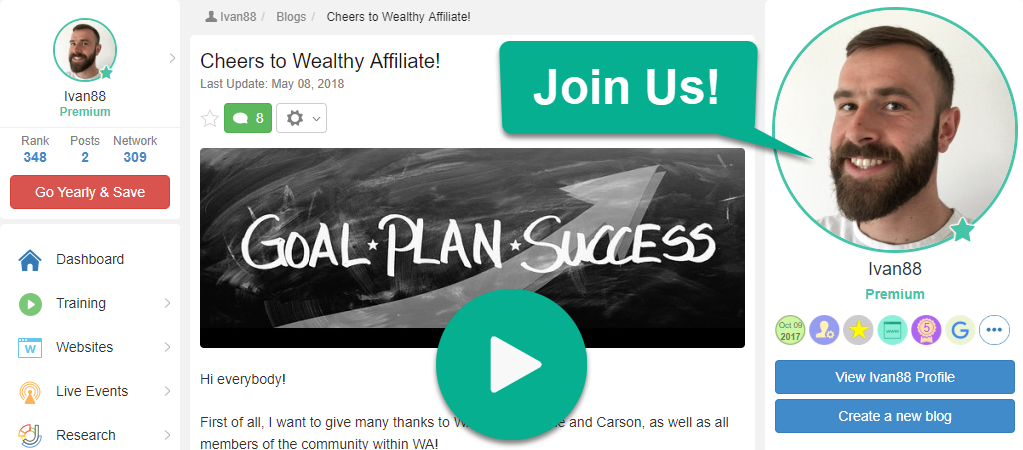 PRESS PLAY TO LEARN MORE!
You can start working online with peace of mind. Moreover, Kyle is the best trainer there is, and he will show you how to do everything from scratch.
Even if you are a computer dummy, don't worry, he makes stuff simple and easy to comprehend. After one year, you'll become a computer expert.
Let's see what can you get in PREMIUM membership.
Top 5 Offers From Wealthy Affiliate
1.) Beginner Friendly Training – 1st Stage
This stage is for people who have no idea what affiliate marketing is.
You will learn how to build a website from scratch. Don't let this intimidate you because with Wealthy Affiliate's SiteRubix it takes only 5 minutes to do so.
Kyle will help you to choose your niche (field of interest), find products to promote, write reviews, and much more.
People who have no idea what are keywords and how to perform keyword research will learn the top secret of the online business world.
You will learn to write your content like a pro in a step by step manner. Moreover, earning money by linking your website content with affiliate products or services has never been easier.
All in all, Online Entrepreneur Certification is the best beginner friendly training course online.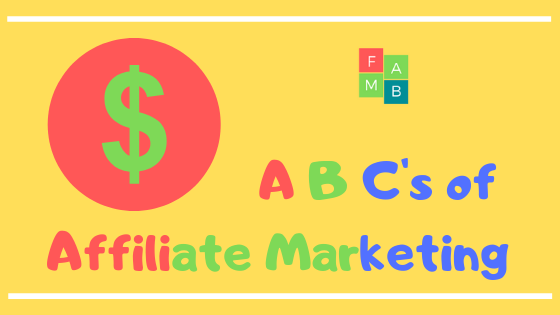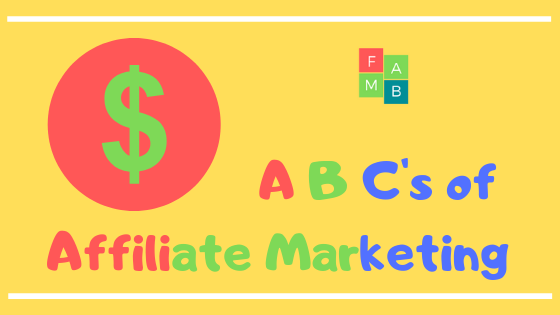 2.) Advanced Training – 2nd Stage 
Even if you already have some previous knowledge and you find that Stage One of the course is a little bit slow for you, the second stage, Affiliate Bootcamp is an ideal place to continue.
Many advanced affiliate marketers join Affiliate Bootcamp each day to perfect their knowledge.
At the second stage of the training, you will get access to seventy advanced lessons that cover everything you'll have to know to earn serious money by doing affiliate marketing.
3.) Largest Online Entrepreneurs Community –  LIVE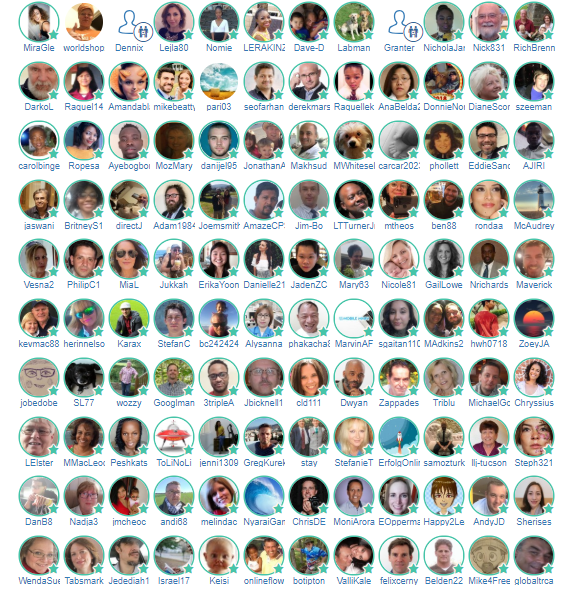 This is just a part of my network at WA!!!
What got me the most, and what will surprise you as well, is a vast number of active members within the active community of affiliate marketers.
People are constantly interacting at Wealthy Affiliate. Everyone is sharing advice, helping each other to grow their business, giving support, helping to solve burning problems, and much more!
Compare this feature of WA to Affilorama or Super Affiliate System, and you will get a winner immediately.
When I was starting two years ago, I had to buy a hosting service. Then buy a separate course to learn how to create a website (Internet JetSet). And, in the end, manage everything by myself.
I did it, but it was a nerve-racking process for a beginner.
However, my life got ten times easier since I've started to work with Wealthy Affiliate.
Not only that you get free sites, but the guys give you hosting, they build them for you, maintain them and take care of security.
You don't lose a single hair off your head in the process.
The last, but not the least feature of Wealthy Affiliate, is integrated keyword research tool!
For many affiliate marketers finding a perfect keyword represented a hard task not so long ago.
However, not anymore.
Keywords have never been more natural to find all thanks to Jaaxy, Wealthy Affiliate's keyword research tool.
They represent a core of your business and Kyle is a keyword master who can show you all secrets to finding a perfect combination for your business idea.
Some Final Thoughts
As you can see, it was a long journey to find the best affiliate marketing training online. It took me almost two years to get rid of all those faulty programs.
However, I don't regret a single second. It was a path that shaped the hot metal the right way.
Thanks to that experience, I've found a system that can help you shape your desire into anything you want.
Wealthy Affiliate is, in my opinion, the ULTIMATE WAY TO GO!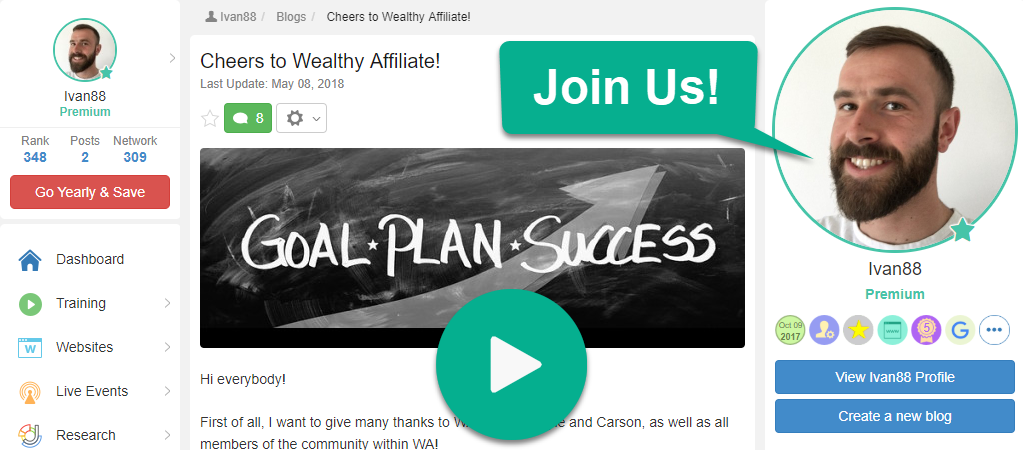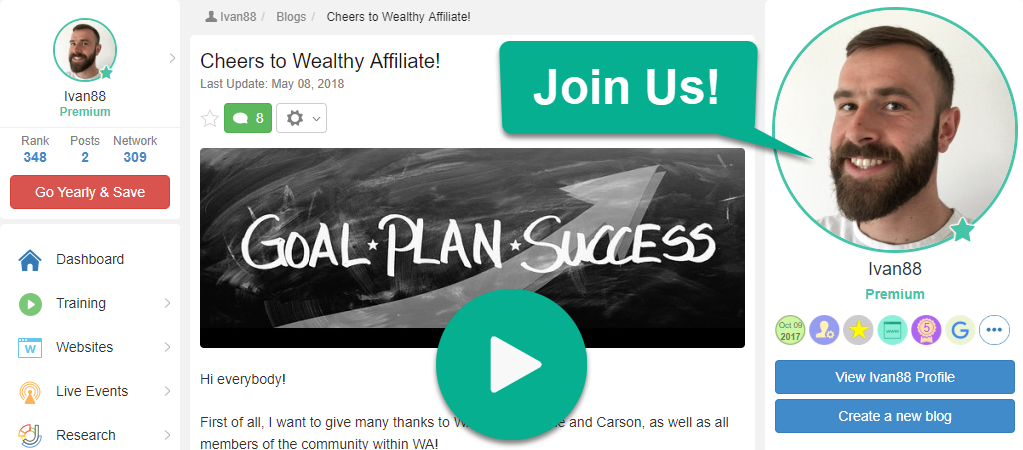 PRESS PLAY TO LEARN MORE!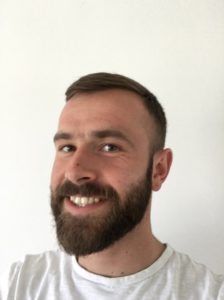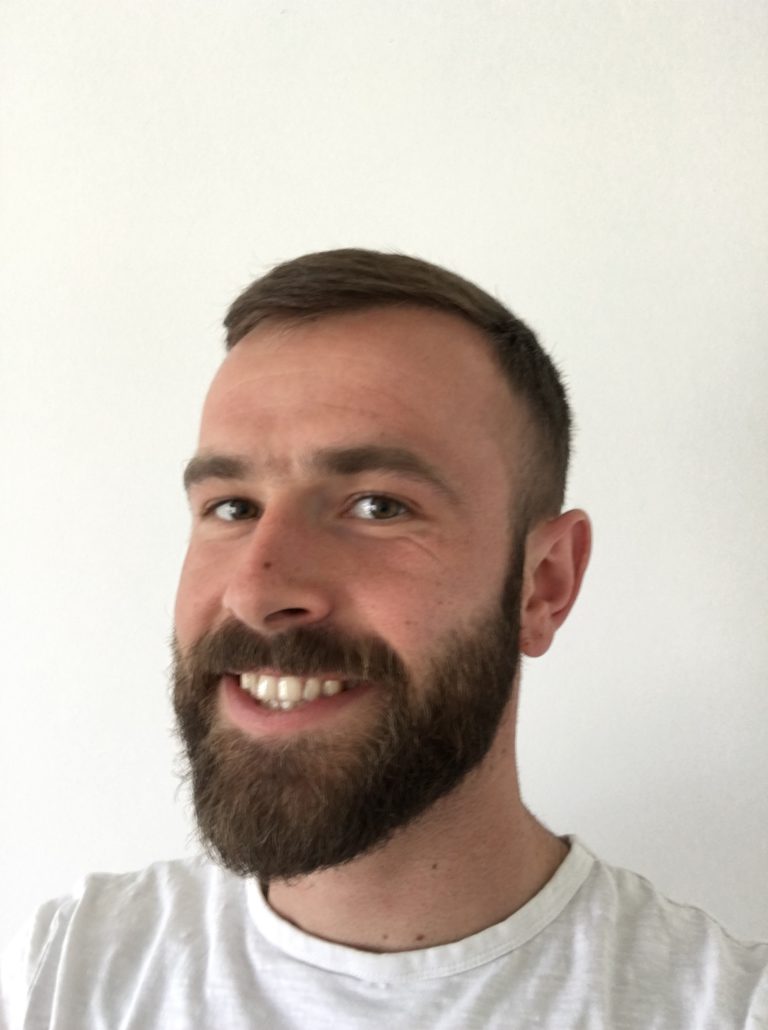 I wish you a successful online marketing journey!
If you need any help or you have a question feel free to contact me!
All the best,
Ivan,
founder, and CEO at
freeaffiliatemarketingbusiness.com