Welcome to my Blog Simple Framework review.
Are you looking to start a blog? Need someone to show you the right way to do it? Are you tired of scams and overhyped get-rich-quick schemes that never work and are just after your money?
Great! This website is definitely the best place to get started on the right foot.
Hi, I'm Ivan and I'm a successful online marketer and blogger who went from waiting tables to earning a full-time income online. I have also tried and tested 600+ courses, scams, and all sorts of schemes to find the best way to make money online.
In other words, I'm passionate about making money online, blogging, affiliate marketing, and helping you to find legit ways to do the same!
That said, there are too many scams out there, so you're probably thinking "Is Blog Simple Framework a scam?" And I don't blame you.
In this in-depth review, I will help you with the truth. I'm not affiliated with Blog Simple Framework, which means that you will get things as they are (no sugarcoating).
The last thing you want to do is waste your time and money on another scam.
Shall we get started?
Blog Simple Framework Review – Overview
Type: Blogging Course
Price: $499
Owner: Paul Scrivens
Money-Back Guarantee: 18 months
Recommended?: Yes
Overview: Blog Simple Framework is not a scam. It's actually a legitimate course created by a successful blogger, Paul Scrivens. Needles to say, the course is about blogging and making money with affiliate marketing.
Paul has created 11 courses (modules) to show you how to set up your own blog, write content, master SEO, get traffic, leverage affiliate marketing, and more.
In my opinion, Blog Simple Framework is a legit and recommended course for bloggers.
Important Update 2022: Paul has changed the signing up process for the Blog Course Framework. You can now visit PocketBusiness.com to apply for a 40+ minute free blogging workshop.
Keep in mind that there is no sales pitch involved. According to Scrivens, he will email you when the time is right and give you the link to the checkout page.
Here is the official explanation: "I want you to solely focus on what's inside of the Workshop. Over time I'll send you some emails if you do wish to continue your journey, but I promise you that this Workshop will show you the path that you should take to grow a successful business."
Better Alternative: Also, make sure to check out my #1 recommendation as well. This EXACT SYSTEM helped me to go from $0 to earning $100's per day with blogging and affiliate marketing. It's by far, the best blogging course I've ever tried!
Best of all, my #1 recommendation is free to try it and will cost you only $49 per month to get access to in-depth blogging and affiliate marketing course, websites and site builder, tools such as hosting, keyword tool, content writing tool, etc., and super-helpful community (1.4 million members)!
THE BEST WAY TO MAKE MONEY ONLINE IN 2023 >>
What Is Blog Simple Framework?
Blog Simple Framework is an 11 module training course focused on teaching you how to start a successful blog and make a six-figure income online.
Yes. You've read it right! It's not a typo.
However, there are too many scams these days that it's hard to believe in any of those claims.
While six-figure income from blogging is more than possible, it's also important to stay cool and realize that it takes a lot of time and effort to reach a six-figure income from your blog.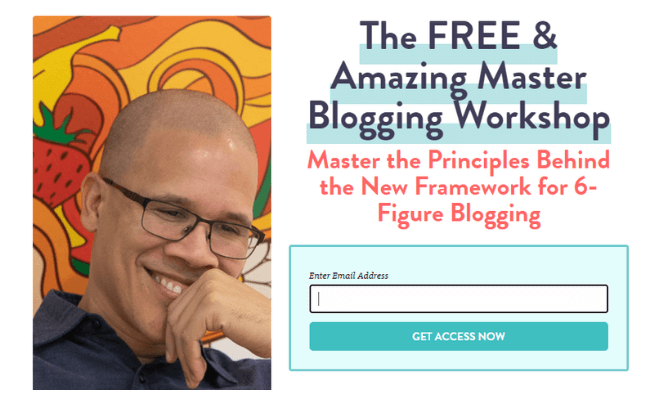 So is Blog Simple Framework a scam?
I wouldn't say so. I joined Paul Scrivens's workshop to learn more about this offer and from what I've seen, this course looks legitimate to me.
There are 11 training modules with which Paul will help you to get your blog off the ground. Also, he's not going to stop there, you will learn how to get traffic and make money.
The goal is simple.
Blog Simple Framework will teach you how to write blog posts about something you like to do and know about. The more you write, the more traffic you can get.
So what should you do with all that traffic?
Again. It's simple.
Paul will show you how to leverage affiliate marketing to promote other people's products to make money.
Related: 12 Minute Affiliate Review
Who Created Blog Simple Framework?
Paul Scrivens is the creator of Blog Simple Traffic as well as The Pocket Business course, and several successful blogs. One of the most successful examples is DareToConquer.com
That said, it's evident right from the start that Paul Scrivens is a legit blogger.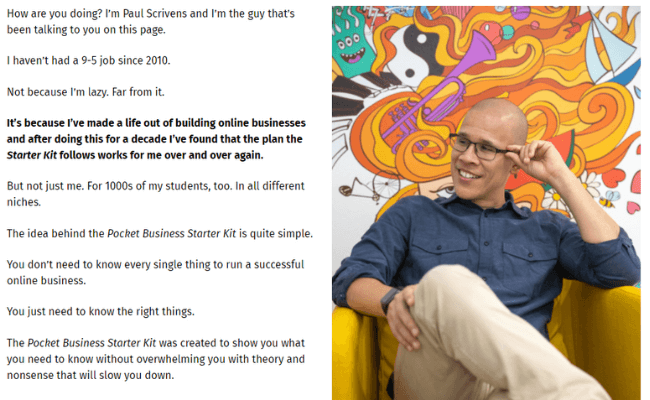 I've tried to find out whether Paul has a free YouTube channel as well. It seems he doesn't have one, which is a shame because YouTube is a great place to share content.
Another of Paul's successful blogs is called Obstacle.co where he shares blogging-related content.
Since he started blogging, Paul Strivens has managed to build a lot. Moreover, he has managed to earn a six-figure income in one month, which speaks enough about his expertise.
All in all, as I said, Paul is the legitimate dude that seems to know a lot about blogging.
Now, let's digress this review to see what you can learn from his Blog Simple Framework course.
How Does Blog Simple Framework Work?
Before you can get access to the course, you will have to register for a free blogging workshop. It's 46 minutes long video where Paul talks about blogging.
It's basically a presell for the Blog Simple Framework course.
Once you do get access, you will discover 11 training modules. Each module is designed to explain one segment of the process of building a successful blog.
Here's the short breakdown of all modules:
Blog Simple Framework
Blog Simple Pinterest
Blog Simple Content Creation
Blog Simple WordPress
Blog Simple GeneratePress
Ad Revenue Engines
Affiliate Revenue Engines
Blog Simple Niche Selection
Blog Simple Bootcamp
Blog Simple SEO
Blog Simple Affiliate Marketing
Step 1. Choose Your Niche
The idea is to teach you how to choose your niche. This is very important for the success of your blog. You have to choose a niche that you're passionate about and it must be profitable.
If you fail to choose the right niche for your blog, you will not last long in this business.
Every blogger knows that it takes a ton of content to get attention, traffic, and to make money. So if you choose a niche that you're passionate about, you will have no problems with lasting long.
Step 2. Step Up a WordPress Blog
Inside Blog Simple Framework, there's a section where Paul will be teaching how to set up a WordPress-operated blog.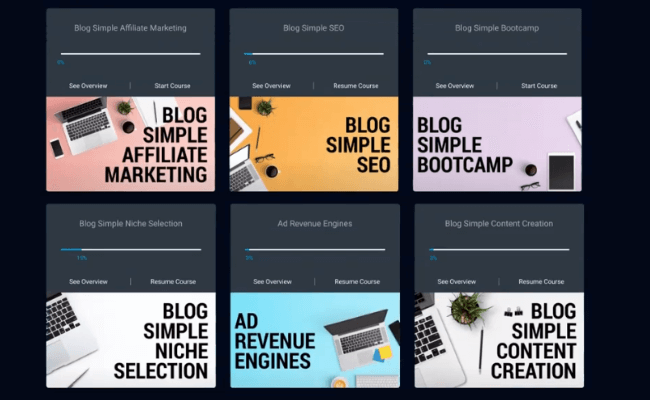 You will learn how to set up everything, play around the dashboard to get a hang of it. Also, he will be showing you how to install a theme (Generate Press) and plugins as well.
Having a fast loading and light theme will be critical for the success of your blog too.
Search engines don't like blogs that use heavy themes because they load slow. Google for example wants all sites to be fast today because that's what people want.
Most blogs use WordPress because it's the fastest, most reliable, and simplest platform.
Step 3. Create Content
The Blog Simple Framework course also shows how to create content. This is another key element. You will have to learn how to create blog posts properly.
Just writing content is not enough. You have to speak to your audience.
Your goal as a blogger is to educate people and share valuable information. The more you share, the bigger your influence can be, which is what you want with your blog, right?
Step 4. Search Engine Optimization
Another topic inside Blog Simple Framework is SEO. Search Engine Optimization is critical. If you don't optimize your content for search engines, you will have small, very small chances of getting rankings.
On the other hand, properly optimized blogs will appear in SERP and even get top positions.
And the more these top positions in SERP you get with your blogs, the more natural organic traffic will come to your site, which is the ultimate goal.
So what then? What should you do with all that traffic?
Step 5. Making Money And Affiliate Marketing
The final segment of Blog Simple Framework is all about affiliate marketing and making money.
In a nutshell, Paul will be showing you how to find a product or products that are related to your niche. Your task will be pitching those products to your visitors to earn revenue from your blog.
Keep in mind that this is not hard.
All you have to do is incorporate a few words inside your blogs about the product and leave an affiliate link so they can click on it and visit the product page.
And that's basically how Blog Simple Framework works. I don't see any scam signs here either.
Related: Wealthy Affiliate Review
Is Blog Simple Framework a Scam?
Blog Simple Framework is not a scam, get-rich-quick scheme, or any of those things.
It's a legitimate training course that helps people to start a successful blog. The creator, Paul Scrivens is also a legitimate blogger and expert in this field.
Most scams on the market these days don't even have real owners.
I mean. Who would want their face and name to be associated with a product that is designed to rip people off?
As you have had a chance to read in the previous sections of my Blog Simple Framework review, Paul Scrivens is a highly successful blogger who has a ton of great work behind him.
This is a big plus in my book.
Also, while reviewing the sales material, I didn't notice any scam signals there either.
Most scams use dirty tricks like misleading statements such as "make $5,000 in the next 24 hours" or "secret loophole that makes $500 a day without any work" to get your attention.
Blog Simple Framework is clean. Paul advertises it as an opportunity to build a successful blog that could earn up to six figures per month, which is more than possible.
Just keep in mind that most new bloggers never earn a dime. That's the reason why they call even legitimate courses a scam.
And lastly, another reason why Blog Framework is not a scam is the course itself.
As you have had a chance to see in the previous sections of my review, there are 11 training modules. In other words, it's a comprehensive and legitimate course.
Alternative: On the other hand, if you're looking for the best business model to earn passive income online as a beginner, there are other, more suitable, and cost-effective alternatives.
My top-rated course has helped me to go from earning $0 to $100's per day!
THE BEST WAY TO MAKE MONEY ONLINE IN 2023 >>
Who Is Blog Simple Framework For?
Are you creative? Do you like writing? Are you interested in making money online? Blog Simple Framework could be then a course for you.
In my opinion, Paul's course is for anyone interested in blogging and making money online.
The fact is, blogging is not for everyone. It requires a lot of work and effort, time and patience, and above all, you need to invest a lot of money too.
So if you're not ready to work and wait, don't join this course.
On the other hand, if you're looking for a comprehensive course that could help you to start your own successful blog, feel free to check out Blog Simple Framework.
Related: Savage Affiliates Review
Do I Recommend Blog Simple Framework?
As you may have noticed so far, I do recommend Blog Simple Framework. It's a legitimate course so I don't see any reasons why not to recommend it.
But as I said earlier, don't get all hyped up about it.
I don't want to burst any bubbles here, but blogging is a serious business. Yes. It's a business and only those who treat it like one will achieve financial success.
Once you finish the Blog Simple Framework course or any other for that matter, that's just the first step.
What I'm trying to say is that courses like Paul's could help you to get started on the right foot. However, you will have to invest 10x more time and energy to become a successful blogger.
What I Like About Blog Simple Framework
Before I conclude my review here, let's go over some things that I really like about Paul Scrivens's Blog Simple Framework course.
Paul Scrivens Is a Successful Blogger
First things first, I always like to see a course that was created by a successful entrepreneur in his respected field.
And that is exactly what Paul Scrivens is. The guy has a ton of successful blogs behind him and has earned boatloads of cash so far.
So it's safe to say that Blog Simple Framework was created by a true expert.
Course Includes A LOT of Content
As you have had a chance to see earlier in the review, Blog Simple Framework includes a lot of content, which is awesome in my opinion.
I hate to see overhyped courses designed to sell you a crash course or an eBook.
That's not how Paul rolls. He includes a LOT of awesome content and covers everything that you need to know about in order to build a successful blog and make money online.
Paul Focuses on SEO and Social Media
Well, the course is about blogging, so it would be weird if it doesn't focus on SEO and Social Media. But in any case, that's great to see.
I'm a big fan of SEO. It's the best method for getting traffic to your site and it's free!
Social media is also free, but I'm not that into it. I should go over the Blog Simple Framework module where Paul teaches about it. Maybe I learn a few new things.
You Get Access To a Private Community
Another good thing about Blog Simple Framework is the fact that you get access to a community within Slack where you can chat with Paul and other members too.
Having access to a vibrant community is critical for every new blogger.
You will have a ton of questions along the way. You will feel stuck that's for sure. Community helps you to dissolve your problems in a matter of minutes.
Complete Lack of Hype and Fluff
Lastly, while I was reviewing Blog Simple Framework sales material, I noticed a complete lack of hype and full and I love it.
Also, the course itself is BS-free and keeps things real.
Most online scams will excite you to the point where you will lose the touch with reality and will start believing in unrealistic things. That's not the case with Paul's course.
Related: Affiliate Marketing Mastery Review
What I Don't Like About This Course
Although I think that Blog Simple Framework is a great course, it is perfect. Here are some things that I didn't like about it as well.
Blog Simple Framework Content Is Overwhelming
Don't get me wrong. The course itself seems great! However, there are a lot of modules and information inside those modules that could overwhelm you easily.
Most newbies will be shocked by the amount of information, which is not good.
Price Is Too High For My Taste
I'm not cheap. In fact, believe in education and I think that knowledge is priceless.
However, when I look at the price tag of Blog Simple Framework, I get a bit dizzy. $499 is a lot of money for a blogging course.
On the other hand, you do get a lot of value in return and a chance to earn at least that much every month!
Community Can Be a Distraction From Blogging
Although I love the idea of the community and having access to one, this can also be very distracting.
A lot of people who join courses like Blog Simple Framework will chat non-stop and thus will create a lot of distractions for those who came to work.
Blog Simple Framework Review – Conclusion
All in all, I like blogging and I'm a fan of the Blog Simple Framework course. It's comprehensive, on point, and most importantly, it's not a scam.
If you're into blogging, I would recommend this course. (check out the last section for a much better alternative)
The thing that I like the most about this course is the fact that the creator has a ton of experience behind him. Paul Scrivens is not some random "guru."
The guy has managed to build several super-successful blogs and clearly likes to help others to follow in his footsteps.
Keep in mind that this feat won't be easy. Blogging is a tough business. It's not for everyone.
But if you're up for the task, I wish you nothing but good luck!
Thanks for reading my Blog Simple Framework review. I hope it was helpful. What do you think about it? Do you have any experience with Paul's course?
Feel free to share your comments at the end of this review!
Related: The Super Affiliate Network Review
How I Make Money Online
My #1 recommendation is a step-by-step beginner-friendly affiliate marketing course that has helped me to go from $0 to earning $100's per day with affiliate marketing.
The reason why I recommend it over other courses is that my #1 recommendation is the leader in the affiliate marketing training industry.
Also, my #1 recommendation comes with all the tools like hosting, websites, keyword tool, etc., included with the course!
Moreover, my #1 recommendation is proven by 1000's from all over the world.
On top of it, my top-rated course is the largest online community of marketers of all levels.
This means that you can get help 24/7 and get answers from 1000's of expert coaches, including me!
Best of all, I used this exact system to go from $0 to $1000's per month in passive income!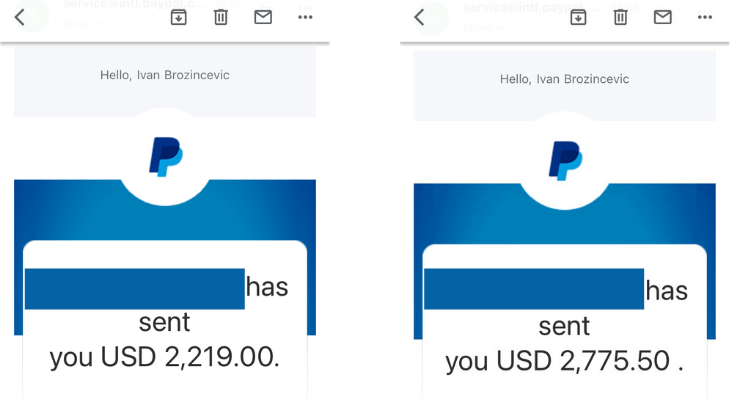 Among the best features of my # 1 ranked course is that you can take it for a test drive (just a $49 Premium subscription).
You will get one complimentary site and access to the very first ten lessons from the course to try things out.
After evaluating over 500 programs on the web, my conclusion is easy. This is the best course to learn about ins and outs of affiliate marketing.
And if you're looking for the very same, click the button below!
THE BEST WAY TO MAKE MONEY ONLINE IN 2023 >>
And don't forget to share this Blog Simple Framework review with your friends and family!
All the best, Ivan. Founder, and CEO @freeaffiliatemarketingbusiness.com
Related: Blog Growth Engine Review