Hey there, welcome to my Bulletproof Method review.
Today, I want to investigate whether it is possible to make $105 within the next 24 hours from now with the Bulletproof method or it is another get-rich-quick scam that promises too much but delivers little in return.
I've seen this offer on numerous sites as well as on the WarriorPlus marketplace where I usually shop for knowledge. It poked my eye with those bold claims so I couldn't resist but to share my views and opinions.
In this Bulletproof Method review, I'm going to share with you what this program is about. Then, I'll take you through the content and explain how it works. In the end, I will share my honest opinion about whether this is a scam or a legitimate way to earn an income online.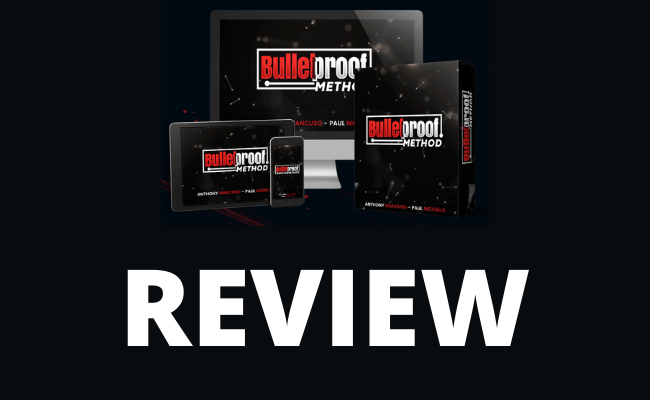 Bulletproof Method Review – Overview
Product Type: Affiliate Marketing (PPC) Course
Product Owner: Anthony Mancuso and Paul Nichols
Product Price: $12.95 + UPSELLS
Money-Back Guarantee: 30 Days
Recommended?: No! See the summary below…
Quick Summary: In a nutshell, Bulletproof Method is an overhyped get-rich-quick scheme that targets newbies with claims about making money in the next 24 hours from now. In my opinion, this program is on the borderline between a scam and a legit resource for starting an online business.
Since there is some value in the front-end product, it's technically legitimate training. You can use this program to learn how to start a Pay-Per-Click marketing business. However, I'm sure that the content of the training is not going to help you make money in the first 24 hours, if ever.
In my opinion, this is a dishonest offer. That said, I don't recommend Bulletproof Method.
If you're looking to start a legitimate online business and make money online, you could check out my top-recommended free training below instead of wasting your time on a get-rich-quick scam.
THE BEST WAY TO MAKE MONEY ONLINE IN 2023 >>
What Is Bulletproof Method?
I'm always shocked by the claims that the creators of Bulletproof Method make. To a seasoned marketer like myself, seeing those claims such as "make money fast" or "earn $$$ in the next 2 hours with free traffic" causes all my scam alarms to start ringing like crazy.
From the information available on the sales page, the Bulletproof Method is a system that will generate you $105 in the 24 hours from now with 100% free traffic. And to make it even more interesting (or to cover up a scam), the owners don't reveal what it is really about.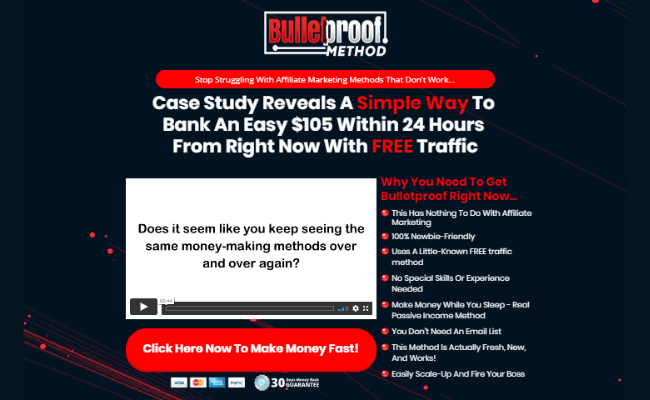 All that you get to hear are the following claims:
This Has Nothing To Do With Affiliate Marketing
100% Newbie-Friendly
Uses A Little-Known FREE traffic method
No Special Skills Or Experience Needed
Make Money While You Sleep – Real Passive Income Method
You Don't Need An Email List
This Method Is Actually Fresh, New, And Works!
Easily Scale-Up And Fire Your Boss
Does Bulletproof Method sound like a scam to you?
Honestly, I've seen too many of these products to know the difference. For example, I've reviewed a similar product in Mancuso-Nichols production called Fast Cash 5. Can you guess what it has in common with the Bulletproof Method?
Both systems will make you money in the next 24 hours! Also, both of them and newbie-friendly and work on 100% free traffic that takes only about 60 minutes to set up.
That's not the only one. I've reviewed a product called EZ Passive Paydays. With this one, Antony claims that you can make $100-$200 right out of the gate. All you have to do is activate the system using three simple steps, etc.
And do you know how many people have reported success with these programs?
If you've said zero, you're very close.
See the problem is that there's no such thing as making money instantly if you're a beginner- Bulletproof Method and other schemes alike are designed to trick you into buying a lame product that is never going to work like advertised, which could mean it's a scam.
Is Bulletproof Method a Scam?
Honestly, I can't escape the feeling of a scam whenever I review a product from these guys. Anthony Mancuso and Paul Nichols have created dozens of these systems for earning an income fast and with no skills or efforts.
As you know now, Bulletproof Method is just another one in a series of overhyped mini-courses that aim at newbies who are looking for quick ways to make money online.
One of the tricks the owners use to attract you are the screenshots of their professional earning. But what you don't know is that it took them years to set up their businesses and to accumulate these commissions. And yet, they want to make you believe that you can make the same money in the next 24 hours.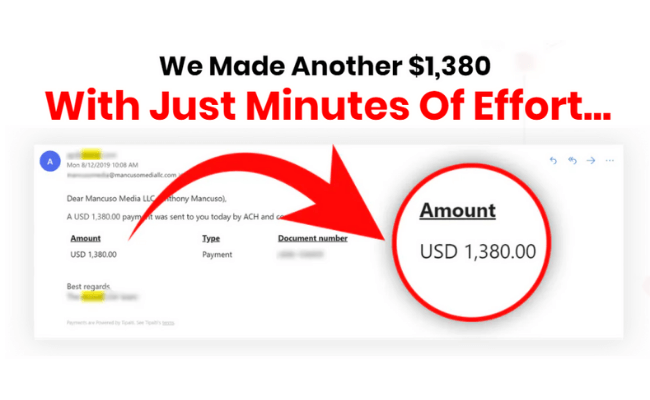 You see, making money like this is possible. However, you must understand that it is NEVER going to happen in the next few hours, days, or even weeks as these guys promise with their "revolutionary" programs. So if lying to you is enough to call Bulletproof Method a scam, then so be it.
So you must be asking yourself now, why would they lie so much on the sales page?
Well, they want to get you inside of the sales funnel where THEY earn big money using more sales pages like Bulletproof Method. In other words, the primary purpose of this program is to get you inside and upsell you like crazy with DFY methods, secret traffic sources, and other BS that never works.
You do get some content, which I'm going to disclose later in the Bulletproof Method review. But for now, it is safe to say that it is nothing revolutionary, nor will it make you rich in the next 24 hours. Let me show you more…
How Does Bulletproof Method Work?
The Bulletproof Method is a training course that teaches how to earn an income with PPC. But it's not the PPC that you're thinking about. This method is about Pay-Per-Call marketing.
If you don't know, pay-per-call is a type of marketing where you advertise a service, like plumbing for example and then ask your visitors to call a specific phone number for more information about that service.
So if someone is looking for plumbing service and you as a marketer give them a number of a company in their area that offers the plumbing service, and they make a call, you earn a commission.
The method is much similar to affiliate marketing, although Antony and Paul say that it has nothing to do with affiliate marketing. I'm guessing that was just another lie to cover up the scam. Well, let's not get carried away.
Within the Bulletproof Method training, they teach you how to find the best pay-per-call campaigns at OfferVault. And then, the main aim of the Bulletproof Method is to get as many eyes in front of these offers as possible.
You see, Bulletproof Method is legit. But I don't know how could they say that this is newbie-friendly and that it will make money in the next 24 hours. In reality, PPC takes a lot of time and work, especially if you're going to be focusing on free traffic.
You will have to build a website, drive traffic, which is a tedious task, by the way. Then, you need to promote your content on social media. And finally, if it works, you can make a few commissions.
What I'm trying to say here is that pay-per-call is not a quick way to earning tons of commissions effortlessly as Antony and Paul had led you to believe. In reality, PPC is a serious marketing business that only a few people ever pull off.
So technically speaking, Bulletproof Method teaches you a legitimate system for making money online, but the way this has been advertised is a scam, in my opinion.
Bulletproof Method Price and Upsells
If you want to learn how to set up your own pay-per-call business, you will have to pay $12.95 for the core training that contains 12 lessons. However, since the core training is probably not going to be enough, guys offer some upsells you could consider in case you want to improve your odds.
Upsells
Upsell #1 Bulletproof PRO Version $37 – PRO version is designed to show you how to get traffic and earn more profits.
Upsell #2 Bulletproof 'Done For You' $67 – DFY version gives you access to done-for-you campaigns.
Upsell #3 Bulletproof 'Case Studies Pack' $37 – Case Studies upsell gives you access to a few over-the-shoulder campaigns that have worked successfully for the creators.
Upsell #4 Full Reseller/License Rights $97 – Full reseller/license rights to sell the Bulletproof Method as your own product and keep 100% of the commissions.
Is There a Refund?
The Bulletproof Method comes with a 30-day money-back guarantee. Antony and Paul promise to give you your investment back if you don't achieve the desired results within the first 30 days.
What I Like About Bulletproof Method
I know I've been saying a lot of negative things about the Bulletproof Method at the beginning of this review. And I stand behind those comments 100%. However, I have to be fair and show you the other side of the medal too.
Pay-Per-Click Is Legitimate Marketing Method
One thing that I like about this program is that it shows you how to start a business using a legitimate marketing method. Pay-Per-Click is one of the oldest methods, and it is still reliable today. Moreover, it is proven and could work if you invest enough time, work, and money into the PPC business.
You Get A Basic Training For A Fair Price
The price of this program is only $12.95 (without upsells), which means that you are paying a little more than $1 per lesson. You get 12 lessons altogether where Anthony and Paul lead you through the process of finding offers, creating campaigns and getting traffic.
Comes With 30-Day Money-Back Guarantee
If you don't like the training, you can contact the owners during the first 30 days and activate a refund policy. However, keep in mind that Anthony and Paul could ignore your emails (it has happened before). In other words, they give an option to ask for a refund, but they tend to play deaf when you ask for it.

What I Don't Like About Bulletproof Method
Now, let's go back to those scam signals and comments from the top of the Bulletproof Method review. I want to show you one more time why this product is not going to be on my list of recommended programs for making money online.
Owners Promise Results In 24 Hours From Now
Although Pay-Per-Call is a 100% legitimate marketing method, to tell you that you can make $100's in the first 24 hours is just too much BS. Anthony and Paul have (once again) created a training program that they promote as a get-rich-quick scheme.
It's just not right to give away these false promises only to sell more copies of the program. That is a big red flag in my book.
Overhyped Earning Claims From The Sales Page
Another red flag related to the Bulletproof Method is related to those overhyped earning claims. Those commission checks and payment proof from the sales page are the results of long days, weeks, and months of hard work and effort. And yet, they claim how you can start making the same mounts in less than 24 hours.
In other words, this program has a "get-rich-quick" scam written all over it.
Pay-Per-Click Is Not a Beginner-Friendly Method
Pay-Per-Click is a legitimate method, I've said that already. However, the Bulletproof Method is not as easy as they say on the sales page. Surely, beginners could try and succeed. But if you don't have the necessary marketing skills, this may take you forever to pull off.
In my opinion, there's a lot of not so beginner-friendly work involved in PPC. I would say that this is more for advanced marketers.
The Training Is Not Comprehensive As It Should Be
Bulletproof Method is not an expensive training course (not considering upsells). And the truth is, you get what you pay for. In other words, you will get 12 short training lessons where they show you the basics of the business, and that's all there is.
In my opinion, you don't have to pay for this. You can find free tutorials and guide on YouTube and Google.
You Must Take Upsells To Get the Advanced Training
It's not the first time that Anthony and Paul have left holes in the basic training, which means that it is not going to work as promoted, and you will have to take upsells. Bulletproof Method has been constructed this way intentionally.
I'm not too fond of upsells, and in my book, this is also a red flag.
Is Bulletproof Method Recommended?
If anyone wants to pay $13 to learn the basics of Pay-Per-Call marketing, Bulletproof Method could be the right way to go. You get 12 lessons where they teach you how to find offers, set up the campaigns and more.
However, this product is not my honest recommendation for starting an online business and making money online.
Bulletproof Method sales page was enough for me to stay away from this training. I don't want to work with people who are willing to throw that much BS on the sales page to make more sales. In my opinion, this program is on the borderline with a scam and is not recommended.
Here are my reasons once again:
Owners promise fast results (24 hours or less)
Overhyped earning potential
Not newbie-friendly
Training is basic
You need to buy upsells to get the advanced training
Final Words and HONEST Recommendation
That's it, guys. We have come to the end of my Bulletproof Method review. I hope you've gotten all the information you've been looking for. If you need more info, feel free to reach out below!
And while you're here…
I want to share with you a legitimate training course for earning an income with affiliate marketing.
The training that I recommend is a 100% legitimate and proven way to set up, grow, and maintain an online business.
If you don't know already, I'm talking about Wealthy Affiliate.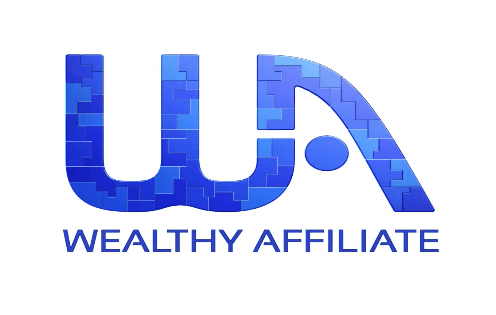 Wealthy Affiliate will teach you how to:
find a profitable niche
build a website (you get hosting included)
get traffic to your site
make money with affiliate marketing
Also, you can join Wealthy Affiliate for free to try out the platform. You will get seven days of free access to the beginners' course, one free website and Premium coaching and support.
I've joined Wealthy Affiliate three years ago and have used all those resources to build and grow my own affiliate marketing business. You can read my story by clicking the button below.
THE BEST WAY TO MAKE MONEY ONLINE IN 2023 >>
And don't forget to share this post with your friends and family!
All the best, Ivan. Founder, and CEO @freeaffiliatemarketingbusiness.com