Welcome to my Cash Magnets review.
Every now and then, vendors and online product creators release some super-duper money-making program that's going to make you rich.
Do you know what all of them have in common?
They require zero to no work, and they pay off in 10-30 minutes. What do you think? Is it possible? Or Is Cash Magnet a scam designed to rip you off?
You see, making passive income from home is a reality. Thousands of people have mastered this skill, including myself. But mark the words 'mastered' and 'skill.' Those two words mean a lot, a LOT!
By the way, congratulations on researching before getting into things headfirst. If you are looking for something real, check out the best way to make money online.
Let me show you what can you expect from this offer in my honest Cash Magents review. In this review, I'll be showing you what exactly this offer is about, what to expect and whether Cash Magents is a scam or legit.
Cash Magnets Review – Overview
Product Type: Affiliate Marketing
Product Owner: Brendan Mace & Jono Armstrong
Product Price: $12.95 + 5 hidden upsells
Money-Back Guarantee: 30 Days (questionable)
Recommended?: No! Scam Alert!
Quick Summary: First of all, Cash Magnets is not even close to what you can read and hear from the sales page. For example, the owners promise fast cash in literally 10-30 minutes of work! And that's not all.
Brendan Mace and Jono Armstrong say that you don't need any tech skills or knowledge to succeed with affiliate marketing and make cash instantly.
One word, two letters. BS.
In reality, you will get a few videos that can't even be called a real online marketing training. Yup! That is what Cash Magnets is really about. It's basically a funnel designed to lead you through a few upsells where you can spend more of your hard-earned money.
You see. the price is low for a reason, as well. Once you get inside, there are five upsells all together, five! Each of these upsells contains a critical part of the system, which means that you will have to buy them to get a chance with this offer.
I'll show you more details in my Cash Magnets review.
The bottom line, not recommended because it's deceptive and not comprehensive online marketing training.
If you are tired of scams and bogus websites, scams, MLMs and pyramid schemes, check out a 100% legitimate way to make money online below I used to go from $0 to earning four-figure passive income online!
THE BEST WAY TO MAKE MONEY ONLINE IN 2023 >>
What Is Cash Magnets About?
Crash Magnets is another WarriorPlus release. The program is supposed to help you to create some 'magnets' that will pull passive cash into your account every day.
According to the sales page, we're talking about $1000+ every week in passive income that requires only about 10-30 minutes of your time each day.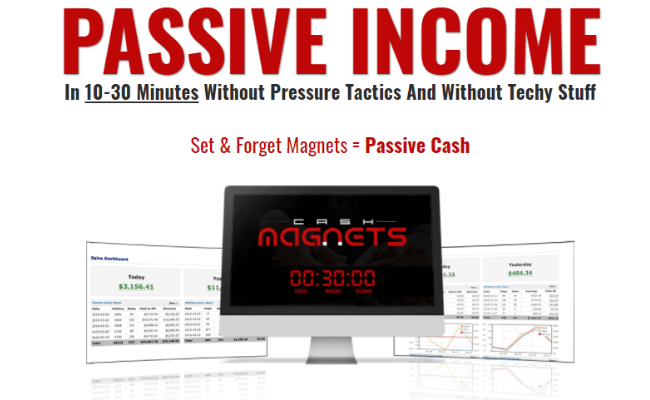 Sound like a get-rich-quick scheme, right? Well, that's because it is.
The method that we're referring to with Cash Magnets is called affiliate marketing, and it's an entirely legitimate method for making money online.
However, you should know that making money with affiliate marketing is not something that requires only 10-30 minutes of work each day.
Also, it's vital to understand that you need tech skills before you can start making money. They are more than necessary.
In other words, you need to ignore the sales page because it's full of get-rich-quick BS.
I'm very used to reviewing products like Cash Magnets. They are nothing but extremely overhyped sales funnels that are best for those who have created them.
Speaking of whom, let's see who created this one in the next section of my review.
Who Are the Owners?
The creators of Cash Magnets are Brendan Mace and Jono Armstrong.
These two guys are expert marketers. They understand how to overhyped sales pages to sell as many copies as possible.
In other words, they are serial product creators who have published dozens of these get-rich-quick schemes so far.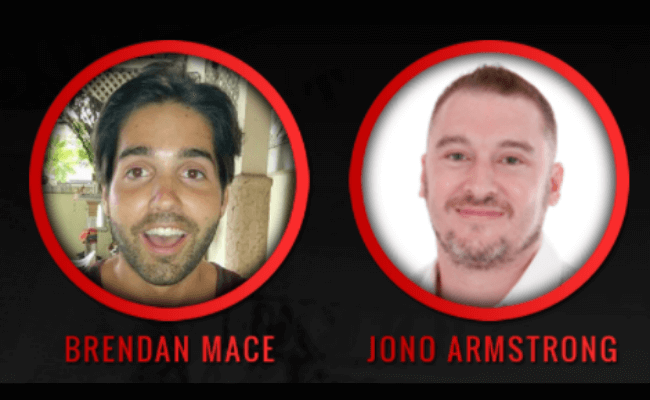 I have reviewed a lot of their magic programs so far. All of them where overhyped but poor in quality.
Here are a few examples:
How Does Cash Magnets Work?
I've mentioned that Cash Magnets is a program that works on a method called affiliate marketing.
In a few shorts words, affiliate marketing is promoting other people's products or services.
You can, for example, build a website in any niche you want. Then, you need to work a lot to get traffic and eventually to make some sales.
That's how it works, really. Affiliate marketing is not something that you can do for 30 minutes and then forget about it.
Anyway, the training shows how to build five different streams of income.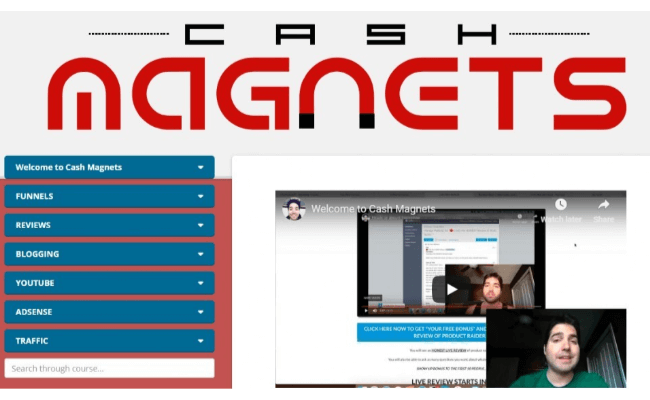 All of those take some time and a lot of work to catch on and to produce a passive income. It's called passive income for a reason.
Sales Funnels
Product Reviews
Blogging
YouTube
Adsense
All of those methods are legitimate and proven to make money. For example, one of the methods is about blogging.
To build a blog and make a passive income, you need to learn how to build a website and use WordPress first.
Then you need to learn how to blog and implement SEO into your blogging. SEO stands for Search Engine Optimization.
It's a critical part of success with blogging.
It's more than possible to make money blogging. However, you'll need to spend some time until you master all those skills.
Another example is a YouTube channel. To make money from YouTube, you'll need, first and foremost, build a channel and an audience.
YouTube Passive income might be a bit faster than blogging and reviewing, but it also takes a lot of time and work to start making passive income.
So I really can't see why the owner of this offer tells you that you can do the same thing in just 20 minutes or less.
To me, Cash Magnets sounds like a pure scam because of those claims, although you get short video training on each method.
Can You Make Money With This?
Yes, you can make a lot of money with affiliate marketing. The method is 100% legitimate.
However, you can be 100% sure that you won't make 1000's+ each week if you work on your passive income only 30 minutes a day, or even less as the owners of this program claim.
When it comes to making money with this particular program, the chances are also slim.
First of all, it's not something I like to label as comprehensive education. Instead, it's a few short videos on each method where the owner talks about basics.
Secondly, competition in affiliate marketing is vast.
The fact is that there is enough room for everyone, but you need to put in a lot of work and resources before banking commissions consistently.
Frankly, I don't see how this program could help you to speed up the process.
It looks like owners another attempt to make money off newbies who are interested in honest education.
Speaking of which, let's jump to the next section of my Cash Magnets review to show you more.
THE BEST WAY TO MAKE MONEY ONLINE IN 2023 >>
Cash Magnets Price and OTO's
The front-end price is only $12,95 one time payment. Not expensive for a set of videos about affiliate marketing, right?
However, as soon as you pay those measly twelve bucks, you will enter a sales funnel and get offered to buy some more.
Cash Magnets comes with five upsells:
Done For You Magnets $37
High Ticket Magnets $197
Advanced Secrets $97
Limitless Traffic $197
License Rights $97
Who is Cash Magnets for?
This product is for newbies who have no idea how affiliate marketing works, really.
Other than that, I can't see any other group of people who could benefit from this program.
Except for the owners, of course.
Cash Magnets Pros
After taking a closer look at this overhyped online biz opportunity, I can't see anything good about it.
I'm familiar and even use some of those 'magnets' to earn passive income online.
But this program is pretty much basic knowledge. They won't teach you how to set them up properly.
It's just an overhyped sales page designed to lead you into more expensive sales funnel.
Money-Back Guarantee
If you ever get into the Cash Magnets program, you can get a refund during the first 30 days.
However, the refund is questionable. See, Brendan and Jono tend to ignore requests until the 30-day period is over.
Cash Magnets Cons
Other than pretty much shallow training that barely touches the basics, there are tons of other things that I didn't like about this offer.
Let's go over them one by one, shall we?
Work Only 30 Minutes Per Day Crap
The whole sales page for Cash Magnets is pretty much fake and misleading. Not only that, you will need to work on this, but you will need to wait a while before making your first commission. It's called passive income for a reason.
Overhyped Earning Claims
You've been promised tons f cash with this program. But those numbers are extremely hard to reach. You won't earn that much money just by signing up to this program.
Training Cover Only the Basics of Each Cash Magnets Method
The training inside is short. They only talk about general stuff regarding each method. This is not even close to a real online marketing training.
There are Tons of Hidden Costs & Upsells
Some of those 'magnets' require money investment. For example, you need a website, hosting, and domain, which is a couple of 100's. Also, there are five hidden and unexpected upsells, which I don't really like to see.
Is Cash Magnets a Scam or Legit?
First of all, you will get some value in return for your money. So technically, Cash Magnets is not a scam.
Secondly, the offer comes with a 30-days testing period. So, if you don't like it or you don't make money in 30 minutes as it's been promised, you can apply for a refund.
The program is created by two guys who know how making money online works.
If you ever get into this, which I don't recommend and I'll give my reasons below, you can learn a thing or two.
In other words, you can get a solid foundation. But I'm afraid that would be all.
In my honest opinion, Cash Magnets is a get-rich-quick scheme that suits the best Brendan and Jono.
They create these sales funnels combined with overhyped and misleading marketing tactics each month to earn an income by cheating newbies into thinking that they can make money online fast.
Get-rich-quick schemes never work as advertised!
If Cash Magnets were really something that could make you, me, or anyone else money in just 30 minutes per day, wouldn't you agree that everyone would be using it?
But since all those claims are BS and this program is almost useless, no one is making money with it.
Except for the owners, of course.
Related: How To Start With The Affiliate Marketing Business
Cash Magnets Review – Final Verdict
As I've said for a few times during this review, I don't recommend this training.
It might not be a scam, but it's not something that will help you to make money online either.
At least not in 20 minutes or less.
All those other claims like set & forget, or that it's a new and fast method, are fake and the main reason why I don't recommend it.
In my eyes, this offer is just another one in the line of get-rich-quick schemes and half-baked courses where the only people who are going to benefit from it are going to be the owners.
Thanks for reading my Cash Magnets review. Do you have any experience with it? Do you think that Cash Magnets is a scam? Feel free to leave your comments in the section below!
How To Make Cash Online For Real!
Making money online is a tough business. It's possible, for sure. But it requires a lot of work and effort to earn an income online.
Programs like Cash Magnets are designed to trick you into spending your money.
However, there are still legitimate platforms where you can get all the training, the best tools, and 24/7 support and help.
I personally use this PROVEN SYSTEM to generate a four-figure (and rising!) passive income with affiliate marketing and would like to suggest you the same route.
If you still want to learn how to make money online, make sure to click the button below and learn more!
THE BEST WAY TO MAKE MONEY ONLINE IN 2023 >>
If you need any help or you have a question, feel free to contact me.
And don't forget to share this Cash Magnets review with your friends and family!
All the best, Ivan. Founder, and CEO @freeaffiliatemarketingbusiness.com