Welcome to my CashGem review.
The site appears to be a legitimate GPT (get-paid-to) site at first glance. You get a $30 bonus for signing up. It's got some payment proof on the home page and more.
Also,  there's a video with some guy named Jeff who demonstrates how easy it is to make money with CashGem.co.
The main question is, however, "Is CashGem a scam or legit?" 
I hate to burst any bubbles, but this is a scam.
And in the rest of my CashGem review, I will show you a few red flags to back up my claim from the above. Stick around because you will want to see this.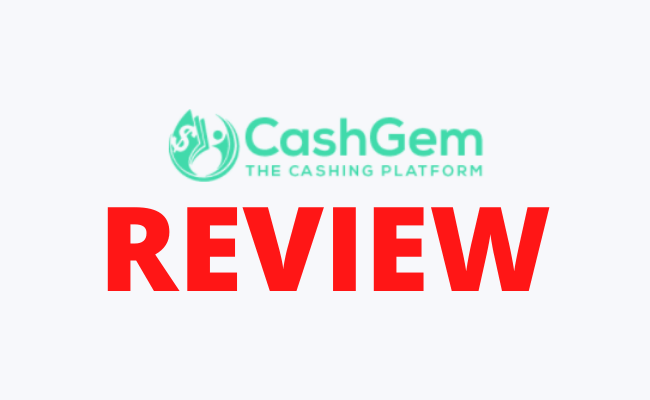 CashGem Review – Overview
Product Type: GPT Site
Owner: Unknown
Price: $0 + $30 sign up bonus (fake)
Money-Back Guarantee: No
Recommended?: Absolutely not!
Overview: CashGem is a scam website that scams people to join and work for free by promising easy money. The main problem is that they don't pay out the earnings, and therefore, it's a scam!
Do yourself a favor and check out the rest of my review to see all the red flags that I've found, and avoid this scam at all costs!
If you're looking for the best way to make money online, check out my #1 rated course instead.
This EXACT system made me go from zero to earning a consistent passive income online every single month from home.
>> Check Out My 🏆 #1 Recommendation Here <<
What Is CashGem?
According to the CashGem website, it is a platform that pays out commissions to members for referring people to the website. You can also earn money via online tasks as well.
However, the site is not legitimate.
It's easy to know this when you have been in contact with several clone sites that offer the same opportunity, but they turned out to be a scam in the end.
Here are a few examples:
Can you notice the similarities?
The main problem with these sites is that they don't pay out their members.
See, you can join the site for free. They will not charge you for creating a free account. On top of it, they lure you to open an account by offering a $30 bonus.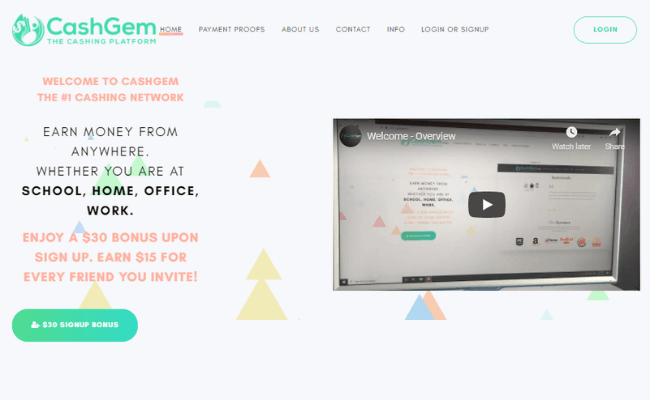 What kind of website has to share money to get new members?
It's weird, right? So you have to start asking yourself, is this a scam or legit?
If you join CashGem, you will indeed get a $30 bonus and the opportunity to start making money by referring people and completing online tasks.
These sites are also known as GPT or Get-Paid-To sites.
You can join. You can also start completing those tasks as well. But as I said, everything will be fine until you try to withdraw your earnings.
They will ignore your request and will not pay you.
All they do, in a nutshell, is scamming people to work for free.
These scams keep changing the domain names, but the scam remains the same.
The main idea behind these sites is to collect your details, especially your email address. They will sell your data to other scams and will even make money off you.
So at the end of the day, you will end up working your butt off for free and the unknown scammers that stand behind CashGem and other scams will make money.
How Does CashGem Work?
You can join CashGem for free and will get access to three ways to make money. According to the official website, it takes also three steps to start making money.
Here are the steps:
Join CashGem
Share & Earn
Get Paid
But as I'm about to show you, CashGem will never honor the last step. Meaning, you will never get paid!
You're lead inside with a $30 bonus. However, it's unbelievable suspicious and rare to see sites giving away money to get members to sign up.
It's a clear sign that something is wrong right from the start.
But let's say that you join and start working on those tasks. Inside the dashboard, you will find several ways to make money. Three to be exact.
Refer and Earn
According to the info available inside the platform, you can earn $2 per click and $15 per referral. All you have to do is share your unique link with others via social media.
Tasks Wall
Here, you can find tasks like online surveys, downloading and reviewing apps, watching videos, playing games, etc.
They promise to pay you $45 per task you complete! That is an outrageous sum of money for these small tasks, which is also another red flag.
Post Rewards
The last way to make money with CashGem is to post and share videos on social media like Instagram, TikTok, Facebook, YouTube, etc.
They say you can make from $50 to $100 per video! This is another outrageous claim and scam alert.
Can You Make Money With CashGem?
No! You can't make money with CashGem. Actually, you can't make real money.
See, once you start working on those tasks, you will make some imaginary money that will be added to your account.
However, the problem is that you can't get your hands on this cash.
Once you file a request to withdraw your money, you will stumble across a wall of silence. In other words, your request will be ignored.
I have prepared a few screenshots below to show you what I mean so keep reading my CashGem review.
So how can I be so confident that this scam is not going to pay you?
The reason is simple and it's hidden inside the Terms & Conditions page that you will automatically agree upon joining this scam.
See, there's a small section that says that you can't use this site unless you're 99 years of age or older.
In other words, if you're under this age limit and join the CashGem, they have a full right to ignore your payment requests because you have agreed to the terms.
And that is how these sites scam people to work for free!
Is CashGem a Scam?
Yes. CashGem is a scam. The website seems legitimate at first because it's free to join. But there are too many red flags related to this site.
Let's bust them one by one, shall we?
Fake Testimonials
The first thing you will notice once you land on the CashGem site is user testimonials.
These are designed to get your attention and get you to sign up for this website without giving it any second thought.
However, as you can see from the image below, the testimonials are fake!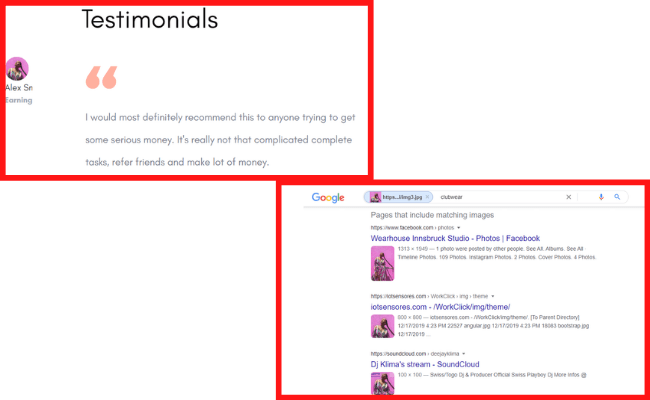 Those people have never used the CashGem website to make money. They are just models for stock images that can be downloaded for free.
In other words, the creators of this scam have created fake testimonials to fool you!
And payment proof is fake as well.
Fake About Us Page
Remember those GPT scams that I showed you earlier? See, if you visit those sites and click on the About Us page, you will notice that all of them use the same story.
CashGem owners claim that the site was founded in 2015 in Amsterdam, just like all those other scams.
Now, if you take a look at the image below, you will notice that the CashGem.co domain name was registered in April 2020.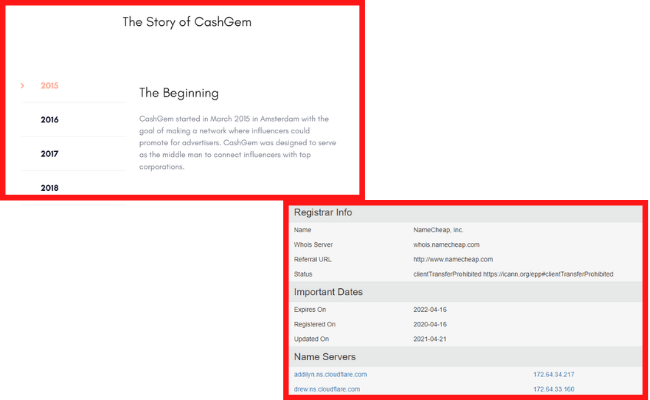 This fact confirms that the about us story is fake as hell.
In other words, they are simply copy-pasting the same story over and over again on these clones to make you believe that it is something real.
Fake Owners
Upon landing on the CashGem site, you can notice that there are some names and images associated with the owners of this site.
However, these names and personalities are fake as well.
If you take a look at the image below, you can see that all of those people on the images are also stock image models.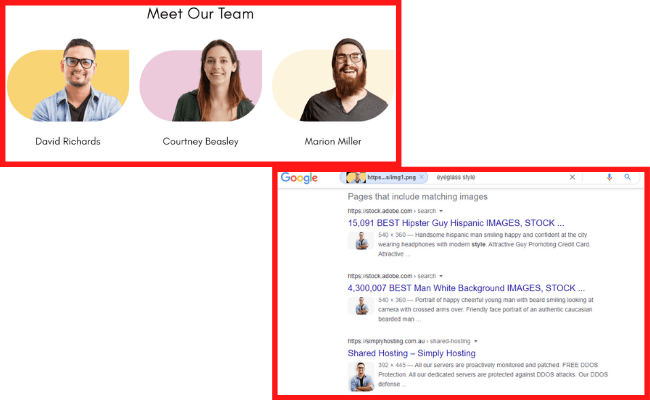 You can download their images on various sites for free and use them for whatever purpose you want.
It's evident that the creators of the CashGem scam used them to cover up their identities and to scam you into thinking that real people are behind this scam.
This is a classic trick that's so easy to bust.
Fake Terms & Conditions
You're lead to believe that you can join CashGem, and get paid for referring people to the platform and by completing small online tasks.
Upon free registration, you're asked to agree to Terms & Conditions.
But what you don't know is that inside the miles long Terms and Conditions page, there's a part where it says that you have to be 99 years of age or older to use this site and its services.
See the image below: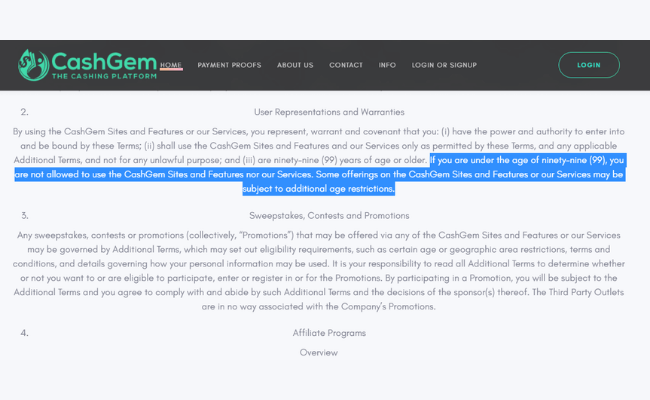 What does this mean?
It means that once you start making money with CashGem, you will want to withdraw your earning at one point.
But they will not pay you because you haven't met the Terms & Conditions that you have agreed upon while submitting your free registration.
Can you see now how this scam works?
Negative Reviews
To prove to you that CashGem is a scam, I have found a few user testimonials and reviews that I want to share here with you.
Just take a look at the screenshots below.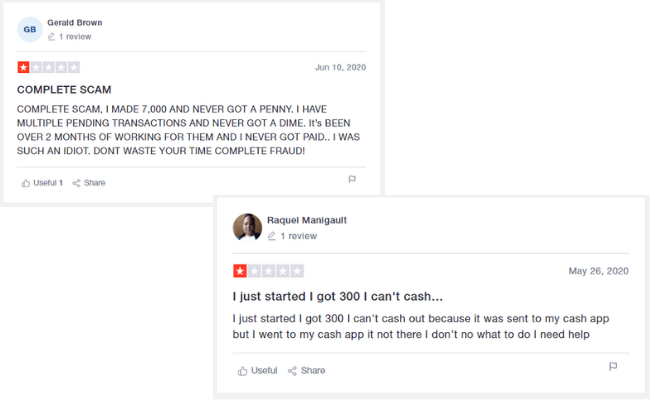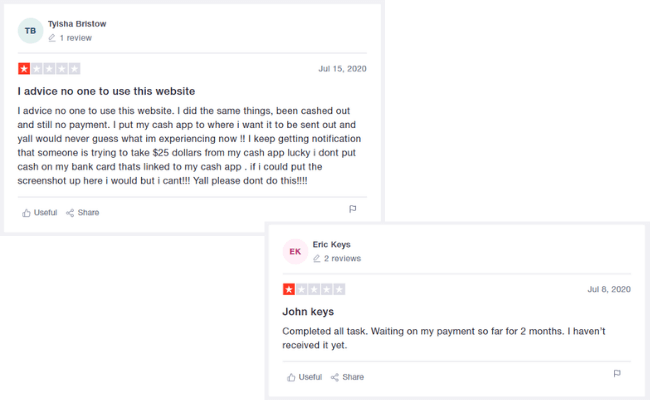 As you can see, all of these poor people share the same negative experience.
In other words, they earned some money with CashGem, but they never received a dime for their hard work.
So my verdict is clear. This is a scam!
What I Like About CashGem
I don't like a single thing about this scam!
What I Don't Like About It
Fake owners
Fake founding date
Fake testimonials
Fake payouts
Fake Terms & Conditions
They don't pay
It's a cloned scam
Negative reviews
CashGem Review – Conclusion
In conclusion, CashGem is a scam that is going to be nothing but a huge waste of time and resources.
The main idea behind this scam is to get you to complete those tasks for which you will never get paid. Instead, the owners of this scam will get rich off you.
They do so by making you agree upon a fake Terms & Conditions page.
Also, your personal data will be in danger so make sure to unsubscribe. They will sell your email to spammers, which means that you will be getting more and more of these scams to your inbox.
If you ever fall for the CashGem scam, you can lose a lot of time and money!
The worst part about this scam is that they will soon create another clone site and try to fool more people to join the platform.
Unfortunately, if you have made some money with these sites, you simply can't get access to it because you have automatically agreed to their Terms.
If you remember, you have to be at least 99 years of age or older to be able to receive payouts.
Do yourself a favor and avoid CashGem and all other scams that give you $24, $30, or a $50 bonus for joining and that promise easy money for referring people to the site.
How I Make Money Online
The good news is that there are still legitimate ways to make money online.
I found one such was to make money online a few years ago, took massive action with the opportunity, and today, I earn a nice passive income from home.
My #1 recommendation below is a 100% legit site for starting an affiliate marketing website.
If you're looking for an honest and real way to start a passive income from home, make sure to click the button below.
>> Check Out My 🏆 #1 Recommendation Here <<
Thanks for reading my CashGem review. Feel free to share your comments below.
And don't forget to share this review with your friends and family!
All the best, Ivan. Founder, and CEO @freeaffiliatemarketingbusiness.com