Wondering whether or not ClicksRally.com is a scam? Is this company a legit place to buy "digital assets?" Before you act on it, make sure you read this ClicksRally.com review. There are tons of warning signs you need to see first.
Over the last couple of years, the internet has got infected by fake websites that claim that you can make money online in a few clicks. Some even go a step further and claim that everything is done for you; you don't have to lift a muscle.
Sounds familiar? 
ClicksRally.com is a website I discovered a few days ago while reviewing a scam that's designed to sell you the same story about getting rich quick. They too claim that you can make money in a few simple steps by investing in "digital assets."
I use quotation marks for a reason you see. The "digital assets" they refer to are banner ads. And this company claims that you can make money buying and selling banner ads, which is also known as flipping banner ads.
However, after a few hours of research, I've learned that the business model does not exist and the whole thing is probably a scam.
By the way, congratulations on researching before giving away your hard-earned cash. If you are looking for a legitimate way to create a passive online income, check out my #1 recommendation for making money online.
In this ClicksRally.com review, I share behind the scenes look in the platform. Also, you can learn whether it works or not, we'll see how much could it potentially cost you, and I show why I think that it's a scam designed to rip you off! 
ClicksRally.com Scam Review – Overview
Product Type: Investment Opportunity
Product Owner: Unknown (Not Licenced!)
Product Price: From $300 to $200,000!!!!!
Money-Back Guarantee: No
Recommended?: See the summary below…
Quick Summary: ClicksRally is supposed to be an online trading platform where you can invest your hard-earned cash into banner ads. However, after a lot of research, I discovered that the whole scheme is bogus and has nothing to do with legitimate investment.
This is just one of the many sites that promote the same business, while in reality, they are scams!
Many people have filed complaints all over the net that they've lost a fortune on these sites. Banner Ads flipping is not real. You could lose a lot of money on these scams!!!! See the comments below also!
I highly recommend steering away from these sites!!!! 
If you are interested in making money online, check out a 100% legitimate training program that I used to go from $0 to earning four-figure (and rising!) passive income online!
THE BEST WAY TO MAKE MONEY ONLINE IN 2023 >>
What is ClicksRally.com?
ClicksRally.com is a self-service advertising platform that enables individuals to run online advertising campaigns.
The company claims that they can offer you a chance to enter the market previously exclusive to large companies such as Facebook, Google, and Instagram, and professional marketers.
They offer a marketplace full of the highest performing ad campaigns from around the web. According to them, you can use theirs and other users' tested campaigns as your own. Or you can build a campaign yourself.
Who is ClicksRally.com for?
The company (ClicksRally.com) claims they've made it possible for everyone to earn a profit online. They claim that they've allowed tens of thousands of people with no experience in the online advertisement to run successful campaigns, yet there's zero proof on the internet.
That's strange, don't you agree?
I mean, there should be at least some evidence that the company is legit and the system is making money for real people.
Anyway, these guys claim that you can make money flipping banner ads. In a nutshell, you can buy a high converting banner ad from the marketplace. Then once you've purchased a few campaigns, all you need to do is relax and watch your money grow.
The whole concept sounds fine and dandy. You could end up thinking 'oh yes, this is a perfect formula. I'll be rich in a month!'
But once again, if it were so easy to make money online doing nothing, wouldn't you agree that everyone would be doing it? Or if it's profitable as they say, where are the real-life success stories?
The truth is, ClickRally.com is just another website that promotes the impossible. You can see what I mean under 'Is ClicksRally.com a Scam?'
How Does ClicksRally.com Work?
In a few paragraphs above, I've explained how ClicksRally.com works in a nutshell. All you need to do is select the campaign of your choice, fund it, and watch your profits grow.
You can choose your campaigns from categories such as Gaming, Foods & Drinks, Travel, Health, Finance, etc.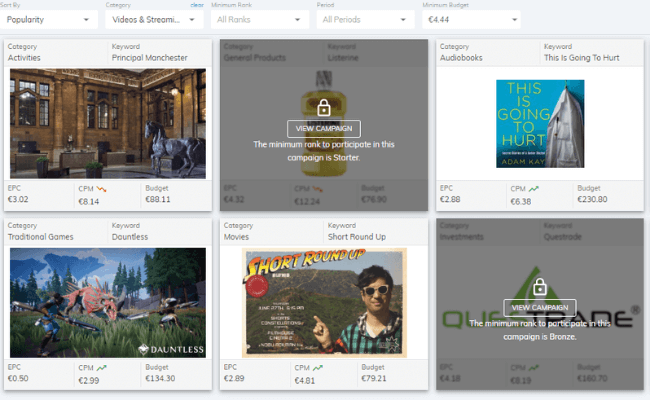 Once you start the process, your ads will run on other people's websites, allowing you to make money.
You may already have seen banner ads while browsing the net. They are everywhere you turn your head, but there's a difference. Most of those ads are hosted by Google, and not by some shady company such as the one in the review.
In theory, the system is simple and works like this. Every time someone clicks on the banner ad you own and makes a purchase, you'll get a percentage after the sale, also known as commission.
It's simple, right?
Then, once you own the banner ad, you have two choices what to do with it.
First, you can keep the ad (ads) in your possession and generate the profit while it's yours. Or you can sell a high converting ad for a larger price to someone else on the network. Hence the term 'flipping' or trading banner ads.
There's an additional way how you can make money here. You can refer your friends and earn a referral commission up to $750 every time they make their first deposit.
Can You Make Money With ClicksRally.com?
In theory, you could make money buying and selling banner ads from the ClicksRally.com marketplace. The whole system sounds straightforward and leaves the impression that it's a legit business opportunity.
But I emphasize the words "in theory."
You see, based on my research, the whole buying and selling banner ads business model is actually a hoax. In other words, it doesn't exist in the real world.
Much like many other digital trading scams (Digital Payday, The Bitcoin Loophole, Bitcoin Code, AD Code, AD Formula, ClicksDealer, Click2Sell.co), this one works by design.
You've probably landed on this company after watching some hyped-up video that promises you can make up to $3000 in the next 24 hours, right? At least that's how I've found this company.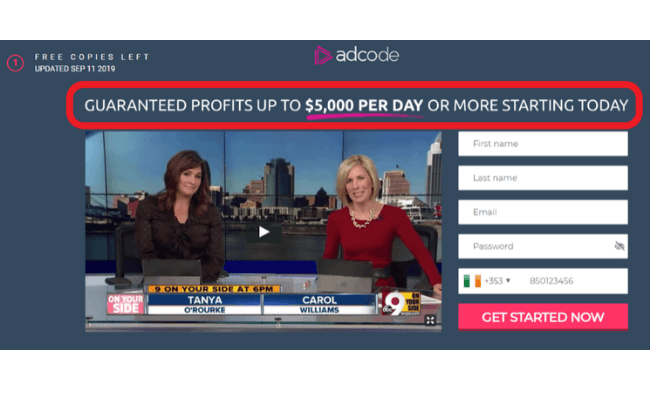 Then all you need to do is enter your details such as name, email address, and phone number. The next step is to deposit funds and start trading.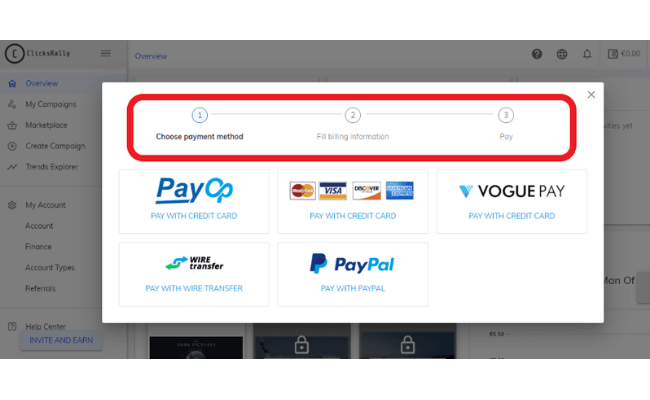 The point of the whole system is to keep you in the game by making you believe that you are making money. Those "agents" are here the keep you interested in investing more and more of your hard-earned cash for the apparent reason, you're winning.
But according to my research, if you ever try to withdraw your winnings, you'll have serious difficulties to do so.
You'll be required to upload your most personal information like a driver's license or ID card, copy of your bank account, and copy of at least one bill with your name on it.
They justify this as Anti Money Laundry Policy. On the other hand, you're required only PayPal to make a deposit. Where's the logic? No problems while making a deposit but if you want to withdraw your cash you are required to show an army of documentation.
As far as I know, only government institutions and banks ask for that information.
Just for a comparison, legitimate 'make-money-online' platforms and services only ask for your PayPal account, and that's all.
So to conclude it here, making money with ClicksRally.com is possible (in theory) but withdrawing your winnings could be a tough task.
In the case of some other digital trading scams, people have reported that once they've tried to withdraw their winnings, they were utterly ignored by the company, which might be the case here as well. I've tried to email the company, but no one is answering back.
Also, as I've said in the beginning, there are zero real-life proofs that you can make money with this site except for those from the company's official site.
But how much can you trust them?
How ClicksRally.com Actually Work!
You see, I tried to learn whether or not this whole banner ad flipping scheme works. All that I could find were confused articles.
In other words, no one is sure how networks like ClicksRally.com actually work.
The site is not 100% transparent about their system. That's what worries me the most.
They don't provide you with any training, nor do they give you detailed information about ads and third party sites where the ads are allegedly displayed.
The company just wants you to deposit the cash ASAP.
For example, legit advertising networks like Google Ads are entirely transparent and give you full control over your ads.
However, the company in the review can offer you one-on-one calls with your account manager.
These guys are supposed to help you with the process, but in truth, they are probably just telemarketers. Their job is to convince you into buying more and more ads because they earn a commission every time you do so.
I've been in contact with a similar company that offers the same service you see.
My agent was calling me once every month to push me in the game. The entry fee was only $500. And the deal was the same. Everything was supposed to be automated. All I needed to do is watch my investment grow.
I haven't deposited a cent for obvious reasons that are mentioned here as well. And in the meantime, the company has disappeared from the internet.
So to bring this thing to a conclusion, the only way you can be sure whether it works or not, is to deposit your money and see it for yourself. Based on everything I've seen so far, that's something I wouldn't advise you to do!
ClicksRally.com Membership Packages
Now the whole thing is free to join. However, you can't start buying campaigns before you deposit some cash, of course.
It means that anyone who falls into this trap would have to invest at least $300 to get started (it's my humble assumption). Also, the company offers a few membership packages that unlock special features of the platform.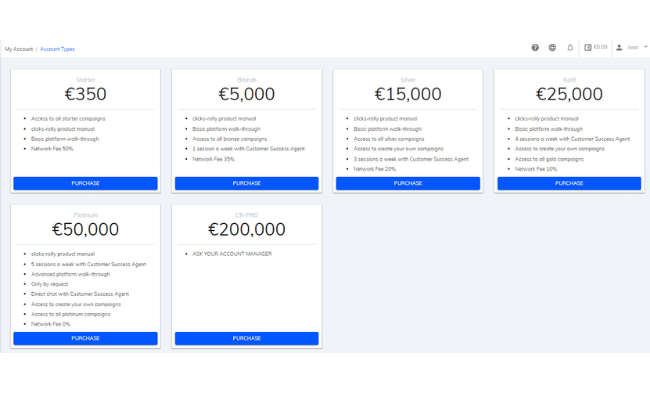 As you can see in the image above, the Starter package is "only" $300, and then the price goes up and away!
These packages are supposed to give you access to features like product manual, platform walkthrough, access to unique campaigns, lower network fees, and sessions with a "Customer Success Agent!"
I wouldn't pay thirty cents to a company that is a ghost on the internet.
Does ClicksRally.com Offer a Refund?
No, unfortunately, there's no refund or money-back guarantee.
There are few companies that can help you to get your money back in case ClicksRally.com is a scam. You can try to contact PayBack-ltd.com and file a case.
ClicksRally.com Scam Warning Signs
1.) A Serious Lack of Transparency
I've stumbled across a severe lack of transparency while trying to discover more about this company. The About page on the official website is not giving away too many details. It doesn't tell us anything about them.
The company seems to be registered as Leo Capital Ltd with an address in Bulgaria. And the main office is in Dublin, Ireland. But there's no way to prove this since they are a ghost on the net.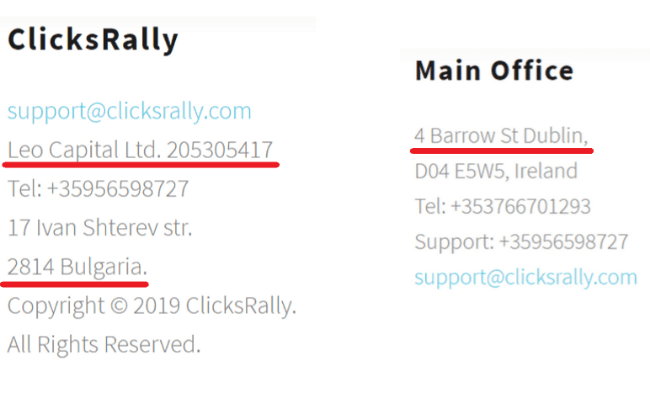 Moreover, I did a few Google searches on ClicksRally.com, hoping to find more information. I searched trusted business sites like Better Business Bureau, Trustpilot, and others alike, but nothing came back.
2.) Flipping Banner Ads is Not a Real Business
The whole 'flipping banner ads to profit' scheme is, as the guy from one movie said, fugazi. In other words, it doesn't exist; it's a fake business model.
Banner ads are a popular way to make money online, and they do work. But there's a world of difference between the business model promoted by this company and the one you can leverage if you go with, for example, Google Ads.
Anyway, ClicksRally.com is fake, and it doesn't work. Google, if you wish, 'flipping banner ads' or 'investing in banner ads,' and let me know if you find a legit business model like the one promoted by this company.
3.) Other Scam Sites Use the Same "trading platform."
Another disturbing fact caught my attention while reviewing the internet scam called AD Formula. They use the same trading platform, only in their case, it's rebranded to Blue Lable.
Also, I tried to find more about Blue Lable, but once again, nothing came back to me that can prove that it's a legit platform.
4.) High Risk of Identity Theft
In addition to the money that you can lose if you ever fall into this trap, there's a high risk of identity theft.
As you had a chance to read, these guys will let you deposit money with no questions asked. But if you try to withdraw your money, boy oh boy are you going to have problems.
Usually, it's enough to have a PayPal account, and that's it. But these guys will ask your most personal information if you want to do so. I wouldn't trust my shoe size to ClicksRally.com
Is ClicksRally.com a Scam? – Final Verdict
ClicksRally.com is a scam. I gave you five different reasons to support my claim.
Here's a quick summary. There's zero information about this company. They sell you a business model that doesn't even exist. Furthermore, they use a rebranded version of the same platform for another scam. The customer support is not responding. And they ask for your most personal information if you ever decide to withdraw your funds.
Also, I did a bit of research on these 'trading platforms' that offer easy cash after you deposit a few hundred.
You see, ClicksRally is no the only one of its kind. For example, BannerBit was the platform that offered the same service. Just recently, the site has disappeared from the net. There are many unresolved customer complaints left behind. Another example is ClicksDealer.
In a nutshell, these companies get you in with fake promises that you'll make money every time someone clicks on your banners. Your investment will be successful for some time. It's meant to fill you with confidence with a reason to keep investing because you're winning.
While you are successful in your trades, the company's agents will urge you to spend more and more money for an apparent reason. However, after some time, if you try to withdraw your earnings, you'll find out that it's virtually impossible to do so because the company is not real!
Do I Recommend ClicksRally.com?
My suggestion is obvious. Stay away from sites that offer you any kind of online advertisement service, such as described in this review.
You can risk a lot more than your hard-earned savings!
How to Start an Online Business for Free?
Thanks for coming to the end of this ClicksRally.com review. It shows that you are a serious person who takes every step with the most attention.
If you are interested in learning how to start an affiliate marketing business for free and make money online, I got here a great alternative to those money-sucking offers.
This process is proved by thousands of online marketers all over the globe. You are looking at the one right now. Let me show you how to do the same!
Wealthy Affiliate is, in my experience, the best affiliate marketing training course on the internet. These guys are teaching people how to start an online business and super-successful affiliate marketer every single day! Traffic training included!
The best thing is, it entirely safe and free to join. Make sure to check it out!
THE BEST WAY TO MAKE MONEY ONLINE IN 2023 >>
If you need any help or you have a question, feel free to contact me.
And don't forget to share this review with your friends and family!
All the best, Ivan. Founder, and CEO @freeaffiliatemarketingbusiness.com