Welcome to my ClicXAds review.
I found ClicXAds by sheer accident the other day, so I spent the last two days investigating what this offer is all about. As always, I found a lot of warning signs, which I want to share with you as well.
ClicXAds is an online platform that allows you to advertise and earn as a publisher using bitcoin and cryptocurrency. But after a closer inspection, I managed to discover that ClicXAds could be classified as a pyramid/Ponzi scheme. It certainly has some very shady background.
So if you're looking to find out where it is a scam, pyramid or Ponzi scheme, and/or whether your money is safe with ClicXAds, keep reading this ClicXAds review because I'm going to reveal everything about this seemingly legitimate platform.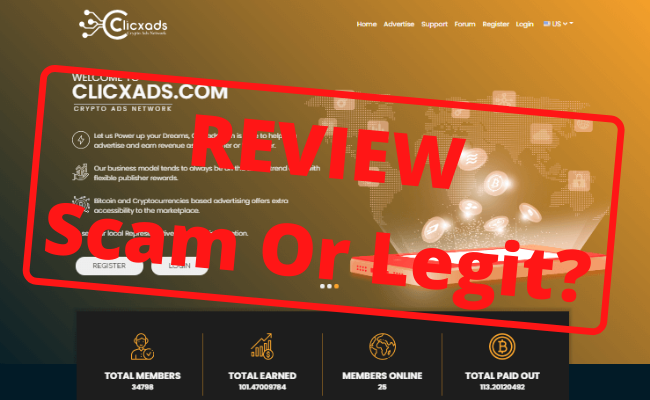 ClicXAds Review – Overview
Product Type: Ad Pack Bitcoin (Ponzi Scheme)
Product Owner: Frank Nii Okanta Ankrah
Product Price: various
Money-Back Guarantee: not available
Recommended?: NO! See the summary below…
Quick Summary: ClicXAds is a platform where you can invest Bitcoin into ad-packs to earn revenue from your investment. However, upon further research, I discover that the main idea behind the platform is to get you to recruit other people into the scheme to earn an income.
And since there are no other products or tangible services offered, this makes ClicXAds a pyramid scheme and a scam. There are more scam signs and I suggest reading the rest of this review and staying away from it.
My #1 Recommendation is a 100% legitimate training program that showed me how to go from $0 to earning $100's per day with affiliate marketing. Wanna learn the same?
>> Check Out My #1 Recommendation Here <<
What Is ClicXAds About?
ClicXads is an online platform that offers users to invest in ad-packs. Apparently, the scheme is based on revenue sharing (paid-to-click). A user can buy ad packs using Bitcoin as the main currency and earn revenue from your investment.
Before we proceed, this article from Investor.gov explains why this business model is illegal and why no one should even join or participate in such schemes.
Also, ClicXAds depends on recruiting, which means that it falls into a pyramid scheme category.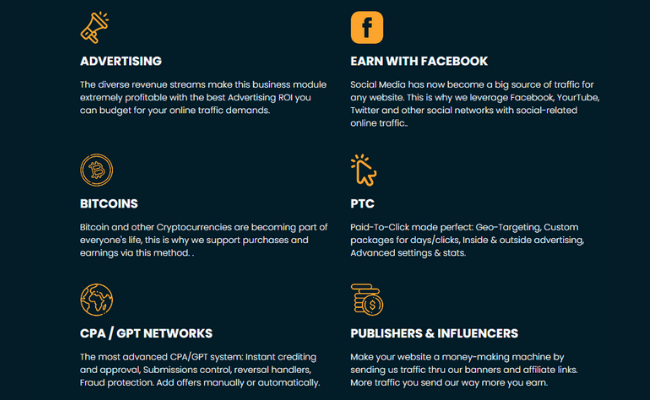 The platform offers various ways to earn an income online:
advertising
earn with social media
bitcoins
PTC (Paid-to-click)
CPA Networks
Affiliate marketing
While researching for this review, I managed to discover some red flags that show that this is not a trusted platform. One of the first scam signs was the lack of information about the ower.
Related: Ads Supply Scam Review
Who Is Behind The Platform?
The official ClicXAds website does not reveal who is behind the platform. I never trust my money to a website that does not reveal this information because in 99% of cases it is a scam.
So I ran the domain through WHOIS as well to learn more about it. It seems that the website was created on January 24th 2017.
Upon further research, I managed to discover an official YouTube channel. At the time of writing this review, their YouTube channel counts ONLY 1.76K subscribers and their videos are barely watched.
The YouTube channel reveals that the owner and CEO of ClicXAds is Frank Nii Okanta Ankrah.
According to his own words, Ankrah is an expert in the field of digital marketing sales. Originally, Ankrah is from Ghana and is one of the most popular marketers in Africa.
Upon even further research, I managed to discover that, before launching his own scheme, Ankrah was involved in Dunamis Network, a Ponzi scheme that has collapsed in the meantime.
The scheme collapsed because the creator, who was a partner of Ankrah's, was arrested. Shortly after, Ankrah bailed and decided to launch ClicXAds.
Before starting his own scheme, Ankrah was also involved in promoting other similar schemes like iMarkets Live, Global Dynamic Marketing, and Appi Travels – all Ponzi/Pyramid schemes.
All in all, it seems that the owner has a rich history. But I don't see why he doesn't share this information on the ClicXAds official website. Could it be a scam? Let's see.
What Are ClicXAds Products?
Before I show you how this scheme operates, I thought it would be a good idea to say that ClicXAds does not have any products available on their website.
This means that it is really a Pyramid/Ponzi scheme indeed.
How Does ClicXAds Work?
As I said earlier in this ClicXAds review, the scheme is based on revenue sharing. You can join the platform and start investing in ad-packs using Bitcoin cryptocurrency to fund your campaigns.
Basically, each time another member clicks on your ads, you earn revenue from your ads and vice versa.
And since there are no tangible products, nor any service involved, it's easy to conclude that ClicXAds is most likely another Pyramid scheme.
This scheme depends on recruiting new members mostly. If they don't use this model, there's no one to fun it and therefore, it could and will collapse.
That said, here's the breakdown of the compensation plan:
ClicXAds Compensaion Plan
The compensation plan is membership-based. Meaning, you need to upgrade your membership to earn a higher return on the investment.
Yellow – 0.002861 BTC
Blue – 0.006312 BTC
Green – 0.01434 BTC
Red – 0.02872 BTC
Referral Commissions
As a member of ClicXAds, you can earn referral commissions on invested funds as shown below:
Basic tier affiliates receive 3% on level 1
Professional tier affiliates receive 4% on level 1 and 1% on level 2
Enterprise tier affiliates receive 5% on level 1, 2% on level 2 and 1% on level 3
VIP tier affiliates receive 6% on level 1, 3% on level 2 and 2% on level 3
Matrix Commissions
In addition to a basic compensation plan and referral plan, ClicXAds has a randomized matrix compensation plan as well.
Related: Ad Click Xpress Review
How Much To Join ClicXAds?
One of the good things about ClicXAds is the fact that you can join the platform for free. However, if you want to start earning commissions, as shown above, you will have to eventually upgrade to one of the plans below.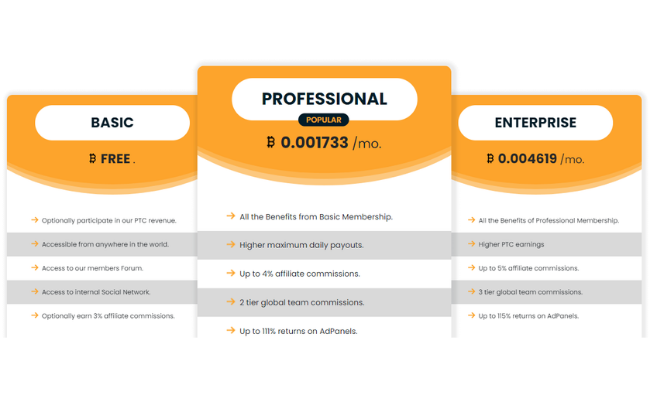 Basic – no monthly cost
Professional – 0.001733 BTC a month
Enterprise – 0.004619 BTC a month
VIP – cost not disclosed
As I said earlier in the review, the more you invest in your ClicXAds membership, the higher ROI you can earn from your investment. This just proves that we have some sort of a Pyramid/Ponzi scheme on our hands here.
Is ClicXAds A Scam/Pyramid Scheme?
Since the pyramid business model is practically illegal in most of the countries in the world, ClicXAds is a scam.
One of the first scam signs is the lack of information about the owner of the platform. Then, upon further research, I managed to reveal that Nii Okanta Ankrah was involved in several pyramid schemes before starting ClicXAds.
Another scam sign is the fact that there are no products or services inside the platform that you can consume or use to improve your life, business, etc.
The only product inside the ClicXAds platform is various memberships.
This means that the only way to make money is via the recruitment of other people into the scheme. Each time you do so, you earn commissions based on your level of membership.
That said, ClicXAds is indeed a pyramid scheme and like that, a scam as well.
What I Like About ClicXAds
Nothing. The entire idea behind ClicXAds is repulsive to me. Based on my experience with pyramid schemes, this business is not sustainable and eventually, it will collapse.
This means that even if you invest in it, eventually, you will lose your investment.
The fact that Nii Okanta Ankrah has skipped from pyramid to pyramid scheme shows how unstable this illegal business model is.
What I Don't Like About ClicXAds
Right from the start of this review, I was suspicious about ClicXAds. As it turned out, I was right that this is not a legitimate opportunity to make money online.
Here are some of the reasons why you too shouldn't invest in this scheme.
Lack Of Details About The Owner
The first scam sign was the lack of details about the owner of ClicXAds. There's only one reason why that is so and that is, they are doing something illegal and don't want any names to be connected with the scheme.
I mean, think about it. Would you put your face in front of your company if your business were legitimate? On the other hand, if you were doing something shady, would you hide it from the public?
Nii Okanta Ankrah's Backround
Before writing this ClicXAds review, I discovered that the founder of the platform has been involved in several illegal pyramid schemes. Most of these schemes have collapsed in the meantime.
Would you trust your hard-earned money to a person like this? I'm sure I wouldn't.
No Testimonials From Users
Another problem with ClicXAds is the lack of real-life testimonials. I'm not counting those testimonials that appear on the official website.
They are just showing you random names with random numbers. This is no kind of testimonial.
If this platform was as successful as they claim on the official website, there should be some real-life testimonials, do you agree? And since there are none, it means that something is not right.
It's A Pyramid Scheme
The last scam sign is the fact that ClicXAds is a pyramid scheme and a scam. There are no products inside that you can consume in any way.
The main source of income here is recruitment. In other words, members earn money via compensation plans for recruiting others into the scheme. And if they don't do so, there's no other way to sustain a pyramid scheme.
That said, even if you invest your money into ClicXAds, your investment is not safe.
Related: Crowd1 Review
Do I Recommend This Platform?
Absolutely no! I've seen a lot of scams and pyramid schemes to know better than this and now you too know a bit more about all the dangers of getting caught up in one.
I hope my ClicXAds review was helpful. What is your opinion? Is it a scam or legit? Do you have the experience to share? Feel free to reach out using the comment section below. I would love to hear your thoughts as well.
And remember, keep your distance from scams and get-rich-quick schemes!
How I Make Money Online
The good news, however, is that not all make-money-online schemes are scams.
A few years ago, I discovered affiliate marketing (a 100% legitimate business model) and decided to follow through with this proven system.
My persistence eventually paid off and today, I earn a consistent passive income online.
If you're looking for the same, make sure to click the button below to discover my #1 recommendation for starting a successful and legitimate online business today!
>> Check Out My #1 Recommendation Here <<