Welcome to my Commission Abduction review.
Every once in a while, I bump into software that is designed to make commissions on autopilot without having to create content, videos, websites, etc. In other words, everything is done-for-you, and all you have to do is activate the software to make a life-changing income.
I'm guessing you've heard about at least one of these software. Its name is Commission Abduction, and it promises an easy way to making money online in only three steps that take less than five minutes to set up and the system runs on 100% autopilot. Sounds like a scam?
Well, first of all, congratulations on doing the research. That's how you avoid scams and get-rich-quick schemes and find your path to the best way of making money online.
Secondly, in this Commission Abduction review, you're going to discover whether this app is going to work like I've described above or the whole thing is a scam. Also, I'll show you how it works, and I'll even disclose the full price of this WarriorPlus product. Are you ready to roll?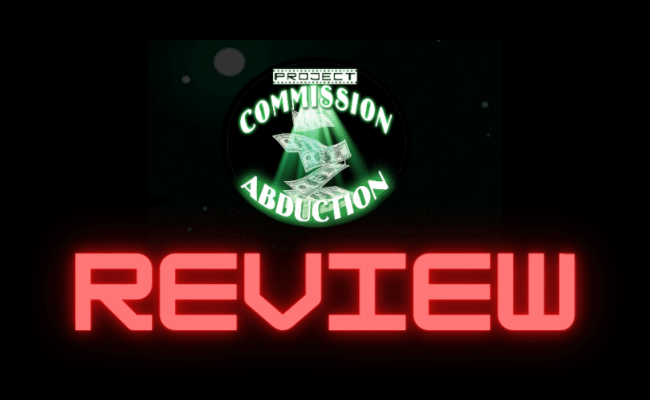 Commission Abduction Review – Overview
Product Type: Affiliate Marketing
Product Price: $20 + 5 UPSELLS!
Product Owner: Tom E, Bryan Writers and Zeeshan Ahmed
Money-Back Guarantee: 30-days (questionable?)
Recommended?: No
Quick Overview: Commission Abduction is some software that is supposed to work in less than five minutes and earn you an income as fast as today! You have to insert links into videos, and you're ready to make life-changing commissions.
However, if you ignore the overhyped BS from the sales page, you'll find an unethical app that "steals" other people's videos and helps you to publish them as your own.
And even then the income is not guaranteed if you don't know how to get traffic.
Speaking of which, the training inside the members' area is not going to teach you this. You'll have to buy expensive upsells to learn more about how to get traffic to your videos and make money.
That said, Commission Abduction is not my recommendation. For more info, you can read the rest of my review.
If you are interested in making money online, check out a 100% legitimate training program that I used to go from $0 to earning four-figure (and rising!) passive income online!
THE BEST WAY TO MAKE MONEY ONLINE IN 2023 >>
What Is Commission Abduction?
Commission Abduction is a cloud-based app created by Tom E, Bryan Writers and Zeeshan Ahmed that is designed to make a commission by implanting affiliate links and free ads to the most popular YouTube videos.
Features and Benefits
Here are some of the key benefits and features of this app:
Unlimited scalable income to 5 figures per month
Uses 100% free traffic
Sets up in 5 minutes or less
Runs on autopilot after set up
Same day income potential
Works in any niche
Cloud-based – zero downloading
Compatible with both YouTube and Vimeo videos
Runs from anywhere in the world with an Internet connection
However, before we dive deeper into this Commission Abduction review, I have to say that some of those claims are fairly overhyped. In other words, it would be unrealistic to expect income the same day, or autopilot mode after setting up, which takes only five minutes.
Anyone who makes money online, whether through affiliate marketing, dropshipping, or using any other method, knows that these claims are unrealistic. You see, owners are saying these to make more sales. The reality is much different.
In reality, no matter what method or software you use, you have to hustle and grind. Generally speaking, software only helps to speed up the process. But it will never do all the work you need to do to make money online. So, don't fall for those claims that easily and keep in mind that no app can earn you money in five minutes.
Related: CB Profit Sites Review
How Does Commission Abduction Work?
As you scroll down through the sales page, you notice that they have briefly explained how Commission Abduction works. However, they don't reveal anything more than these three steps:
Select A Popular YouTube Or Vimeo Video
Instantly Monetize The Selected Video
Share The Video On Recommended FREE "Hotspots"
Within the training area, you'll find a set of training tutorials that you have to watch to understand how to use this app effectively. These videos are only instructional, so don't expect any in-depth education on making money online.
After watching the videos, you'll be ready to set up and deploy your first campaign using the Commission Abduction software following those three steps that I'm going to explain in more details now.
Step 1. – Select A Popular YouTube Or Vimeo Video
So the first step is to log in to your dashboard and create a new campaign. Commission Abduction app is going to let you insert your unique affiliate link and free ads to any YouTube or Vimeo video. This way, you don't have to create any content.
Before we move on, I have to say that this method is unethical. The base premise of this software is on "stealing" other people's content, which defies all the rules of making money online.
You have two ways of finding these videos to use them as your own:
Manually search for the video and copy-paste YouTube ID in the app.
Use the search bar within the app to find YouTube videos.
Once you upload or use the search bar, the app is going to show you a list of videos that you've selected or uploaded from your own YouTube channel or computer. Now, you have to select the one you want to use.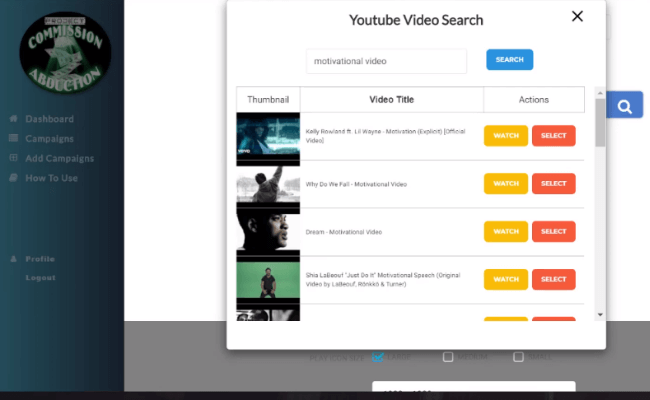 Once you have selected the video, the Commission Abduction app is going to let you customize the video a bit. You can change things like thumbnail image, play icon, player dimension, call to action, etc.
Step 2. – Instantly Monetize The Selected Video 
There are two ways to monetize the selected video instantly:
Monetize with affiliate links
Monetize with free ads
To monetize your video with affiliate links, you need to get you unique affiliate link and paste it into a call to action button. This way, whey your viewers click on the button they will be redirected to your offer. And if they decide to purchase the product you promote, you earn a commission.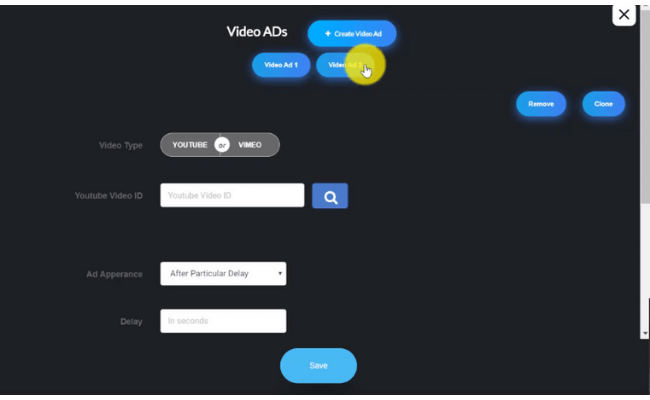 Then, you can also monetize the video with free ads. How this works is that you search for a video on YouTube and use it as your own promotion. You can set up the exact time you want the video to show up, just like with regular YouTube ads.
You can play with both methods using social customization features. And then, once you're ready, all you have to do is push the "Publish" button and your video is prepared for traffic.
Step 3. – Share The Video On Recommended FREE "Hotspots"
As you publish your campaign, you'll be able to find it under the "Campaign List" section of the Commission Abduction dashboard. Now, you might be asking yourself, what are those free "hotspots" and how can you use them to get unlimited free traffic to your campaigns?
And that is where things slowly start to fall apart. Let me explain. You see, there are a few ways to share your video:
Generate and share HTML
SiteJack
Social Share

But you see, these methods are not going to work as the creators of the Commission Abduction app have told you. They said that you could get instant free traffic to your videos and make money on the same day, which could work, but only if you're an experienced marketer.
You see, to get traffic sharing HTML, you need to know where to post your links. You can visit forums and communities and share your link there. But as soon as you start doing this, you're going to be banned. You need to develop a reputation before they let you do this.
Secondly, SiteJack is an unethical method of hijacking any website to display your video on it. And this is also not going to work unless you know what you're doing.
Lastly, Social Share comes down to connecting your social media accounts to the Commission Abduction app and using the 1-click share button to deploy your campaigns on your social media channels. And if you are not followed by 10,000's of people, you might as well give up before you even push that button.
Related: Commission Robot Review
Is This Software Going to Work?
I'm afraid that those earning examples from the sales page are only a marketing trick. Those earning screenshots could have been easily photoshopped. Just by looking at the image, I can sense something fishy.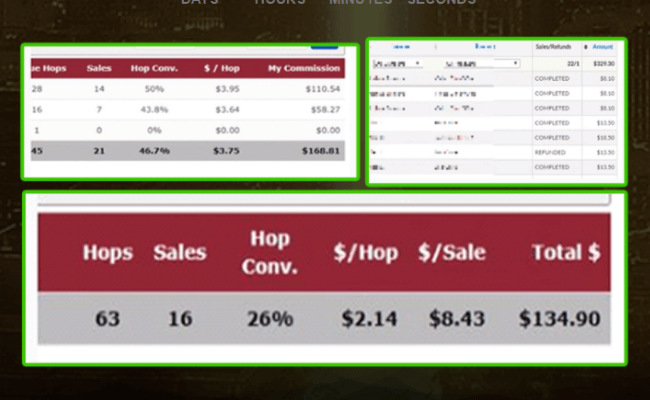 In other words, I can't see how Commission Abduction is going to make you any income using the steps I described above.
I also understand that you may have read a few Commission Abduction reviews that tell a different story. Realize that those articles have been written by affiliate marketers who are writing fake positive reviews to make sales and commissions. In translation, they are lying about the results.
The bottom line is, I'm not s sure about this product. The method seems highly unethical, and unpopular, which makes it even harder to believe that this software is going to work.
You see, the problem is in step number three. They will show you briefly how to get traffic using those three "hotspots." But there won't be any advanced training included with the basic version of Commission Abduction software that you need to leverage those methods and earn some money with this software.
You'll have to purchase upsells to get the full package, complete training, and every other feature that you need to make this work. Speaking of which, let me show you what to expect in terms of the price and upgrades.
THE BEST WAY TO MAKE MONEY ONLINE IN 2023 >>
Commission Abduction Price and OTOs
Commission Abduction is a par of the Project Abduction, and it sells for $20 one time. With this purchase, you get access to software for creating (stealing) videos, video tutorials and a 30-day money-back guarantee.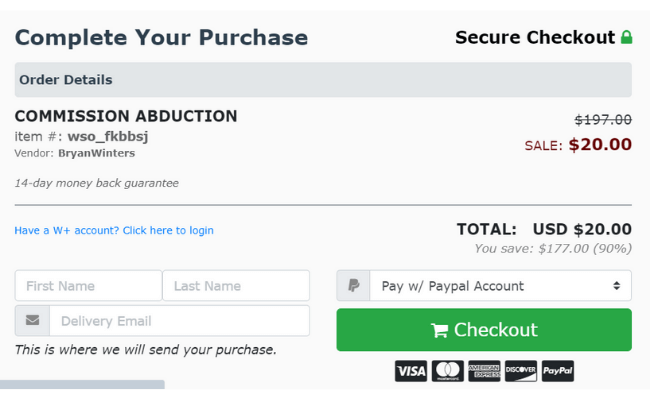 In addition to those basic features of this product, the owners have decided to offer a few upgrades.
And as you're about to see, these upgrades are essential parts of the Commission Abduction system. In other words, it may never work for you unless you buy these upgrades. This way of selling is, in my opinion, highly unethical. I believe these upsells should have been fully disclosed on the sales page.
OTO #1 – Cash Cloner ($67)
The basic version of the software is limited (of course) to only 50 campaigns, which is too little to make any income online. So if you want to take this method seriously, you have to buy a Cash Cloner upgrade that lets you create unlimited campaigns.
OTO #2 – Money Modulator ($97)
Money Modulator upgrade gives you access to a few features that could boost your efforts. For example, you get a feature that allows you to showcase your own products. Then, you can use a feature called ArticleBox to display your blog posts on overlays and drive traffic to your offers.
Also, you can use opt-in forms to generate leads and build your email list to get in touch with your visitors (if you get any).
OTO #3 – 10X Files ($197)
10X Files is an OTO number three within the Commission Abduction sales funnel, and it gives you access to 10 done-for-you campaigns that you can use to earn commissions.
OTO #4 – Deep Traffic ($197)
Here we are at the most essential OTO of them all. This one is all about advanced traffic training modules. You see, the primary product is not good enough to show you how to leverage this method to make money online. So, if you want to do so, you'll have to buy this OTO to learn how to get traffic.
It's no surprise that this software comes in pieces like this. Almost every single product today is designed to sell you an essential app for some 10-20 dollars. And then, if you want success, you must buy upgrades. I hate this!
OTO #5 – 6 Figure Replicator ($97)
Lastly, this OTO gives you rights to resell the Commission Abduction app as your own product and keep 100% profits.
What I Like About Commission Abduction
The only thing I can honestly say that I like about this app is the money-back guarantee. You get 30-days to give it a go and claim a refund if you decide this is not for you. That's all I like, really.
In my opinion, this software is not worth the effort…
Related: Internet Retirement App Review
What I Don't Like About Commission Abduction
Misleading Claims
Lack of Transparency
System Is Unethical
It Won't Work Without Traffic
Sold In Pieces
Misleading Claims
The first time I saw the sales page, I was immediately repulsed by some of the claims made by the authors of the Commission Abduction software. For example, they say it takes only five minutes, and you could be earning an income as of today.

I don't like that kind of misleading and unethical marketing. You see, it may take an hour or two, and even more, to set everything up, especially if you are a newbie. Watching videos alone is going to take several hours.
Then, it's going to take days, weeks, and maybe even months, to earn any income with this method. So I really don't understand why are they using these misleading claims on the sales page if they are not accurate?
Lack of Transparency
Speaking of the sales page, another thing that I don't like about Commission Abduction is the lack of transparency on it. They say how this app makes $128 daily for the owners, and it works in three steps and less than five minutes.
But how? Using what? Doing what? Selling hamburgers?
No, there's no doubt about it. They are funny as hell. They have created this cute sales pitch with aliens and making money in 2020 using some super-duper app. And that's all you get. They excite, charge, and then disappoint.
System Is Unethical
Now, let's sidetrack a bit and talk about the system inside. You see, I don't like this method of using other people's YouTube videos to get exposure and make sales online. In my opinion, Commission Abduction is an unethical method for making money online.
There are strict copyright laws that could get you in trouble if you start "stealing" other people's content. Trust me, this is something you don't want to do, and this is not going to lead toward creating a long-term self-sustainable business.
Commission Abduction Won't Work Without Traffic
I have already said this earlier in my Commission Abduction review, and I repeat it. These cheap and overhyped products sell for pocket change, but they are incomplete, and therefore, they never work as promised. Don't believe me? Go ahead and try it out.
I can't stress this enough. Getting traffic is a crucial key to the success of any online marketing campaign. Without traffic, you can't make sales. Does this make any sense?
You see, the basic version of the software is going to help you create (steal) those YouTube videos and show you how to copy-paste HTML, and push a few buttons to share your videos on social media. If you are not an online marketing expert, these methods are useless for you.
It would be best if you bought the traffic upgrade to learn how to drive real income-generating traffic to your videos. Speaking of which, let's talk about the last matter of this section of my review.
Sold In Pieces
I don't like upsells. And I believe I'm not the only one. Do you like to buy things in pieces? Well, whether you do or don't, with Commission Abduction, you have no choice.
As you can read from the section about the price, the software has been chopped into pieces and sold separately. This means that you need to buy some or all OTOs to make any use of this app.
Is Commission Abduction a Scam?
Technically speaking, it's not a scam. However, we saw a few things in this review that could be enough to say that Commission Abduction is a scam after all. I mean, show me one person that has made money with this in the first five minutes.
Moreover, what would you say about the product that promises tons of free traffic and then delivers none? That is what's going to happen with this system unless you agree to purchase those upsells. I mean, I'm an experienced marketer, and I have not idea how to make money with this software without upsells.
So, if telling half-baked truth, or to say it better, lying about the true nature of the product is enough to say it's a scam, so be it. I'll leave it for you to make the final decision.
Related: Commission Hotshot Review 
Do I Recommend Commission Abduction
I do not recommend this software. In my opinion, this app is unethical, and I'm not going to recommend a product that is using dishonest methods to create an income online. Even if it works, I would still say no.
In my experience, these products are useless and are best for owners and affiliates who are faking positive reviews to earn commission through affiliate links.
Commission Abduction Review – Conclusion
So there you have it. Now you know what is on the other side of the medal.
No matter what you decide, I hope my Commission Abduction review was helpful. Thanks for reading and let me know if you have any questions about this software in the comments section below.
SPECIAL BONUS RECOMMENDATION
For those of you who are interested in REAL WAYS of making money online, I have a special bonus recommendation. This has nothing to do with stealing other people's content or anything unethical.
On the other hand, the training program that I'm more than happy to recommend has everything to do with the best way to earn an income online. I've personally used this training to create a successful online business and even quit my old job.
So if you're interested in learning more about this opportunity, make sure to click the button below…
THE BEST WAY TO MAKE MONEY ONLINE IN 2023 >>
If you need any help or you have a question, feel free to contact me.
And don't forget to share this review with your friends and family!
All the best, Ivan. Founder, and CEO @freeaffiliatemarketingbusiness.com