Welcome to my Commission Blueprint review.
Can you earn three figures per day in the next seven days with this system? Is this going to work as Glynn Kosky claims? Is Commission Blueprint a scam or a legitimate way to earn an income online?
Today, I want to share my unique opinion about this new strategy for stuffing your pocket with commissions.
I know you're looking to earn an income online. You probably have bills to pay and I know that Commission Blueprint sounds like a great deal.
You see, making money online is more than possible. You can do it in more than 50 different ways! However, it's not going to happen in a week or two. You may have to wait for months until your first commission pops in.
I'm sorry, but that's the truth Glynn is not sharing, and I'm not here to lie to you…
By the way, congratulations on researching. It shows that you are serious about avoiding scams and are looking to find the best way to earn an income online.
Within this Commission Blueprint review, I'll show you what to expect from it without any BS and give my honest opinion about whether it is a scam or legit.
Commission Blueprint Review – Overview
Product Type: Affiliate Marketing
Product Price: $17+ UPSELLS
Product Owner: Glynn Kosky
Money-Back Guarantee: 30-days
Recommended?: No
According to the creator, Commission Blueprint is a 100% newbie-friendly system that will make you 100's and 1000's in just a few days, and of course, with little to no work.
In other words, it's an overhyped program, and you wouldn't be wrong if you call it a scam too.
But you are probably already aware of this and you want to know the truth. And the truth is, you get the training that covers the basics of affiliate marketing.
You can call it a blueprint if you want because it really covers the specifics of affiliate marketing. But it would be unrealistic to expect that you'll make 100's per day in just seven days.
In fact, this is not going to happen for a long time if you are a newbie.
On the bright side, the Commission Blueprint training is legitimate and contains ten videos between 10 and 40 minutes. Although, I've seen much more detailed courses that cover affiliate marketing much better.
As with all Glynn's products, the advanced methods that complete the training and which you need to turn this into profits are hidden in more expensive packages (upsells).
The best way to describe it is by saying that it's a shiny object. Not recommended!
If you still want to know more details, keep reading my Commission Blueprint review for more info.
If you are interested in making money online, check out a 100% legitimate training program that I used to go from $0 to earning four-figure (and rising!) passive income online!
THE BEST WAY TO MAKE MONEY ONLINE IN 2023 >>
What Is Commission Blueprint About?
There are two ways to describe this program. One is coming directly from the mouth of the owner, Glynn Kosky.
He says that Commission Blueprint a 100% newbie-friendly strategy to stuff your bank account with commissions in as little as seven days or less.
On top of that, you don't need any experience or technical skills to make it work.
It's a 100% legit method that simply works, at least that's what they say.

Now, let's keep it real, you and I.
You see, I found Commission Blueprint over at Warrior Plus marketplace a few days ago.
As soon as I've seen the sales page, I knew what's going on. I reviewed a few Glynns 100% newbie-friendly systems so far, such as:
The truth is, this one is just like those before. It's an overhyped affiliate marketing training program.
See, Commission Blueprint is a narrow training where you can learn things like what is affiliate marketing, how to choose your niche, and how to promote products.
You get this simple training that teaches the basics and a chance to spend more money without any notice.
What do I mean?
Well, as per usual, Glynn attracts newbies with those overhyped claims inside of an expensive sales funnel where he forces upsell over upsell.
I'll explain the whole thing as we go through this Commission Blueprint review, don't worry.
What You Get With Commission Blueprint
So once you join the Commission Blueprint for free, you'll find a set of training videos that show the process of setting up an affiliate marketing campaign.
Also, there's an invitation to register for a free webinar.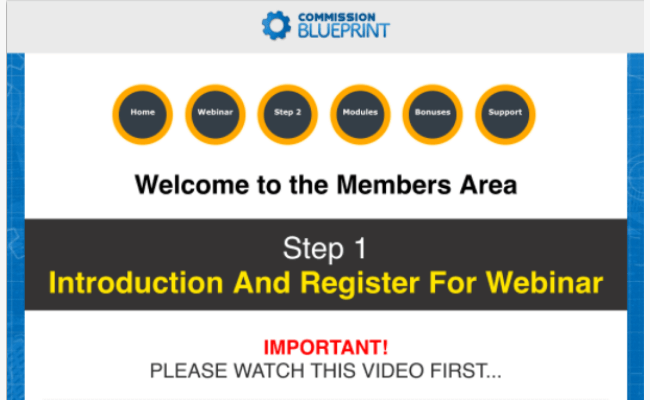 In addition, they invite you to claim a free website. However, the site is not free because you need to pay for the hosting.
Furthermore, you can find some traffic software as well. I didn't download the software because one, I know those things don't exist, and two, I don't trust this product that much.
However, it's probably just a plugin for WordPress or a theme for your site.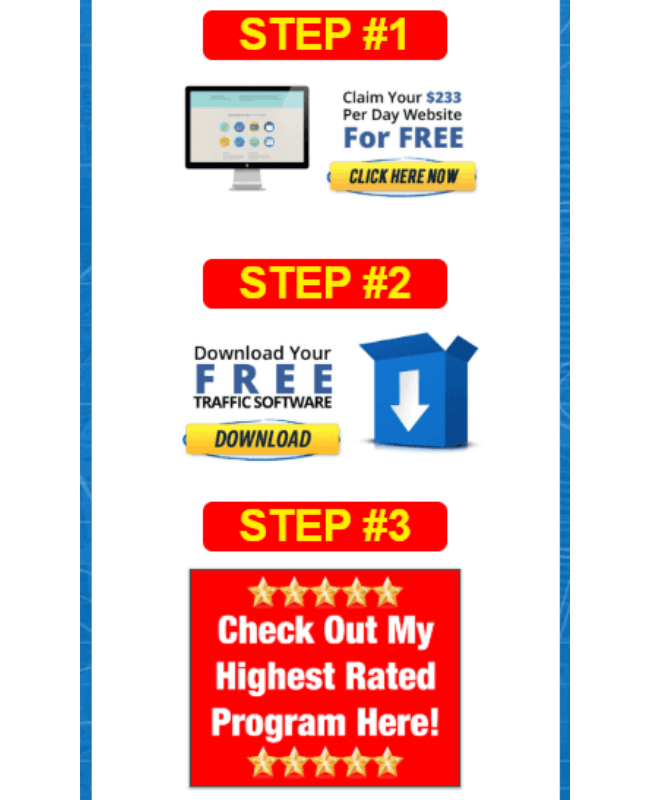 You're also going to bombarded with upsells all the way.
And if that's not enough, you are pushed into spending more money on programs that are unrelated to Commission Blueprint, which was a shocker!
For example, inside the dashboard, Glynn openly promotes a program called Loop-It for his friend from WarriorPlus.
I can't escape the impression that this whole thing is basically one big shiny object full of upsells and links to other products that have no connection with the training inside.
In my opinion, this is nothing but Glynn's attempt to sell as many products as possible to gullible newbies who are running for shiny objects.
Would I call it a scam because of this? Well, you need to see the rest of my Commission Blueprint review before we make any decisions.
Price and Upsells
Commission Blueprint funnel is one of the most unethical funnels I've seen so far. The program is free to join, but you won't get the training immediately.
First, you need to go through a set of upsells!
Each upsell contains advanced training which completes the whole system. Here's how it looks.
First, you join for free. Then you get the first of many in your face.
Each upsells is served with yet another overhyped and unethical video and sales page.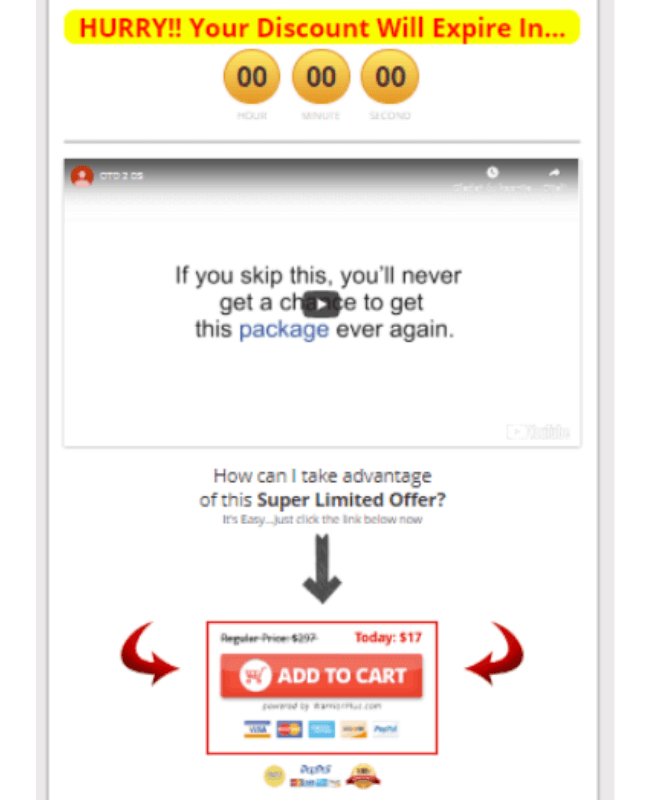 The owner is using tons of tricks to make you pull out your credit card, such as a fake timer, for example.
But as you can see from the image above, the clock hit zero, and my discount is still here. It just proves my point.
Here is a list of upsells.
Hot Niche Finding Formula  – $19
Email Marketing Course – $27
Zero Cost Setup Guide & Traffic Rolodex – $37
Licence Rights & Skype Coaching – $197
Each offer contains a piece of training that's missing from the basic package.
In other words, you must take them all to complete the training.
This way of marketing is popular today because it attracts people with fancy promises and low price.
And once you get sucked in, they start with upsells.
Commission Blueprint could be labelled as another shiny object that has the purpose to make money for the creator.
Revealed: The Best Way To Start Making Money Online
How Does Commission Blueprint Work?
So finally, let's say a few things about how Commission Blueprint works. And most importantly, let's see whether or not it works as promised, or it's just a scam as I initially thought.
The training contains several video modules. Each module explains one of the steps of building an affiliate marketing campaign from scratch.
Module #1 – The Overview
Module #2 – The Great Offers (13 min)
Module #3 – Incentivizing Prospects (18 min)
Module #4 – Create Landing Pages (40 min)
Module #5 – Create Follow-Up Series (29 min)
Module #6 – Get Targeted Traffic (20 min)
Module #7 – Supplement Traffic (10 min)
Module #8 – What You Need to Do (11 min)
Module #9 – FAQ
I sat through the videos and got reasonably disappointed with the amount of information within. I don't think that Commission Blueprint can live up to those claims from the sales page.
I don't believe that this is going to make you 100's in a matter of days, no sir.
This is, in my opinion, a concise and incomplete training program. The only lesson I found valuable is one about setting up your landing pages.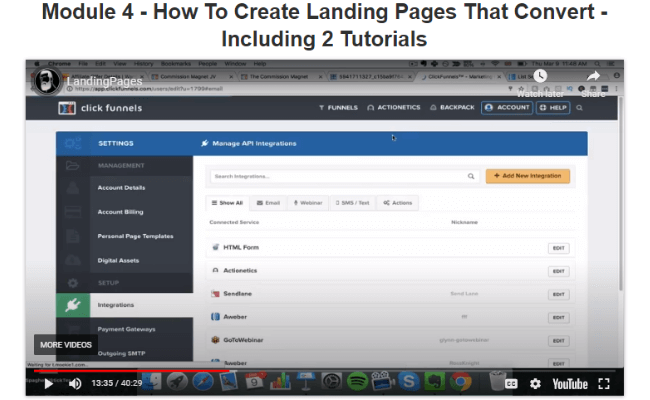 The rest of the Commission Blueprint training is too short and not connected very well, which is the reason why I don't recommend this program.
In a nutshell, the program is about finding the right offers, creating marketing campaigns, which includes email marketing as well.
And lastly, once you set it up, you need to get some traffic to your funnel to make some commissions.
Glynn recommends solo ads from a website called Udimi. If you don't know, solo ads are a form of paid traffic where you rent other people's email list and use it as your promotional channel.
By the way, this method is not cheap, and it's unreliable.
Solo ads are not the only extra cost. You need an autoresponder (AWeber) and a landing page builder (Click Funnels).
Generally speaking, Commission Blueprint is based on legitimate methods. However, the training is weak and incomplete, and Glynn seems to do this intentionally to make you buy those upgrades.
I didn't purchase them so I can't tell you more. But based on my experience, this is not going to make you rich in a week.
Who is Commission Blueprint For?
As I said, Commission Blueprint is the best for the owner who creates these funnels all the time to make money. This is not an educational program. It's a sales funnel.
I don't see how a complete newbie can make something out of this. The training is not comprehensive. It's shallow in quality.
And making 100's in seven days seems like a hollow promise.
Worst of all, I'm experienced, and I had troubles connecting the dots inside.
All those shiny objects and unethical sales funnel had me confused that at one point, I forgot that this is supposed to be a training program.
THE BEST WAY TO MAKE MONEY ONLINE IN 2023 >>
What I Like About Commission Blueprint
Free To Join
I like that you can get inside for free and see it with your own eyes. There are no obligations whatsoever.
You Get Some Training With the Basic Package
The owner has included a fair amount of training inside which could be enough to understand how affiliate marketing works.
However, you'll still have to search for more information on your own to complete this training and get some results, if any.
Money-Back Guarantee
The one thing that I really like about Commission Blueprint is the money-back guarantee.
If you purchase some of those upsells, and you don't like the content, they promise to give you a refund.
What I Don't Like About Commission Blueprint
Overhyped Earning Claims
Right off the bat, the owner of Commission Blueprint, tells you how you can start making at least $500 in the next seven days even if you are a complete newbie.
Honestly, those are overhyped and unrealistic claims that have nothing to do with reality.
Expecting to earn 100's per day as soon as you start would be just like expecting to fly an aeroplane after a few hours of watching training videos-
Unfortunately, because of the programs like this, affiliate marketing gets a bad name.
Unethical Sales Funnel
You are free to join Commission Blueprint. However, once you leave your details and try to get inside, you'll bump into a series of sales pages.
Each next is worse than the one before.
They play with your confidence. Thell you how you can get rich fast with affiliate marketing.
They use tricks to make you buy upsells and other programs that have no relationship with this one.
I have tons of reviews behind me, but I have to be honest and say that this funnel is one of the worst.
If I'm going to judge just by the impressions I've got while trying to reach the training course, I would say that Commission Blueprint is a scam.
But let's wait until the end of the review.
Training is Not Complete (Upsells)
I don't like the fact that Commission Blueprint, just like many other unreliable programs out there, is using this sales method.
It shows that the owner is not honest and is just looking to squeeze as much cash from you as possible using dirty tricks.
It's cool that you can get some sort of affiliate marketing training for zero dollars.
However, they never tell you that you need to purchase those upgrades if you want to complete the system.
It's evident that the basic training is probably not going to make you any money.
Zero Testimonials
Lastly, the fact that the Commission Blueprint program don't have any user testimonials is highly concerning.
I mean, if it were that good as Glynn claims, there would be some people who could back up his story, right?
Every legitimate training program has a bunch of real-life case studies behind it to back it up.
This one has none!
Is Commission Blueprint a Scam?
Technically speaking, Commission Blueprint is not a scam. As much as I don't like to say this but, it's a legitimate offer.
The reason for saying so is that you'll get video training for free. The method inside is based on affiliate marketing, which is a proven way of making money online.
But as I've said earlier in this review, Commission Blueprint has many traits of a classic get-rich-quick scam.
Glynn promotes this as a brand new method for making at least $500 or more in the next seven days or less. But advanced marketers know that these claims don't hold water.
In my opinion, the program has been designed to trick newbies into buying upsells and other programs that aren't related to this one for no reason.
Actually, there is a reason. The owner tries to make as much money from the funnel as he tried and succeeded many times before Commission Blueprint (see those links from the top of the review).
The whole thing is one big shiny object which, in my opinion, is best to be avoided.
You won't make money in as little as seven days with Commission Blueprint. In fact, I'm 100% sure that you can't make any money at all with this program.
Related: Paid Traffic Mastery Review
Commission Blueprint Review – Conclusion
Honestly, I don't see any real-life value in this product nor I would be happy to recommend it.
I don't know how this program could help newbies to make $500 in seven days.
If we are to judge by those claims and the quality of the training inside, we can say that it's closer to a scam than to an honest program for making money with affiliate marketing.
What are your thoughts? Is Commission Blueprint a scam or legit? Let me know in the comment section below!
Thanks for reading my Commission Blueprint review. I hope this article was useful to you.
And while you're here…check out a legitimate training course for making money online with affiliate marketing.
This course is proven by thousands of marketers all over the world, including me.
Click the button below to learn more!
THE BEST WAY TO MAKE MONEY ONLINE IN 2023 >>
And don't forget to share this review with your friends and family!
All the best, Ivan. Founder, and CEO @freeaffiliatemarketingbusiness.com