Welcome to my Commission Map review.
Jamie Lewis has partnered up on the Commission Map project with another successful online marketer, Matthew Sabia. These two guys promise that they have solved the two most difficult tasks for every newbie.
That is, finding the right niche and getting the right traffic to your offer.
But is it worth it? And does it work as they claim? That's what I'm about to answer with this review.
By the way, congratulations on researching before getting into things head-first.
In this Commission Map review, I'll show you what this program is all about, how it works, who is the owner, how much could it cost you on upsells, and more! Shall we begin?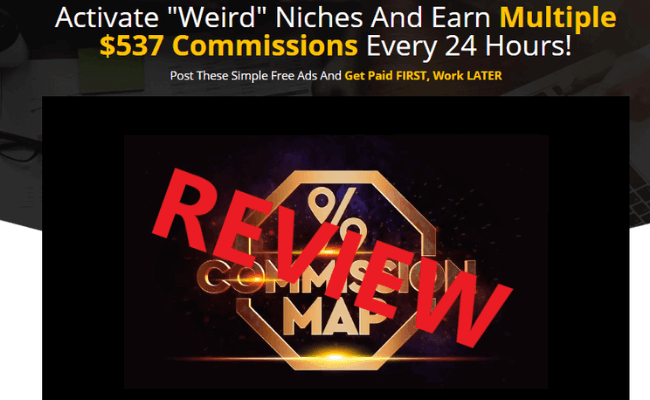 Commission Map Review – Overview
Product Type: Affiliate Marketing
Product Price: $12.95 + 3 UPSELLS!
Product Owner: Jamie Lewis
Money-Back Guarantee: 30-days (questionable?)
Recommended?: No
Quick Overview: Commission Map is an affiliate marketing training created by Jamie Lewis and Matthew Sabia, two guys who have been doing affiliate marketing for years.
With this program, they teach how to find profitable niches, create sales funnels, implement an email campaign, and most importantly, they share a bunch of free traffic sources, which is a rare thing these days.
I reviewed a lot of Jamie's courses so far, and quite honestly, most of them are just overhyped courses that rarely work. But this time, with Commission Map, is a different story.
In other words, training is legitimate. To discover more about the course itself, keep reading this review.
I just want to give you a fair warning before you go any further. Do not expect fast cash and other BS that you saw on the sales page for Commission Map. Those things are BS designed to sell this to newbies.
This program is not my top recommendation, but I give it a go because the training is actually ok.
My #1 recommendation is a 100% legitimate program that helped me to go from being a complete newbie to making $100's per day with affiliate marketing! Click the button below to learn more!
THE BEST WAY TO MAKE MONEY ONLINE IN 2022 >>
Update: Commission Map has gone through an update and from now on it's called Commission Map PRO. The latest version brings more content and resources to the table.
What is Commission Map?
Commission Map is another affiliate marketing program created by Jamie Lewis. This time he has partnered up with Matthew Sabia to share their secrets with the rest of the world.
The program is all about finding weird niches that Jamie and Matthew have been exploiting over the years.
If you are not familiar with affiliate marketing, let me quickly explain what it is so that you can understand the Commission Map better.
Affiliate marketing is a business model based on revenue sharing. This means that you, as an affiliate marketer, promote other people's products or services in return for a piece of the profit.
In other words, for a commission. Affiliate marketing is one of the best ways to make money online.
Affiliate marketers usually work within niches. These could be broad, like, for example, MMO (make-money-online), where the competition is vast, and it's hard to get exposure and sales.
Or they could be specific and like, for example, nigh lamps, where the competition is scarce. Therefore, it's easy to get traffic and sales.
Jamie Lewis and Matthew Sabia have created Commission Map to help solve one of the two most common newbie problems. That is, finding the right niche and getting the right traffic to your offer.

Commission Map is using software (I'll explain later) to find those weird little niches where you can tap into and profit fast. Jamie claims that people usually neglect these niches because they are not cool enough.
However, thanks to those weird niches, he's been making a fortune.
Also, this program is designed to help overcome the second most common newbie problem, getting traffic to your offer. And not just any sort of traffic, but the right one. But I'll talk more about it later in the Commission Map review as well.
Who are Jamie Lewis & Matthew Sabia?
As I've said at the top of this review, Jamie Lewis is a super successful online marketer. This guy has been making money online for years and sharing his techniques and methods with the world.
However, Jamie Lewis has a history of creating bad products which have earned him a sort of a hot and cold reputation in the make-money-online world.
Here are a few examples:
Don't get me wrong. The product at hand is legitimate, but these guys have a habit of creating seriously overhyped sales pages where they literally promise you cash on autopilot and other stuff that has nothing to do with real life.
Just keep in mind before going any further with this product that those things never work as they say.

Jamie Lewis is the co-creator of Commission Map. As mentioned already, Matthew Sabia is the second part of the duo behind this product. Matthew is a respectable persona in the MMO world, as well.
Long story short, these guys are proven experts and a good source of information about the mysteries of online marketing.
Who Is Commission Map For?
Commission Map is for internet marketers interest in learning from Jamie Lewis. The course is packed with tons of useful information about finding offers, promoting them, getting traffic, email marketing, etc.
In other words, it's for:
affiliate marketers
content marketers
email marketers
video marketers
online entrepreneurs
However, I don't quite recommend Commission Map to beginners though. In my opinion, this training is not the most beginner-friendlies. But other than that, I don't see why not recommend this course.
How Does Commission Map Work?
Commission Map is divided into four modules or training sections. Each module deals with one aspect of the system. Jamie and Matthew will show how to start with affiliate marketing by tapping into weird niches and how to get traffic to your offer.
Step 1 – Choose Winning Offers
The first and most critical step in affiliate marketing is finding the right product to sell; in other words, choosing the niche with low competition. Commission Map is not about the usual WarriorPlus and JVZoo overcrowded MMO niches. It's about the total opposite route.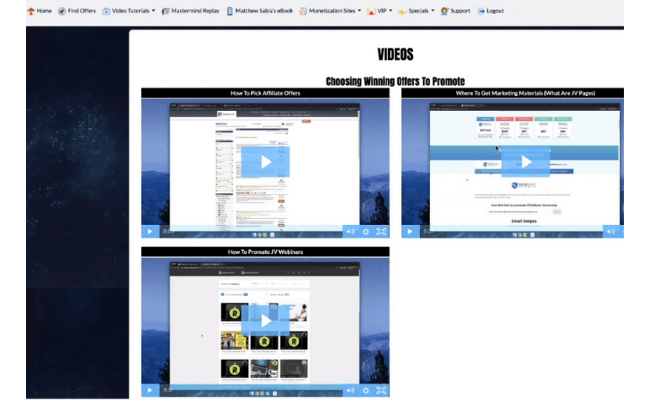 Most newbies usually don't think long enough while choosing the niche. A lot of people jump into the most popular niches because they are sure the money is there. However, the problem is that the competition in these popular niches is high. It makes it tougher to breakthrough.
On the other hand, Jamie claims that his Commission Map will work in weird sub-niches that most people overlook while choosing the direction. He's included software that helps to find lucrative offers.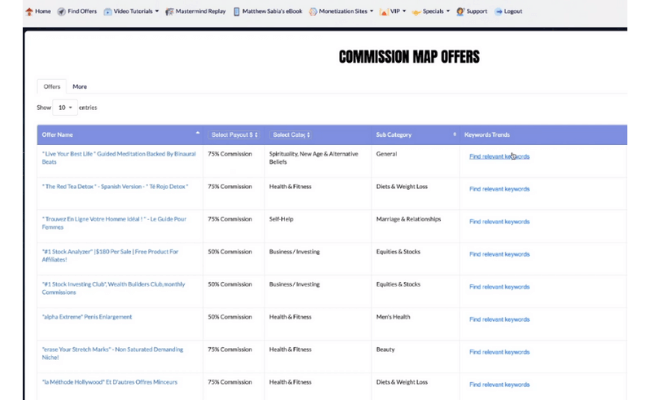 All you need to do is enter the keyword or title of your niche. The software shows you different suggestions that you can use for your campaigns.
Step 2 – Get Free (and Paid) Traffic
Then, the next step is getting traffic to your offer so that you can start making commissions. Jamie and Matthew are focused on getting free traffic from Facebook and YouTube. The second module is all about traffic from social networks.
They include paid traffic methods, as well.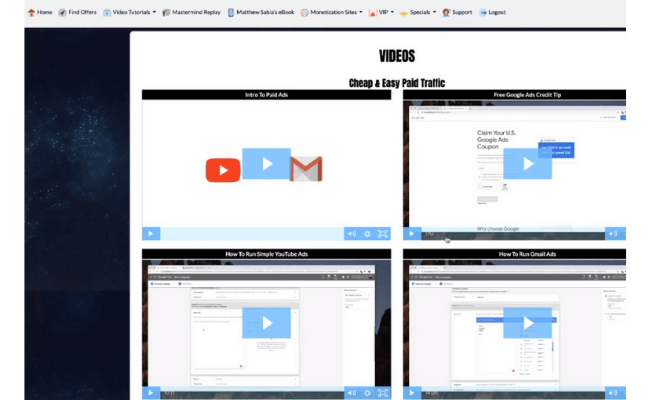 They will show you how to pay for ads on YouTube, Facebook, and Google to drive targeted visitors to your offer. I like to see that they explain both paid and free traffic.
Step 3 – Funnels And Email Marketing
Lastly, to make it all work, Jamie and Matthew are going to show how to use email marketing to sell whatever you choose to sell.
They'll show you how to set up your ClickFunnels account, build funnels, connect them to your offers and traffic sources, and finally, if everything is done right, make some cash.
Can You Make Money With Commission Map?
Commission Map is based on affiliate marketing methods that are proven to work over and over. Also, Jamie Lewis and Matthew Sabia are two respectable marketers. These two guys can walk their talk.
Yes, you can make money with their system. Although I haven't tried to system myself (I will do it in the future), I can see that it's based on legitimate methods, so I don't see any reasons why it shouldn't work.
However, just a small note before I move one, and this is very important, especially if you are a beginner.
Affiliate marketing is a highly profitable business. However, do not expect to get rich quick or to start making money as soon as tomorrow. It'll take time to apply the Commission Map system. But if you work on it and follow the instruction to the letter, you could profit.
That being said, let continue this review and let's take a look at the price.
What's the Price of Commission Map?
The front-end price of Jamie's and Matthew's system was $12.95 by the time of writing this review. However, the price might increase over time as it's not so unusual to see with WarriorPlus products.
Also, the offer comes with a set of upsells.
One-Time-Offers
OTO #1 Commission VIP ($67)
OTO #2 Commission Replays ($97)
OTO #3 Commission Downloads ($147)
Can You Get a Refund?
Commission Map is covered by WarriorPlus 30-days money-back guarantee. So if you purchase this product, and don't like the material, you can ask for your money back.
What's Good About It?
Before I conclude my Commission Map review, I wanna share a few personal pros and cons. These are based on my observations and personal opinion about this product. Let's start with good things first.
Affiliate Marketing is a Proven Way to Make Money Online
The Commission Map system is based on proven strategies and methods. These two guys are showing their secrets to making money online with affiliate marketing. Jamie and Matthew share how to avoid common problems that many brand new affiliate marketers don't know how to solve.
Also, it's good to see how many traffic sources and strategies they've included with this training. That's something that most 'gurus' don't do.
Training is Affordable to Everyone
Commission Map is not an expensive training. $12.95 is a price that anyone can afford. When I compare the price with the amount of info that these guys share, I think that this is a no brainer.
And even if you don't like the software, you can get your money back in the first 30 days. Notice. Sometimes it can be hard to get a refund for WarriorPlus products. Honestly, I have no idea why.
What's Wrong With Commission Map?
Now, let's take a look at a few cons. These are not significant issues, but they are worthy of mentioning.
It Comes With Expensive Upsells
I personally hate to see upsells. Sometimes I feel that the owners create cheap products only to get you to buy their more expensive upsells. Commission Map comes with four OTO's. And they are not cheap.
The whole thing could quickly jump from $13 to $300! Of course, you can decline them all. But still, they are not transparent with their offer, and that's a minus in my book.
Nothing Is 100% Sure to Work
I've been working online for a while and have achieved some good results so far. One thing I learned so far is that nothing is sure to work. I'm sure that these guys share great methods and techniques for making money online, but do not expect to profit immediately. Nothing is 100% sure.
Is Commission Map a Scam or Legit?
As for the last matter of my review, I want to say that the Commission Map is not a scam. It's a legitimate MMO training that has the potential to make profits.
Is it worth it?
Well, I haven't tested the system yet (as I've said, I will in the future), so I'm not able to give you a straight answer on this one. However, based on everything that I've seen while reviewing this system, I believe it's worth it.
You see, affiliate marketing is one of the best ways to make money online. The success rate with affiliate marketing, however, is not so high. Many people struggle to get it right because the net is full of all kinds of guides, sources, magic solutions, and whatnot.
So let me give you a piece of advice.
In my experience, the best way to succeed is if you stick to one mentor and his system until you master it. That's what I've done, and I recommend the same to you. If you are looking for a good mentor, Jamie Lewis could be your guy. Commission Map is not a scam, and I give it the green light.
Commission Map Review – Conclusion
The bottom line is, Commission Map is a legit program. It's based on the method that is basic and could work if you are willing to invest a lot of work and effort into it as well as a lot of money.
The latter is the reason why I'm not so confident about this program.
See, Jamie Lewis and his associates occasionally create these overhyped schemes that are basically designed to trick you into spending your money.
The evidence for this claim is hidden in the section of my review where I explained the price of the Commission Map.
In other words, the front end offer is relatively cheap but overhyped. It's designed to get you inside of an expansive sales funnel where you will get a chance to buy upsells.
Thanks for reading my Commission Map review. I hope you've found all you need about this product. If you have any questions, I'm at your service.
How To Make Commission Online For Real
Before I let you go, let me tell you how I make money online with affiliate marketing. If you haven't heard about Wealthy Affiliate, this is your first chance.
Wealthy Affiliate has been my mentor for the last two years. If you are looking for a proven way to create a long term passive online income, look no further. These guys have helped me and thousands of others to do so, and you can be the next one.
Make sure you don't miss your chance to be mentored by Wealthy Affiliate. Click on the blue button below to learn more! 🙂
THE BEST WAY TO MAKE MONEY ONLINE IN 2022 >>
If you need any help or you have a question, feel free to contact me.
And don't forget to share this review with your friends and family!
All the best, Ivan. Founder, and CEO @freeaffiliatemarketingbusiness.com