Commission Shortcut sounds like an easy way to cash-in affiliate commissions daily, but how really does it work? Can you make $200-300 daily with a set of done-for-you funnels? Welcome to my Commission Shortcut review. I expose the truth!
When I see a name like this for an affiliate marketing program, two questions pop up immediately. First, is Commission Shortcut a scam? Second, if not, can Glynn Kosky's system deliver? Honestly, to me, it sounds too good to be the truth. What do you think?
I'm in the affiliate marketing industry for over two years now. During those two years, I've learned that making money online with affiliate marketing takes time and work. You see, I've reviewed a few of those DFY systems, and somehow, they were not delivering as promised.
By the way, congratulations on researching before getting into things headfirst. I know it's hard to trust people on the net these days. But if you are looking for something real, check out how to start an affiliate marketing business for free.
Within this Commission Shortcut Review, we are going to inspect this system to see how and does it works. Also, we're going to get to know what is the full price, learn whether it's a scam or legit, and a lot more! Let's go!
Commission Shortcut Review – Overview
Product Type: Affiliate Marketing
Product Price: $35.95 or 39.95 + 6 UPSELLS!
Product Owner: Glynn Kosky
Money-Back Guarantee: 30-days (questionable?)
Recommended?: No
Quick Overview: Commission Shortcut is another overhyped product for making money online that has a very low success rate, which is evident by the lack of testimonials.
The owner of the Commission Shortcut makes a lot of bold claims as many times before. In case you wonder, Glynn Kosky is the owner of this program. And he's created a lot of these "shortcuts" so far. Examples are all across this review.
You can see how sloppy he was while creating this one. He forgot to remove the name of other product from the disclaimer part of the page that he simply copy-pasted to this one.
During the sales video and all across the sales page, they are trying to convince you that you'll make money instantly, which is not even close to being the truth. While the system is based on real methods for making money, I'm not convinced that Commission Shortcut is legit.
You get a few DFY sales funnels and a chance to spend a lot more money to make it work. This means that you'll stumble across tons of upsells, which is the main intention of the whole product, to upsell you expensive pieces one by one.
The bottom line of this review is Commission Shortcut is not a scam. However, it's a misleading and overhyped get-rich-quick scheme full of risk that I do not recommend.
My #1 recommendation is a 100% legitimate program that helped me to go from being a complete newbie to making $100's per day with affiliate marketing! Click the button below to learn more!
THE BEST WAY TO MAKE MONEY ONLINE IN 2023 >>
What is Commission Shortcut?
Commission Shortcut is a 100% done-for-you affiliate system. This system could help you to generate sales and commissions fast, and to become a super affiliate in record time. At least, that's what you can hear and read from the sales page.
But the truth is that more and more marketing 'gurus' are trying to make you believe that you can start with affiliate marketing without learning the process and investing your time first. To me, it's like telling a kid that he can ride the bike without learning to pedal and steer. It's impossible!
As you can see, Glynn claims that all you have to do is log in to Commission Shortcut, choose your funnel, and sit back while the money pours into your account.

However, Even Glynn says that 95% of affiliate marketers fail due to numerous reasons, and the numero uno is that they never invest time to learn how it works! Do you think that you can make money effortlessly without learning the system itself first? I'm not that sure about it. I don't believe in shortcuts. I've tried them, and none of them worked as advertised.
In a nutshell, Commission Shortcut is a set of twelve done-for-you sales funnels for plug-and-play profits. Funnels are based on the exact process some super affiliates use to make six figures per year. Once again, that's what the owner of the system claims.
If you wonder what plug-and-play stand for, let me explain briefly. You see, DFY systems like this may work. However, the number one condition to make money out of a system like Commission Shortcut is if you have enough cash for paying traffic to your funnels. Without traffic, you can't sell anything, and your offers are worthless.
Plug and play mean that you turn on your PC, and you're set to go. But, in 99% of the cases, if you want to make money, you'll have to put the cash in first. Glynn doesn't tell you this information Commission Shortcut sales page. And the worst thing is that neither he nor anyone else can guarantee that the outcome will be positive.
Is It Commission Shortcut or Traffic Multiplier…?
On the other hand, those promotional pages are full of misleading information. As you can see from the image, the disclaimer for Commission Shortcut has been copy-pasted from Glynn's product called Traffic Multiplier, which shows how messy are they in trying to create these get-rich-quick schemes.

The sales pages are always full of crap about how you can make money in record time, and become a super successful affiliate marketer overnight. I've reviewed similar programs such as Commission Robot or Freebie Commissions. They use the same tactics to get you in, but the truth is far away from what they tell you.
Also, other Commission Shortcut reviews are going to tell you how this software is the best solution for making money online. They are going to throw in 5-6 free bonuses as well. Those bonuses are designed to be the dust in your eyes so that they can sell you the software.
Therefore, you can flush down the toilet everything they've said on that mile-long sales page. I advise you to scroll down to the bottom of the sales page and read the small letters.
However, if you really want to try it out, remember this, prepare a bag of cash, and don't expect great results. Be prepared even to walk away empty-handed, which is not a rare case with products like Commission Shortcut. Even Glynn Kosky says that 97% of affiliate marketers fail. There's no magic DFY system that can turn this number around.
Who is Commission Shortcut for?
Ideally, Commission Shortcut could be for people who are looking for an opportunity to invest money in affiliate marketing. Also, according to the owner and creator, Commission Shortcut is for people who don't possess marketing skills but still want to make money online. In other words, it's for newbies with cash.
However, I've shown you that the sales page is for entertainment purposes only, so don't take it seriously. Once again, affiliate marketing is a process. Many people who run into it, end up quitting. I do not believe that you can succeed in affiliate marketing or any other business venture without learning the process first. Commission Shortcut is more like gambling rather than building a business.
How Does Commission Shortcut Work?
As we mentioned before in this review, Commission Shortcut is a set of fourteen done-for-you marketing funnels. This system includes automation software and bonus funnels, email swipe copies, and traffic sources. Commission Shortcut is a drag-and-drop software that can help you to make money with some of the highest converting offers. Funnels are connected to offers from marketplaces such as ClickBank, JVZoo, and WarriorPlus.
Here is how it works in steps:
Create a Campaign
Pick Your Template
Customize the Page and Insert Affiliate Links
Finish and Share to Get Traffic
Step 1. Create a Campaign
So the first step is to create your affiliate marketing campaign. All you have to do is click on the DFY Funnels on the left side of your dashboard and click New Campaign.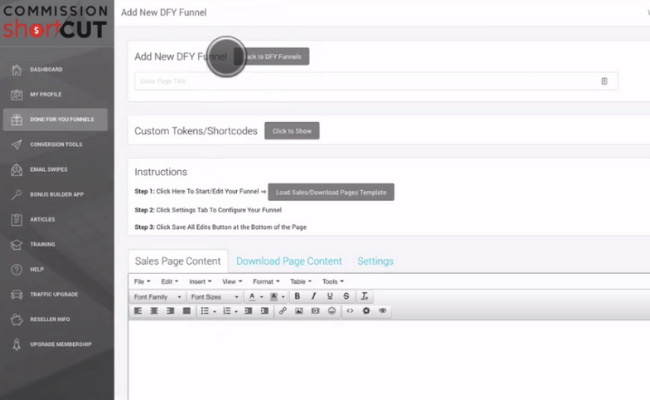 Then, you have to enter the name of your campaign and proceed to step two.
Step 2. Pick Your Template
The next step is to pick your template from a database of DFY templates. These are going to be one-page websites (landing pages) that you can use as your own.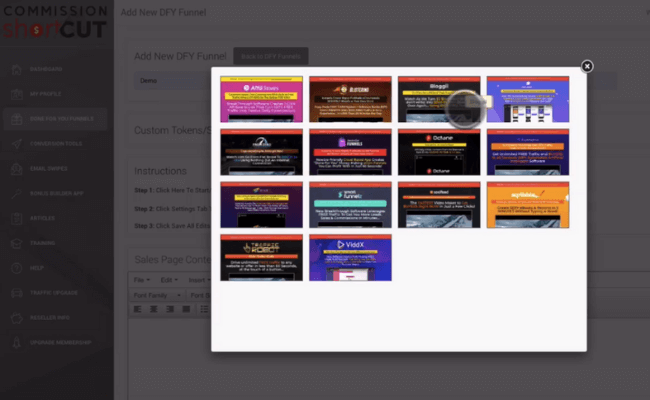 As you can see from the image above, the choice is easy. Just click on the one you like and follow step three.
Step 3. Customize the Page and Insert Affiliate Links
Once you have chosen the DFY template, you have to customize some settings like scarcity and bonuses that you're going to give away.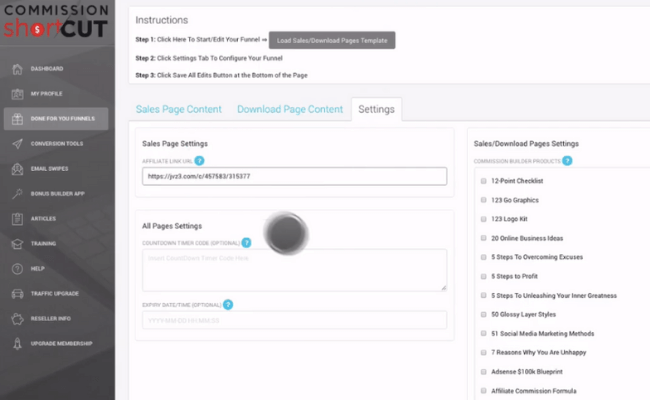 Also, you have to add your affiliate link for the product you chose to promote. This is a very important step.
Step 4. Finish and Share to Get Traffic
To make money with your funnels after you create them, you'll have to start buying traffic.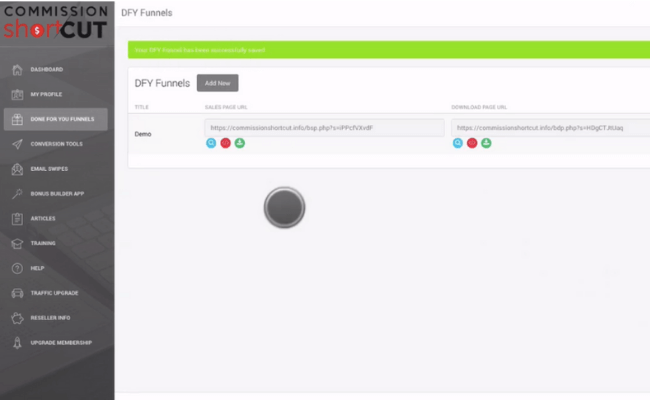 Another option is if you have an established online presence such as a large social media following or blog or a website with high authority where you can share your funnel to make money.
Commission Shortcut – Traffic Worries
Affiliate marketing based on method like described in a couple of paragraphs from above can work. However, it can work only with a massive cash investment or if you already have an established authority with Google and other search engines.
There is zero information about how much money this adventure could cost you or how would you be getting traffic to your offer. Glynn Kosky and his affiliates are going to convince you in powers of Commission Shortcut, but they will not tell you that it costs a small fortune to run campaigns on the internet.
I don't like the dishonesty about the most critical part of the system, that is traffic. You see, there are two ways to get traffic to your offer.
The first (and better) way is to try and get free organic traffic from search engines and social networks. This method takes time, a lot of time. However, once you learn how to master free sources of traffic, you'll be set to make money online as long as Google and Facebook exist.
Now, you had a chance to read a couple of times within this Commission Shortcut review, that the second way to drive traffic to your offer is if you pay for it. I'm not an expert in paid traffic methods, but so far, I had a chance to see and learn, on my skin, that spending money on traffic is not something you can learn overnight.
My point is that the paid traffic method is not recommended for newbies. Both methods are delicate matters. I genuinely believe that you can't take advantage of any of those two ways immediately with Commission Shortcut, especially if you are a beginner at this stuff.
No matter what Glynn Kosky says, the only way how a newbie can make money online is if he learns the process first and cases to be a newbie.
The Commission Shortcut software, on the other hand, might be a handy tool if you know already how to reach for traffic to your site, paid or free it doesn't matter. It helps to create funnels around the top converting offers from ClickBank, JVZoo, and WarriorPlus. Because ALMOST everything is done for you, it can help to save a lot of time on creating offers, bonuses, and email campaigns.
However, once again, if you don't have any web traffic skills, you'll have to buy some of those upsells to learn how to pay for traffic from Facebook. I'll discuss those upsells in a moment.
Below is the Demo video where you can see the Commission Shortcut in action and convince yourself that they don't show you how to get traffic.
Commission Shortcut Price
Now, the price structure of Commission Shortcut is quite confusing. If you want to get access to the Lite version of Commission Shortcut, it will cost you a $35,95 one time payment. There is a second offer right from the start, a Pro version, which runs for $39,95 one time payment as well.
The difference between these two packages is in a couple of bonuses. In both cases, you'll get access to the main dashboard from where you can start with your campaigns. If you take the latter, you'll get a bunch of bonuses, which probably have little to zero value. In my opinion, they exist only to make you think that you're gaining excess amount in return.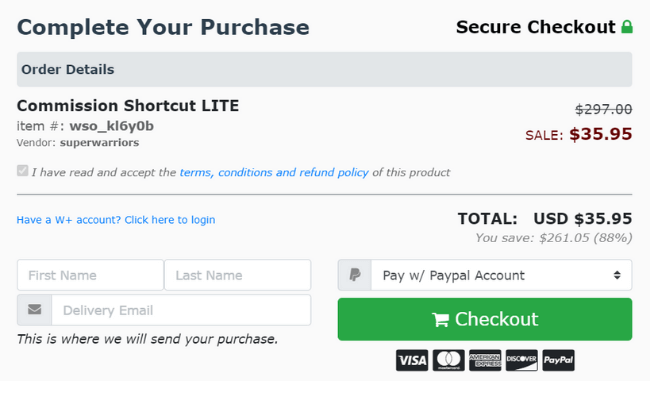 Now Here Come, Upsells!
Besides two front end offers, there are six more upsells! Six!
CS Gold ($47-$67) – Premium Version of Software
CS Platinum ($47-$67) – Conversion Boosting Tools
CS Titanium ($47-$67) – Triple Thread Traffic
CS Diamond ($97-$147) – Facebook Pixel Tools and Training
Automated Traffic Flow ($197-$297)
License Rights ($197-$297)
Now, if you take a look at the price structure and each upsell, you'll see that they are going to be required to purchase them all if you want to make Commission Shortcut work in your favour.
I think that the first three upsells exist only as steps to the Diamond version of Commission Shortcut. Facebook training is, in my opinion, the core of the whole system. It will be more than necessary to learn how to leverage FB advertisement if you want to make money on those DFY funnels. No traffic, no money.
So my conclusion of this part of the Commission Shortcut review that for thirty and some dollars, you'll only get access to the platform. If you want to get the most out of the system, you'll have to spend at least $500 on those upsells. Moreover, you'll have to prepare a couple of hundreds to pay for traffic.
THE BEST WAY TO MAKE MONEY ONLINE IN 2023 >>
What I Like About Commission Shortcut
1.) Real Owner
I've been reviewing many digital products like Commission Shortcut, and more than half of them have zero information about the owner. Moreover, the people who make those scams are hiding behind made-up names and characters.
At the first moment, I thought that it's going to be the same case with Commission Shortcut. But, I was glad to learn that Glynn Kosky is a real person in the end. That's a plus in my book.
2.) Affiliate Marketing is a Legitimate Method
The affiliate marketing model by which Commission Shortcut is based is a legit and working way to make money online. The set of done-for-you funnels is designed around some of the highest converting offers from ClickBank, JVZoo, and WarriorPlus.
Many affiliate marketers make fine amounts by promoting products from the mentioned marketplaces. The only concern is that half of those products are complete BS and even pure scams. Anyway, if you have a good source of traffic, I think that it is possible to make some money with the Commission Shortcut system.
3.) 30 days 100% Money Back Guarantee
If you, let's say, buy Commission Shortcut, and you found yourself disappointed after all, you can ask your money back within the first 30 days after the purchase. To do so, you can contact the support team or in the Facebook group.
4.) Private Facebook Group
All members of the system are having access to a private FB group where they share their thoughts and experience with this system. It's good to see that help is available. I hope it works.
What I Don't Like About Commission Shortcut
1.) Misleading Sales Page
The most annoying thing about Commission Shortcut is the sales page. You see, Glynn Kosky is an excellent marketer. This guy knows how to sell, hands down. If you take a look at the whole page, you'll see a bunch of information thrown together with the one and only one purpose, to sell.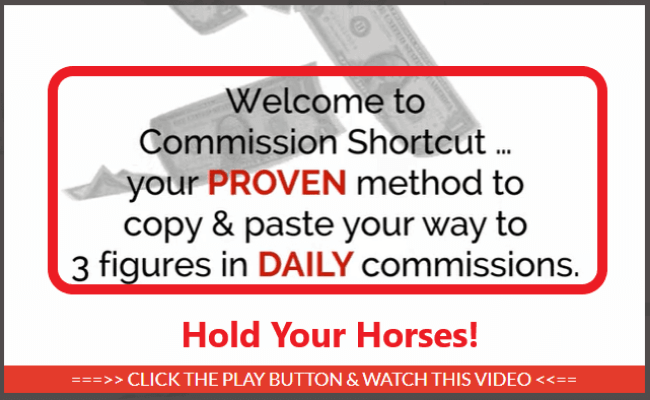 The thing that bothers me the most is that Glynn and the gang are spreading the wrong information over the internet. They are trying to make people believe that Commission Shortcut and affiliate marketing is a quick solution for making money online, while the truth is far away from that.
2.) Commission Shortcut Is Not 100% DFY
If someone tells you that he's done everything for you, and all you have to do is to push the button or work a couple of minutes per day to make money, you should better start running!
Commission Shortcut is not 100% done-for-you. There is no such thing as done-for-you systems. DFY is a marketing trick designed for people who are lazy to learn for themselves. Making money online is possible only if you find someone who knows the process and who can teach you how to learn it yourself. Everything else is gambling with your money.
3.) Commission Shortcut Lacks Traffic Sources
The affiliate marketing model works like this: Find the offer, create a website (the funnel), ATTRACT VISITORS, and the last but not least, make money.
I bet that you know how to count. If you can do that, you'll see that there are four steps to a successful affiliate marketing model. All of the steps are equally critical. The most critical one, in my opinion, is getting traffic.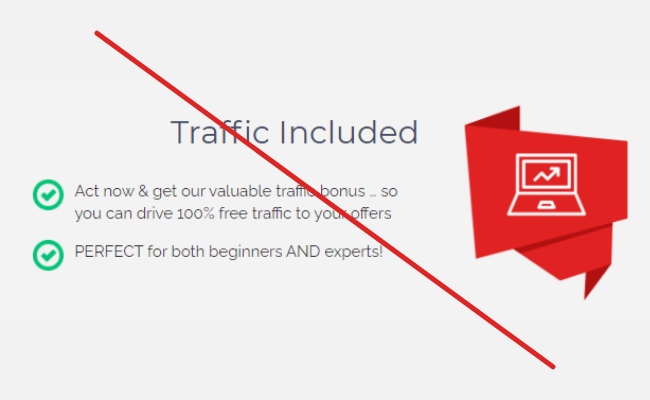 Commission Shortcutsounds very good, I admit. However, what warns me the most is a severe lack of information about how you would be getting traffic to your offers. All I can see from those upsells is that you're going to run Facebook campaigns to drive potential customers to your funnel.
It's easy to make a funnel around the high converting offer. You can find tons of free videos on YouTube on how to do so or you can use Commissions Shortcut software. But have you noticed how no one is sharing their traffic secrets for free? Well, that information is worth a couple of hundreds or even thousands.
4.) Too Many Upsells
Speaking about hundreds and thousands. Commission Shortcut is a professionally executed funnel that leads to training on Facebook ads. It will take you at least $500 to reach the stage where you can learn a thing or two about how to make money from your funnels.
I don't like upsells. People who make offers like this one don't understand that their model is not attractive. They make it sound attractive so that you can buy more, but in the end, it's not appealing to the person who is supposed to get something in return. That is, you, the customer.
Is Commission Shortcut a Scam?
You have probably had a chance to read many favourable Commission Shortcut reviews online. All of them claim that this software is a legit way to make money online. However, all of them are written by affiliate marketers who are promoting the software to make money on commissions. They are biased.
I'm not saying that Commission Shortcut is a scam, no. I believe that for the price of the Basic package, you can get handy and legit software for creating funnels fast.
On the other hand, if you want to learn how to drive traffic to your offers and ultimately make some money, you'll have to accept those upsells at one point or another.
You see, programs like Commission Shortcut are designed to make you buy, buy, buy. It's a legit business model, but it's not the one that puts giving value to their users before asking for money in return.
Commission Shortcut Review – Conclusion
As a person who truly believes in the business based on honesty and full transparency, I do not recommend Commission Shortcut. The reasons are plenty.
The number one is that they don't share full information about how you will be making money with Commission Shortcut. To me, it casts a shadow of doubt on the whole system.
If you are going to believe in the three steps, which are login, choose the offer, and sit back and watch the sales and commissions rolling in, you must be, and forgive me for saying this, a fool.
There is absolutely no way how you can make money online or offline if you don't invest time, work, and money. Those are the three exact steps to creating a successful online or offline business. Everyone else who claims to have a system that can help you make money without giving those three is fooling you.
Thanks for reading my Commission Shortcut review. I hope I have helped you to learn more about what it is and how does it work and answer your question, whether it is a scam or legit.
If you have any questions or maybe you can offer an experience, feel free to leave them in the comment box below.
BONUS – LEGITIMATE WAY TO MAKE MONEY ONLINE
Before I let you go, let me tell you how I make money online with affiliate marketing with the help of REAL people.
The training that I recommend has everything you need to get started online with zero costs and nothing to do with getting rich by tomorrow.
The best thing is, it's entirely safe and free to join. No BS, no upsells. 
These guys have helped thousands of regular people like you and me to make money online and even quit our 9-5's. Make sure to grab your opportunity!
THE BEST WAY TO MAKE MONEY ONLINE IN 2023 >>
If you need any help or you have a question, feel free to contact me.
And don't forget to share this review with your friends and family!
All the best, Ivan. Founder, and CEO @freeaffiliatemarketingbusiness.com