Welcome to Copy My Email System review.
Bobby claims that he's going to give you 500 free subscribers, let you join for free, and on top of that, he's going to show you how he makes 100's per day by sending emails.
Sounds good, even too good, right? So what is Copy My Email System about? Is it a scam or legit?
During the sales pitch, and it is a sales pitch because the thing is not free, Bobby hasn't mentioned what it is and how it works.
All he's been talking about were cars, money, and the easy life that came to him as a result of sending emails.
But how much can you trust Bobby? Based on my research, you can't.
I know you're looking to make some fast cash. And I know that this system sounds like a legit way to do so.
However, I hate to burst your bubble, but it's probably not going to happen with Copy My Email system. The whole thing might be a scam. Your money is safer elsewhere; trust me.
By the way, congratulations on researching yourself! Quick research saves you time and money. It also shows that you are serious about finding a legitimate way to make money online.
Within this Copy My Email System review, I'll show you what it is about Also, I'll explain how the whole thing works.
Lastly, I'll discuss whether Copy My Email System is a scam or a legit way to make money sending emails.
Copy My Email System Review – Overview
Product Type: Email Marketing
Product Owner: Bobby (fake name)
Product Price: $1 + UPSELLS
Money-Back Guarantee: 60 Days
Recommended?: No! Scam Alert!
Quick Summary:  The Copy My Email System is a brand new program that promises that you'll be able to earn between $100 and $400 every day simply by sending emails.
You even get access to emails and everything. All you have to do is send them and watch your bank account grow.
Moreover, Bobby told you that he's going to pay you $100 for trying it out for free!
And that was the moment where the scam alarm turned on, so I dug deeper to see what's going on.
While I don't think that this is a scam in itself, I found many warning signs which show that something is not right about Bobby's offer.
You see, you are lead to believe that Copy My Email System is free to join and to email marketing business, which is not true because once you get inside, Bobby is going to charge you around $200 for 500 subscribers.
Also, Bobby 'the internet marketing guru' is nowhere to be found. How weird is it that an internet millionaire is a ghost on the net in the era of social media like Facebook, YouTube, Instagram, etc?
These "guru millionaires" love the free publicity they get via social media. And yet, Bobby is nowhere to be found…weird, right?
Lastly, there's the same scammy site just under a different name (evidence is below). All this and more shows that you can't trust Copy My Email System because after all, it's a marketing scam.
The bottom line is, I don't recommend Copy My Email System for apparent reasons. In my opinion, this is a scam, and I'll show you everything you need to know in the rest of my review.
My #1 recommendation is a 100% legitimate program that helped me to go from being a complete newbie to making $100's per day with affiliate marketing! Click the button below to learn more!
THE BEST WAY TO MAKE MONEY ONLINE IN 2023 >>
What is Copy My Email System?
Copy My Email System is a make-money-online opportunity that's been sold via ClickBetter. The good news is that ClickBetter is a legitimate online marketplace where you can find tons of similar programs.
The bad news is that half of those opportunities are a scam and get-rich-quick schemes.
While listening to Bobby, it was tough to catch him explaining what exactly Copy My Email System is.
Judging by the sales pitch, it's some system where he's going to give you a list of 500 subscribers for free (not accurate), and then, he's going to show you how he's been using the system to make $160 – $440 a day sending simple emails from home.
Below is how one of those emails looks like.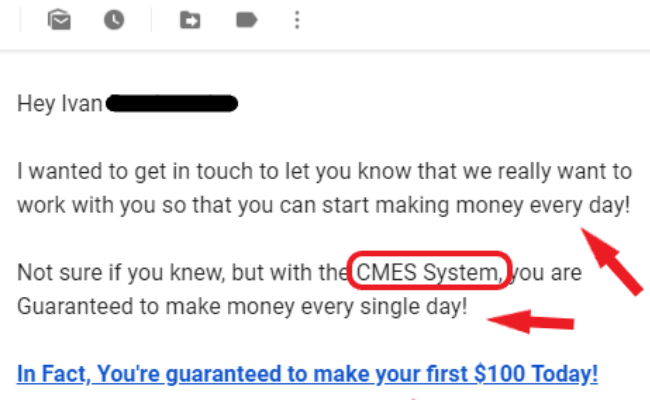 You see, one of my email accounts is buried with spam mail from people who are promoting get-rich-quick schemes. Most of them are scams. And that's precisely how I found out about Copy My Email System.
How did you learn about it? Did you receive a tempting email promising riches too?
Honestly, if these systems were legit, I would be a millionaire by now. LOL
A few weeks ago, I stumbled across a program with a very similar agenda. They wanted me to sign up for their program, which was supposed to help me make tons of cash with little to no work.
The program I'm talking about is called Paid to Send Email, and it's on a border between a scam and a legitimate opportunity.
And then, there's a cloned scam of Copy My Email System called Instant Email Empire! Bobby is there too!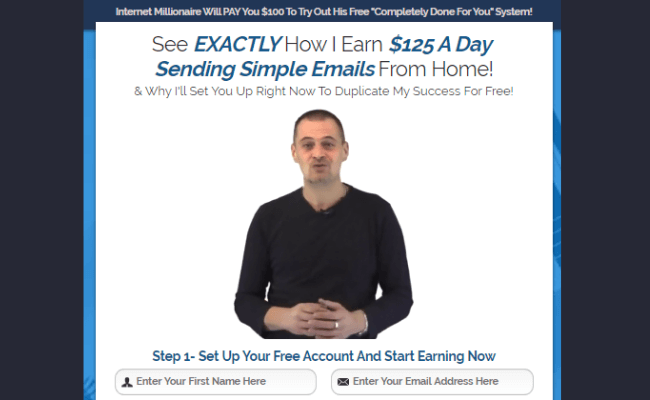 All these offers want you to believe that you can push a few buttons, sit back, and watch the money roll in. The creators are very good at convincing you that this is what you've been looking for.
Some even tell you that you can quit your job as of today, and other completely unethical things.
I did some research, however, and have discovered that Copy My Email System is all about email marketing.
In other words, if you ever go for it, which I strongly don't recommend, your task will be to log into your account and start sending emails to subscribers from your list. Every time someone clicks, you get paid.
Sound easy, right? Bobby claims that it's a win-win situation for everyone.
Speaking of which, let's meet Bobby.
Who is Bobby?
Bobby claims to be a guy who's been doing email marketing for years. During those years, he's become an expert in sending emails and getting paid for sending them.
According to Bobby, he makes 100′ per day with this simple method that he's going to pass on to you.
Copy My Email System, and the alleged owner Bobby might seem like a legit opportunity at first glance. However, since Bobby 'the millionaire email marketer' is a ghost on the internet, it's tough to trust him.
Many online 'gurus' tend to hide behind fake names and even actors to mask their true identity, which might be the case here as well.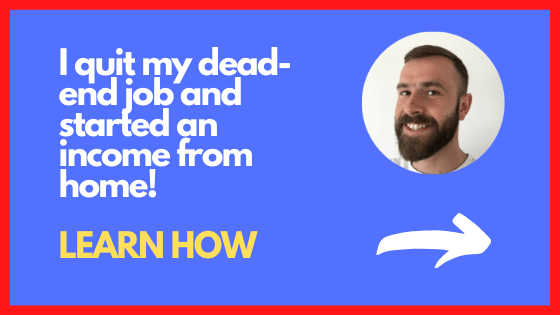 How Does Copy My Email System Work?
You are lead to believe that Copy My Email System is free to join, and at first glance, it seems like it is. But once you fill in the details to get started, you'll need to buy an email sending account.
The initial price is only $1.95. This will give you a five days test drive to see how the system works.
In a nutshell, your main task would be to send spam mail like I've shown you above to people who have already subscribed to the list. Your name and email address will be on that list too.
So don't be surprised to receive more offers from the company offering you another scam or a get-rich-quick opportunity.
To gain full access to Copy My Email System, you'll need to shell out $97 one time. This update will give you full access to the platform from where you can log in and start sending emails.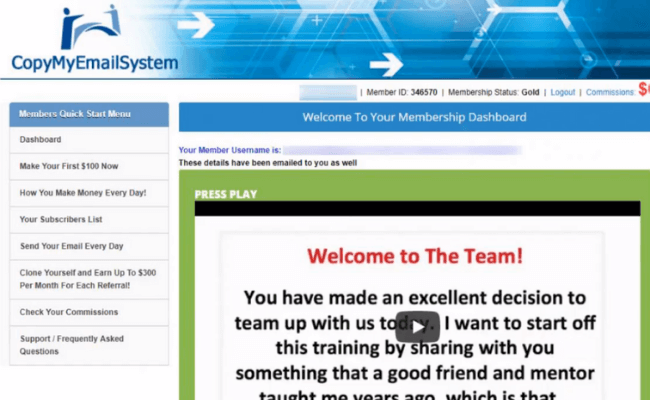 But before you get access to the Copy My Email System members' area, the company will offer you a few upsells. One of them will upgrade your list to 5000 subscribers, which improves your odds of making money.
It costs $199.
So, as I said, the system is pretty basic. It all comes down to sending emails and getting paid every time someone opens your email. In other words, you get paid by the click. Each click is worth $0.20!
My main concern is the list itself. For all you know, it could be a fake list. The whole thing could be a scam since there are not ways to check the origin of the list, not even to learn more about the company via the about me page.
Anyway, let's move on with the review. You can use the Copy My Email System to make money with affiliate marketing, as well. In other words, you can send the same offer to those subscribers and invite them to join the scheme.
So in my eyes, it not only looks like a scam, but it seems like it's a pyramid scheme.
Will It Make You Any Cash?
According to all the resources that I gathered to write this Copy My Email System review, the company will pay you $0.20 for each click you get. One of the problems is that the company is in control of your clicks, so it's hard for you to really keep track and know your actual CTR (Click Through Rate).
Also, the company has a payout threshold. In other words, to be eligible for a commission in any given month, you must have a minimum of 500 clicks for the month.
Lastly, you need to have a minimum of $1000 in your account to be eligible for a payout.
Besides, the company clearly discloses that no guarantees are made that you will achieve any results, which is enough for me.

All these claims are coming directly for Copy My Email System website, and you need to consider them carefully before you decide anything. In my opinion, it looks like a mission impossible, because you need a lot more than just 500 or even 5000 subscribers to get a decent CTR and make some money.
In theory, it sounds great, but in reality, things might shock you.
What's Good About Copy My Email System?
In my opinion, the only good thing about this offer is that you can get a refund. As I mentioned earlier in this review, the Copy My Email System sells via ClickBetter.
This marketplace gives a 60-day money-back guarantee on all their products and services.
So if you feel like this is a scam, but you already have purchased the system, you can contact them, and they will issue a refund with no questions asked.
What's Wrong With Copy My Email System?
Now on the other side, I have a handful of things that I don't like about this offer, so let's start with the most obvious one.
1.) Bobby is Enigma
For all I know, Bobby could be a fake character. During the Copy My Email System sales presentation, he does not mention his last name, nor you can get more information about the alleged internet marketing millionaire.
He's a complete enigma, which is not a good sign.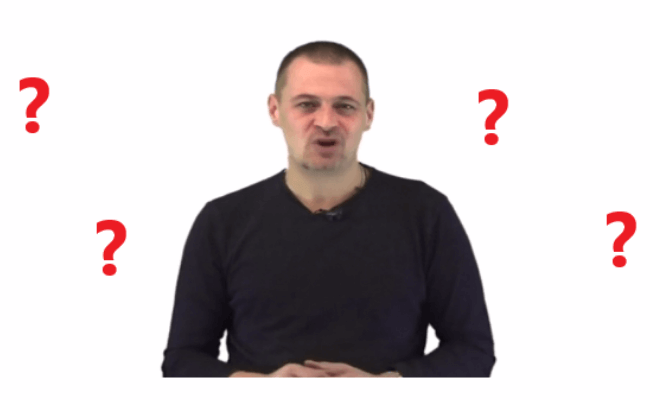 Compared to some other programs on email marketing, like Partner With Anthony, where the owner Anthony Morrison is a real person, Copy My Email System looks like a scam that simply copies Anthony's business.
I mention this just to show you that legitimate opportunities do everything to make you trust them, which includes the owner telling more about himself.
2.) It's Not Free
You've been notified at least dozens of times that Copy My Email System is entirely free to join. Bobby says that you can put your wallet back because he's not going to charge you a single penny to start working with him.
Then, as soon as you leave your details, you need to pay a little less than two bucks, and then almost a hundred to keep the access.
So right from the start, Copy My Email System was full of lies and misleading claims.
Is it a scam when someone tells you that you can get something for free just to get you in, and then he charges you money for the service without telling you the truth?
I know a few legitimate marketing platforms, like Wealthy Affiliate, for example, where you get free access, and you can start using it for free. There is a monthly membership, but the owners and affiliates like myself disclose it.
3.) It's a Clone Website
While analyzing Copy My Email System and gathering information for this review, I noticed a strange thing once I clicked on their Earnings Disclaimer. The link took me to another URL.
When I checked the address to learn more, I've found out that there is a clone site called Instant Email Empire. You can click the link to see it for yourself.
As you can see from the image below, the two sites are exact copies of each other. And Bobby is there too!

This tells me that someone has been cloning sites to get more and more customers to the same offer.
In other words, the Copy My Email System is not even a real thing. It's just a funnel that leads to something else. It's not a scam, but it's definitely not a good sign to see two same offers under different names, wouldn't you agree?
4.) Overhyped Earning Claims
One of the last things that I want to point out is that making money with email marketing and affiliate marketing is extremely difficult. Don't get me wrong. I'm not saying that you can't make money with Copy My Email System.
But to the level of 100′ per day, you'll need to spend a considerable amount of time and money to get things right and get a positive ROI.
These get-rich-quick schemes are designed to tell you the opposite for one reason. They want you to get inside ASAP so that you can start investing your hard-earned cash, thinking that you're going to get rich fast.
Unfortunately, that's not how it's going to be, not with this or any other system out there.
Is Copy My Email System a Scam? 
While every effort has been made to offer you an honest review, I can't call Copy My Email System a scam. If you take a look at it from an objective point of view, it's a legitimate offer.
Those who fall for it (I have to say it like that) will get a chance to make money with email marketing.
My initial gut feeling told me that Copy My System is a scam designed to rip you off, but once I dug deeper, I found a legitimate system for making money online. Despite fake names, false claims, and misleading information from the sales page, you get something in return for your money.
That's why Copy My Email System can't be called a scam.
However, I advise exercising extreme caution if you ever decide to go for it. The good thing is that the offer comes with a 60-day money-back guarantee, which allows you to see what it is and how it works, and if you are not satisfied, to get your money back.
Do I Recommend This System?
Even though I don't consider Copy My Email System a scam, I don't recommend it for many reasons that are clearly described in this review.
They use overhyped earning promises and misleading and fake claims to get you to sign up and deposit your cash. And as you have had a chance to see, that's not the only thing wrong with this offer.
You can find a series of clone sites that use the same tactics, poor Bobby, and everything else to trick you into spending your hard-earned money.
There are too many red flags that tell me that you need to avoid Copy My Email System offer like the plague.
The final decision is always yours.
Related: Top 5 Real Ways To Making Money Online
Here's How I Make Honest Money Online!
Thanks for reading this Copy My Email System review. I hope I have helped you to learn more about what it is and how does it work.
If you have any questions about the program or maybe you can offer an experience, feel free to leave them in the comment box below.
Before I let you go, let me tell you how I make money online with affiliate marketing with the help of a REAL program.
The program that I recommend has everything you need to get started online with zero costs and nothing to do with getting rich by tomorrow.
The best thing is, it entirely safe and free to join. No BS, no upsells. 
Most importantly, this is a proven system that's helped thousands of marketers all over the world to generate income online, including me.
Make sure to check it out!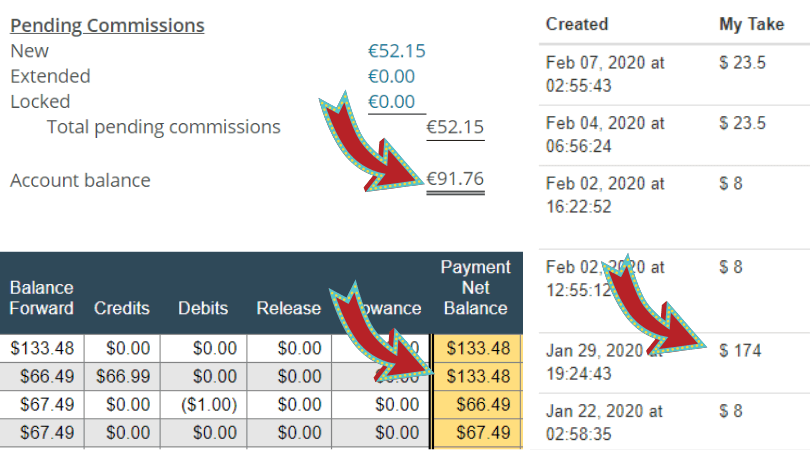 THE BEST WAY TO MAKE MONEY ONLINE IN 2023 >>
If you need any help or you have a question, feel free to contact me.
All the best, Ivan. Founder, and CEO @freeaffiliatemarketingbusiness.com