Welcome to my Crazy Cash Club review.
Wondering whether or not Crazy Cash Club is a scam?
You see, these guys are ridiculous. They are so crazy they claim that you can make $16,000 on your very first day. And that's not all, guys. They say you can make $120,000 in your first year.
Does this sound like a scam to you?
Unfortunately, that's how these crazy online scams like Crazy Cash Club work. They overhype things to the max just to get you in. Usually, there's a joining fee designed to rip you off, but lucky for us, I joined this one for free.
And I'm not impressed. Let me show you what I have found while being a member of this crazy program.
By the way, congratulations on researching before getting into things head-first.
I know it's hard to trust people on the net these days. But if you are looking for something real, check out this genuine way to make money with affiliate marketing.
In this Crazy Cash Club review, I show you what this website is all about, how it works, how much could it cost you to if you join. Also, I'll show you a few signs that tell me that Crazy Cash Club could be a scam and you need to be aware of them all before going any further.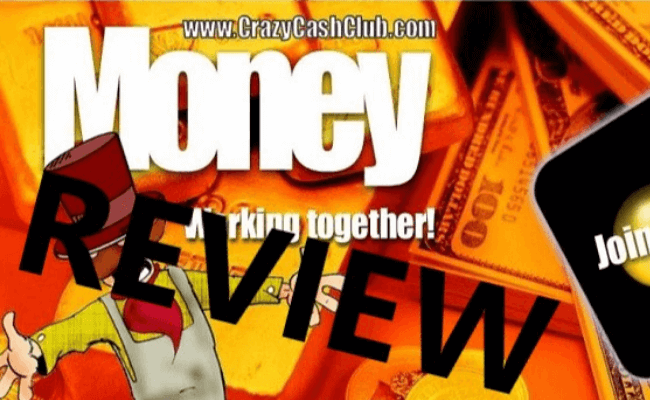 Crazy Cash Club Review – Overview
Product Type: MLM
Product Owner: Martin Morse and Roger McIntyre
Price: Free to join + $$ for traffic
Money-Back Guarantee: Unavailable
Recommended?: No
Quick Summary: As you know already, Crazy Cash Club is being promoted as a get-rich-quick scheme. People who have created it want you to believe that you could be making $16K on your first day and thousands afterwards only to get your attention.
Lead by this curiosity, I joined the platform a few days ago and discovered something shocking. This offer is noting more or less but an MLM scheme designed to promote Traffic Authority – an overrated internet traffic service.
Here's how it works.
Once you get inside, they will confuse you even more with some generic training that points to two traffic packages. Both packages are selling via Traffic Authority. And if you buy one of them, the owners of the website are going to earn a commission.
You, on the other hand, are going to get seriously confused and lighter for a few $100's.
The Crazy Cash Club is, in my opinion, a scam. I do not recommend this, for there are too many warning signs. Save your money and steer clear.
My #1 recommendation is a 100% legitimate program that helped me to go from being a complete newbie to making $100's per day with affiliate marketing! Click the button below to learn more!
THE BEST WAY TO MAKE MONEY ONLINE IN 2023 >>
What is the Crazy Cash Club?
The stupid answer would be, it's a website that claims that you can make a pile of cash almost without any effort. You see, at first glance, it was tough to detect what precisely this is. That's why the stupid answer. But as it turned out, Crazy Cash Club is an old MLM website.
The website does not offer anything special. The main point is to promote the same site to other people and earn a profit. Of course, they claim that you can join for free, and have I mentioned? You can make tons of cash with no work. Here's a look inside.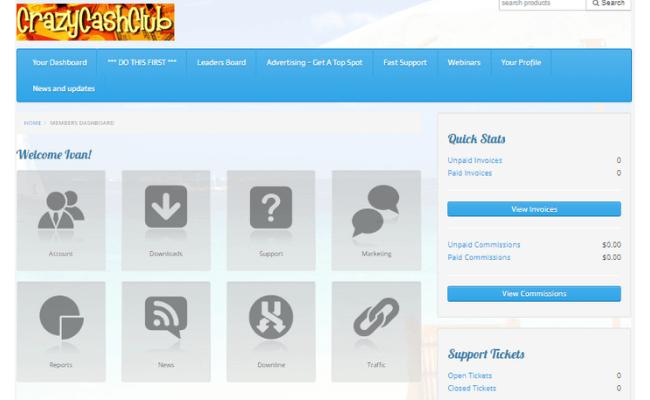 But I know you are a smart person. That's why you are here reading my Crazy Cash Club review. If you wonder why it looks so bad, it's because the site was created way back in 2015! It seems that it hasn't changed over the last four years. To me, that shows that the owner of the site does not care about their business that much.
What do you think? If Crazy Cash Club were something that could really make you tons of cash, wouldn't it be more up to date? Scam? Well, it could be. Let's dig more.
Who is the Owner?
When I landed on this website, I clicked on the about me page. It's almost empty and has very little info on it. In fact, there are no names at all. The owner is, for some reason, highly secretive. I wonder why? Anyway, I did some research and discovered two names, Martin Morse and Roger McIntyre.
Unfortunately, that's all I was able to find about the owners of this system. It looks like Crazy Cash Club is another MLM scam where the owners hide their identities.
How Does Crazy Cash Club Work?
You may have noticed that Crazy Cash Club is free to join. So once you enter this website, you will get your own affiliate link. The main goal of every MLM is to promote the same offer to as many people as possible and get them to sign up through your affiliate link.
Now you may be wondering, how the hell am I going to make $16K in one day if the whole thing is free to join? Well, my friend, there's a catch. There's always a catch with websites like CCC.
You see, the website offers two, I believe traffic packages. I'm not sure if this is something real since it looks very, very bad in my eyes.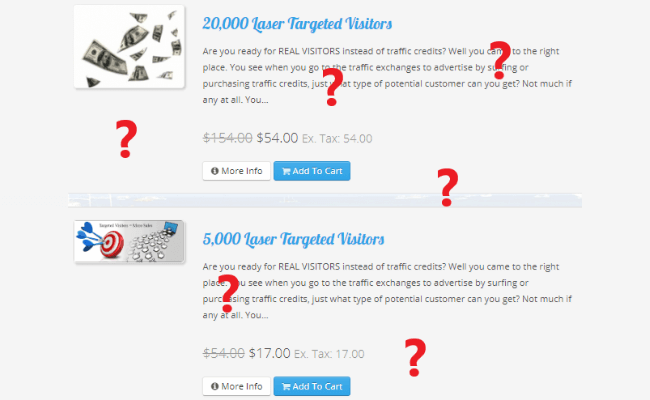 So, let's get back to the business now. Once you join this site, you'll be offered to purchase one of those two products so that the person who has referred you can make a commission. Then, if you want to make the commission, you'll need to somehow convince people to buy once they join through your affiliate link.
However, there's no training here. I surfed through the Crazy Cash Club website in the hope of finding some sort of training or anything that could help me to learn the system. But unfortunately, there's no training.
This website reminds me of Traffic Authority, another MLM scam that I busted earlier on this blog. You may want to steer clear from that one as well.
How Much After Free Membership?
You are lead to believe that the whole Crazy Cash Club thing is free. But just like every other MLM scheme, the free part is designed to get you in. Those two packages have a price, of course. And since they do, the whole "free money" scheme falls apart.
20,000 Laser Targeted Traffic – $54
5,000 Laser Targeted Traffic – $17
First of all, I have no idea what kind of traffic you are buying. They say it's laser targeted. But what does that mean? You can laser-target my site with people who are not interested in my products, and all that traffic would go to wast.
As I mentioned, there isn't any training on how to promote your Crazy Cash Club affiliate link. In any case, even if there is some training, I wouldn't waste a minute listening to these guys.
Can You Make Money With It?
Huh, no! Although these guys claim that you can make $16K on your first day. However, we all know that just a pile of bull crap that has nothing to do with real life.
The Crazy Cash Club website claims that you will get paid a matching bonus for each referral you get. If that's correct, it means that your commission would be 100% on each product you sell. So, for example, if you manage to sell a traffic package worth $17, you would get to keep the full amount.

Also, for every new member that one of your referrals manages to convince you to sign up and buy something, you would get paid too. However, the whole thing is blown out of proportion. Why? Well, they want you to think it's a once in a lifetime opportunity. But think about it. Who on Earth would buy this crap?
You see, the only people who are going to make money are those on top of the scheme. In my opinion, Crazy Cash Club is a scam and a pyramid scheme that suits only those on top of the chain. You don't want to get into this.
Make Money With Affiliate Marketing Instead
Unlike MLM companies such as Crazy Cash Club, affiliate marketing is a business model that has no flaw. The best thing is that you don't need to work for anyone, you work for yourself. An even better thing is that you can turn any passion or hobby you have into a profitable business.
That's what I did a few years ago, and today, I'm happy to recommend you the same.
Below is how affiliate marketing works. First, you need a passion for something so that you can share it with others. Then, you need a place of business. In other words, a website. Lastly, you need to attract people to your site and promote any products you want to make money. Sounds great, right?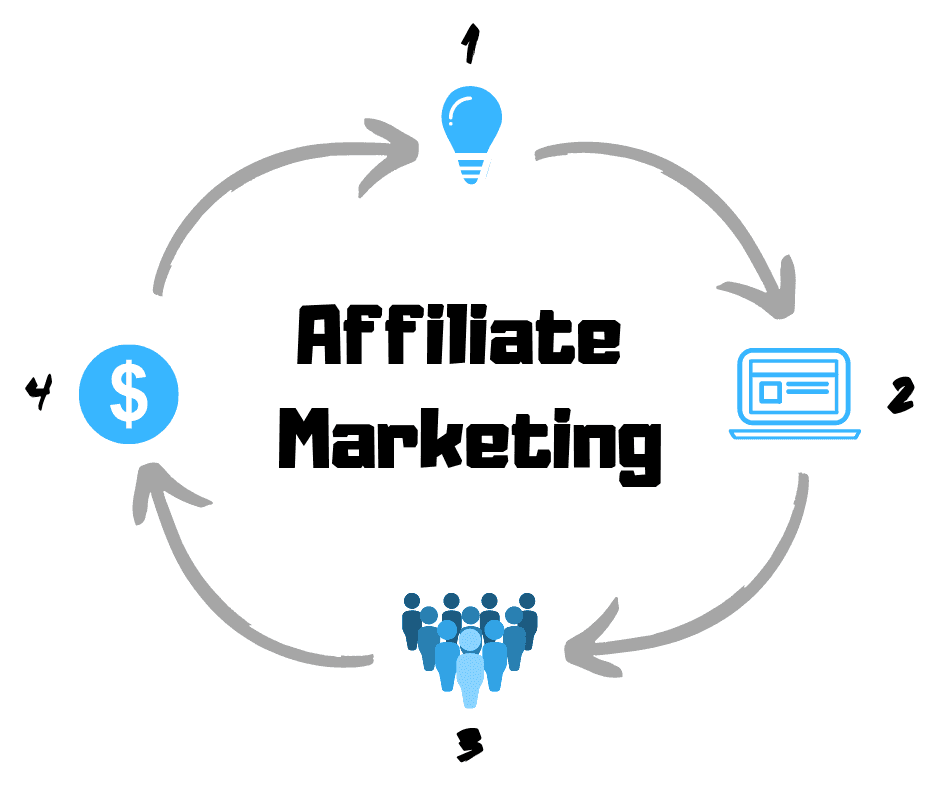 With affiliate marketing, you don't need to sell crap to other people to make money. Instead, you can choose any product or service that you like (there and trillions out there!) that actually helps people to solve problems, improve their lives, and much more!
Crazy Cash Club does not do this in any way. All they want to accomplish with their site is to get rich themselves. With affiliate marketing, everyone makes money, with no exceptions.
Here's a Legitimate Affiliate Marketing Training Course where you can learn how to turn your passion into profits by helping other people. That's the only way to make money. Whether online or offline, it really doesn't matter as long as you follow the rules of making money.
What Good About Crazy Cash Club?
Honestly, there's nothing good about this site. While I was researching before writing this review, I tried to find at least one Crazy Cash Club member who can confirm that it's not a scam but actually something that works. You've guessed it. I haven't found a single soul who can say something positive about this scheme.
What's Wrong With Crazy Cash Club?
1.) Martin Who & Roger What?
The two guys that stand behind this scheme are entirely anonymous. They do have an about me page on their website, but it does not say too much about them. Also, I tried to follow them on social media, but the links are broken. Some even lead me on completely different channels that have nothing to do with the Crazy Cash Club.
2.) Ridiculous Earning Claims
These people claim that you can make $16,000 on your very first day. LOL, That's the quickest get-rich-quick' BS that I've heard so far. And I've listened to many, trust me. Anyway, that just too much too fast and way overhyped. They think you are some sucker that's going to believe this crap. Let them think twice.
3.) It's not Free!
You're lead to believe that the program is free to join. However, that's also not true. For the whole thing to be profitable and if you want to make some money, you'll need to buy at least one of their products. Then you need to lie to other people that Crazy Cash Club is free. And then, you need to sell them crap while still lying to them about the whole thing how it's free.
Related: 22 Minutes to Profit Review
Is Crazy Cash Club a Scam or Legit?
Yes, guys, Crazy Cash Club is a scam. I advise caution. There's nothing good about this website. The whole thing has no sense. Besides, the only people who are going to benefit from this scheme are Roger and Martin.
I honestly don't see any value in this website. You see, I don't mind multi-level marketing if you are going to sell something that can improve other people's lives. For example, health supplements, courses, tools, or whatever you may think of. There are plenty of legitimate MLM's out there. Crazy Cash Club is not one of them.
The worst lie related to Crazy Cash Club is that they promise you earnings from day one. That's is just pure BS! Making money from day one is not possible, especially not with shady and low-quality programs like this. I wouldn't recommend the Crazy Cash Club to my worst enemy.
They are supposed to be selling some laser-targeted traffic and webinars. That's complete BS if you ask me. Besides, I wouldn't pay a dime for this. Save your time and money and look for something legitimate!
Here's Something Better for You
Thanks for reading my Crazy Cash Club review. I hope that you have gotten all you were looking for. If you have any questions about this program or maybe you can offer an experience, feel free to leave them in the comment box below.
Before I let you go, let me tell you how I make money online with affiliate marketing with the help of a REAL program.
The program that I recommend over scam sites like Crazy Cash Club has nothing to do with getting rich quick. That's not how making money works. However, the point that I want to stress out is that it could work if you know how and where to start.
Wealthy Affiliate has been and still is the best online platform for making money online. These guys can teach anyone how to become a successful affiliate marketer. The best thing is, it entirely safe and free to join. No BS, no upsells.
These guys have helped thousands of regular people like you and me to make money online and even quit our 9-5's. Make sure to click the button below to learn more!
THE BEST WAY TO MAKE MONEY ONLINE IN 2023 >>
If you need any help or you have a question, feel free to contact me.
And don't forget to share this review with your friends and family!
All the best, Ivan. Founder, and CEO @freeaffiliatemarketingbusiness.com