Welcome to my Daily Cash Siphon review.
Can you make $395 per day with the Daily Cash Siphon system or the whole thing is a scam?
Some guy named William Fairbrother claims that you can do this in 7 minutes and 19 clicks. He claims that his software will help you make consistent sales with little effort on your part.
Allegedly, he's discovered some weird little trick that exploits $480 million glitches and legally siphons $395 per day.
What a cool story, isn't it? Unfortunately, an overhyped sales pitch is one of the first signs of a scam in progress.
By the way, congratulations on researching before getting into things head-first. If you are looking for a PROVEN WAY to make money online, check out my #1 recommendation for making money online.
In this Daily Cash Siphon review, I'll show you what this website is all about, how it works, how much could it cost you to if you join. I'll share a set of pros and cons and my personal opinion on why I think Daily Cash Siphon a scam.
Daily Cash Siphon Review – Overview
Product Type: Affiliate Marketing Course
Product Owner: Unknown
Price: $37 + UPSELLS
Money-Back Guarantee: 30 Days
Recommended?: NO!
Quick Summary: Digital marketing is a great way to start your own business. Many people are using various system and methods to create a stream of income from the internet.
However, Daily Cash Siphon is not going to be one of them. You see, it's a rebranded version of a scam called Five Minute Profit Sites. They promote affiliate marketing as a get-rich-quick scheme which is far away from the truth.
The main purpose of this offer is to drag you through the expensive funnel, where you could spend close to $500 on various unexpected upsells. In other words, I don't trust this site and recommend caution.
My #1 recommendation is a 100% legitimate program that helped me to go from being a complete newbie to making $100's per day with affiliate marketing! Click the button below to learn more!
THE BEST WAY TO MAKE MONEY ONLINE IN 2023 >>
What is Daily Cash Siphon?
The product is all about exploiting a barely ethical multi-million market. Daily Cash Siphon helps to siphon money into your account legally. And of course, you don't need any skills or knowledge. They claim you can do it in 7 minutes and 19 clicks.
The spokesperson continues the sales pitch with a lot of screenshots of alleged earnings. He claims that with this system, you can start making money faster than you can imagine. Sound great, right? Let's see what else they say.
William says that you can use some sort of glitch, which will help to find products from ClickBank. By the way, ClickBank is an online retailer where you can find tons of digital products. However, the problem is that most of those products are lame and have very little value.
The same is with Daily Cash Siphon. They use these funny titles to create hype. However, it's just another ClickBank product designed to make you believe that making money online is effortless. They want you to think that you can do this in only 7 minutes and 19 clicks. I mean, that statement is just absurd.
Just a few weeks ago, I reviewed another program that sells the same story. It's called Five Minute Profit Sites. Everything is almost identical between these two offers.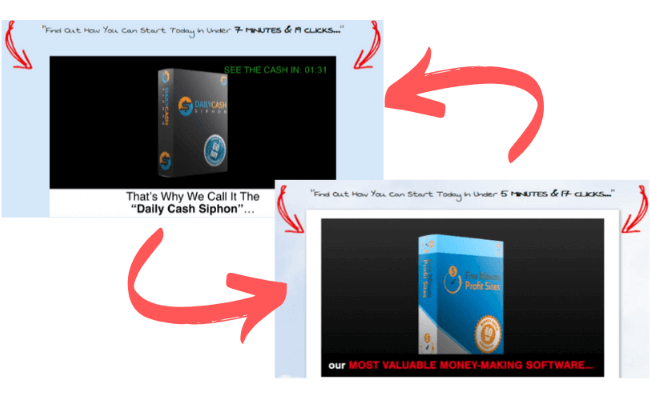 It means that someone has just rehashed and rebranded the same scam to Daily Cash Siphon to make more money selling the same crap twice.
How Does Daily Cash Siphon Work?
According to William Fairbrother, Daily Cash Siphon works by exploiting affiliate marketing. Now, affiliate marketing is a legitimate way to make money online. However, this product is using it as hype to make you think it's easy. In other words, it works like a 'get-rich-quick-scheme,' which is far away from the truth.
Affiliate marketing is a process of earning a commission by selling other people's products or services. An affiliate marketer needs to find a way to connect a product with a customer to make a sale. This is usually accomplished by building a website.
Daily Cash Siphon sales pitch does not share too many details about the process, which is a red flag in my book. Would you buy something without knowing how it works or what you get?
However, I kept digging to learn more. Based on my research, this 'system' is going to help you find barely ethical and controversial ClickBank products. These products are usually weak and designed to make money for the owners. The people who end up buying are just a means to an end.
Also, you may even get a done-for-you website that you can use to promote those products. However, that's the end of the story with Daily Cash Siphon. These products don't show you how to accomplish the most critical task in affiliate marketing. In other words, they don't teach traffic generation.
Without traffic to your offer, your site is going to be worthless. If no one can see what you have to offer, you can't make sales. And I'm afraid that this program cannot help you to solve this.
Daily Cash Siphon Price and Dirty Upsells
To get a better picture of how unethical affiliate marketing looks like, let me show you how the Daily Cash Siphon scam really works. This offer is designed to make money for vendors and affiliates. The customer (you) are in the last place.
For example, a legitimate affiliate marketing program like Wealthy Affiliate will help you to complete all four steps to a successful affiliate marketing business. Those steps include finding the right product to promote, build a website, attract traffic to your site, and use affiliate links to make sales.
The daily Cash Siphon program is far away from what I call a legitimate program. I don't know how did you hear about it, but I've got an offer in my email. Once I clicked the link, I landed on their site.
After watching an overhyped 'get-rich-quick' video, you can buy this product for $37. However, before you can get access to the product, you'll have to go through a set of upsells. These are unannounced and usually cost a few hundred.
As you can see in the image below, the Daily Cash Siphon funnel will offer you three upsells. The total price will increase from $37 to $518 in a matter of minutes. That's the primary purpose of this offer.

Can You Make Money With This?
The only person that's going to make money with Daily Cash Siphon is, in my opinion, the owner of this offer. I don't see how they can help you to make the kind of money they've promised during the sales pitch. The whole thing is blown out of proportion just to make you buy.
They will show you how to get access to ClickBank, where you can find affiliate products. Also, you'll probably get a website too. But they're not going to show you how to make money with affiliate marketing because there's no training on how to get traffic to your offer.
I've been in affiliate marketing for a few years now. I review products like Daily Cash Siphon daily. And one thing that I learned about these overhyped ClickBank products is that they are, in most cases, half-baked courses designed to make money for the owners.
The only way how you can make money with these offers is if you decide to push the same junk to other people.
That's something I highly do not recommend!
What I Like About Daily Cash Siphon
I always try to find at least one good thing about the products that I review. Here's my list of good things about this offer.
1.) Affiliate Marketing is a Legitimate Business
Not everything is so black about Daily Cash Siphon. The program inside is based on a legitimate method for making money online. You can make a nice living from affiliate marketing, no doubt. However, to achieve long-term success, you'll need much more than this.
2.) You Can Get a Refund 
Another good thing about Daily Cash Siphon is that you can get your money back. This product sells on ClickBank. All products from ClickBank come with 60-days money-back guarantee. So if you don't like to program, you can contact ClickBank customer support, and these guys will refund you your money ASAP.
What I Don't Like About It
Before I conclude my review, let me show you five scam warning signs that send a clear message to stay away from Daily Cash Siphon.
1.) Affiliate Marketing is Promoted as a 'Get-Rich-Quick' Scheme 
One of the first things that I hate is that story about making money in 7 minutes and in 19 clicks. There's simply no such things, and it casts a shadow of doubt on a legitimate business model.
Affiliate marketing takes time no matter what the guys from Daily Cash Siphon claim. They are using this to make it look easy so that you buy the product without thinking.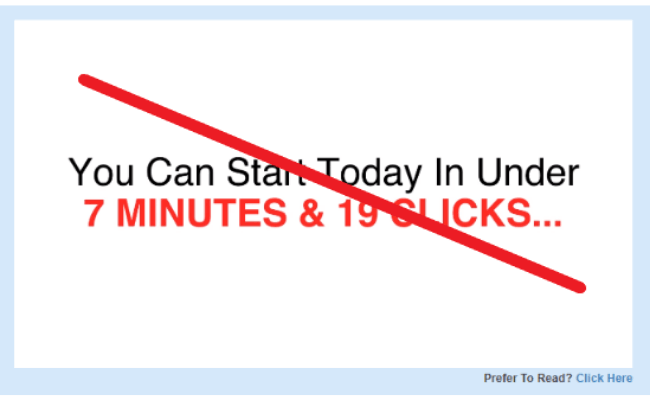 2.) Zero Details About the Owner
Another thing that makes me think that Daily Cash Siphon is a scam is a severe lack of information about the owner of the site. There's no about me page, no images, no videos, no social media links, nothing that could prove that this is owned by a legitimate person who is looking to help you make it online.
The mystery is not a good sign. Why would you buy something from someone who is not willing to show his/her face?
3.) Overhyped and Misleading Income Claims
During the sales presentation, the owner of this offer has shown his vendor earnings at least a dozen times. However, he's flashing these earnings for another apparent reason. That is, to make you believe that this money is available to you too if you buy his system.
What you don't know is that those earnings are a product of years of selling junk like Daily Cash Siphon to people.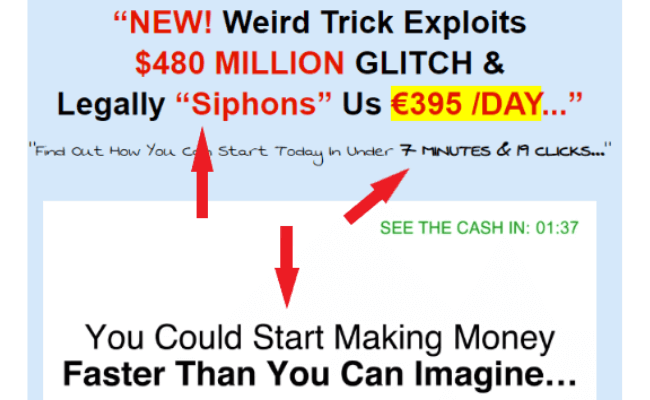 4.) It's an Expensive Funnel – Lots of Upsells!
As you have had a chance to see, this offer could cost you A LOT more than just $37. If you ever decide to get in, you'll be literally bombarded with upsells. Each upsell is 5x more expensive than the initial product. In my mind, Daily Cash Siphon is designed to rip you off. I don't see any other way here.
5.) It's a Rebranded Version of Another Scam
As a cherry on top of the scam comes the fact that Daily Cash Siphon is a rebranded version of Five Minute Profit Sites. As you can see, the two products and their sales pages look identical.
A few details have been changed, but the scam stays the same.
Is Daily Cash Siphon a Scam? – Final Verdict
Daily Cash Siphon is, in my opinion, a pure scam designed to rip you off. I don't like anything about this site, nor do I trust them. They are pulling your nose and messing with you from beginning to the end.
Would you trust them after all this that I laid in front of you?
They use fake claims like "make money in 7 minutes and 19 clicks" and a boatload of BS to make you believe that you could profit faster than you can imagine. And yet, the owner of this "revolutionary method" does not want to reveal his identity.
The whole thing is, in my eyes, designed to make money for the owner of the program and the affiliates that promote this. The offer is highly unethical and misleading. I don't see how they could help you to make money online. And even if you decide to buy in and try out the system, which is worthless, they will force you to take expensive upsells.
The bottom line is that I don't recommend scams and products like Daily Cash Siphon to my readers. You can find ten times better solutions for a lot less money.
Related: Copy Paste Income Review
Here's How I Make Money With Affiliate Marketing
Thanks for reading my Daily Cash Siphon review. I hope I have helped you to learn more about this offer. If you have any questions, feel free to leave them in the comment box below.
Before I let you go, let me tell you how I make money online with affiliate marketing.
The program that I recommend over scams like Daily Cash Siphon has nothing to do with getting rich quick. That's not how affiliate marketing works. However, the point that I want to stress out is that it could work if you know how and where to start.
Wealthy Affiliate has been and still is the best online platform for making money online. These guys can teach anyone how to become a successful affiliate marketer. The best thing is, you don't need to sell junk to people to make money.
Also, if you join Wealthy Affiliate, which is, by the way, free to join, you'll get two free websites to test the program for free! WA is an entirely legitimate platform and my honest recommendation.
These guys have helped thousands of regular people like you and me to make money online. Make sure to click the button below and try it out for free!
THE BEST WAY TO MAKE MONEY ONLINE IN 2023 >>
If you need any help or you have a question, feel free to contact me.
And don't forget to share this review with your friends and family!
All the best, Ivan. Founder, and CEO @freeaffiliatemarketingbusiness.com