Are you looking for Data Dollars Pro reviews? Wondering whether or not Data Dollars Pro is a scam? Welcome, you are in the right place! I inspected this program to help you learn more before making a final decision.
Just a few weeks ago, I've had a chance to review another program from Jenny Lewis's production. It was almost the same as Data Dollars Pro.
In other words, an overhyped make money online sales pitch that ends with an eBook.
Can you make it with Data Dollars Pro, or it's a scam too?
The answer is obvious. An eBook could help you to understand that there are opportunities to make money.
However, you'll need much more than a book to make it online.
By the way, congratulations on researching before giving away your hard-earned cash. If you are looking for a legitimate way to make money online, check out my #1 recommendation for making money online.
Data Dollars Pro Review – Overview
Product Type: Freelancing
Product Owner: Unknown
Price: $37 + Upsells
Money-Back Guarantee: 30 Days
Recommended?: No!
Quick Summary: Data Dollars Pro is an overhyped marketing funnel from ClickBank that promises massive income with little to no work in just a few days from now.
They are using fake claims like "earn fast cash on demand whenever you need it" or "no skills or experience needed" as well as fake testimonials to get you inside.
Does it sound like a scam to you?
And if you do buy this product, you'll discover three eBooks that talk about freelancing and other get-paid-to opportunities. But that's not even close to what Jenny told us during the sales pitch, which is good enough to call this product a scam.
You'll be also shocked to discover that Jenny Lewis is not even a real person…She's just a stock photo…And testimonials are fake as well…More stock photos…How to justify that, ha?
The bottom line is, there's nothing that I like about it. It's full of fake claims, fake names, and upsells. You can see evidence at the end of this review. The program could cost you a lot more than $37.
My #1 recommendation is a 100% legitimate program that helped me to go from being a complete newbie to making $100's per day with affiliate marketing! Click the button below to learn more!
THE BEST WAY TO MAKE MONEY ONLINE IN 2023 >>
What is Data Dollars Pro?
Data Dollars Pro is a ClickBank product that allows getting paid online with data entry jobs. According to Jenny Lewis, her program is a simple, step-by-step guide to what you need to do to get started.
Like more or less every other get-paid-to opportunity, Jenny claims that you don't need to have any skills or specialized knowledge. All you need is to know how to hit the buttons on your computer.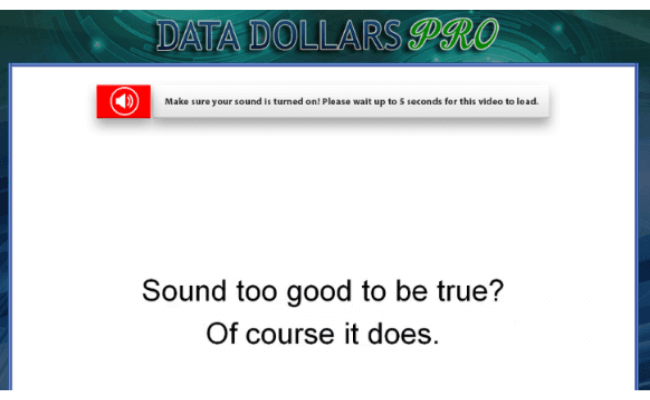 Does it sound a bit too good to be the truth to you also?
To me, Data Dollars Pro sounds like a scam.
I mean, if punching keys on your keyboard were all you need to make money online, wouldn't you agree that every fool would be doing it?
You see, these ClickBank products are overhyped sales pitches and the truth is always the opposite.
Yes, making money online is possible. However, you are going to need much more than what's behind the sales video if you want to make some dough online. You'll need a step-by-step program, tools, and a mentor. 
What Jenny Lewis has to offer is just not going to be enough. You can find the same stuff for free. All it takes is a quick Google search.
What's Behind the Video?
As I've said on top of this review, Data Dollars Pro is only an ebook. It's not a secret program that will help you to exploit little known money wells on the internet, just a book.
The book contains roughly 100 pages of information on freelancing opportunities.
So, in general, you can read about what kind of jobs are available online. The book talks about where to find gigs. And pretty much the rest of it is just an info-material on freelancing that's available all over the net.
What do you think? Could an ebook teach you how to make money online?
If you are like me, then you know that you need much more to make it happen. Reading about data entry or how to become a better typist and about sites like Fiverr or Upwork is just not going to cut it.
And that's what you get with Data Dollars Pro. A bunch of information about how to become a freelancer.
Can You Make Money With This?
Data Dollars Pro is not going to help you to make money as off today as Jenny claims because freelancing is not something that guarantees overnight success.
In fact, overnight success does not exist.
Freelancing jobs do pay money, of course. However, if you are a newbie and you want to take a swing at this industry, be prepared to grind a lot before landing your first job.
But if you can find legit training, then making money online could be a much easier process.
Unlike the Data Dollars Pro program, my #1 recommendation does not promise overnight success. But it can take you there within a few months!
THE BEST WAY TO MAKE MONEY ONLINE IN 2023 >>
Who is This for?
The most straightforward answer to this question would have been that Data Dollars Pro is for people looking to read about freelancing gigs like data entry.
I don't see any other way how to benefit from this book except learning about how to type faster.
What the Price of Data Dollars Pro?
So, if you want to pay to read about freelancing, it's going to cost you $37. That's a lot of money for an ebook, at least in my mind.
And it's important to know that before you can get your hands on Data Dollars Pro, you'll have to go through a set of upsells.
A warning to those who are not familiar with ClickBank products, these products could cost you a lot in the blink of an eye.
Multiple Streams of Income (another PDF) – $47
Quick Cash Machine (have no idea what this is) – $47
Can You Get a Refund?
Yes, you can get a refund for Data Dollars Pro. If you want to get your money back, all you need to do is contact ClickBank customer support and file a request.
It may take a few days to get approved and to get a refund.
Is Data Dollars Pro a Scam?
I wouldn't be so tough on Data Dollars Pro to call it a scam, though you wouldn't be wrong if you say that it is.
It's a hyped-up funnel designed to sell you an ebook. If you want, you can take a look at another program from Jenny's production called VO Genesis. It's the same crap just in a different format.
So basically, they serve you with a video sales pitch that promises hills and valleys. It's easy to fall for those claims, especially if you have no experience with stuff like this. Making money online is possible, but it's not as easy as they make it.
Once you buy the story, you'll get a chance to spend more before you can reach the Data dollars Pro book.
Like every other product you can find on ClickBank, this one has a set of upsells that are designed to fill up the pocket of the person that created this funnel and his/her affiliates.
Then, once you reach the end of the funnel, you get access to the book.
As you can see, the book is nothing special. And one more time, you wouldn't be wrong if you say that Data Dollars Pro is a scam designed to rip you off. It's one big sales pitch that has no real intentions to help you make it online.
If you are sick of funnels and scams, make sure you check out my #1 recommendation for making money online. At Wealthy Affiliate, you can get all you need to start a website and to make money with affiliate marketing.
What's Good About It?
Let's go over a few pros and cons before I conclude this Data Dollars Pro Review. Although it's hard to say that there's anything good about it, I managed to find a few positive details.
1.) You Can Read About Freelancing
If you like to read about freelancing, you can have a kick out of this material. The information within is legit and could serve a purpose. It's highly unlikely that you'll be making money as Jenny's promised, but it could be useful.
2.) You Can Get a Refund
It may take you a day to digest those 100 pages. And if you are not happy with the Data Dollars Pro program, you can get back your hard-earned cash. It comes with a 60-day window to ask for a refund.
What's Wrong With Data Dollars Pro?
On the other hand, here are a few reasons why Data Dollars Pro could be a scam designed to rip you off!
1.) Student Testimonials are Fake Images 
During the sales pitch, you have had a chance to see a few images of random people. Jenny claims that those guys are her successful students.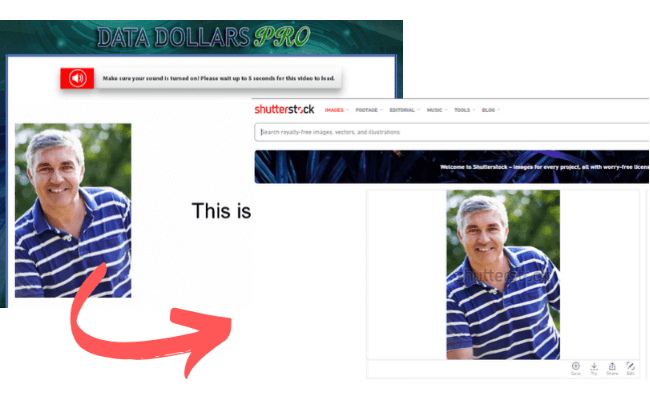 Now, as you can see in the image above, those people are just random stock photos. Cool ha? Let's see what else is fake.
2.) Only 3 Copies of a Digital Product? Fake!
The red ribbon that indicates that there are only a few copies left is fake too.
It's a widget that's designed to create a sense of scarcity. I mean, it's a digital product. Don't you agree that's rather stupid?
3.) No Idea Who Jenny Lewis Is
As I said at the top of this Data Dollars Pro review, I already have had a chance to review another product created by Jenny Lewis.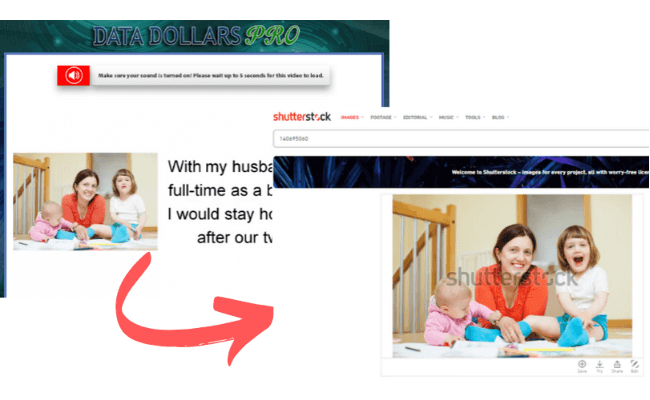 You can see in the image above that Jenny Lewis is also just a stock photo. She's a fake character designed to sell you this little program.
4.) Overhyped Sales Pitch 
Many digital products for making money online come with an overhyped sales pitch. It's almost always some secret loophole or money on tap solution that you can magically turn on to spit cash on demand.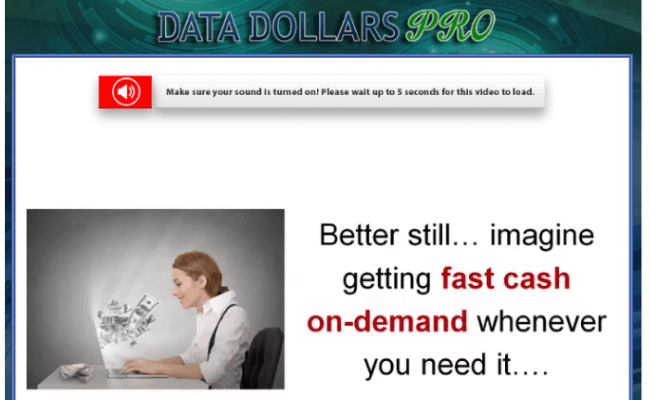 What do you think? Is it possible to make money on demand? I know you are smart enough to recognize BS when you see one.
5.) It's an Expensive Funnel 
The last thing that bothers me about Data Dollars Pro is the amount of money you could end up spending if you ever fall for it.
$131 is a bit too much for a set of books, and who knows what else. Besides, you can learn the same for free all over the net!
Is There a Better Way to Make Money Online?
Thanks for coming to the end of this Data Dollars Pro Review. It shows that you are a serious person who takes every step with the most serious attention.
You see, freelancing is one of the ways to make money online. However, it's not the best thing you can find. There are plenty of other ways (better ways) to make some online cash.
One of those ways that I've been able to discover is affiliate marketing.
The idea is simple. Create a website, talk about something that you are good at, or have an interest in, recommend a product or service that's related to your interest to your readers and make money.
Alright, in reality, it's a bit more complicated than that, but it works 10x better than freelancing.
You can leverage thousands of products from Amazon, eBay, ClickBank, and many other marketplaces to make money while blogging about your interest.
If you want to learn more about blogging and affiliate marketing, make sure you check out the button below!
THE BEST WAY TO MAKE MONEY ONLINE IN 2023 >>
If you need any help or you have a question, feel free to contact me.
And don't forget to share this review with your friends and family!
All the best, Ivan. Founder, and CEO @freeaffiliatemarketingbusiness.com