Have you just got an offer to make $5K in the next 24 hours with help from the system called Digital Payday? If you wonder if it's possible, you should start reading this Digital Payday Review. When I take a look at this offer, I cannot help myself not to think that it is a massive scam. What do you think? Is there something real behind this BS?
You see, too many people on the internet have got infected with this funnel mania. Don't get me wrong. Funnels are a great way to make money online if you provide an honest service or give a good deal to people that are coming in.
Here we have Digital Formula, a program that guarantees $5K in the next 24 hours after you join in for free. You can get a chance to leverage the money making methods used by Google and Facebook, again, for free. If you join this program, for free, you will quit your job tomorrow.
Or at least that's what Daniel Bluth promises.
However, I bet my left arm that there is no way in hell that you can make that kind of money as fast as Daniel Bluth suggests.
I think that Digital Payday is nothing but a scam designed to bleed your wallet dry.
In this review, you are going to learn more about what it is, what is the price or it is free as advertised, is it a scam or legit way to make money online, and more!
Official Website: digitalpayday.co
Before we start I want to give you a piece of advice.
Whenever you hear an offer like this one, please, stop and think twice before you fill in your details. Instead of going in and risking your money on a possible scam, open Google search, and lookup for a review. If you can't find one, feel free to contact me. I'll dig into it to uncover the real truth.
Guys like Daniel Bluth form Digital Payday are well aware that the internet is full of new people who have an interest in making money online. He knows that digital marketing is still Greek for the majority. That' why he takes the liberty to create scammy funnels like this one where he promises hills and valleys in return for your email address.
The worst thing is that he has nothing to back up his words. Moreover, I believe he's not even a real person. I think this is a pure scam and I'll prove that in this review.
If you are tired of scams, sick of those false promises, can't stand another get rich quick scheme but, you have a burning desire to start making money online, and you want to start doing so right now, you are in the right place. 
I can show you how to start making an honest buck online, not in the first 24 hours, but in a reasonably short time if you follow our training. We are a legit company with 15 years of experience teaching people about the secrets of the online business world.
Do you want to learn more? Click the link below!
MY #1 RECOMMENDATION FOR MAKING MONEY ONLINE
What is Digital Payday?
According to the author of the program, Daniel Bluth, Digital Payday is the best way to earn a passive income online. He claims that you can make up to $5,000 in the next 24 hours after you join this program. Moreover, it's free to join.
Do you believe this to be the truth?
Daniel goes on and backs up his claims by telling you the secret behind Google's and Facebook's billion dollars revenue. The secret is in the advertisement. If we are to believe him, he has discovered a loophole that allows you to take a small piece of the pie that two giants bake every day.
That's a pretty tempting invitation.
However, Daniel does not back up his theory during the video, nor he shows you how his system works although he said he would. Instead, he goes on and on about how you can start making massive amounts overnight and by clicking a few buttons.
Now that's a ridiculous statement.
Moreover, if you have watched the video, you can see how he claims that some of his students gave up their 9-5 jobs as soon as they got in contact with his system. He even shows you a few real-life faces of people who claimed the same.
I believe that they are paid to give fake testimonials.
In my experience, Digital Payday reminds me of many other programs which were using the same baits to lure you in. In the end, none of them was able to deliver what they promised during the sales video. Many of those programs were busted to be a scam.
Here are a few of them:
Everything I've seen so far tells me that Digital Payday might be a scam as well. Let's continue with this review and find out the truth, shall we?
Who is Daniel Bluth?
Now, Daniel Bluth is just another person like you and me who have discovered that making money online is possible. However, things were not easy for him as it may look right now. The poor Daniel had to go through lots of life lessons learned in a hard way to get where he is today.
After dabbling with many opportunities that came along the way, Daniel has discovered the secret behind Facebook and Google Ads. At that moment, he has decided to put all of his effort and energy into learning how to make money by running ads online.
A few years fast forward, and Daniel Bluth is a multimillionaire. And today, he's giving you the secret which is wrapped in Digital Payday program.
Oh yeah, he's also a fan of fish tanks as you can see on the photo. His fish tank was featured in the favorite Animal Planet tv show, Tanked.
I have to stop and write one big LOL before we move on.
Once again, I've seen many scams online. The one thing all those get rich quick opportunities have in common is a fake story of the ownership.  The chance that Daniel Bluth, the creator, and owner of Digital Payday is not real as well is very high. I'm going to prove that later on in this Digital Formula Review.
Who is Digital Payday for?
Before I disclose the real truth behind Digital Payday and show you why I think this might be a scam, I want to say also that this program is for no one.
Daniel Bluth tries to convince you that his program is for everyone.
Moreover, he claims that you don't have to possess any marketing or computer skills. His system supposed to work on fully automated principle, which means that all you have to know is to click with the mouse on the screen and you'll be able to make money fast.
That being said, I will add that Digital Formula is for suckers. I hope you are not the one.
Once again, if you are tired of these scams that promise unrealistic money but, you want to learn the business and eventually make some cash, I invite you to click the link below. 
We have the best affiliate marketing training program on the internet. We teach thousands each day how to start a legit business right from scratch. Yes, you don't have to possess any previous knowledge. We will show you everything. However, we will not promise you $5K in 24 hours from now. That is only available after a few years of work, but it's manageable if you follow our lead.
Do you want to learn more? Click the link below!
MY #1 RECOMMENDATION FOR MAKING MONEY ONLINE
The Truth Behind Digital Payday
This text is the part of my review where I'm going to tell you more about what's really behind all those fake promises that you've heard so far. Daniel Bluth claims that you can make some serious buck with his Digital Payday system. Let's see what' the real truth.
I did my best to dig this information. What I discovered is what I thought it would be.
Digital Payday is nothing but a funnel. It's a sales page which leads to another offer which has nothing to do with this program.
Daniel Bluth, or whoever stands behind this offer, did an excellent job to convince you that Digital Payday is a real deal. As it turns out, it's not so real after all.
You can see how some other guys have done the same if you click on one of the links from the top.
In a nutshell, they create a funnel like the one reviewed. The video page is full of exciting information to lift your expectations. Then, after (if) you decide to go for it, you land on something different. In most cases, you get disappointed because it's not like you have expected to be. And the guy who made the funnel makes money.
Digital Payday is a part of the funnel for the offer called Clicks Dealer.
Clicks Deals is a website where you can buy banners and make a passive income of them. At least that's what they claim. On the other hand, many reviewers out there claim that Click Dealers is a scam. Moreover, a lot of them say that it's not possible to make money with them. They say that you can only end up spending a lot on those banners while getting nothing in return.
Therefore, Digital Payday is a fake offer which is full of empty words, nothing else.
The guy who made the site went a step further and included some prominent faces in his promotion. I bet that Mark Zuckerberg has never even heard of Digital Payday.
Digital Payday Price
Now, as far as the price is concerned, Digital Payday is free to join. They ask for your information like name, email and telephone number, that's all.
If you enter your data and apply to this scam, you can expect to get a lot of scammy offers on your mail during the next few weeks. The guy who designed the funnel wants to squeeze every possible dollar out of your pocket, so be careful. If you have already left your details, I believe you can unsubscribe from the mailing list somewhere within emails you receive. I advise you to do so ASAP.
On the other hand, I have information that if you want to start buying those ads from Clicks Dealers, it's not such a cheap adventure.
Some guys say that the starting price is up to $250 to get in. Then, there is buying ads, which is not so cheap as well. In the end, Click Dealers offers premium memberships and deals which go for a couple of hundreds.
It would be smart of me to finish this Digital Payday Review right now so I can save both of our time. However, I want to show you everything in detail, so let's move on.
Digital Payday Pros
I have to say that there is absolutely nothing that I like about his scam.
What's there to like? The guy who has made Digital Payday is a liar and coward who wants only to get into your wallet.
Digital Payday Cons
On the other hand, I have a list full of evidence for my claim that Digital Payday is a pure scam.
If you allow.
Let's start with fake faces first.
Fake User Testimonials
As I have a few reviews under my belt, it was not hard for me to recognize some familiar faces. The guy who has made Digital Payday funnel have used actors from a website called Fiverr to create a few fake testimonials.
This tactic is usually applied when there's nothing of value behind the funnel. If there were something, there would be some real students showing their success.
You and I can go to Fiverr and ask them to say whatever we want in front of the camera. They'll do it for as little as ten bucks.
Daniel Bluth is Not a Real Person
The second red flag that waves around Digital Payday is fake ownership. That's also a tactic that has been used in many other scams such as this one.
Whoever had made this offer is hiding behind the character of Daniel Bluth. Daniel does not exist. His story is fake also. Moreover, the picture is a stock photo bought for ten bucks on site called Shutterstock.
The real owner is a digital marketer who's making commissions by sending you to Clicks Dealers.
Unrealistic Income Claims 
To get you in ASAP so you can start buying those banners (don't do it!) the guy who's behind the Digital Payday has flooded the page with most unrealistic claims ever!
He goes about and tells you straight away that you can make up to $5K in the next 24 hours. Moreover, he's so convinced in his statement that he's telling you that you can quit your job today! He literally tells you to put back the coffee pot, hang your jacket, and throw away your punch card.
I mean, come on, man! Giving people a false sense of hope like that is a crime of the worst nature. Shame on you!
Digital Payday is Not a Real Program
In the end, the last thing that disgusting about this offer is the fact that Digital Payday does not exist. As I've mentioned for a few times so far, it's only a funnel for Clicks Dealers.
The website looks pretty convincing. The guy did an excellent job putting it together and making it look like a real deal. Please, do not fall for it.
Is Digital Payday a Scam?
Now, before I finish this Digital PayDay Review, I will repeat one more time that it is a scam.
Everything around this offer is fake. That includes a false name for the program, fake ownership, student testimonials are not real, incline claims are made up as well, and the list goes on.
There are many offers online which operate the same way. However, at least they can give you something in return like a crash course on affiliate marketing or set of ebooks on the same topic.
Once again, Digital Payday is a pure scam and not a real offer.
Do I Recommend Digital Payday?
Of course not!
Stay away from this offer as far as you can. Do not enter your details. Just close the tab and let it be.
Even if you are curious about the site behind Digital Payday, Clicks Dealers, and you want to give it a shot, don't do it. I've researched the net to learn that the platform is full of BS. You can do much better online for a lot less money, trust me.
What Do I Recommend Over Digital Payday?
If you are serious about starting an online business but you don't know where to go, or to who to trust in a sea of internet scams, I've got a perfect solution for you.
Many of the scams like Digital Payday are going to fill your mind with the idea of quick success. But let me tell you something. There is no such thing as money overnight or getting rich quick. Offers like this one cause people to expect wonders, but instead, they get disappointed when they wake up and see that nothing has changed.
On the other hand, I want to recommend you honest service. Moreover, it is the best service online when it comes to starting an online business.
We can teach you about:
what is affiliate marketing and how you can take advantage of this field
how to choose your direction
how to build a website
how to make your site SEO friendly
how to write website content
how to find affiliate programs and products to promote
how to do keyword research
how to get the FREE traffic from search engines (Google, Bing, Yahoo)
how to use affiliate links to monetize your content
how to leverage the Google Adsense program to double up your income
how to use social media to build your business
how to scale your business with paid ads online
and more!
If you decide to follow our lead, you are going to get a chance to create a long term internet business. We will show you how to make something that will stand for years and make you money as long as Google exists!
I must warn you first.
Do not expect money overnight. Don't think that this will get your rich as soon as you open an account. Always remember that easy come, easy go.
On the other hand, we can help you to develop patience and persistence until you make it. After you hit your first bucks online, you will not want to stop!
Are you interested in learning more?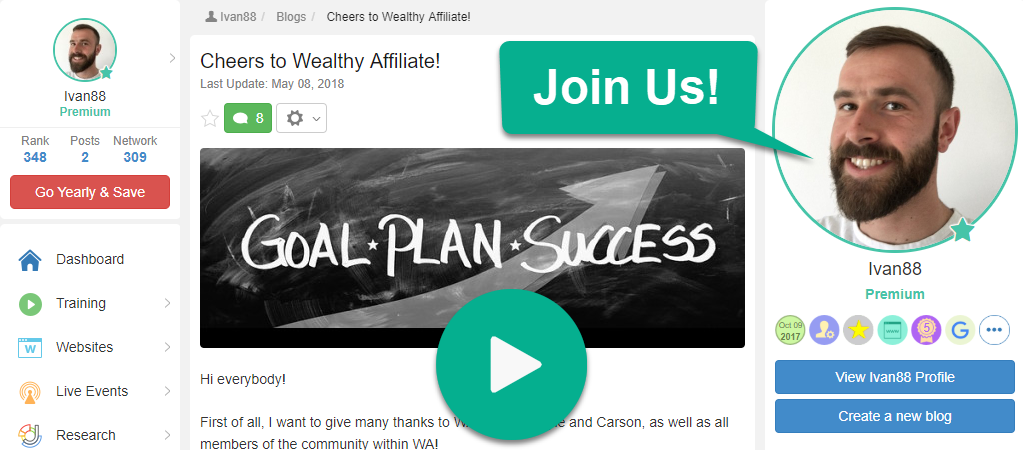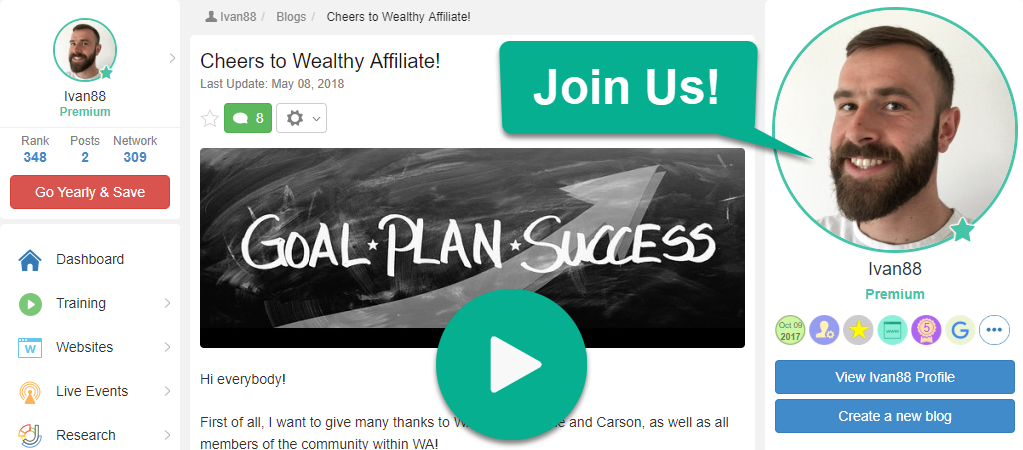 PRESS PLAY TO LEARN MORE!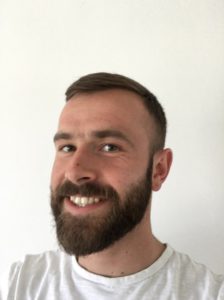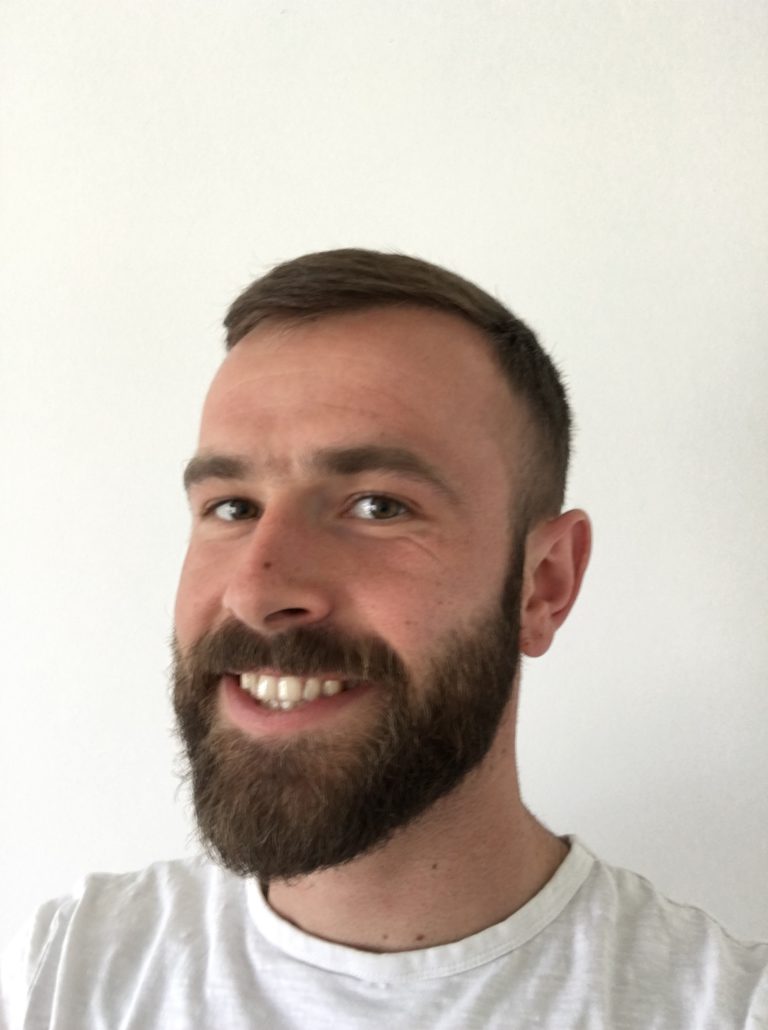 I wish you a successful online marketing journey!
If you need any help or you have a question, feel free to contact me!
All the best,
Ivan,
founder, and CEO at
freeaffiliatemarketingbusiness.com