Welcome to my Easy Arbitrage review.
I'm guessing that you want to know whether those claims from the sales page true, and you need to know whether this software is any good or maybe it's a scam after all. No worries, let me show you more.
Easy Arbitrage is another ultimate money-making program from Jamie Lewis and his friends. This one is designed to make you 100's and 1000's with a push of a button.
They call this software "Hidden Internet Goldmine Detector," and it shows Red or Green lights when it finds "Hidden Combination" online profit opportunities. You have to ask yourself, where do they come up with these names? Or even better. Is Easy Arbitrage a scam or legit?
Within this Easy Arbitrage review, I'll show you what it is about and explain how this software works. I'm not associated with this offer, so you don't need to worry. I'll show you what to expect and give my honest opinion about whether it is a scam or a legitimate offer. Shall we begin?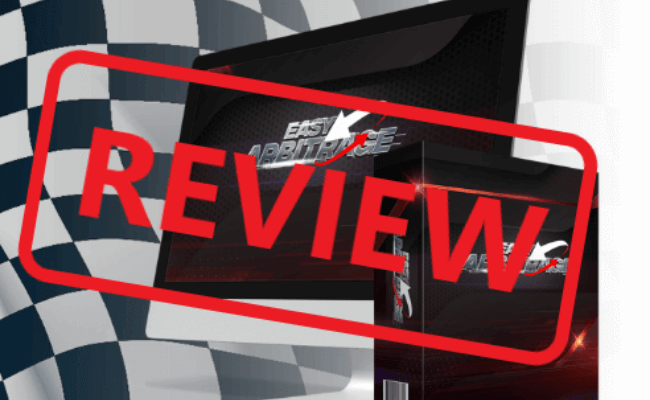 Easy Arbitrage Review – Overview
Product Type: Internet Marketing Software
Product Price: $27 + 5 UPSELLS
Product Owner: Jamie Lewis
Money-Back Guarantee: 30-Days
Recommended?: No
Overview: Easy Arbitrage is an affiliate marketing software created by Jamie Lewis that claims the following:
100% newbie-friendly
Sends the right traffic at the right offer in SECONDS
Works for any campaign
No product creation or technical skills required
You don't need a website or an email list
No analytical or market research required
You can make a fortune regardless of present living conditions
It's not unusual to hear these claims when it comes to Jamie Lewis's products. It's always some push-money software that is going to make you a fortune regardless of your skills or lack of them.
In reality, Easy Arbitrage is a set of three software that analyzes the market to find profitable products and campaigns. You even get a set of training videos where Jamie is showing how to use this app too.
In a nutshell, it's a legitimate offer that has the potential. However, you need to know that it's not going to work as it's been advertised. In other words, don't expect $15K a month right away.
On the other hand, this software could be useful when starting an online business. However, I would not recommend Easy Arbitrage to newbies. In my opinion, this app is for advanced marketers who have at least a couple of years of experience on the market.
My #1 recommendation (Wealthy Affiliate) is a 100% legitimate program that helped me to go from being a complete newbie to making $100's per day with affiliate marketing!
THE BEST WAY TO MAKE MONEY ONLINE IN 2023 >>
What is Easy Arbitrage?
There are two ways to explain what Easy Arbitrage is about. The first way is the overhyped sales page version, where they claim the following. It's a super-secret software that'll help you make 1000's secretly on autopilot. You don't need any skills or anything like that. It's magic!
On the other hand, it's software that finds online business opportunities, compare products, prices, and helps you to find the perfect arbitrage opportunity. In other words, it helps to stop wasting time on marketing the wrong products and services and focus on the right ones.
Jamie Lewis and his buddies designed the software. These guys have created tons of colourful products so far. Some of them worked; some of them didn't. Will this one live up to expectations? Or will it die and disappear with your hard-earned cash. Let's see.
Sales Page Hype Is Over The Roof!
The truth is that the software has a purpose, and it's a good one. Why would you want to spend hours and hours working and building a campaign for a product or product that has no value? I use Jaaxy to "cut corners" and make sure that I don't waste time on something that's not going to help me grow my business.
Now, before I explain how it works, let me tell you a thing or two about the Easy Arbitrage sales page, and why it's designed to look like a scam. I'm not saying that it is, but there's a reason for all those overhyped statements.
As per usual, Jamie is using fake hype to sell as many copies of Easy Arbitrage software as possible. He's one of the best hypers in the online marketing world!
But the thing is, this software is not going to bring you tons of cash as soon as you hit the pedal. It's not going to work on autopilot either.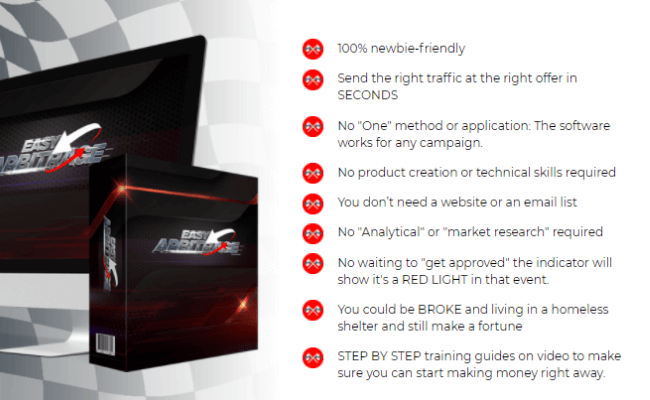 Those overhyped claims do not belong on the sales page, and my best advice is to ignore them. See, Jamie wants you to get excited about this software so that once you're in, he can sell you more offers. Speaking of which, let me show you what can you expect once you're inside.
Easy Arbitrage Funnel Revealed
$27 for software is not a bad price. You can add a neat tool to your arsenal (if you need it) that'll help you to choose the right business opportunities. However, before you can get your hands on Easy Arbitrage and fire a few test ones, you'll be forced to take some more from Jamie's workshop.
Upsells
In other words, prepare yourself for an expensive sales funnel.
Unthrottled Access $47 (downsell to $27) – With Easy Arbitrage Basic Package, you get only 20 searches per day. As the name says, if you take this upsell, you get an unlimited number of searches per day.
Easy Arbitrage Monetization Sites $97 (downsell to $67) – This OTO gives you access to 300 DFY sales funnels. These sites are easy to use and come with landing pages, capture forms, and other necessary features.
10X Multiplier $197 (downsell to $97) – High Ticket offers and solutions.
Weekly Training With Jamie $297 (downsell to $147) – As its name suggests, you can take weekly webinars with Jamie, where he shares his secrets and knowledge.
Easy Arbitrage Winners Circle $197 (downsell to $97) – Resell right to this one and five other Jamie's products.
I don't like sales funnels. I'm not a fan. How about you? You see, they sell you a crazy idea about a magic software that makes 1000's on the push of a button and whatnot. And they once you get all hyped up about it, especially when you see that it's cheap, they pull out those upsells out of the blue.
Let's compare the price before and after. It was measly $27. Now it's a potential expenditure of a whopping $835!
Money-Back Guarantee
The good thing about it is that you can get a refund. Easy Arbitrage is selling via the WarriorPlus marketplace. The software comes with a 30-day money-back guarantee. So, in case you don't like its magic, you can kindly ask for your money back.
What You Get Inside Of Easy Arbitrage
In this section of my Easy Arbitrage review, we're going to concentrate on the specific features of this offer. I'm going to reveal now the essence of the product and some other features as well, so let's see what are they.
"Hidden Goldmine Detector" Software
Easy Arbitrage helps to find winning sources of targeted traffic and helps to monetize if there's an opportunity to earn an income. If the software finds the right offer, it will then signal green for go. The next step is to build your campaign to get that free traffic and earn revenue by promoting the offer.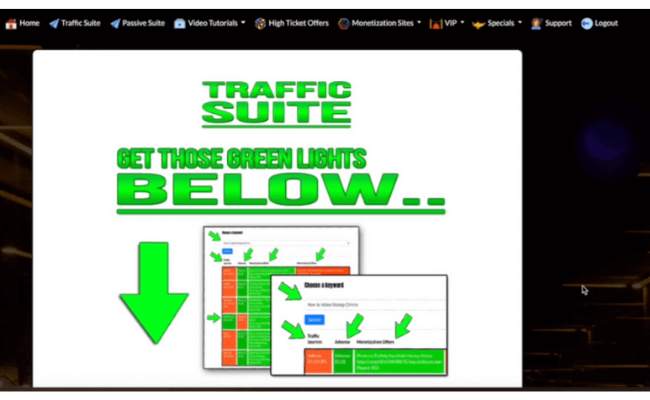 Easy Arbitrage software comes with three control panels:
Affiliate marketing
Ecommerce
Services and outsourcing opportunities
In addition to these features, the software comes loaded with 140+ niches from all three industries. Using the software to find the opportunities is easy because it shows RED and GREEN, meaning Stop and Go when it analyzes the opportunity.
So in an essence, it's a useful creation from Jamie Lewis that could be used to find profitable opportunities to earn an income without any extra effort on your part.
Video Training
Another feature of Easy Arbitrage is step-by-step training videos and tutorials where Jamie and his team are going to show you how to use this software to avoid guesswork and confusion. They even promise to show you how to duplicate their success with this opportunity to make money online. Interesting offer, isn't it?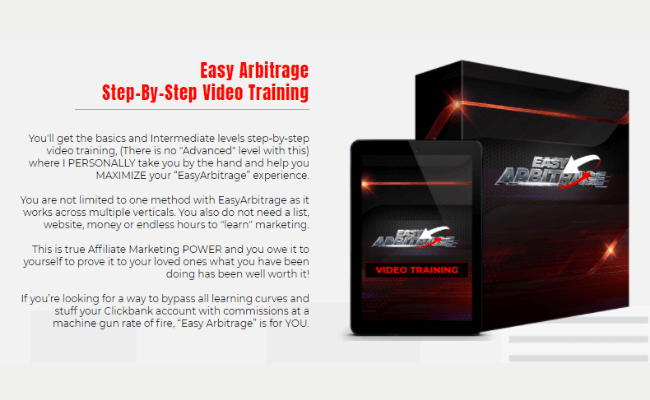 Withing the members' area, you'll find two levels of training videos.
Basic Training Videos
Intermediate Levels
Unlike some other software on the market, Easy Arbitrage is one of the rare apps that comes with a lot of training videos. This is very useful when starting an online business.
According to creators, you're not limited by this software. You can use it on all three levels to earn an income from multiple sources. Also, Jamie claims that you don't need any list, website, or even cash to leverage this method.
That said, we will now jump to the section of my Easy Arbitrage review where you can learn how the software works. Jamie says this software has made $1000's for its users. Do we believe him yet? Let's see.
How Does Easy Arbitrage Work?
The easiest thing to explain how Easy Arbitrage works is to compare it with a keyword research tool. So basically, you can use this software to enter a specific keyword. The software runs the keywords and gives you particular metrics you can use to determine whether or not the keyword is profitable.
Once you get inside the platform, you'll see an orientation video where Jamie is going to explain the system and the dashboard. Below this video, you'll get access to the traffic control panel. This is the software we have talked about in the previous section of my Easy Arbitrage review.
The members are is very easy to navigate and you'll have no troubles accessing the traffic control panel by clicking on it. The first thing you need to do once you are inside the traffic panel is to choose a keyword in the search bar.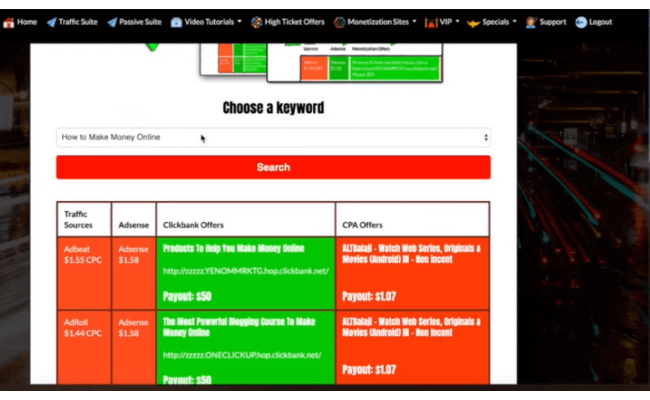 The software has two different suites that will analyze this keyword and show you traffic and earning possibilities as explained earlier in the review.
Traffic Suite
Passive Suite
Traffic Suite
This module helps you to find the most valuable product on ClickBank for a selected keyword. Also, it shows the cost of PPC. There is no use in it if you are looking for free traffic sources.
Passive Suite
Another function of Easy Arbitrage is the ability to compare different products online. This helps you to see the difference between the product on AliExpress, eBay, and Amazon. You can use this function also to find the cheapest products for your dropshipping arbitrage.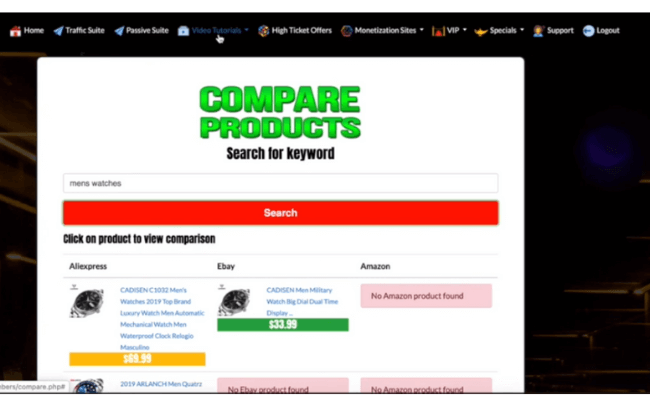 Lastly, you can use a Passive Suit to find gigs on Fiverr, Upwork, and Freelancer and resell them on Craigslist.
Will Easy Arbitrage Make You Money?
Yes, I think that this software could earn some profits. However, I don't believe every word from the Easy Arbitrage sales page. Those claims are blown out of proportion to help sell as many copies as possible. Jamie is a pro marketer. He knows what words and images to use.
It's not going to be your "Internet Goldmine," but if you give it a shoot, you could earn some cash with its help. There are tons of products online. Having a closer look at prices and comparisons between marketplaces could save you a lot of time and make you some money as well.
What I Like About Easy Arbitrage
The first moment I laid my eyes on the sales page, I thought that Easy Arbitrage is a scam because of those claims and deceptive tactics. However, as I never judge the book by the cover, I decided to dig deeper and found a few good things about it.
Software is Legitimate
You can get software that finds profitable opportunities and helps to stop wasting time on those that are not worth it. I like the fact it's not oriented toward one field of internet marketing, but several.
Video Tutorials
I like that the owner has included video tutorials that help to understand new technology.
30-Days Money-Back Policy
If you find Easy Arbitrage not worth your money, you can contact Jamie Lewis via WarriorPlus or customer support and ask for a refund during the first 30 days. It's always a good thing to have this option.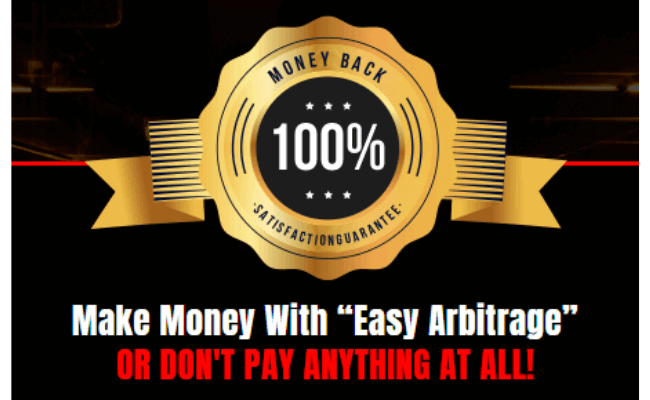 What I Don't Like About Easy Arbitrage
Since I already use similar software to find profitable keywords and products for my marketing campaigns, I was curious to see how Easy Arbitrage will perform. My decision is, I'm definitely staying with Jaaxy and here is why.
Software is Difficult to Understand
Although you get a set of videos that explain how the software works, it's still a bit confusing, and I'm an experienced marketer. I can only imagine the look on the face of a person who is just getting started.
Expensive Sales Funnel
You are invited to get this software for only $27. But as soon as you say yes, you're going to be required to go through a sales funnel that could cost you $800+ if you are not careful. I don't like the surprise that comes with upsells. It could be better off without them.
Easy Arbitrage Sales Page is Overhyped
Jamie's goal is to send as many copies of this software as possible. To do so, they will cross many lines. They use overhyped claims and unrealistic earnings screenshots to make it look like a perfect deal. It's never like that in reality.

Is Easy Arbitrage a Scam or Legit?
Easy Arbitrage is not a scam. It's legitimate software that helps to find profitable business opportunities on the internet. You can use it to improve your business and to stop wasting time trying to find the right opportunity.
However, I don't like the fake hype and all those misleading claims that Jamie and Matthew have made on the Easy Arbitrage sales page. They openly claim that this is going to make you money fast, etc.
But in reality, a large percentage of those claims is not true. They just use the hype to make more sales.
The good thing about it, and one of the main reasons why it's not a scam, is that you can get a refund if you are not satisfied. However, keep in mind that, sometimes, WarriorPlus vendors will not approve your request. They might ask you for reasons and try to stop you from getting your money back.
But other than that, everything else seems to be okay. Oh yes! Keep your eye on those expensive upsells. I don't see why you need them. They are the owner attempt to make more money off you since you're already in.
Do I Recommend Easy Arbitrage?
I recommend Easy Arbitrage. It's not a scam. In fact, it could be a useful tool for every marketer out there. I like the feature that allows you to see which ClickBank product is the most valuable for marketing. Also, I like those price comparison features. They are especially useful for those who are into dropshipping.
Easy Arbitrage Review – Conclusion
Starting an online business might be a challenging task for many people out there. And these days, you have more and more gurus with their software telling you that this is IT when it comes to earning fast income. Moreover, most of these schemes claim to work with a push of a button.
However, in 99% of the cases, they are a scam, and simply not worth time and money. How many times have you purchased software that was supposed to make you a millionaire? If you haven't felt on such a scam so far, then you can consider yourself lucky.
In my opinion, Easy Arbitrage is one of the rare software that could really help to start something profitable online. The software is designed to read keywords and show you which ones are profitable and which are better to be left alone so you don't waste any time or money.
Also, unlike many times before, Jamie Lewis tasks care that he gives a lot of training material to help you understand this tool and use it effectively. And if you don't like it, you could get a refund too.
That said, thanks for reading my Easy Arbitrage review. I hope this comprehensive blog post was helpful enough. And I hope you can now make a confident decision regarding your purchase.
However, if you are not interested in this product, you might want to read the rest of my review…
Start With Affiliate Marketing for Free
There is one platform that I recommend over every other out there. These guys are going to give you everything you need to start a successful online business. I'm talking about:
Step-by-step beginner-friendly video training
Website hosting and domain registration (free and paid)
One free website to try things out first
Keyword research tool for finding profitable keywords
Affiliate program marketplace for finding profitable products
24/7 live help and technical support
One-on-one coaching
and more!
So if you are looking to start making money online without having to sweat too much, my best recommendation is right below…
THE BEST WAY TO MAKE MONEY ONLINE IN 2023 >>
If you need any help or you have a question, feel free to contact me.
And don't forget to share this review with your friends and family!
All the best, Ivan. Founder, and CEO @freeaffiliatemarketingbusiness.com