Easy Cash Club Review – Easy SCAM or Legit Software?
Are you in a hurry to get your license for using the secret money-making software? Let's answer the question is Easy Cash Club a scam or legit before you rush into things. You see, there is no such thing as easy cash or money-making software. That's nothing but a load of…you know what. Please, read this Easy Cash Club Review before going any further.
Yes, some people are making big bucks on YouTube every day.
But do you know that those who make money are in a tiny percentage compared to thousands that fail miserably?
What makes the difference between them?
It's not a secret software trust me.
In this Easy Cash Club Review, you are going to discover what's inside and how it works. Also, we'll go over the price and upsells. And finally, you are going to find out if Easy Cash Club is a scam or legit way to make money online.
Official Website: easycash.club
Before we begin with this Easy Cash Club Review, you are entitled to free advice from someone who's been through a few scams so far.
Here are a few examples:
Do not believe every word you hear from the mouth of the people who are trying to sell you a training course of any kind. The internet today is full of offers which are designed to make money for owners in the first place. In many instances, the customers are in the last place.
Always search the Google for a product review whenever you find something you're not sure about. If you can't find a decent review, please, feel free to contact me. I'll get right into things to help you out.
If you are tired of scams, if you don't want to spend your hard-earned cash on half-baked courses or another 'get rich quick' scheme, I invite you to click the link below.
MY #1 RECOMMENDATION FOR MAKING MONEY ONLINE
What is Easy Cash Club?
Easy Cash Club is a system designed to make a passive income with affiliate marketing. The system relies on Google Adsense for making commissions every time a viewer clicks on an advertisement embedded in a video. It's a fully automated software that helps to create YouTube videos. The software uses AI, short for Artifical Intelligence, to create a video with an electronic voiceover and matching images.
Sounds easy.
If you've watched the sales video, you had a chance to hear how you could be earning up to $1000 each day. The owner and creator of the system, Steve Johnson, has perfected the method and he's been using it to generate millions over time. Today, he is sharing the limited number of software licenses to a few lucky people.
Now listen to me.
The story you can hear within the sales video contains a typical amount of BS. My advice is to take all those claims with a grain of salt. Steve Johnson is creating a lot of excitement around this product. The hype is usually just one side of the coin designed to pull you into buying this product. The other side is full of disappointment; trust me.
While I was doing my research for this Easy Cash Club review, I had a chance to see many warning signs which indicate that this is a scam. People who make these offers are very talented and extremely creative. They won't hesitate to tell you how you can become filthy rich in just a few months or even weeks. What's even worse they tell you that you can do it in an incredibly short amount of time. In this case, Steve Johnson is crossing every limit claiming that you can make money in as low as 60 seconds!
Who is Steve Johnson?
The man behind this offer is probably using a fake name to represent himself. It's not an uncommon thing to see with the offers like this one. I've reviewed many a like course that promise riches overnight. 99,9% of them were using pseudonyms and fake life stories to connect with you and to make you buy.
Steve Johnson claims to be a super successful online entrepreneur. Now, if he is the person who he claims to be, he would be easy to 'google.' If you do so, you'll discover that Steve Johnson is an American tennis player. No sign of Steve Johnson, a multi-millionaire online entrepreneur whatsoever.
If I were making so much money on YouTube, I would proudly show my face as well as my YouTube channel. It would get me tons of new followers.
Anyway, it' looks to me that Easy Cash Club is following the same line as many others which are proven to be a scam.
MY #1 RECOMMENDATION FOR MAKING MONEY ONLINE
Easy Cash Club Review – How it Works?
As I've mentioned earlier, this is an affiliate marketing system based on traffic from YouTube.
In a nutshell, it works by uploading videos on this popular video service. To make money out of the system, the user can link to affiliate offers related to the theme of the video. Or use the Google Adsense program to embed the advertisement in the video as well. Every time a visitor clicks on the ad or follows an affiliate link and makes a purchase on a third party website, the owner of the channel will make money.
In theory, it sounds fantastic.
It gets even better when you learn that you don't have to waste time shooting the video and sit by the computer for hours and hours editing and uploading. A fully automated software will do the job.
But I wouldn't be so excited.
Does It Work?
You see, the truth is that many people do make money by uploading videos to YouTube. However, those videos are real and contain real-life values. Those people have spent hours and hours in labor to create them. YouTube, much like Google, will take into consideration only channels (websites) which are rich with information and upload content regularly. Those super successful YouTubers have taken this very seriously. None of them is using secret software or anything like that.
People who tell you that you can make money with something automated or by a push of a button are trying to scam you. So far, in this review, we've learned that Easy Cash Club is following the same path like many other scams. I wouldn't be so confident to say that this works the way Steve Johnson, or whoever he is, claims. It takes a lot of time, effort, and most importantly, desire to help others to succeed on any of the social networks, streaming services, or search engines.
What's Inside?
Once you get past all those annoying discounts and pop-ups, you'll get access to the software itself. Also, there will be a couple of video lessons which explain how the system works. For example, they will show how to sign up for Google Adsense, buy hosting and website domain, create YouTube account, upload videos, and many other pretty much simple information.
Listen.
There is nothing inside that can help you make thousands each day and quit your job — only a few tutorials and video making software. People who do make thousands each day on YouTube and Google have been through countless hours of training and have spent an equal amount in research, trial, and failure, to succeed finally.
Who is Easy Cash Club for?
If anything is real about this offer, it would be ideal for people who want to make money with YouTube and affiliate marketing.
However, I have my concerns about it, which are justified. Easy Cash Club is probably a scam. I'll show you my evidence in a few seconds.
MY #1 RECOMMENDATION FOR MAKING MONEY ONLINE
Easy Cash Club Price
I'm a little bit confused by the price of this thing. First, it says that it's only $37 one time payment. Then, if I try to decline the offer, I'll get a 20% discount. When I accept the discount, it says that it's not $197 anymore. Now, it is only $17. All this makes no sense to me.
Anyway, that's just another thing that the creator of this offer is doing to get you confused.
Easy Cash Club Upsells
I've been able to discover three upsells.
As I've said, the funnel is designed to pull you from sale to sale so that the owner and his affiliate can make money. Sadly, that's how it is on the internet these days.
Easy Cash Club Pros
Before we end this Easy Cash Club review, let's go over a few positives and negatives.
Money Back Guarantee
In this case, there is only one good thing about it, that is 100% 60 days money back guarantee. This thing is a ClickBank product, which means that if you don't like the material, you can ask for your money back. I advise you to go around the Easy Cash Club support team and directly contact ClickBank Support. They will do it without any problems.
Easy Cash Club Cons
Offers like this one are using the same dirty tactics over and over to make a sale. Unfortunately, there is nothing illegal about the way they do things. However, they do cross every line of morality while doing it.
There is Nothing Revolutionary About the Software
If you take a closer look inside, you'll discover that the software is pretty much a simple one. You can find software that can do more or less the same things as this one all over the internet. Unlike this one, they are free.
The guy in the video is making too much hype about it only to make a sale. He plants images in your mind, which are causing you to want it because it sounds too good. You'll get disappointed once you discover that the truth is the opposite of what you've been told.
MY #1 RECOMMENDATION FOR MAKING MONEY ONLINE
No Information On Steve Johnson
Fake ownership is one of the most common things to all scams on the internet. This offer is fitting the profile as well.
As you've had a chance to read already withing this Easy Cash Club Review, Steve Johnson is most likely a fake character. I did my best to dig out more information about Steve, an online entrepreneur. But as you know, all I could find is info about Steve Johnson, the tennis player.
Fake Student Testimonials
Easy Cash Club sales page contains more characteristics of a scam. Those faces you can see who claim to be making money with this system are fake.
As you can see from the images, they are stock photos of random people.
Fake Scarcity
The person behind this funnel is an aggressive seller. He will do everything to make a sale. One of the popular tactics is false scarcity. You can see counters counting down and warning signs that this offer will soon expire. However, if you come back tomorrow, you'll find that nothing has been changed.
The pressure is fake as well.
Unrealistic Income Claims
Do not listen to anyone who tells you that you can make money online in a matter of days or even worse, hours. Also, do not believe those income claims too.
They are unrealistic and most likely, fake as well.
Expensive and Aggressive Upsells
Much like every other scammy offer on the internet, this one can offer you to spend more.  I was shocked to see how aggressive they are in trying to make you pay. They are popping out like crazy and are all too expensive. And based on everything that I've seen so far, they are probably not worth it.
Is Easy Cash Club a Scam?
When you take into consideration all those things listed as cons, you can easily say that Easy Cash Club is a scam. It is a funnel which, in the first place, benefits the owner and affiliates who are promoting this. The main objective of the person behind this offer is to get you in. It's a classic 'bait and switch' type of offer.  Your satisfaction, and even more importantly, your success with this system is in the third place.
Now, technically speaking, Easy Cash Club is not a scam. You see, a scam is when you pay for a thing, but you don't get something back. In this case, you'll get an info-product on YouTube marketing as well as a shady software for creating third-grade videos. I highly doubt that you'll make thousands with this as the owner promotes it.
Do I Recommend This to You?
As the final matter of this Easy Cash Club Review, I want to say that I do not recommend this to you. I advise staying away from it.
Affiliate marketing is not as easy as they've been telling you. There is no magic software or system which can make you thousands on autopilot. The only way how to make money with affiliate marketing, whether YouTube, Facebook, or Google-based, is if you take things seriously and find someone legit to teach you how to do it.
How to Start an Affiliate Marketing Business for FREE?
Thanks for coming to the end of this Easy Cash Club Review. It shows that you are a serious person who takes every step with the most attention.
If you are interested in learning how to build an affiliate marketing website and make money online, I have a great alternative to those money-sucking offers.
This process is proved by thousands of online marketers all over the globe. You are looking at the one right now. 🙂
Here is the process in a nutshell.
Firstly, you'll be choosing a niche.
A niche in affiliate marketing is an area of interest. For example, my niche is affiliate marketing training courses. Yours can be anything you want. If you like golfing, then golfing equipment can be your niche.
Secondly, you'll be building a website.
A website is not too hard to build. We will develop and maintain your site for you. All you have to do is choose the name, pick one of the preset themes, and the rest is on us. It's done in less than five minutes!
Thirdly, you'll be attracting visitors to your site.
The first roadblock in this business is finding the right source of traffic. We are going to show you well-kept secrets to unlimited FREE TRAFFIC from the internet. However, you'll have to work to get it. This is not a 'get rich quick' scheme!
Fourthly, you'll be selling the products of your choice to your visitors to make money!
We'll show you how to use affiliate links and Google Adsense to monetize your site and make those sweet affiliate commissions!
Wealthy Affiliate is the best place online to learn four steps to an affiliate marketing business. We're going to show you how to do it in the most ethical and honest ways possible. The best thing is, you can start for FREE!
Ready to Build Your Online Business?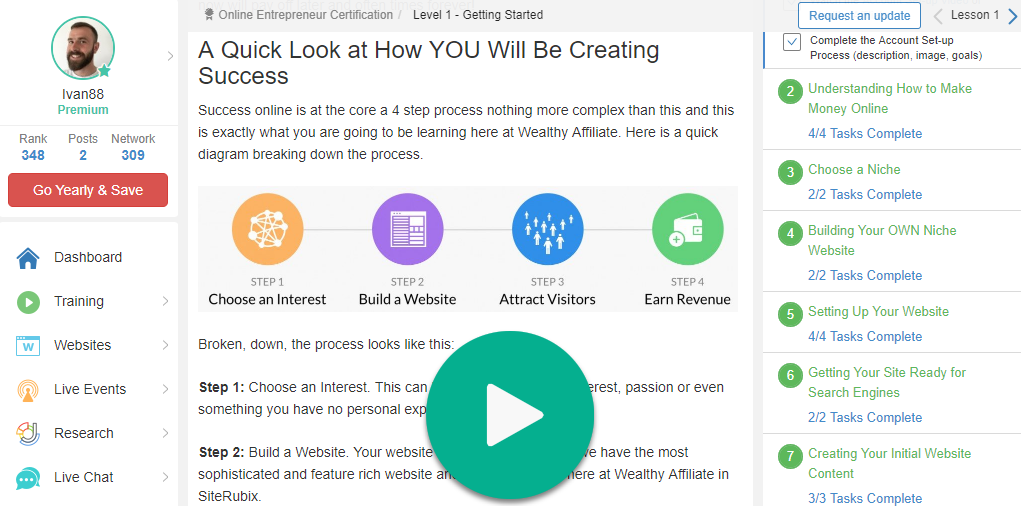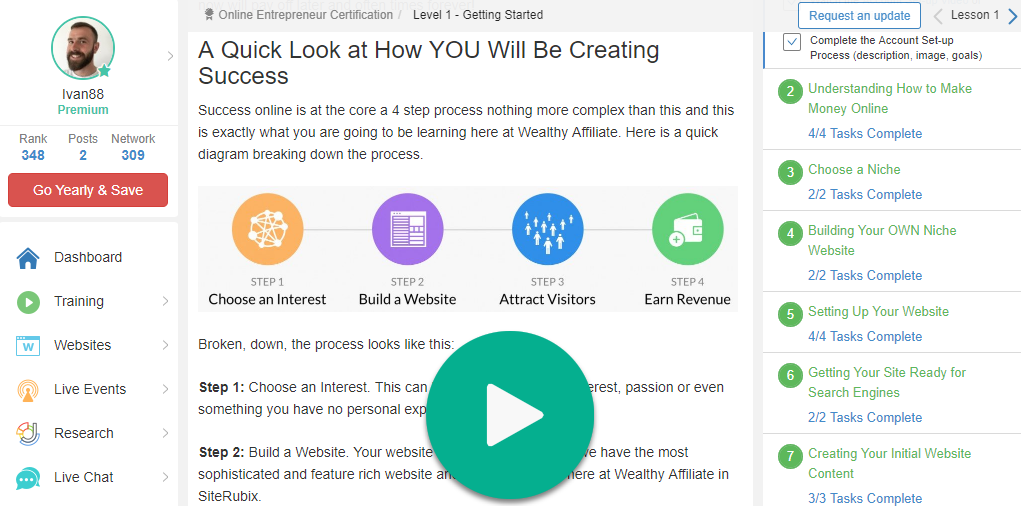 PRESS PLAY TO LEARN MORE!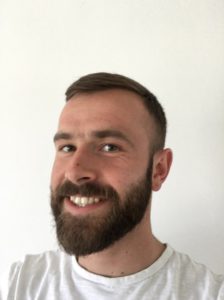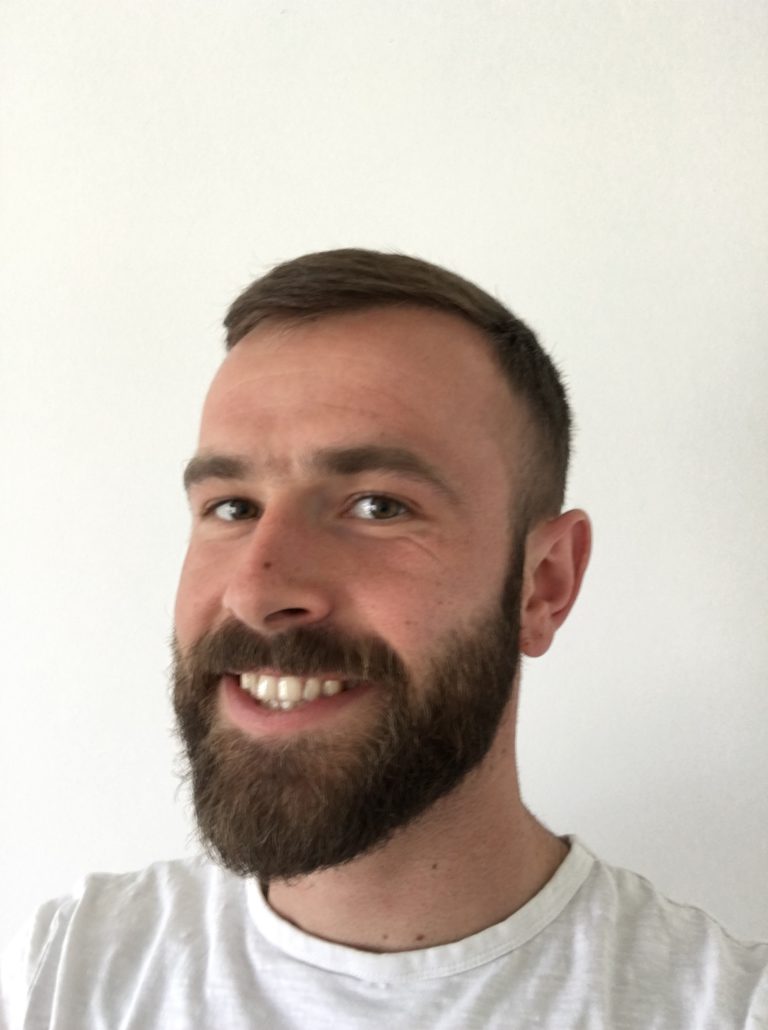 I wish you a successful online marketing journey!
If you need any help or you have a question, feel free to contact me!
All the best,
Ivan,
founder, and CEO at
freeaffiliatemarketingbusiness.com
Please follow and like us: