Welcome to my Easy eCash review.
Is this really a proven, no-brainer way to quickly and easily begin making reliable money online? Or Easy eCash is an overhyped internet scam? If you are a beginner marketer, you will find everything you need here.
Before we even begin, you need to know that making money in 24 hours or less is not possible.
I hate to burst your bubble, but if you are a newbie, then you are a perfect customer for systems like Easy eCash. Will Allen, Phalab Ghosal, and Ram Rawat are really good at selling and hyping things up, hands down.
So what about the program inside? Is it any good as the sales page claims? Can you make thousands per week in such a short time using some secret methods? Is there any proof that this system works, or maybe, just maybe Easy eCash is a scam designed to prey on newbies who have no idea about online business?
Let's answer those questions too.
By the way, congratulations on researching before getting into things headfirst. I know it's hard to trust people on the net these days. But if you are looking for something real, check out this genuine way to make money with affiliate marketing.
Within this Easy eCash review, I'll show you what it is about. I'll explain how the whole system works. I'll show you what to expect without hyping it and give my honest take on whether it is a scam or a legit way to create an online income selling stuff on eBay.
Shall we start?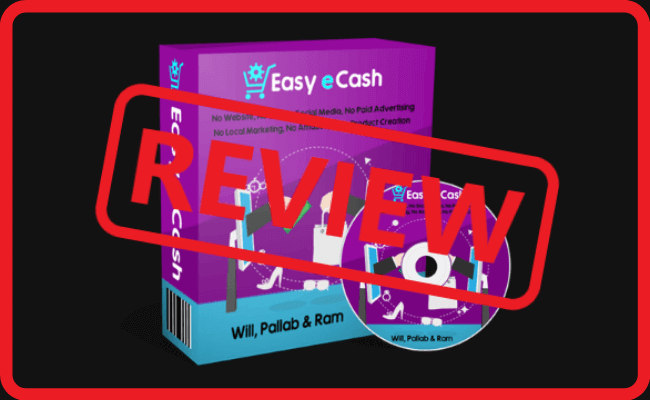 Easy eCash Review – Overview
Product Type: Dropshipping
Product Price: $13 + 4 UPSELLS
Product Owner: Phallab Ghosal
Money-Back Guarantee: 30-Days
Recommended?: No!
Overview: Easy eCash is advertised as a breakthrough program that's all about helping struggling marketers create a consistent online income. Moreover, the creator of the program claims that you can make money in 24 hours or less.
So is Easy eCash a scam or legit?
The truth is, these statements, as well as the rest of the sales page, are all lies designed to make you believe that there's a secret to making money online in 24 hours or less.
The truth is, for twelve bucks, you get very shallow training on selling on eBay. That's reality. Easy eCash might work, but only if you put into it a lot of work (A LOT) and some money, as well.
You see, the creators of Easy eCash have overhyped the sales page to attract you inside. Then, they are going to slap you with a mountain of upsells.
The reason?
Well, they know that the basic product is not going to work, so they offer you tons of upgrades that are missing from the product that you're actually buying.
In other words, this product is geared toward upsells, so that the owner makes more money. For more information, read my Easy eCash review.
But to save you time, I don't recommend overhyped crash courses like Easy eCash.
My #1 Recommendation has enabled me to go from $0 to earning $100's per day with affiliate marketing. Learn how you too can follow in my footsteps!
THE BEST WAY TO MAKE MONEY ONLINE IN 2023 >>
What is Easy eCash About?
Easy eCash is about creating an online income selling things on eBay. Allegedly this program is designed as a no-brainer way to quickly and easily start making reliable online income from the comfort of your home.
It has nothing to do with blogging, affiliate marketing, list building, or anything like that.
According to the creators of Easy eCash, this system is going to begin making you profit in 24 hours or less.
Not that's a bold statement.
Notice that Will Allen claims that he's going to show you exact secrets that have been earning him hundreds of dollars each month. He claims that you can easily copy-paste his system to create a fast and steady income.

As I have some experience with these systems, I need to tell you that making money online is not going to happen in 24 hours or less. I've seen so many programs that claim the same, but they never deliver.
Easy eCash reminds me of a program called EZ Bay Payday and even Ecom Cash Crusher.
Those programs are pure scams, by the way.
So is Easy eCash a scam too? Well, it is a sort of a legitimate system for making money online. The business model is based on selling items on eBay, which is, as you know, a legitimate way to earn money online.
However, it's not that popular anymore because eBay is full of competition these days.
In my opinion, this program could be helpful for beginners to learn a thing or two about selling on eBay (the next section of my Easy eCash review explains reveals how it works).
But the training is not going in-depth, which makes it inferior when compared to some legitimate course for earning an income online.
That said, I'm not going to support those claims from the sales page about making money in 24 hours or less. Those claims alone could be the reason to call this program a scam.
But let's see what else is there.

How Does Easy eCash Work?
As I said in the previous section of my review, Easy eCash is designed to show you how to work online and sell products on eBay.
According to its creators, all you need to apply their simple newbie-friendly secret to start making money from eBay.
So what's the secret then? Well, there are no secrets, unfortunately.
If you ignore those overhyped claims from the sales page, you will get a simple training course on eBay marketing.
They will show you how to open an eBay account and how to receive payments. After you manage to complete these simple tasks, they will teach you how and where to find stuff to sell.
Those secrets are actually a few websites, such as:
 Goodwill
Big Lots
Sierra
Costco
But that's all that you'll learn with Easy eCash. I mean, you can't expect too much content for only $13, right?
So basically, you get what you're paying for. In other words, you get a crash course on eBay advertising.
See, the secret with products like this is that the basic course is, well, just basic. To get access to the advanced lessons where you can get some real value out of this program, you'll have to take upsells.
And that is how Easy eCash really works.
The creators will fire you up with overhyped claims and low front-end prices. However, once you get the product in your hands, you will realize that you need much more to succeed.
And that's why they will welcome you with upsells once again.
Don't get me wrong. There a slight value inside Easy eCash. But in my opinion, it's worthless without upsells.
Easy eCash Training Overview
The whole training has been composed of ten video lessons. The good thing is that they don't waste too much time talking about other things, but instead, they are focused on the method.
However, the training is, in my opinion, concise.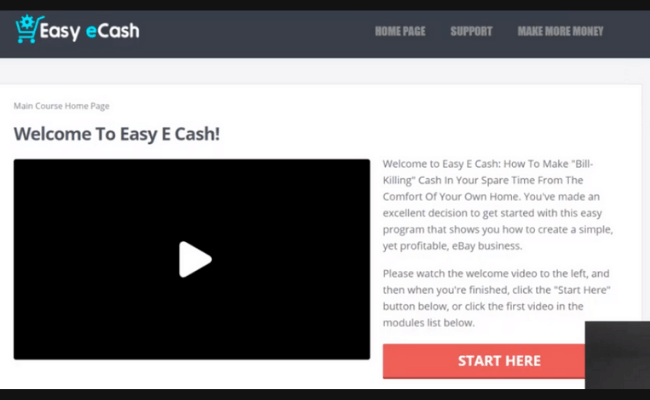 Here are the lessons in the order of appearance.
How to Take Payments
Where to Find Stuff to Sell
How Do You Know What Will Sell on eBay
How to Set Up Your Listing
Goodwill Product Case Study
How to Sell Stuff on eBay For Free
Secret Online Places to Find Stuff to Sell
Secret Online Places Case Study
Conclusion
One thing that they don't tell you before you get in is that you will have to purchase those items before you can sell them on eBay.
This is a severe scam warning sign on the Easy eCash sales page. They claim that it's free to do this.
That said, you'll need some capital money to get things rolling. The good thing is that they show you how to find free stuff to sell, as well.
But I would depend on that too much if I were you.
Can You Make Money With Easy eCash?
Selling things on eBay is a cool way to make money online. However, that doesn't mean that Easy eCash will work as it's been advertised.
First of all, these methods take time, and they cost money.
You need to set up everything, find products to sell on eBay, create the listing, handle the storing, and then, you need to wait. It may take weeks and months before you see your first sale.
Even the owner can't guarantee any sales.

I'm positive that you won't make money in the first 24 hours or less. If you get those results with this system, please leave a comment. I would love to see if anyone has managed to do so.
You see, those claims are entirely misleading and designed to get as many newbies to buy this system without a second thought.
As I've said at the top of this review, the owners of Easy eCash are very good at overhyping things to make sales.
THE BEST WAY TO MAKE MONEY ONLINE IN 2023 >>
Who is Easy eCash For?
Well, if you are interested in selling stuff on eBay, then this system could be for you. It's not the best make-money-online training that I've seen, but there are no reasons why it shouldn't work.
Once again, you won't make super-fast and easy cash by copy-pasting someone's method. That's nothing but lies.
The ideal audience for products like Easy eCash would be beginners who are still unaware that making money online is a serious business.
This product reminds me of 5FigureDay Full Throttle and Monstermode 700K.
In my opinion, this is a shiny object best for its creators because they will probably be the only people who are going to earn here.
Just take a look at the next section of my Easy eCash review…
Easy eCash Features and Benefits
The good news is that Easy eCash brings slight value to the table. It's not 100% legit, but at least it's not just an empty promise.
Below is the list of features inside this program:
How anyone, no matter what skill level, can quickly begin making easy sales on eBay.
How you can make sales on eBay without spending any money at all.
How to start making sales TODAY. Not tomorrow, not a week from now but within the next 24 hours.
How to get your eBay account set up and your first item for sale in a matter of minutes.
Little-known places, both online and offline, where you can find cheap (or even FREE) "junk" to sell on eBay for huge profits!
2 product case studies.
Keep in mind that the list of features and benefits is basically copied from the sales page.
Those words are not my own. Just take a look at the screenshot below…
I just wanted to show you one more time what the creators of Easy eCash have to say about this "revolutionary" product for making money with eBay.
And in my opinion, 99% of those claims are 100% lies.
Easy eCash Price & OTO's
One of the major problems is the price. The creators of the Easy eCash system claim that you can start for free.
However, the only free thing is the eBay account. Everyone can visit their site and open a business account for free.
In my eyes, these fake claims are another serious scam warning sign.
Anyway, the training course itself is going to cost you $12,97.
However, that's only a front-end price. After you pay for it, you will get offered to spend more of your hard-earned cash on expensive upsells.
OTO #1 – Top Seller Secrets $27 (downsell $17)
OTO #2 – Advance eHacks $37 (downsell $17)
OTO #3 – 20 Hot in Demand Products $67 ( downsell $47)
OTO #4 – You Own eBay Product Funnel $ 97 (downsell $67)
So when you really take an honest look at Easy eCash, you can see that it's designed to sell in pieces.
They could've put it all together into one course and sell it for a fixed price.
And since they only skim through finding products, I'm more than sure that you'll have a hard time finding valuable items to sell and end up either quitting or taking one of those upsells.
What I Like About Easy eCash
Usually, and especially when I see an overhyped sales page, I don't tend to look for many good things about the program. An overhyped sales page is a significant scam warning sign.
However, despite the hype, there are a few things right about Easy eCash.
eBay Marketing is a Legitimate Method
Selling stuff on eBay is a legitimate way to make money online. It's not the easiest or fastest method, but it works. However, the training is showing how to find products and sell them on eBay.
You Can Get a Refund
WarriorPlus offers a 30-days money-back guarantee on all products sold through the marketplace. The same stands for Easy eCash. If you don't make money within the first 24 hours, I suggest claiming yours.
Related: Perpetual Income 365 Review
What I Don't Like About Easy eCash
As I said earlier, in my opinion, Easy eCash could be a scam and an overhyped get-rich-quick scheme.
Here are some proofs to back up my claims.
You Won't Make Sales Today
The creators claim that you can start seeing your first profits in the next 24 hours. That's an absurd statement!
It's not the only one. They say many things on the sales page that simply defy the laws of making money. There are no shortcuts or secrets solutions. In other words, that's all hype designed to sell this pretty much shaky system.
You Need Stating Capital
Another thing that bothers me is the fact that they say you don't need any money, and you can start for free. The very program is going to cost you money. And then, you need to purchase those items.
For that, you need some starting cash.
You Need Storage for Items
If you are going to follow the directions from the training, you'll be selling physical products. Once you purchase those items, you need to take care that you have a safe place to store them.
You won't sell them as soon as they arrive, that's for sure.
Easy eCash Sales Page Lies
One of the things that got me really annoyed was those claims that Easy eCash is a free program. But if you try to join, they will ask you to pay $13 (and more!).
Why would they lie about the price?
I'm guessing they lie about the price to get you all fired up about this program and lead you inside an expensive sales funnel full of hidden upsells.
The lack of transparency and honesty is a severe scam sign in my book!
Cheap Price Followed by Expensive Upsells
Easy eCash is primarily a sales funnel. In other words, you are drag inside with a flashy sales page and a low price. Then, you're forced to take expensive upsells as soon as you join.
It looks to me that the owners are just looking to make money off you.
Is Easy eCash a Scam or Legit?
It's easy to get carried away and say that Easy eCash is a scam because of the flashy sales page.
But after taking a closer look at the training inside, I realized that you are actually getting some education in return for your cash. So technically speaking, it's legitimate training for selling stuff on eBay.
However, this doesn't mean that I support this product.
If you take the shallow training for selling on eBay on the side, all you get is an overhyped sales funnel from which you're going to get without a few $100's or more.
I hate to see training programs that promise such things as Easy eCash.
I mean, they say how you can start earning an income in 24 hours or even less. Every marketer out there knows that this is simply not possible if you are a newbie.
Therefore, the owners of programs like this put a bad name on legitimate methods.
What do you think? Is Easy eCash a scam or a legitimate product? I would say it's the former. Moreover, I would like to hear your opinion, so make sure to share it with us at the end of this review.
Related: Affiliate Robot Review
Do I Recommend Easy eCash?
There are tons of reasons why I don't recommend this training.
In my opinion, Easy eCash is an overhyped and misleading offer that promotes getting rich quickly and, therefore, creates wrong ideas in the minds of beginners.
First of all, you won't make any money in the first 24 hours.
In fact, you might not even make money at all with this system. Even the owner, Will Allen, claims that he can't guarantee that you will not make any money with his training.
Secondly, you'll have to invest a lot of time and some money into this method.
The sales page claims are all fake and designed to sell as many copies of Easy eCash as possible. It's a wrong way to sell online courses, which I do not approve of.
I don't mind a bit of excitement, especially if there are some testimonials to back them up.
But this is too much.
Lastly, the program comes with a set of unexpected upsells.
You are lead to think that for $12,97, you are getting the ultimate solution for making money with eBay. But in reality, you get bitch-slapped by a ton of expensive upsells as soon as you say yes.
Worst of all, I firmly believe that the system won't work if you don't take them.
For those and many other reasons, I don't recommend Easy eCash to my readers. I know, from experience, that making money online works. But it's not going to happen overnight.
Related: Internet Retirement App Review
How to Start Making Money Online?
Thanks for reading my Easy eCash review. I hope I have helped you to learn more about what it is and how does it work and to answer your question, whether it is a scam or legit.
If you have any more questions about the program or maybe you can offer an experience, feel free to leave them in the comment box below.
Let me first give you another piece of advice.
Stop listening to FAKE GURUS that poison your mind with the ideas about making money as soon as you join their systems!
These guys are not trying to help you to earn an income online. Not with eBay, not even with Amazon, or ClickBank!
They just want to squeeze as much cash from your wallet as possible. And they will if you let them.
Secondly, to start making money online, you need more than a simple crash course like Easy eCash. You need comprehensive education, tools, and a coach or a mentor to show you the way.
A few years ago, while I was working at my old job, I realized this and decided to listen to the same advice.
Thanks to that decision, I run my own successful online business today and I want to help you to follow my steps.
This leads me to my last recommendation.
If you want me to show you how to make money online, make sure to click the button below, and I'll meet you on the next page…
THE BEST WAY TO MAKE MONEY ONLINE IN 2023 >>
If you need any help or you have a question, feel free to contact me.
And don't forget to share this Easy eCash review with your friends and family!
All the best, Ivan. Founder, and CEO @freeaffiliatemarketingbusiness.com