Welcome to my Ecom Profit Formula review.
Michael Crist values his training course at $997. But before you shell out that kind of money on some random internet course, you need to know a few things first. Above all, you need to know whether this course is a scam or legit.
If that's you, then you're in the best place to find out the truth. I've reviewed 100's of courses so far on this website, and I'm completely unbiased.
That said, in my review, you're going to discover what Ecom Profit Formula is all about, what you get with this program, we're going to share some background, a full price of the course and some more! So keep reading till the end!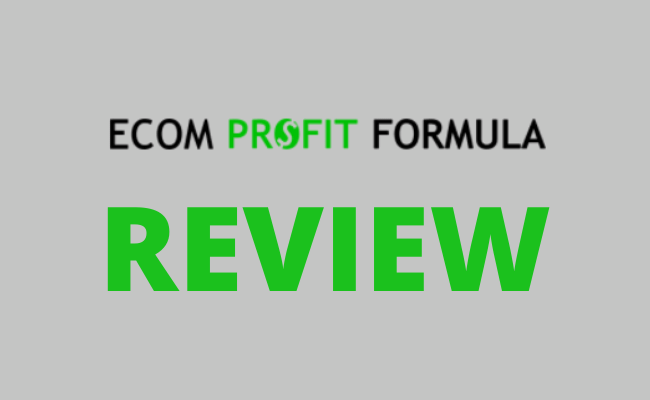 Ecom Profit Formula Review – Overview
Product Type: eCommerce Training Course
Product Owner: Michael Crist
Product Price: $997 One Time
Money-Back Guarantee: 30 Days
Recommended?: See the summary below…
Quick Summary: Ecom Profit Formula is a training course that takes a bit different approach to build an eCommerce business. The creator of the system, Michael Crist, reveals a unique method that has made him $500K+ in revenue so far.
In a nutshell, this course is legitimate. But in my opinion, it's a bit expensive. That is why I would not recommend this to beginners. It requires additional investment and could be a costly learning experience.
A better alternative for beginners would be affiliate marketing. It's a reliable method that doesn't require any special skills, and it's relatively cheap to get started.
The program below has helped me to go from $0 to earning $100's per day with affiliate marketing and is my #1 recommendation for a reason that it works! Click below to learn more!
THE BEST WAY TO MAKE MONEY ONLINE IN 2023 >>
What is Ecom Profit Formula?
Ecom Profit Formula is a course focused on a slightly different variation of the e-commerce business. In particular, Michale Crist is showing how to print on demand. In other words, how to sell items on Facebook.
The training is divided into 70 videos that contain about 10+ hours of step-by-step content. During the training, Michael explains the exact process he used to go from earning $0 to $578 in just 16 days. Moreover, Michael includes a few other perks, such as pre-recorded webinars and exclusive access to a private Facebook group.
In more details, Ecom Profit Formula teaches how to sell items from ShineOn website using Facebook ads as the main traffic source. It is indeed a very specific course, which means that you will not learn how to sell anything you want. Kinda a bummer, but the method is legit.
In the following sections of my Ecom Profit Formula review, I'm going to walk you through the entire course and all the features as well. Before we do so, let's run a quick background check on Michael Crist to see if he's a scam or legit.
About Michael Crist – The Owner
Michael Crist is an eCommerce expert who has started his first venture a few years ago selling items via Facebook. However, according to Michael, the road to success was not an easy one. He used to struggle for a few years until he finally cracked the code.
Today, after making $ 1000's with this method, Michael has decided to create this course where he reveals how he has earned $578,359 in just 16 days! He did this by selling jewellery on Facebook!
Pretty impressive. But how legit is his story?
Well, to show that he's not faking these number, Michael reveals everything within the course. He's stumbled across a formula no one knows about. Speaking of which, let's see how it works.
How Does ECom Profit Formula Work?
As I was saying earlier in the review, Ecom Profit Formula is a course that explains how to start an eCommerce business. Most people will teach about how to start with Shopify and other related platforms.
However, this course takes a bit different route.
You'll discover how to sell items online, in this case, jewellery, with a program called ShineOn. It's all about selling jewellery from independent artists via Facebook.
The course contains 13 training modules with 70 videos and 10+ hours of content. And here's a walkthrough.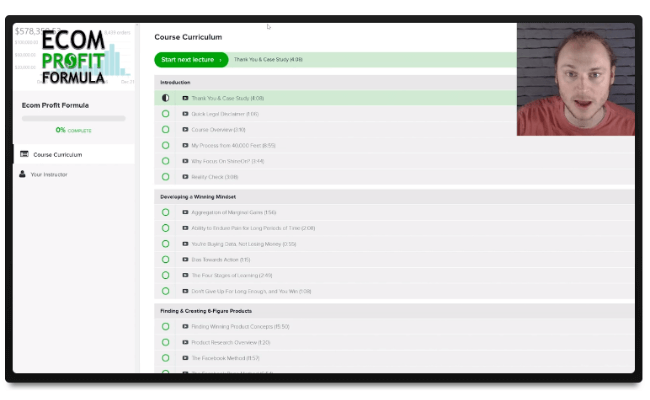 Module 1 – Introduction
The first training module contains a few videos where you get to meet Michael and see a case study of his business model. Then, he introduces the ShineOn website, which you're going to leverage to make money.
Module 2 – Winning Mindset
Within the second module, Michael Crist focuses on mindset. You get seven videos, where he talks about the importance of having the right attitude. A bit too much for my taste, but certainly appreciated topic.
Mainly, he focused on talking about the expectations, having the ability to endure pain for a sustained period (this is critical), taking action at the given moment, not giving up and more.
Module 3 – Finding/Creating 6 Figure Products
The third module finally starts talking about the business model itself. You're going to learn how to do product research and how to find winning strategies. Unlike other courses, where you have to outsource research tools, Michael focuses on manual analysis.
During the next few videos, Michael is going t show you how to leverage Facebook to find the ideas for your business. Also, he goes over a Pinterest method and a method where you leverage Etsy and Gearbubble platforms. Then, to round up this module, he gives a few examples.
Module 4 – Creating Winning Product Designs
No need to worry about not having designer skills because the fourth module of Ecom Profit Formula teaches how to create a design using Photoshop and Canva. My recommendation is Canva because it's easier to use and it's free!
If you don't want to do this manually, Micheal also shows how to outsource work.
Module 5 – About ShineOn Platform
The training module five is where you get to know more about the ShineOn. In short, this is is a Print on Demand fulfilment company for Shopify. You'll learn how to create an account, use the dashboard, upload your products, and more.
ShineOn has got its own Shopify app which makes adding products and automatically fulfilling orders straightforward. It does not require any particular tech skills.
Module 6 – Build a Shopify Store
In this module, the main focus is on creating your own Shopify store. Michael shos how to design your store, and add some customizable features and elements that are going to build trust with your customers. There's a section on the tech side of things like speeding up the site, adding products, etc.
The latter is going to be done through ShineOn app.
Module 7 – Setup Niche Facebook Page
As I was saying in the previous section, Michael focuses on Facebook. In a nutshell, this module talks about creating a Facebook fan page, automating your content, attracting followers and more.
Modules 8 & 9: Facebook Ads & Ad Manager
The next two training modules are all about Facebook ads. These two sections include tutorials on ads manager setup, installing Facebook Pixel, creating ads, and more. Moreover, Michael shows how to track your traffic, engagement, etc.
Module 10 – Facebook Ads Testing
After you set up your Facebook ads, you need to test them first. This module reveals Michael's top tactic for doing so. The main focus is on making sure they are working and optimizing your adds.
Also, you'll go over creating ads, customizing audience, retargeting, budget control, etc.
Modules 11 & 12 – Facebook Ads Scaling
The next two training modules continue the story from the previous three modules. In a nutshell, you'll learn how to maximize your Facebook budget to get the best possible results. These strategies are based on Michaels experience.
These videos contain information on topics such as Facebook targeting, adding a new pixel to gather data faster, scaling your ads, etc. Michael includes a case study where he shows his winning products, landing page, ads and everything else he's been teaching you so far.
Module 13 – Conclusion
And that's it. The last module is where Michael rounds up things and says goodbye.
ECom Profit Formula Price & Features
At this moment, the course is selling via Teachable platform for $997 one time. Here's a breakdown of the features you get with Ecom Profit Formula.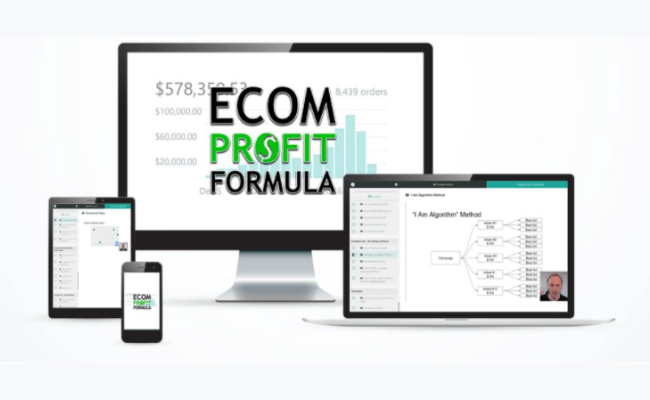 Features
Step-By-Step Training Program – You get 13 training modules that contain 70 video lessons where Michael reveals his strategy for creating a successful eCommerce business.
Facebook Group – You get access to a private Facebook group where you can participate in discussions, share your experience, and most importantly, get help if you get stuck.
Money-Back Guarantee – If you aren't 100% satisfied with what you learn in this course, just let the, know within 30 days of your purchase and they'll give you a full refund.
Related: Wholesale Underground Review
What I Like About Ecom Profit Formula
One of the first things that caught my eye was the fact that the entire training course is based on Michael's experience. He's not teaching general methods like everyone else. Instead, he takes a unique approach to eCommerce that I've never seen before.
The course itself is very detailed and seems to go over every critical component of building a Shopify store. The presentation is well-structured and covers everything from finding products to mastering Facebook Ads.
Lastly, I like the fact that Michael Crist includes an option to get a refund. You have 30 days to test the course and ask for your money back, which is more than a fair deal.
The Course is Based on Michael's Success
Unique Approach to eCommerce
Very Detailed Course, Especially the FB Ads part
30-Days Money-Back Guarantee
What I Don't Like about Ecom Profit Formula
The only negative comment I have about this course is related to the price. $997 seems like too much money for a simple training course on eCommerce. I mean, there are a lot of equally good, if not even better methods out there that cost three times less than Ecom Profit Formula.
High-Price for a Simple Training Course
Is Ecom Profit Formula a Scam or Legit?
Ecom Profit Formula is not a scam, that's for sure. You don't have to worry about getting scammed into spending $ 1000's on unreliable course. Michael is a real person and seems like a good guy who knows how to make money online and is willing to share his expertise.
Moreover, like every other legitimate course, Ecom Profit Formula includes access to a private Facebook community where you can get help. Also, Michael Crist backs up your purchase with 30-days money-back guarantee. If you change your mind, you can get a refund.
The only concern is that you'll be spending money on a strategy that could quickly get saturated. The chances are that Michael himself has maxed out this method. Maybe that's why he's teaching it now. Who knows.
But overall, Ecom Profit Formula is legit, and you'll be learning a method that has made Michael a rich person.
Related: Ecom Success Academy Review
Final Words and Recommendations
And that's it. Thanks for reading my Ecom Profit Formula review. We have covered everything you need to know about this program. If you're interested, the course is legit, safe, and recommended.
I'm not a big fan of it though. In my opinion, it is too narrow and specific.
For example, I like to buy and learn from courses that will teach me about the whole industry itself. This way, I can choose my own niche and products to sell and promote.
The fact that Ecom Profit Formula is so strictly oriented toward promoting ShineOn jewellery is quite disappointing and could lead to a quick market saturation, which is not good for your business in the long-term sense.
How I Make Money Promoting ANY Product I Want
If you're on the fence about Ecom Profit Formula, let me suggest a much better alternative.
The business model that I love the most is called affiliate marketing. I'm using affiliate marketing every day to promote other people's products and make money. The best thing about it is, you don't need any skills or experience, and it's free to get started!
So if you're looking for a better alternative, click below to learn more!
THE BEST WAY TO MAKE MONEY ONLINE IN 2023 >>
If you need any help or you have a question, feel free to contact me.
And don't forget to share this review with your friends and family!
All the best, Ivan. Founder, and CEO @freeaffiliatemarketingbusiness.com