Hello, and welcome to my Engagbot review for 2021.
We are living in an age where social media is taking over. It literally is. Some people even "live" there, while some others use these channels to do business. Have you been thinking about the latter? If so, you're in the right place.
The problem is, there are too many software that promise to automate your social media following, traffic, leads and conversions. Among them is Engagbot. You're here because you want to know what it is about, how does it work, and most importantly, whether Engagbot is a scam or legit, right?
So let's jump into my unbiased Engagbot review to reveal the truth. By the way, I'm not giving any bonuses. In other words, I'm not associated with this program, which means I'm not selling it to earn commissions.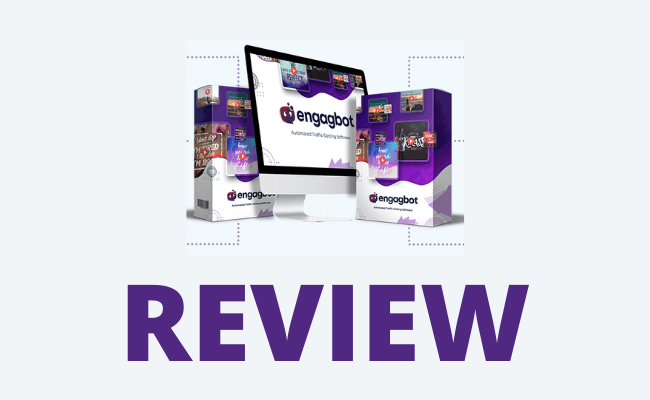 Engagbot Review – Overview
Product Type: Social Media Software
Product Owners: Mo Latif
Price: $49.95 + UPSELLS
Money-Back Guarantee: 30-Days
Quick Summary: Engagbot is a piece of software that helps to automate the process of creating and sharing social media content. It costs $49.95 for the basic version plus various upsells that contain advanced features.
In my opinion, the sales page for this software is a bit overhyped and misleading. Other than that, I don't see any red flags that could indicate that Engagbot is a scam. In other words, it's legitimate software.
Wanna make money online? Tired of failing? Check out this PROVEN TRAINING I used to start a successful online business and go from $0 to earning $100's per day!
THE BEST WAY TO MAKE MONEY ONLINE IN 2023 >>
What Is Engagbot About?
Engagbot is a brand new software that automates getting traffic, leads, and buyers for you in just a few mouse clicks.
In addition to these claims, this software does not require any technical or design skills. You don't need any prior experience to use it and you can get customers clicking and buying starting today!

Have you heard this already? Does it sound like a scam to you as well?
First of all, before we move on with this review, in my opinion, the sales page leaves the impression of a get-rich-quick scam. The creator of Engagbot a lot of misleading and overhyped claims to grab your attention and lead you to sign up.
You can hear things like:
100% FULLY Automated Stunning Visual Quote Maker
1 Click Broadcasting & MASS Distribution System To Social Media
Emotionally Attracts & Ridiculously Engages Visitors
Converts Visitors Into Buyers At ZERO Costs To You
FREE Organic SEO & Viral Traffic On Autopilot
Customer-Driven "Newbie Friendly" Sales System
I've seen too many software of this sort to know better. So what is Engagbot then?
It is a simple piece of software that helps to automate social media content. It works on the principle of visual and emotional engagement with your followers.
In a nutshell, it allows you to create colourful and engaging images quickly using the software within the dashboard. Then, you can share this image on all your social media accounts in just a few mouse clicks.
And that's it. I'm not going to tell you that this software is going to make you a boatload of money because that's not true at all. Well, at least if you're a newbie.
So is Engagebot a scam then? Well, it's not, but more about it later.
In my opinion, it's a neat social media tool that advanced marketers could use to speed up the process of creating and sharing their content on social media. Let's jump to the next section of my Engagbot review to learn how it works.
How Does Engagbot Work?
So basically, Engagbot allows you to create content and share it on social media. You can share your content on Facebook, Twitter, Instagram, and more, in just a few clicks. Also, you can add a description as well a link to a website or an offer where you want to send your traffic.
Here is how it works step-by-step:
Step 1 – Start Your Campaign
You have two options. You can either create a new campaign (image) or choose one of the preloaded templates from various categories withing Engagbot dashboard.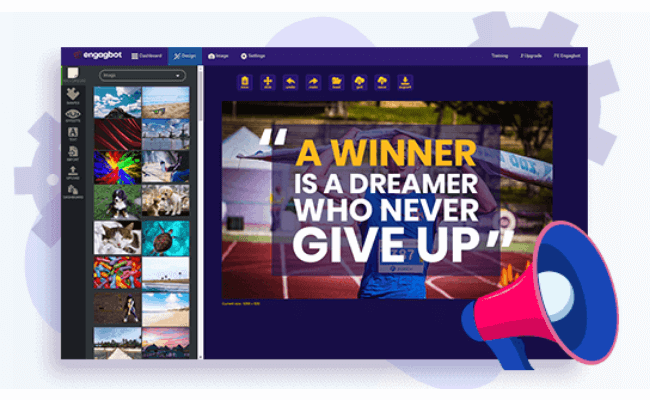 In any case, you can customize the images with quotes, messages, your own images, etc. The main idea is to create visually stunning images that people will engage with, hence the name of this software.
If you have ever used free software like Canva, then you'll know how to use this one as well.
Step 2 – Automate Posting
Once you have created a campaign, the next step is to use an automation feature withing Engagbot dashboard. This allows you to post all your content across all social media channels in just a few clicks.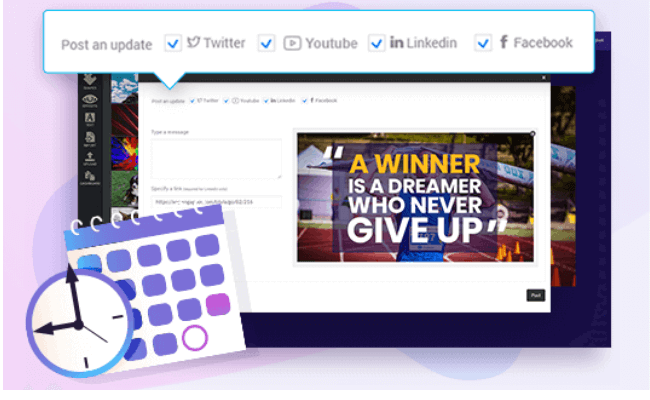 You can post these images on:
Facebook
Twitter
YouTube
LinkedIn
All you have to do is grab the links to your account and connect them with Engagbot software. Then, each time you want to share some content, all you have to do is select the channels and share.
Step 3 – Activate For Profits
Before you actually post the content on social media, you will have to add a description. This could be a few short words about the image, message you want to send or instructions to your visitors.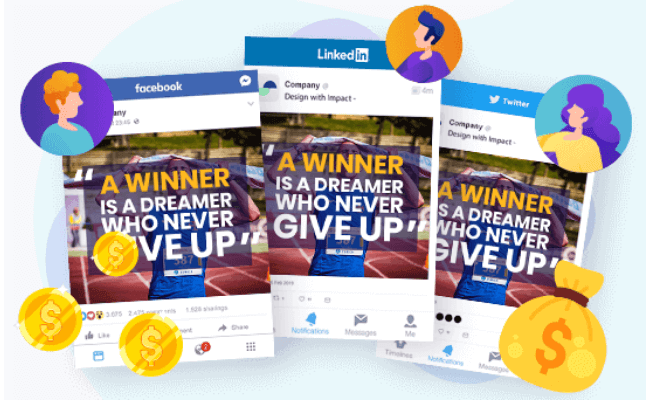 Also, Engagbot allows you to add links. You can send your traffic to your website, landing page, squeeze page, affiliate link, another social media account, and more.
In case you have a large following, it allows you to create, share, and earn faster.
But if you're a newbie, then you will have to work like crazy on the first two steps until people start linking your pages. You can't earn profits until you get following and trust.
In my opinion, promising fast profits is always a sign of a scam.
Who Is Engagbot For?
Engagbot is for anyone who wants to speed up the process of creating and sharing social media content. It's for both beginners and advanced marketers who already have 1000's of followers.
Here are some of the groups of people who could use this software:
Social media marketers
eCommerce store owners
Affiliate Marketers
Website owners
Local business owners
Advertisers
Bloggers
All in all, anyone who needs a quick and easy way to create and share engaging content on social media can use Engagbot to do so. It's a convenient tool that serves its purpose.
EngagBot Price and OTOs
Like every other digital product today, Engagbot comes with a few versions. The cheap and basic version is going to cost you $49.95 one time. If you want and need more features, you can choose to upgrade as well.
OTO 1 – EngagBot VIP ($49)
Create UNLIMITED Image Designed Content with The ULTIMATE Quote Maker And Messenger
Super-Charged 100,000 Quotes Database
30,000 Jaw-Dropping, Beautiful Images And 70 Professionally Approved Fonts
1,500,000,000 (BILLION) Unique IMAGE Content Quotes
One-Click Publishing, Broadcasting And Schedule Posting to Multiple Social Profiles With Analytics Dashboard For Social Media Activities
365 Day Hands-FREE Automation (1 YEAR quote campaigns on autopilot!)
NO Tech Or Design Skills Required
Advanced Training And Videos Included To Fast Automation
"Beginner-Friendly" Passive, Customer-Getting System
FREE Design WorkCloud Storage
OTO 2 – Engagbot DIAMOND ($49)
82 Million Automated Video Creator And Publisher
12 Million Automated And Unique Cinematic Video Quotes
50 Million Automated And Unique Stock VIDEO Quotes
20 Million Automated And Unique Abstract VIDEO Quotes
365 Days Hands-FREE Automation (ONE FULL YEAR!)
One-Click Publishing To Ytube, FB, Twitter And LinkedIn With Customer Analytics Dashboard
FREE Video WorkCloud Storage
No Coding Or Technical Skills Needed
FULL Training And Videos Included For Fast Results
OTO 3 – Engagbot PLATINUM ($49)
AUTOMATED QUIZ Maker And Publisher
AUTOMATED FACTS Maker And Publisher
Loaded with 3,000 FACTS And 1,300 Quiz Questions
Publish To Social Media, Your Sites, Store or Blog
Multi Quiz And Fact Social Profile Accounts
BRAND NEW Survey Monster Software
ZERO Server Conversion Fees
Stats, Analytics And Reporting Dashboard
OTO 4 – Engagbot AGENCY ($49)
Your EngagBot Agency With Developer, Outsourcer And Virtual Assistant License
ONE Click Design Variations
Built-In Stealth Link Cloak And Share
SELL EngagBot Videos, Cinematics And Images For 100% of Profits
Insert EngagBot Quotes To ANY MP4 Video or Image And SELL For 100% Profits
Custom Video And Image Quote Maker, Messenger And Spinner
Create Custom Quotes With Own Text And Author or Select Tags & Allow Software To Create Them For You
INSTANT Video And Image Content Design Portfolio
FULL Commercial Selling Rights
What I Like About Engagbot
One of the thing that I like about Engagbot is the simplicity of use. You can easily create content for social media using DFY templates, or even from scratch.
Here are some other things I like about it:
Easy to use
Beginner-friendly
1-click share function
Comes with DFY templates
What I Don't Like About It
One of the first things I don't like about was the sales hype. The owner of Engagbot is using a lot of unrealistic claims to sell this software. It's not a huge red flag. I've seen a lot worse sales pages than this one, but still, I don't like it.
Another thing that I don't like about Engagbot is the fact that it has limited functions in the basic version. So if you want more templates, images, etc., you will have to upgrade.
Lastly, the software is limited only to four social media channels. One of the top social platforms today, Instagram, has been left out.
Here's the summary of things I didn't like about this software:
Sales hype (a misleading and overhyped sales page)
Limited basic version
Expensive upgrades
A limited number of social media share options
Is Engagbot a Scam?
No, Engagbot is not a scam. There are some red flags mainly associated with the sales page and the claims that the creator has made about the possibilities of this softare.
However, once you scratch the surface, you get a legitimate software that could be useful if you need to automate your social media content. It's simple to use and serves its purpose.
I personally use Canva to create and share content because it's free (there's a premium version as well), it's easy to use, and it also allows you to share your content on social media easily. I see Engagbot as a fancy version of Canva, not a scam.
In other words, it is legitimate software for social media management.
Final Words
Overall, Engagbot seems to do the job when it comes to creating and sharing social media content. The main idea is to create engaging content that will make your followers engage and click on your links.
Thanks for reading my Engagbot review. I hope my analysis here was useful. If you have questions or need more information, feel free to drop a comment in the comment section below.
How I Make Money With Affiliate Marketing
Are you interested in making money online? One of the best ways to do so is called affiliate marketing.
Basically, affiliate marketing comes down to promoting other people's products and earning commissions each time you manage to make a sale.
A few years ago, I found this platform where I learned all the steps to starting a successful affiliate marketing business.
I followed the steps and today, I earn a consistent passive income online!
Click the button below to learn more!
THE BEST WAY TO MAKE MONEY ONLINE IN 2023 >>