Hi, and welcome to my Freedom With Writing review.
A freelance writer is a legit job because you can earn decent money from it. You can also find a lot of writing job offers for free on the web.
However, becoming a freelance writer is not as easy as you think because you have to check your words, grammar, speed, and more.
So you have to practice first before you apply for a writing job.
Now, the question is, is Freedom With Writing a legitimate online job website for writers or a scam?
Let's find out!
Throughout my Freedom With Writing review, you can rest assured that you will get an honest and unbiased review from me.
In this review, we will try to answer all your questions. It should give you a clear understanding of Freedom With Writing and see if it is worth joining.
Freedom With Writing Review – Overview
Product Type: Freedom With Writing
Owner: Jacob Jans
Price: Free
Recommended?: Read my review and find out
Overview: Freedom With Writing is a free job listing website that acts as a middleman.
They don't offer direct work. Instead, they pull listings from the web and bring them to your attention through their website, blog articles, and email mailing lists.
They cater to entry-level writers with decent writing skills, but freelance writers that have experience can also find potential leads.
While they offer higher-paying jobs occasionally, the competition is fierce for these positions.
The site can serve as a good for getting clients to work directly with and earn more money.
Like I said, freelance writing is a legit job, but there is a much better way to make money with your writing skills.
So what I want to say is that Freedom With Writing is legit, but I'm not recommending it because there are better ways to make money online.
Keep reading my Freedom With Writing review to learn more before you make your own decision.
Alternative: If you're a newbie who is looking to earn passive income online, there are other, more beginner-friendly, and cost-effective alternatives. My top-rated affiliate marketing course has helped me to go from earning $0 to $100's per day!
THE BEST WAY TO MAKE MONEY ONLINE IN 2022 >>
What Is Freedom With Writing?
Freedom With Writing is a free website founded by co-owner and editor Jacob Jans.
It is a website where writers can sign up to get job listings and other information by email.
The listings themselves are not limited to blog articles or even online sites.
Instead, they open the door to other possible work, including literary journals, magazines, and publishers are looking for a new author.
Also, if you want to publish your book, Freedom With Writing can help you with that.
You will also get tips on manuscript submission and pitching magazines.
Those who subscribe to the mailing list will also get a chance to check out free eBooks on different topics.
The site is good, but the question is, is the right online job for writers? Or is there a much better one?
Let's find out!
Related Review: High Income Copywriter
Who is Behind Freedom With Writing?
The person behind Freedom With Writing is Jacob Jans.
Upon my search, I find out that Jacob has a LinkedIn account, but it seems that he is not very active on this website.
I also found out that Freedom With Writing has a Facebook page, and it is still active to this day, which is good.
You can learn a lot about Jacob online with a little bit of research. 
Jacob studied Creative Writing at Western Washington University and studied at Vancouver School of Arts and Academics. 
In addition to Freedom With Writing, Jacob runs an online class for writers and manages a handful of other websites. 
If you want to contact Jacob and his team, you can respond to their emails.
I also found out that he hosts the Paid Writing Opportunities Hosted by Freedom With Writing group on Facebook and posts regularly. 
All of these point out that Jacob is a real deal and his Freedom With Writing is a legit platform. Let's keep this review in motion to learn more…
How Does Freedom With Writing Work?
On Freedom With Writing website, you won't see any signup or register button. The only thing that you will see is a subscription.
Once you subscribe to their website, Freedom With Writing will send you reviews of freelance writing sites or companies to help you find a writing job.
Not just that, once you are in, they will send you free ebooks, case studies, writing tips, and a lot more through email.
Those things that they send you will be valuable to your writing job.
Upon my search, it says that they will send you one email per week, and you will not receive any spam emails from them.
Subscribing is easy. All you need to do is enter your email.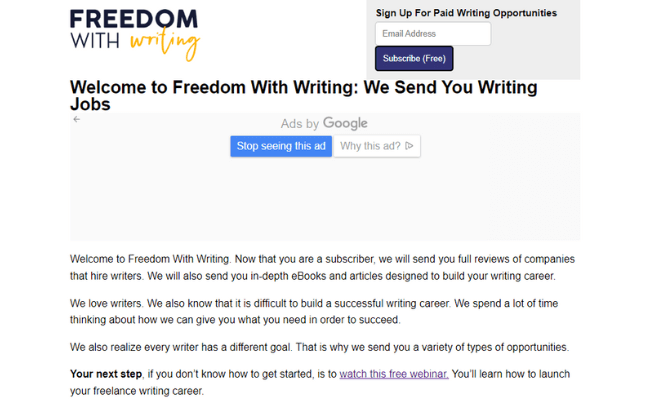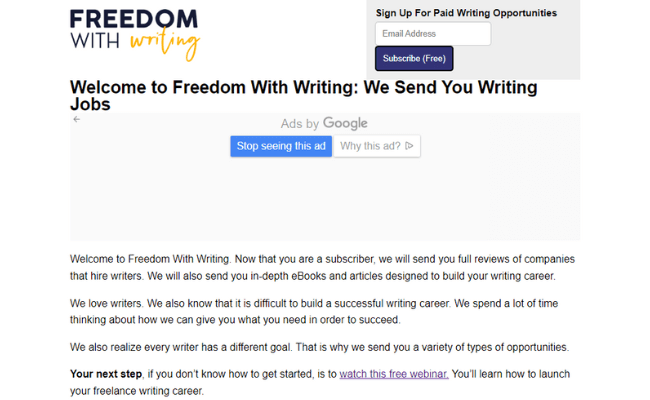 As for your email, it is up to you which one you prefer as you can either create a second email for your subscription.
Once you are in, they will send you a welcome email, followed by one email per week.
You will also get details about companies and publishers who are hiring and looking for writers.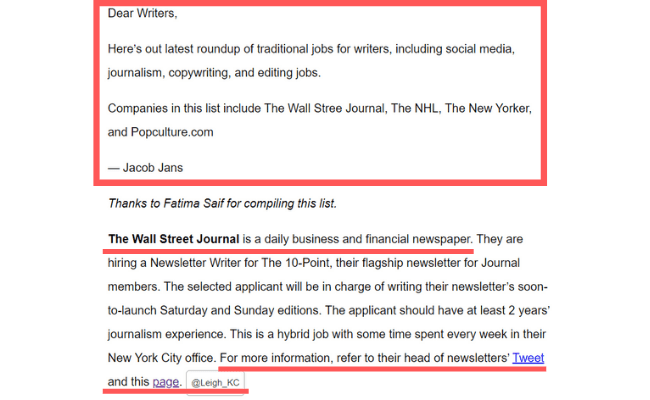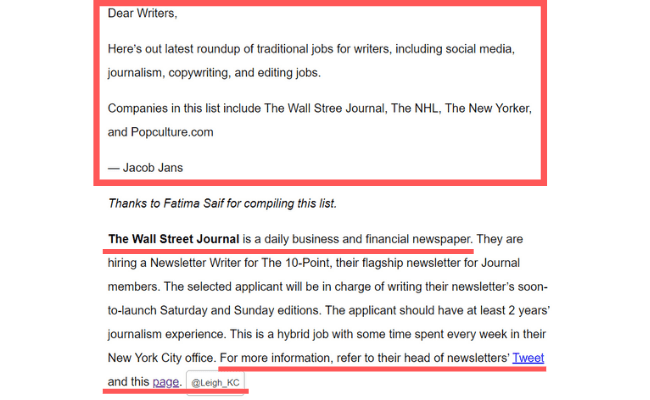 You will get complete information about that job, like the pay and submission guidelines.
It also says that if something changes, they guarantee that they will not refer you to other writing gigs that charge fees.
All the jobs you will get here are writing jobs and nothing more.
The books they send will be helpful tips and advice to writers who are not date-sensitive.
You can also write for Freedom With Writing as you will see a link called "Do You Want to Write For Us" that was included in the email, leading to submission guidelines.
Can You Really Make Money Here?
Now, they don't really hire people to write. However, the jobs offered by Freedom With Writing can make you money if you follow all the steps to sending out your information.
Freedom With Writing is open to all beginners or experience.
However, the only difference is that the more experience you have, the further the job leads will take.
Now, it doesn't mean that beginners can't make money.
You have to put more effort into it upfront to show a potential job lead you have the communication skills to complete the job.
Now, the question is, how much can you really make here?
That depends on the job because some clients will base their payment on your experience, so the more experience you have, the higher your amount.
A basic article will pay you $20-$25, but that depends on the client.
There is a possibility that the client will include your name, which could lead you to more work in the future.
Again the pay will depend on the clients as some will pay you per word and some will pay you per article.
The only difference here with Freedom With Writing from other online job websites is that you can't put your desired rate, which is sad, though.
Still, you are getting paid, which is good, but that only depends on the client and your experience.
Writing every day will help also develop your skills and increase the odds of getting more jobs.
The more you write, the more you continue to improve.
Related Review: Write App Reviews
Freedom With Writing Reviews Online
Freedom With Writing is one of the few make-money websites that does not have reports of problems or scam allegations. And I need to confess, this amazed me.
Lots of people are searching to discover if Freedom With Writing is a scam, but nobody is asserting that it is. Still, scepticism persists, and I realize that.
One reason is that it's totally free to join. The creator of the website generates income via advertising and marketing, which is great.
One more thing Freedom With Writing might be thought about as a scam, or at least related to a scam, is that they market third-party writing possibilities.
Flexibility With Writing currently has more than 300,000 fans on its Facebook web page. They likewise have substantial interaction on their page and regular messages.
Some scam websites likewise have considerable interaction on their social media site pages, however, it's typically in the form of issues concerning it being a scam. That's not the situation below.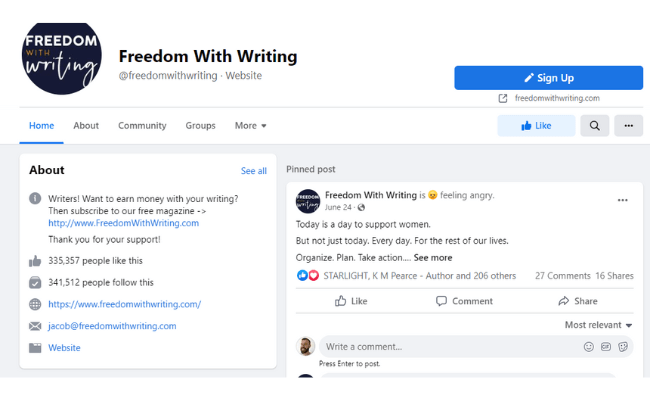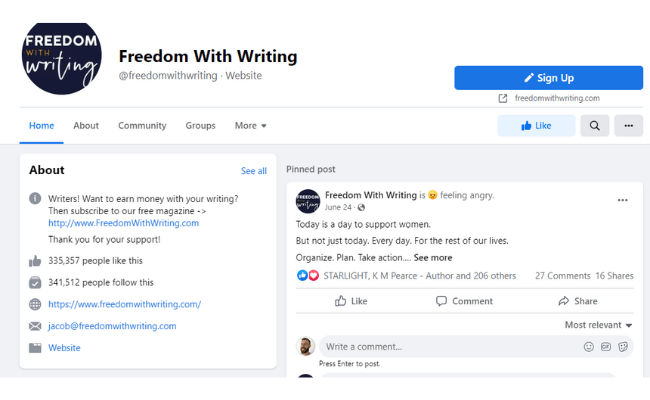 If Freedom With Writing were a scam, they would certainly either have similar issues or a much smaller-sized online visibility to decrease the variety of discussion forums where complaints could be made.
It's as simple as that. Now, let's answer one of the most popular questions in this Freedom With Writing review…
Is Freedom With Writing A Scam?
No, Freedom With Writing is not a scam. You see, the website has been around for a very long time.
It is a legit website run by a fellow freelancer whose aim is to help other people start their online writing careers.
Freedom With Writing is an online website that sends out to you the companies looking to hire writers either full-time or part-time.
The good thing about this website is that it is free and not just that they also run different freelance writing contests throughout the month where you will get a chance to win up to $5,000, which is pretty neat.
You might wonder how Jacob makes money from this website and how he pays for it since he doesn't charge you a monthly membership fee.
That's because the website hosting and other running costs are covered with revenue generated from advertising.
All in all, Freedom With Writing is ok but compared to other websites like Upwork, I prefer to go to either of those websites because you can charge them rates that you like.
Unlike Freedom With Writing, the pay will depend on the client and your experience.
You are still welcome to try this one out since it is free.
Alternative: My #1 recommendation is a top affiliate marketing course that helps to build a successful online business from scratch! I used this exact system to go from $0 to earning $100s per day! Learn more below!
THE BEST WAY TO MAKE MONEY ONLINE IN 2022 >>
Freedom With Writing Review – Pros
Freedom With Writing offers a lot of helpful information. While created with new writers in mind, more advanced writers can still benefit.
The website is free to join, and all you have to do is subscribe to their website, and you are in.
All Freedom With Writing job opportunities paid another high selling point.
There is a variety of available work on this website, which means there is something for everyone.
Freedom With Writing is not a scam.
Helpful tips, advice, and resources are sent directly to your email.
Good engagement and participation on their Facebook page and related groups.
Recommendations to contests where you can earn money per article.
Freedom With Writing Review – Cons
No training, although that is not what Freedom With Writing is supposed to be.
Freedom With Writing's website looks a little outdated.
The disadvantage of Freedom With Writing is that the jobs are not exclusive to the site. It means they draw in freelance Writing leads from other online sources and offer them to their audience. This means you are stepping into other writers who are full-time freelance writers with a lot of experience.
Related Review: Write To 1K
Do I Recommend Freedom With Writing?
So the question is, do I recommend it? Yes,  I recommend it, but you still have to be careful and see how much they will offer you because some will lowball you, especially new ones.
Overall, Freedom With Writing is a good resource. No, it won't make you rich, but you can make some money on their website.
For those who are interested in starting a freelance writing career, Freedom With Writing might be a decent website to start with when searching for a writing job.
However, is it the best website to find a writing job?
No, suppose you're serious about becoming a successful freelance writer on your terms.
In that case, I recommend you find an online job website like Upwork where you can rate yourself and find a decent writing job on your own.
There are a lot of online writing jobs out there, and all you have to do is search for them.
Spending hours for dollars on writing eventually causes many freelance writers to burn out. Well, it's true though because I have been there.
So, would you rather create a legit passive income stream instead, one that frees you from the plague of all freelancers?
You know, you can put all your writing skills to better use through blogging or affiliate marketing, by promoting other companies products and services in exchange for commissions.
The business model helps you to create investments for yourself websites that can later be sold for money once they are profitable.
You definitely can't say that about freelance writing, that's for sure!

Final Words and HONEST Recommendation
Now you know what Freedom With Writing is and why the website is not a scam.
Freedom With Writing is a website that gives freelance writers valuable resources, tips, advice, and job opportunities.
Like every program or course, what they offer may work with other people and not work for others.
Some writers may get published after reading their free resources, while others don't.
So it will depend on the person using the learning and opportunities they might find from Freedom With Writing to make money or become a better writer.
The bottom line is this: no program can guarantee success, but Freedom With Writing might help you get there if you put in the effort.
Thank you for taking the time to read my Freedom With Writing review.
If you have any questions? Feel free to leave a comment in the comment section below!
Related Review: Writers Work
Is There a Better Way To Make Money Online?
I know how hard it is to trust websites these days. There are too many scams out there, especially in the make-money-online world. I know, because I reviewed over 600+ sites so far!
See, Freedom With Writing is just one of the many online companies I have reviewed…
While searching for the best ways to make money online myself, I bumped into a program that helps you to start making money online in the best way possible.
It is a 100% legit course that helps people to create a successful affiliate marketing business.
Keep reading for more info…
How I Make Money With Affiliate Marketing
The program that I recommend as my #1 solution for making money online with affiliate marketing is based on a 100% proven and tested system.
The best thing about this method is that it is passive in terms of results and income.
In other words, you could be earning an income from your site for years and years to come because this method is so POWERFUL and overlooked by many marketers.
Just take a look at commissions that I earn passively all thanks to affiliate marketing.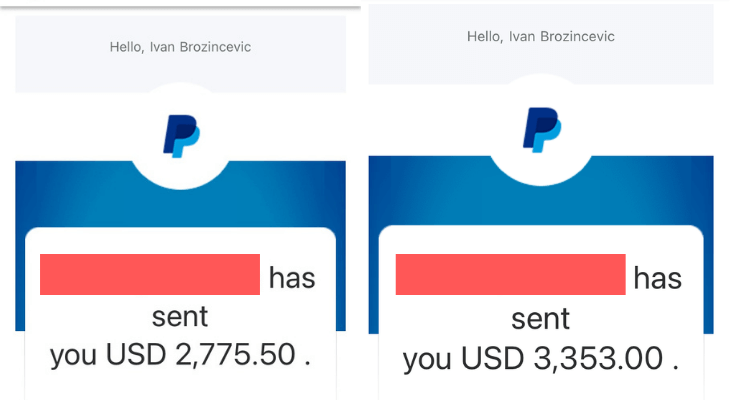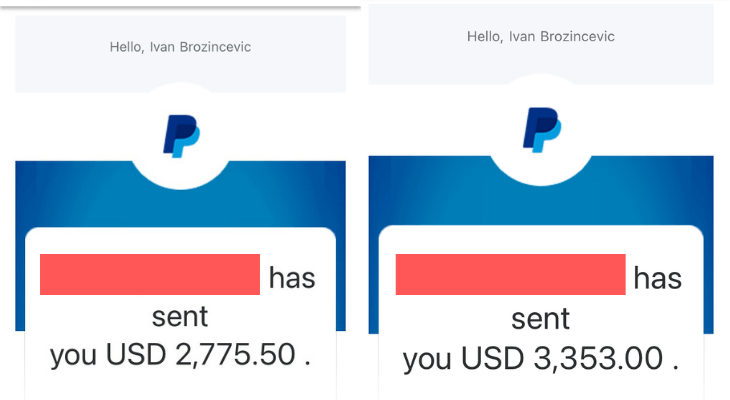 If you want to learn more about how you too can start making money online with affiliate marketing, click the button below!
After evaluating over 600+ programs on the web, my conclusion is easy. This is the best course to learn about ins and outs of affiliate marketing.
And if you're looking for the very same, click the button below!
THE BEST WAY TO MAKE MONEY ONLINE IN 2022 >>
And don't forget to share this Freedom With Writing review with your friends and family!
All the best, Alex. contributor @freeaffiliatemarketingbusiness.com
Related Review: Write Your Way To Freedom