Fullstaq Marketer Rating:

Fullstaq Marketer Review:

Fullstaq is a course for making money with affiliate marketing. However, it can be expensive due to hidden upsells and tools, and has a low success rate. It may not be the best approach to making money online.
FullStaq Marketer claims to be "the world's greatest internet marketing training". The program was launched by Keala Kanae, who claims to have made millions using the same strategies he teaches in the program.
But is it all it's cracked up to be? Or is Fullstaq Marketer a scam?
Kudos to you for doing your own research first! It's true, scams are all over the place, so it's important to be cautious before investing your hard-earned money in online courses.
To help you with those questions and learn more about whether Fullstaq Marketer is legit or not I advise reading the rest of this post.
In this review, I'll explore the program's features, benefits, and drawbacks to help you make an informed decision about whether or not Fullstaq Marketer is the right choice for you.
I have also created this short video review to help you learn more…
Is Fullstaq Marketer A Scam?
In my review, Fullstaq Marketer is not a scam. It is a legit online learning platform that specializes in teaching digital marketing skills. They offer a wide range of courses that cover everything from funnel building and PPC to social media marketing and email campaigns.
Despite this fact, I don't think that it is worth your time or money. Here is why…
Fullstaq Marketer is a high-ticket and self-marketing scheme.
In other words, the program is essentially just a way to get you to buy in and invest in expensive upsells and tools with the goal of promoting the same scheme to others in order to earn commissions at their expense.
Pyramid scheme/MLM vibes anyone?
While there's nothing inherently wrong with this system, it's the way that it's presented and executed that's problematic.
In other words, Fullstaq Marketer is overpriced and lacks transparency, which are huge red flags in my book. It should genuinely help you to start a real online business. Not drive you to do their marketing for them.
Keala has already failed once with AWOL Academy, which was an exact copy of Fullstaq Marketer. I wonder if it will go down in flames like its predecessor, or if Keala will learn from his past mistakes…
The good news is that Keala teaches a legitimate affiliate marketing system within the Fullstaq Marketer. This means that you can make money with it (more details will be provided in my forthcoming review).
So, while Fullstaq Marketer may technically be legit, it definitely has its problems. I personally don't recommend it since I know about a much better way to earn a living online that's been working well for me over the last 5 years!
Do You Want To Build a Successful Online Business? Are You Tired Of Overpriced Schemes Like FullStaq?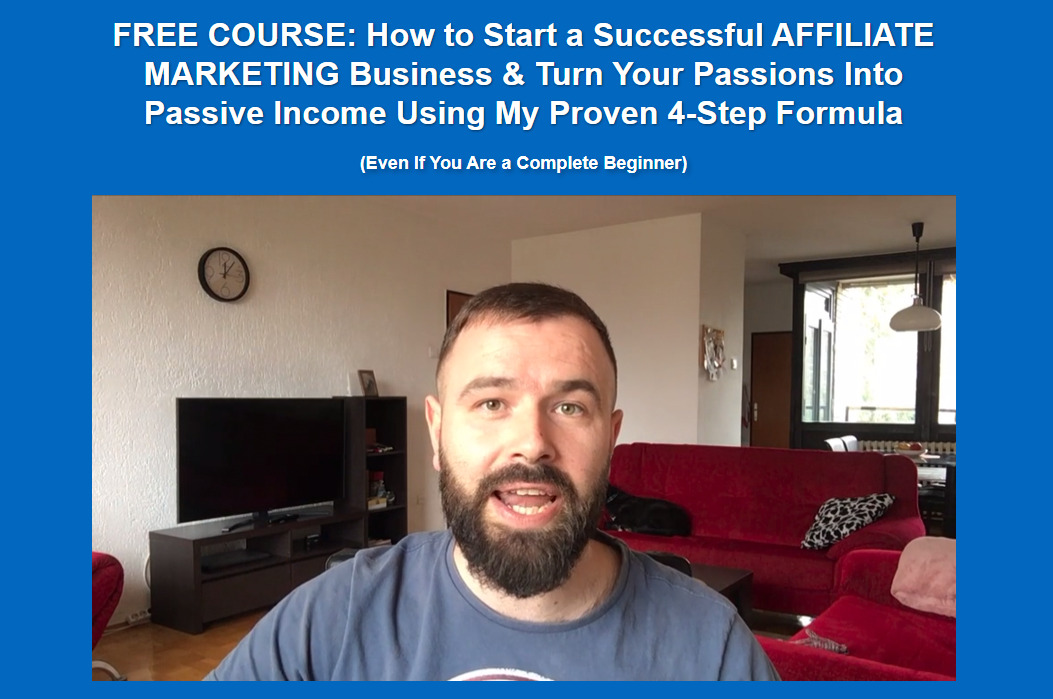 What is Fullstaq Marketer?
Fullstaq Marketer is an online training course that teaches you how to use paid advertising on social media for affiliate marketing and making money. It is claimed to be the greatest internet marketing course globally, according to its official website and creator.
Fullstaq Marketer consists of four courses:
Fullstaq Accelerator
Traffic Labs
Conversion Labs
Master Labs.
Additionally, there is Fullstaq Pro, which includes four more courses:
83 Winning Subject Lines
Email Marketing Pro
List Launch Pro
Mind Control Hacks
Details about the pricing of these courses are not revealed. You will have to contact the FM team to get more info. However, I managed to dig out some details (see the pricing section of my Fullstaq Marketer review).
How Does Fullstaq Marketer Work?
FullStaq Marketer works by teaching you how to build a successful affiliate marketing campaign online and earn commissions by promoting other people's products and/or services.
However, in real life, FullStaq Marketer teaches you how to promote FullStaq Marketer itself. Just like Keala's previous scheme (AWOL) was doing too.
The way it works is simple: you sign up for the program through the Business Launch Challenge, accept all the phone calls from coaches and do what they say, which is to invest through all the upsells and tools.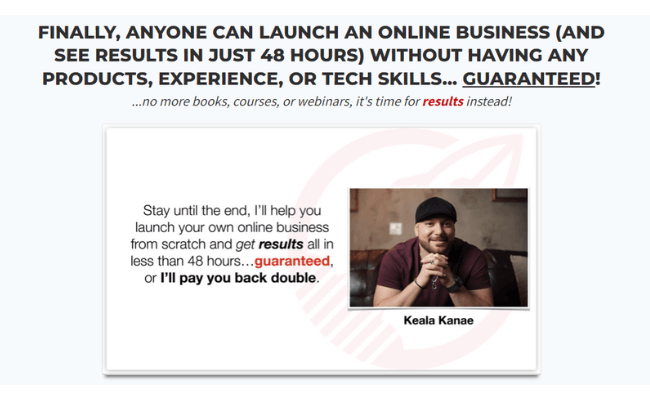 And then, your mission is to find more suckers to do the same so that you can earn commissions.
The good news is that you'll have access to a variety of marketing tools and resources that you can use to promote the program. These include email templates, social media posts, and other promotional materials.
The idea behind FullStaq Marketer is that by promoting it to others, you can earn a commission for every successful referral. The commission structure is based on a tiered system, where you earn more money the more referrals you make.
While FullStaq Marketer does offer some training on affiliate marketing in general, it's worth noting that the focus is largely on promoting FullStaq Marketer itself.
This can make it a less appealing option if you're looking to promote other products or services.
It's also important to note that some people have criticized FullStaq Marketer for being a bit misleading or scammy. Specifically, some have taken issue with the fact that the program doesn't make it clear upfront that the focus is largely on promoting FullStaq Marketer itself.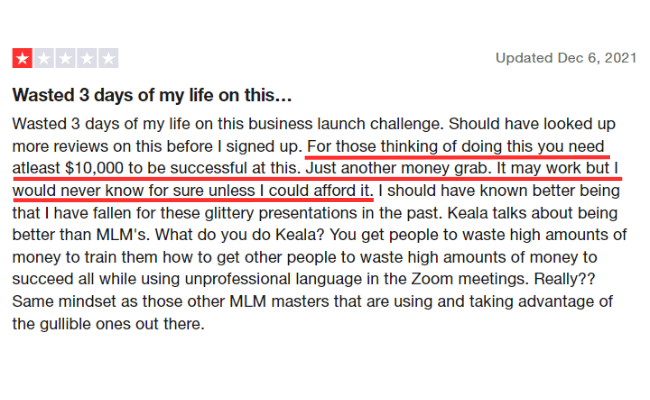 Overall, FullStaq Marketer may be a viable option for those looking to promote the program specifically. But if you are interested in starting your own online business, this program is not recommended (see my alternative instead).
RELATED: Best Way To Make Money Online For Beginners
Are Fullstaq Students Getting Results?
As I delved deeper into the claims made by FullStaq Marketer, I was intrigued by the testimonials of students achieving amazing results. However, I couldn't help but wonder if these results were current and verifiable.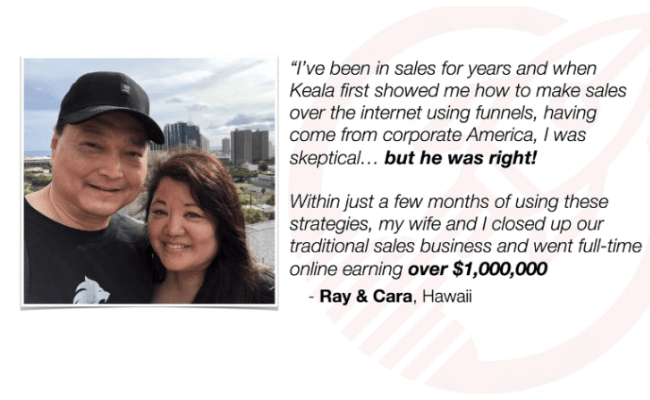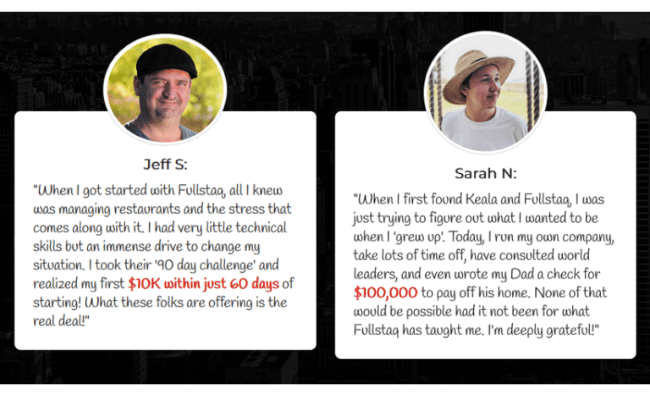 After digging deeper, I discovered that although the results highlighted in the sales materials are impressive, there isn't clear information about when they were achieved.
Also, I couldn't find any online presence for these students besides what the training program presented. Pretty strange, right?
While it's possible that these results are valid, the lack of solid evidence to back them up raises some doubts. I can't confirm the truthfulness of these claims, but I suggest being cautious and sceptical when approaching such assertions.
How Much Does Fullstaq Marketer Cost?
The Business Launch Challenge is listed at $39, which seems reasonable considering what it offers. However, the FullStaq Accelerator program is listed at $99, which still seems affordable given its supposed benefits in helping you scale your business.
But here's where things get murky.
It appears that there are several upsells that are not explicitly advertised on the FullStaq Marketer website. In fact, it seems like these upsells are only revealed once you sign up for the program. And the cost of these upsells can go up to a staggering $15,000+.
It's concerning that FullStaq Marketer is not transparent about these upsells, especially when they claim to value honesty and integrity. This lack of transparency raises red flags and makes me question the program's legitimacy.
I know I've said that Fullstaq Marketer is legit, but I hate when they do this…
RELATED: Best Way To Make Money Online For Beginners
What I Like About Fullstaq Marketer
There are a few things that I like about Fullstaq Marketer. Below is the breakdown of the things that Keala Kanae is doing good with this course.
Keala is a real person
Scams often use fake owners and names, but that's not the case with Fullstaq Marketer.
Keala Kanae is a genuine person who has achieved substantial success in affiliate marketing. While I don't have the exact figures of his earnings, I can confirm that he has made money through affiliate marketing.
You can even find him on YouTube, where you can follow his content for free.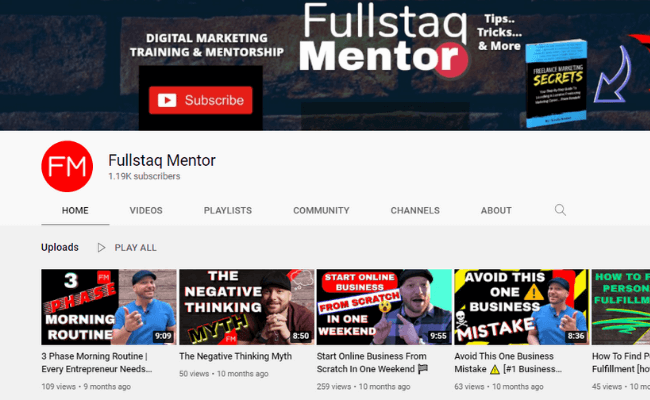 So as a member of this program, you can be sure that you will be learning from a person who knows a lot about online marketing. I said he's a "guru," but I can't deny that he knows the business.
You get some valuable training
If you choose to purchase Fullstaq Marketer and team up with Keala Kanae, rest assured your investment will not be totally wasted.
Inside this program, you will have access to step-by-step training that will teach you how to make money online using sales funnels, traffic techniques, and high-ticket affiliate marketing.
The Fullstaq Marketer course is based on legit methods
Probably the best thing about Fullstaq Marketer is the fact that it is based on workable methods. As you go through the course, you can learn how to leverage affiliate marketing to earn an income online.
In my opinion, affiliate marketing is the best way to make money online.
What I Don't Like About Fullstaq Marketer
In this section of my Fullstaq Marketer review, I will discuss some aspects that I don't like about Kanae's course. It strongly reminds me of the AWOL Academy, which is not a good thing.
Limited training on promoting anything other than FullStaq Marketer itself
What I don't like about FullStaq Marketer is that the training is incredibly limited when it comes to promoting anything other than the product itself.
As someone who is interested in marketing a variety of products, this has been a major disappointment for me.
The lack of diversity in the training program means that you are not able to develop skills that would allow you to effectively promote other products. This limits your ability to be successful in the field of marketing and can be extremely frustrating at times.
There Are a Lot of Hidden Costs and Upsells Inside
Keala Kanae makes it seem like you'll learn everything you need by paying $99. Unfortunately, this couldn't be further from the truth.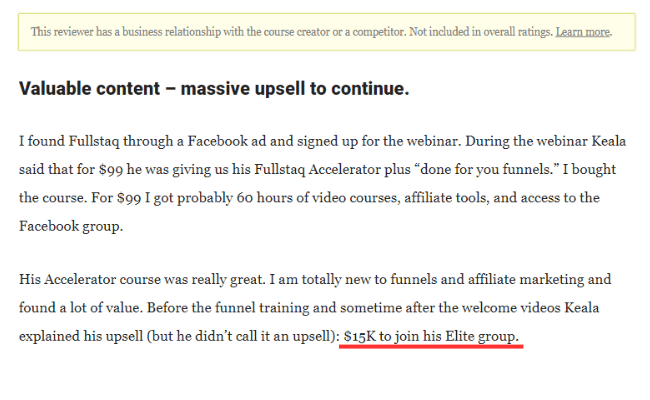 The price serves as a teaser to draw you into the concept, but it doesn't provide enough training on setting up ads and other aspects. Similarly to AWOL, you'll need to spend more money to complete training.
This way of doing business strikes me as unethical.
Fullstaq Marketer is Based on Paid Ads
Even if you pay for those upsells, it still isn't enough. Let me explain. You have to use your own money to pay for the ads, which means you'll be spending a lot on them.
Paying for the traffic can bring you great leads, but it also carries the risk of a major setback. If you're new to online marketing, you'll quickly discover how many things can go wrong.
In my opinion, there are much better and more cost-effective ways to generate high-quality leads such as SEO.
Fullstaq Marketer Is a Revamp of AWOL Academy
It's clear that Fullstaq Marketer is simply a revamped version of AWOL. The former scheme failed because it featured more or less the same issue as I shared in this review.
Now, he's probably giving it another try, but with a fresh approach.
RELATED: Best Way To Make Money Online For Beginners
Do I Recommend Fullstaq Marketer?
As someone who has been in the affiliate marketing industry for some time, I have to say that I cannot recommend FullStaq Marketer as a reliable way to make money online.
Frankly speaking, FullStaq Marketer employs some questionable marketing tactics that are quite off-putting. The program's promotional material is laced with lofty promises and vague notions that make it look like a get-rich-quick scheme.
Another thing that doesn't sit well with me is the lack of clarity regarding the program's upsells.
During the BLC training, you're presented with a few options to upgrade to other programs, but there's hardly any information on what these entail, let alone how much they cost.
It's a classic bait-and-switch tactic, and it's something that FullStaq Marketer needs to address if they want to be taken seriously as an affiliate marketing program.
One major problem with FM is that you are incentivized to promote the program itself, which is not a smart idea. If it fails like its predecessor AWOL, you could lose your entire business overnight. It's definitely not a safe investment of your time, money, and energy.
Finally, most of the positive reviews I've seen of FullStaq Marketer seem to come from people who are hyped up by the BLC training but have yet to achieve any significant results.
Sure, they're passionate about the program, but that doesn't necessarily translate to success in the real world.
For these reasons, I advise anyone considering FullStaq Marketer to think twice and steer clear of it. As an alternative, there are several reputable affiliate marketing courses out there that offer comprehensive training and have a proven track record of success.
Final Words and HONEST Recommendation
After a thorough evaluation of FullStaq Marketer, I can confidently say that it is indeed a legitimate course. However, it is not a course that I would recommend to you, especially if you are a newbie.
✅ Pros:
Keala Kanae is a legit online marketer
The course teaches you legit methods
You get some valuable training
Money-back guarantee
🛑 Cons:
Focused on self-promotion
Claims of fast and easy money
Extra costs for tools and traffic
Hidden upsells inside the program
No free trial on offer
Questionable money-back guarantee
Revamp of infamous AWOL Academy
FullStaq Marketer may not be a scam, but it is a high-ticket scheme that may not be suitable for everyone. While some may find the course content insightful, the aggressive sales tactics and its focus on promoting its affiliate program could be an issue for others.
As for me, I don't recommend investing in Fullstaq.
Thank you for taking the time to read my Fullstaq Marketer review. What do you think? Is Fullstaq Marketer a scam or legit?
Is There a Better Way To Make Money Online?
I know how hard it is to trust websites these days.
There are too many scams out there, especially in the make-money-online world.
I know, because I reviewed over 700+ sites so far!
Why did I review so many sites? Well, I wanted to find the best (and cost-effective) way for a beginner to start income online.
While searching for this information, I bumped into affiliate marketing.
Thanks to a decision to learn more, I went from waiting tables in restaurants to earning a full-time passive income online.
And today, I like helping people as you follow in my footsteps…
Do You Want To Build a Successful Online Business? Are You Tired Of Overpriced Schemes Like FullStaq?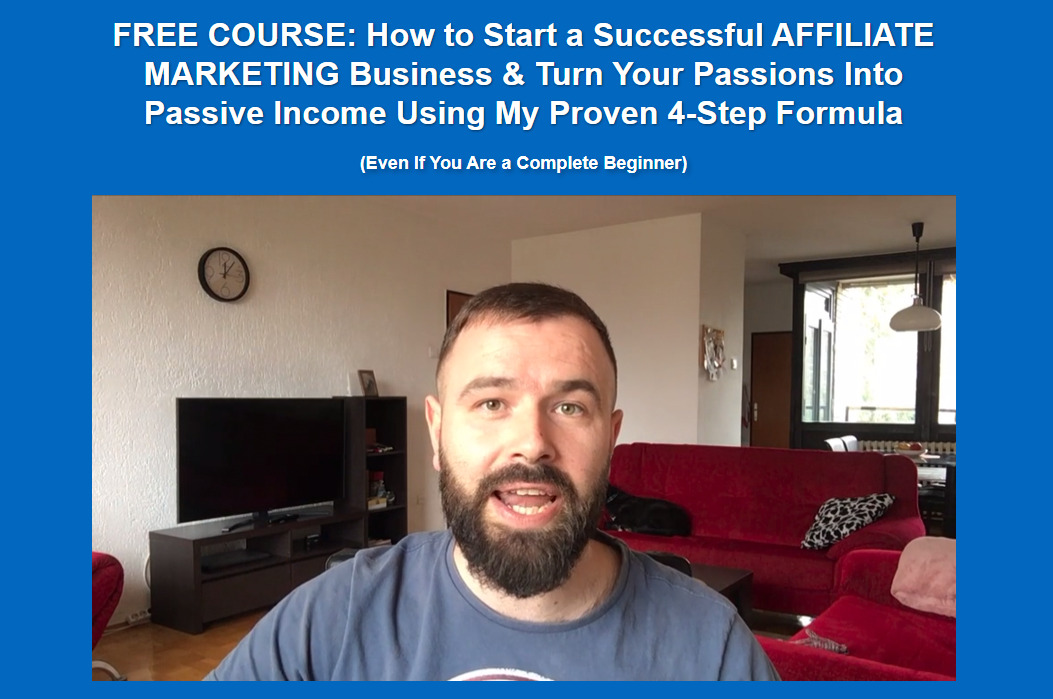 And don't forget to share this Fullstaq Marketer review with your friends and family!
All the best, Ivan.