I think that everyone wants to know how to get traffic to their website fast and easy. It can be both. Moreover, it can be an enjoyable experience to get the first visitors to your site.
Later on, things will get rolling by themselves like as a snowball. You see, once you make it right, it grows larger as long as it runs.
When I was starting an online career, I was a little bit worried about how am I going to find all the solutions to all of my questions and pressing problems by myself.
Luckily, I have found them all.
You know the one 'seek, and you shall find'? It works!
If you are starting your blogging journey, or you have some other kind of website in your mind, getting your initial traffic will be a tricky task.
With help from this post, you will have no troubles in finding the right source of traffic as from today.
In the text below we will discuss two types of traffic you can get. I will share my experience on how to get both.
On top of it all, I will show you my secret place where you can go and reach out for free traffic all day, every day!
If you are ready, let's get this party started.
Two Types of Traffic 
Getting the first traffic can be difficult for most of the beginners out there. I have been the one not so long ago.
You see, like with every other business, an online requires a fair amount of time spent in getting things done right.
Free Traffic 
Free or organic traffic is the kind that comes to your website naturally after you build your site and create your content correctly and follow some of the basic SEO practices.
Understand that organic traffic has to do a lot with following the instruction on SEO (Search Engine Optimization) practices by the letter which we will discuss after I explain these two types in more details.
If you do everything right, after some time of gestation and incubation in search engines such as Google, Bing, and Yahoo, you can start to see your content showing up on top pages of mentioned search engines. The traffic that comes naturally from those search engines is entirely free, and in most cases, it is evergreen.
For this matter to happen, it takes some time, but it happens.
Imagine you write a book. Once you finish and publish the book, you do a little bit of promotion and viola! Your work is done.
Well, not completely.
To promote your material and reach for some free traffic numbers, you can leverage social media such as Facebook, Instagram, Pinterest, Twitter, and others.
Social media is a valuable addition to your free traffic count, and it is easy to get it. Pretty much the same as with search engines, social media free traffic takes some time to happen, but it happens too.
Before you can become friends with Google, Bing, and Yahoo, and expect them to show you some love, Facebook or Pinterest can be your buddies while you wait for the 'big boss' to give you the 'green light.'
More about this topic under, 'How to Get Free traffic.'
Paid Traffic
Now, if you have some cash to spend and winning formula in your sleeve, you can start immediately to run a paid advertisement on already mentioned search engines and social networks.
All of them allow you to run ads for more or less the same money.
I have to say that running a paid advertisement is not cheap!
However, if you follow some professional instruction that I will share later or, you can get on your site a few strictly targeted visitors who know what they are looking. In most cases, they are also ready to take action, unlike visitors that will come from the organic source.
Paid traffic sources have rules similar to the organic one. You will have to follow them if you want to see some things happening. It means organizing your content to be helpful, and easy to digest by the reader in both cases.
Like every other good business owner, you should not shy away from investing a few bucks in your work.
Have you heard the one 'money sticks to money'? It works also!
If you are ready, let's quit this raw theory and start explaining how to get a little bit of both.
How to Get Free Traffic to Your Website
There are a few rules or guidelines to follow when we speak about how to get free traffic. All of them are critical and necessary. Otherwise, if you miss any, you may risk failure.
I have 'burned my skin' by not listening completely. Finally, I have concluded that the following are going to get you there pretty fast.
You don't have to make my mistakes. Instead, take them as a lesson. It will save you much time and work which is my primary objective.
1.) Understand and Use Long Tail Keywords – Low Hanging Fruit Method
What the hell is this, Ivan?! Low Hanging Fruit?
Let me explain briefly, please.
In all of the niches on the internet, the first 10-15 pages on Google go to the authority sites. However, by using the Low Hanging Fruit method, you can squeeze your site somewhere between those authorities pretty fast and, therefore, take your share of the free traffic.
The point of this method is to go one step further than the sites that hold the throne to find some long-tail keywords.
For example, if I want to rank for 'how to get traffic on your website?' keyword and I know that large players within the niche have already taken top spots, all I have to do is to be a little bit more creative than they are.
On the image below are shown Google search results for the selected keyword 'how to get traffic on your website.' As you can see the number of results is enormous, and frankly, frightening.

However, Low Hanging Fruit Method teaches you to expand the search query by adding additional terms to your keyword research.
In my example, I will go further than the rest and add 'free vs. paid' to my keyword. By doing so, my selected keyword grows a 'long tail' and narrows the number of competing websites when I ask Google the same question again.

As you can see, I was able to cut 4/5 of competition by expanding my search term and creating a long tail keyword.
It also means that if my content is high quality (I'll explain this in a few moments) and matches the quality aspect of the leaders in the niche, I am going to cut my chances to get in the top ten spots by half or more.
Also, by using Jaaxy keyword research tool, I am getting an insight into another important aspect in the Low Hanging Fruit Method. That is, I can see against how many websites do I have to compete, as well as, what is the expected traffic volume if I get it right.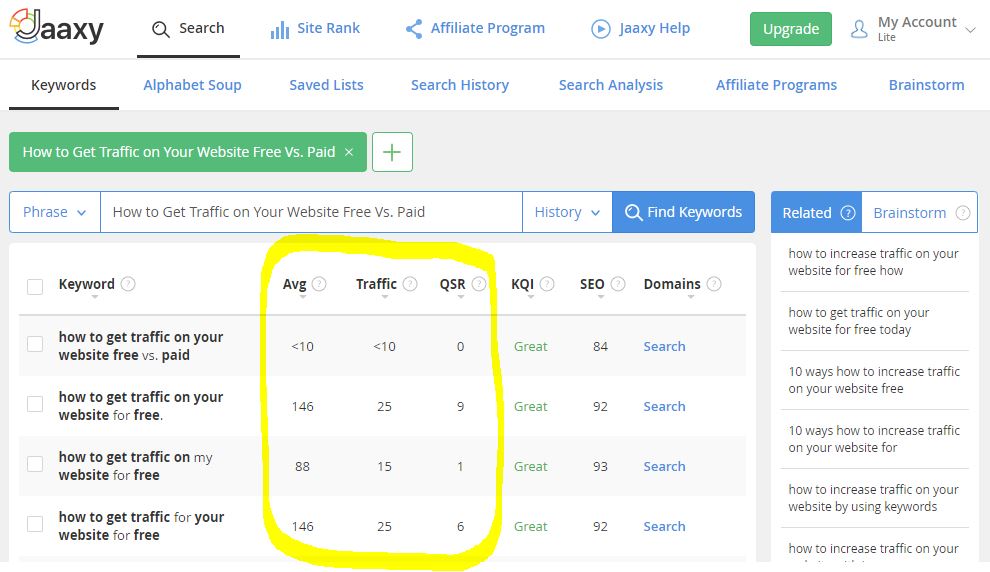 Those two pieces of information can help you rank your site fast and effective by merely understanding how do people use Google to find answers and solutions.
Quick Summary of Low Hanging Fruit Method.
How to Get Traffic on Your Website + Free Vs. Paid = long-tail keyword or low hanging fruit which is, therefore, easier to pick.
I hope you now get the name of the method.
If you have ever been in your neighbour's yard picking those sweet cherries, you know that the best tactic is to reach for the branches closer to the ground for many reasons. In the case of SEO, it means faster rankings. When stealing your neighbour's cherries, it says run fast when he sees you! 🙂
This tactic is easy, fun, and straightforward once you do it for a few times and get a mental grip around it.
By the end of this post, I will share my top-secret place where you can learn to use and leverage the Low Hanging Fruit Method for FREE. Also, you can get two websites for free, access to beginners course as well as the largest affiliate marketing community online.
It is worthy of your time, so stick with me.
2.) Write High Quality, Researched Content – Do More Than Others
While I was doing some research about how to get organic traffic on my website, I have discovered an exciting method which almost guarantees the top spots as your site matures in Google and other search engines.
If you want to 'plugin' your website to a source of a vast quantity of free traffic you will have to be willing at all times to offer a little bit more than the rest.
You see, Google and other 'bosses' will, first and foremost, show their affection to people or in our case websites that are offering the highest quality and quantity of the service.
Top Service + Top Quality = Top Position = Lots of Free Traffic
Now, the question is, how can you know how much more you have to give?
There are a few tools out there that can help you with this matter.
One of them is my favourite keyword research tool, already mentioned, Jaaxy.
This fantastic tool lets you see the 'inside stuff' of your competitors. It tells you how many words they have included in their piece, how many backlinks they have, and a lot more of the secret stuff.
All of these metrics play a significant role in SEO.
By leveraging this information, you can architect and create more than the guys on the top page. Just write more than they do, take care that your content is relevant and it helps, and as I like to say, let go and let Google.
If Google and other search engines crawl your website and find something that offers more than top ten guys, it will give you high rankings as well.
You can leverage a lot of free traffic by following these two SEO strategies.
A lot!
3.) Networking!!!
This strategy is golden, so listen carefully.
You see, by sharing your work with other like-minded individuals, you will get a chance not only to get free traffic for your site but free critique as well.
Why would I want to be criticized, Ivan? You are losing it again, man.
You see, I know how people don't like the critic, almost everyone hates it except me haha.
Therefore, here is another free advice.
When you get criticized (and you will, a lot!), perceive it as constructive — someone who knows more than you is trying to show you what can you do better. If you follow the advice, well, guess what? You will get better!
Your welcome.
Now, let's get back to networking and where you can connect with other like-minded people free of charge. In other words, get free traffic.
To get free traffic from networking, you should find a place where you can share the link to your site with other bloggers and ask them for comments. In return, you exchange your time to visit their website where you reciprocate the favour.
The benefits of this strategy are numerous. I found it to be one of the most significant discoveries in my blogging career! The one advantage is free traffic, of course. But there is more, much more.
You see, Google values sites which provide solutions, high-quality material, and interact with their visitor. It rewards those sites with much higher rankings compared to websites which don't engage their visitors to participate in the discussion.
So, how do you interact? By leaving your comment and asking a question, of course.
As promised, I will show you my secret place where to get this kind of traffic as well.
4.) Create Social Media Following and Share Your Site
Now, this one requires some external work which means that you will have to get busy on social networks and start to build some following.
This method can take some time as well. By the end of the first year, you can have a good audience outside of Google, Bing, and Yahoo.
By leveraging social media, you can create a steady base of readers on your blog. All you have to do is to keep them entertained and share your content regularly. The clicks will follow by themselves.
I won't stay too long on this one because I have no expertise yet. However, as soon as I collect some more working knowledge, I will come back and update this section.
5.) Guest Blogging and Forums
There are tens, even hundreds of blogs and forums in your particular niche where you can engage to get some free traffic.
You can start interacting with people on forums and from time to time drop the link to your site. If you follow the rules of the discussion, stay engaged and helpful, you can build a name for yourself very fast. It takes much spare time, but it is a valuable method.
Furthermore, you can reach out owners of some of the authority sites in your niche and request to write a guest post. Once approved, all you have to do is share your knowledge with their readers. The owner of the blog gets a free blog post related to his niche, and you get to leave the link to your niche site together with an open invitation to click through if they like your writing.
Both of the methods take a lot of spare time. However, the traffic is free and evergreen, and that is what we are looking to get here.
Now, before we move on to paid methods, I want to emphasize something one more time.
Stick to these four, do them one by one correctly, and there should be no problem in getting free traffic on your site.
Also, stay connected because by the end of this post I will share my secret place where you can access free traffic all day, every day. Moreover, you can learn everything that I am sharing right now in a more interactive form of video material.
How to Get Paid Traffic to Your Website
If you don't care about the paid advertisement, please skip on the end of the post because I am sharing a link to my secret place where I go and collect free traffic all day, every day.
If, however, you have some cash to spend on paid advertisement, you are welcomed to stay and continue to read because I will share some of my experience with three different sources of traffic.
I won't be thorough over here, so let's move quickly and start with the 'boss.'
Google Ads
Google is pretty straightforward. It lets you target the same keywords, by using the same methods mentioned above.
You can pay Google to rank you on the first place instantly. All you have to do is open a Google Ads account and start bidding for keywords.
In my experience, Google is expensive for beginners and more suitable for seasoned website owners. It takes a lot of time to learn and practice this method. Not to mention how much it costs to do it right.
Facebook Ads 
The best feature of FB ads is that it lets you target your audience by their interest.
So if I, for example, want to run this post as an ad on FB, I can narrow down my audience by selecting people who have shown some interest in the topic. It helps to decrease the cost of ads as well as to target more specific reader.
Pinterest Ads
If you have an extra hundred to spend per month, my recommendation is to check Pinterest ads. You can get thousands of clicks per month for that price.
My Secret Place for Getting FREE Traffic to Your Site 
For the last year or so I am a member of the best affiliate marketing community online.
Wealthy Affiliate has changed my perception of doing business online to a point where I can see things with more clarity and learn with such a speed, that it makes my head spin.
You can find there all you need to learn and master the art of affiliate marketing. Moreover, if you stick with them for one year, you will reap some great results in the end. Furthermore, you will get valuable experience with which you can multiply your success over and over again.
As I have mentioned, they have some cool stuff when it comes to getting free traffic on your website.
You can get visitors on your site in the first few hours. All you have to do is to follow some instructions they give, and you are ready to roll.
There is more, of course.
Wealthy Affiliate is a top player in the affiliate marketing training niche. They can offer you stuff that none of them can.
You can get free websites, free training, access to a vast community of affiliate marketers, keyword research tool (Jaaxy), live help, and much more!