Hi, and welcome to my Guru.
There are a lot of freelancing jobs out there you can find on the web like Upwork and Online. ph, Freelancer.com, and more.
However, upon your search, you find another freelancing website named Guru but you don't know what it is, and not just that you also don't know if it is legit.
Well, you have come to the right place because in this review we will take an in-depth look at Guru and see if this website is legit or not.
Let's find out!
I have tried and tested more than 600 courses, scams, and all sorts of schemes to find the best way to make money online.
In other words, I'm passionate about knowledge that helps to improve our lives, build a business online, and more.
Throughout my Guru review, you can rest assured that you will get an honest and unbiased review from me.
In this review, we will try to answer all your questions. It should give you a clear understanding of Guru and see if this website is worth your time.
Guru Review – Overview
Product Type: Guru
Owner: Unknown
Price: Free, then a monthly membership plan
Recommended?: Read my review and find out.
Overview: Guru is a freelance website that connects users to freelance work.
It is a legitimate website since you can get money by accepting the freelancing work it offers.
Is it worthwhile, you ask?
Before you can decide if a site is worthwhile or not, you must first grasp how it operates, and the easiest way to accomplish that is to start by looking at the earning possibilities it provides.
Alternative: My #1 recommendation is a top affiliate marketing course that helps to build a successful online business from scratch! I used this exact system to go from $0 to earning $100's per day! Learn more below!
THE BEST WAY TO MAKE MONEY ONLINE IN 2022 >>
What Is Guru?
Guru is a marketplace that connects freelancers and employers and aids in handling back-office business duties like the secure transfer of payments.
Similar to Upwork and Freelancer, Guru is a marketplace that is essential to the gig economy. However, the gig economy is still in its infancy, and many platforms are still working to get it right.
What place does Guru hold among them?
You won't find many positive reviews if you read them, but freelancers need access to several marketplaces, so I wouldn't write them off just yet.
The Pittsburgh, a Pennsylvania-based company, Guru, was first established as eMoonlighter.com in 1998. Over the years, it has encountered fierce competition, but it is still able to compete.
There is no doubt that freelancing is a terrific method to make money online (or from home in general) and it's one of the ways I've been able to replace my employment if you're looking at Guru to do so.
How Does Guru Work?
The first step is to create your username and password, which is available to freelancers who are at least 18 years old.
From there, you may select one of two memberships—freelancer or employer—each of which offers a variety of possibilities.
Bids
There are two membership options: free and paid. The main distinction between the two is the quantity of "bids" offered, which determines the number of jobs you can apply for.
Members who sign up for free are given the option to purchase an additional 10 bids each month.
20 bids – $10
40 bids – $20
60 bids – $30
125 bids – $50
250 bids – $100
Your purchased bids have no expiration date, in contrast to your monthly bids, which do not carry over to the following month.
Guru Memberships
Paid members also receive additional advantages, such as decreased fees (the percentage Guru keeps from each job), bid rollovers, more visibility in employer searches, and Q & options.
The membership plan:
Basic – Free
Basic + – $11.95/month or $8.95/month paid annually
Professional – $21.95/month or $15.95/month paid annually
Business – $33.95/month or $24.95/month paid annually
Executive – $49.95/month or $39.95/month paid annually
Additional bids are available for all membership levels.
Your Profile (Getting Jobs)
Setting up your profile is the most crucial step once you've registered and are ready to go.
This shouldn't be too challenging for you if you've done it before, but if you're new to platforms like this, take your time.
Don't forget to provide the obvious information, including the services you offer, your credentials, and prices.
Don't forget, though, to highlight your advantages, tell your tale, and use references.
You'll have a better chance of getting employed if you can make your profile more unique.
Employers want to work with candidates they can trust and who they have developed a deeper relationship with than just a list of bullet points.
Additional Costs
Guru.com charges an additional handling fee of 2.5% to the employer's invoice in addition to the job fees for freelancers, which range from 8.95% to 4.95%.
Skill tests, which are put on your profile and can help you get better jobs, are optional fees.
Basic members – $4.95/skill test
Basic + members – $2.95/skill test
All other members – Free
Additionally, Guru offers a contentious fee that freelancers can pay to get unfavorable reviews taken off of their profiles.
This has two sides and has something to do with the unfair grading system I previously discussed.
On the surface, it appears to be advantageous for independent contractors, but in actuality, it is not advantageous for high-caliber contractors that go above and beyond to differentiate themselves from the competition.
What do you have to gain if subpar freelancers (and even scammers) can pay to improve their appearance?
Additionally, it is problematic for companies that need qualified freelancers, which is a problem.
How Does Guru Pay?
There are no fixed prices because Guru is an open market.
Your compensation is determined by your proposal, the level of the competition, and the sum that your employer is prepared to offer.
But you can agree to one of four payment schedules depending on the scope and nature of the project.
Milestones – It's wise to divide up long projects into smaller segments and to include due dates and explanations for each one. Every segment should have a specific pay rate that can be adjusted if the project changes during the process.
Tasks – One invoice might be sent out for several smaller projects or several unrelated jobs.
Hourly – It might be difficult for a freelancer to negotiate hourly rates with new clients who don't know you or your work. Hourly jobs, however, can offer relatively predictable revenue for clients that have a history of doing business with you. Weekly invoices are issued for hourly agreements.
Recurring Payments – You can agree on a fixed payment amount per week, month, etc. that combines milestone payments with hourly payments.
Guru Payment Transfer Methods
By using its Safe Pay method, Guru makes sure companies have money for projects before you start.
In principle, this should give you peace of mind knowing you'll get paid, but employers still have to confirm those payments, which has been the source of many complaints.
Fairness dictates that every argument has two sides.
I don't think it's wrong for freelancers to complain about not getting paid, but I also don't think it's wrong for employers to do the same.
Others may have valid concerns about the quality of the work, while other businesses may be out to take advantage of people.
Guru provides four different transfer methods to receive your money.
Direct Deposit (US banks only)
PayPal
Payoneer Mastercard Prepaid
Wire Transfer (To Non-US Banks)
Guru Reviews and Red Flags
If you were to judge Guru solely by its features, you may conclude that it functions like a well-oiled machine and has all the capabilities you'd want in a freelance marketplace.
Sadly, a large number of the reviews are unfavorably biased.
In this case, what is happening?
To be clear, these criticisms come from people who have used Guru, not from me.
Guru red flags
Low compensation, with freelancers competing on price and too many businesses seeking out the lowest possible rate.
There are several problems with people being unable to withdraw their money, which is a really serious issue.
Customer service is slow to respond.
As previously indicated, the rating system is inaccurate; some scammers even receive 5-star reviews.
Nevertheless, there are a few things to note.
Since reviews of the positive tend to be few and far between, it is reasonable to conclude that the majority of Guru members are content with their purchases but choose not to leave feedback.
Not all reviews are negative, though.
Guru Positive Review
Other people who have applied for the same jobs as you, as well as seeing who was hired.
Before submitting an application, make direct contact with potential employers.
The Safe Pay mechanism ensures project funding.
Is Guru A Scam?
Guru is not a scam. It is a legitimate freelance site where you can earn money by doing freelance work.
It has a few positive aspects, but it also has a few flaws that you should be aware of.
You are not limited to a particular platform if you operate from home as a freelancer.
Guru might not be the finest one available, but you can join for free and develop your own conclusion.
In the end, it's more important who the client is than the platform, as long as you're getting paid, and their rates are comparable to those of other freelance websites.
This is a Guru problem that cannot be disregarded.
The last thing you want is to work on a project for hours and then fail to produce anything.
Guru.com wouldn't even exist if it were true that it was occurring to everyone.
What I Like About Guru
Free Membership
Good for freelancers
Ability to build long-term relationships with clients.
What I Don't Like About Guru
There are a few red flags
A lot of competition and a race to see who was the cheapest.
It will require you to shell out some cash
You won't be able to start earning right away
Final Words and HONEST Recommendation
In my opinion, Guru is a respectable freelance marketplace. It's not the best, but it's also not all that horrible.
I enjoy that there are many jobs accessible and that there are easy ways to be paid.
However, if you're interested in joining this site, be prepared to part with some cash because, even if you select the free membership plan, you will still need to pay (for account verification) to begin earning.
Thank you for reading my Guru review.
Do you have any questions? Want to share your experience and reviews of Guru?
Feel free to leave a comment in the comment section below!
How To Start A Legitimate Affiliate Marketing Business?
If you're looking for ways and means to start a legitimate affiliate marketing business to earn an income online, you should check out my top-rated program first.
The program that I recommend on the next page has helped me to reach the status of an online entrepreneur in a short period, and I'm confident it could help you too!
I went from struggling marketer to earning $100's per day promoting ANY products I choose and I want to show you how you too can do the same.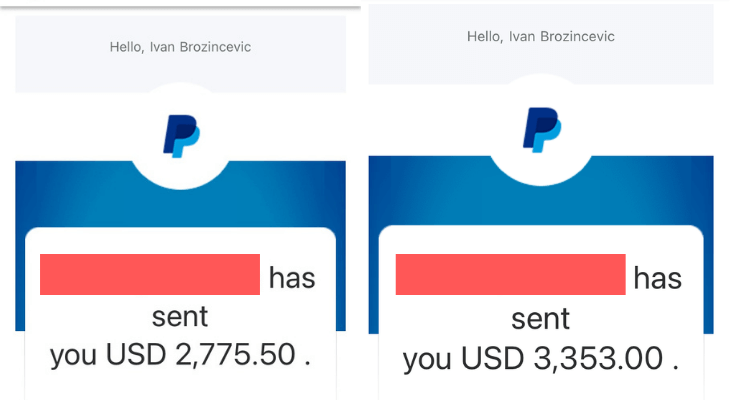 Among the best features of my # 1 ranked course is that you can start for free. You will get one complimentary site and access to the very first ten lessons from the course to try things out.
Furthermore, this program is in fact all-in-one. You get everything that you need to make money online.
This consists of detailed training, all the very best tools, hosting and websites, live assistance, community aid, technical assistance, one-on-one coaching, and so much more!
After evaluating over 500 programs on the web, my conclusion is easy. This is the best method to make money online.
And if you're looking for the very same, click the button below!
THE BEST WAY TO MAKE MONEY ONLINE IN 2022 >>
And don't forget to share this ApperWall review with your friends and family!
All the best, Alex. contributor @freeaffiliatemarketingbusiness.com