Hi there! Welcome to my Loop-It review.
I received an email from Jason Fulton the other day to try out this brand new method.
I clicked the link, and it took me to Loop-It sales page.
So I jumped in, and today, I want to share my opinion and review of this weird method that makes Jason and Aidan 100's of dollars over and over.
I'll show you how the method works in real-life (no sales page BS).
And on top of that, you'll get to take a look inside and a set of pros and cons.
I am a real member of Loop-It, and I base this review on my personal experience with this product.
Shall we?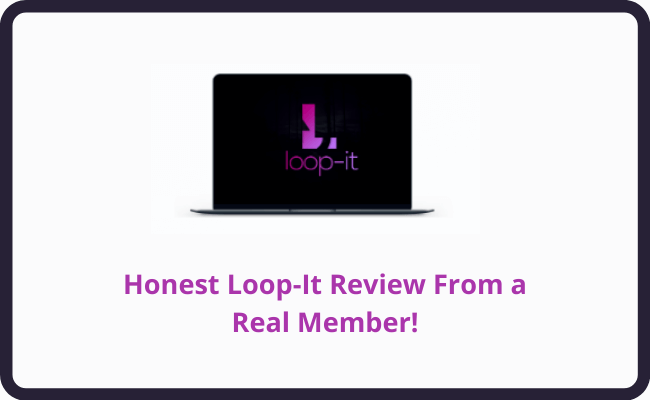 If you are looking for a legitimate and proven way to make money online, make sure to click the button below!
THE BEST WAY TO MAKE MONEY ONLINE IN 2023 >>
What is Loop-It About?
I haven't said anything at the top of this review, but Loop-It is not exactly the most precise offer on the internet. It is a legitimate method, but the sales page is very shy on the information.
Why is that so?
Well, Jason and Adian have got a lot of these weird methods and loopholes. They are very skilled at marketing, that's why.
In other words, curiosity sells everything, and they know it.
But the good news is, Jason and Adian are two legitimate professionals too.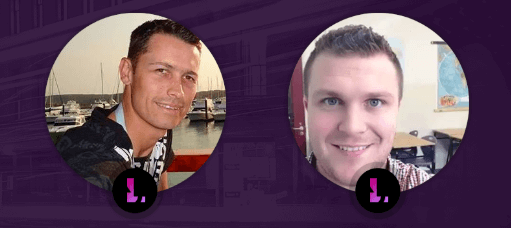 In reality, Loop-It is a method based on affiliate marketing. This method is legitimate, and it works.
But is it good enough to work for you?
Well, here's a short version.
Guys will show you how to attract customers via Facebook, and how to use these short videos to get them to your sales page.
And if everything goes well, you should earn commissions.
Now, another question is, is this going to make you $ 100's per day over and over again?
The truth is, it's more than possible—however, more about this in the second half of my Loop-It review. Let me show you what will you get with this product first.
Related: What is Affiliate Marketing – Affiliate Marketing For Beginners
What You Get Inside
Unlike with some other products from Jason and Aidan, Loop-It contains a lot of information and looks very interesting. You get access to the training videos and support.
Also, you can take a second look at some upgrades too. But more about this as well in the later parts of this Loop-It review. Let's focus on the good stuff first.
As a member, you get a set of ten training modules (all in video format) and three case studies (videos as well).
Below is the screenshot of the member's area.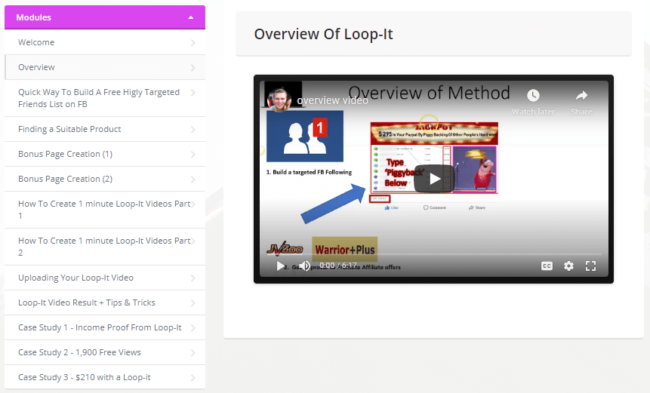 Also, you get access to a private Loop-It Facebook group. Here you can join other members to chat and ask for help if needed.
The private group is always a welcomed feature.
On top of that, you get support, and you can even friend Adian on FB to request a few bonus case studies and tricks he's willingly sharing with all members.
How It Works In Real-Life
Now, let's get back to the part where I was talking about how Loop-It method works. You already know that it's all about affiliate marketing.
But what is affiliate marketing?
Let me ask you this.
Have you ever recommended something to someone? Maybe a restaurant to a friend, or something like that?
Well, if you have, then you know how Loop-It works. It's all about finding the products that are useful and high-quality, creating promotional campaigns for those products, and earning commissions for each sale that you make.
Loop-It contains ten video modules where you can learn how to set it up.
Welcome
Overview
Quick Way to Build a Free Highly Targeted List on Facebook
Finding a Suitable Product
Bonus Page Creation 1
Bonus Page Creation 2
How to Create 1-Minute Loop-It video part 1
How to Create 1-Minute Loop-It video part 2
Uploading Your Video
Tips and Tricks
Once you go through these video modules, you should have your first Loop-It campaign up and running.
So your task is going to be to find and promote digital products.
The second step is creating your FB fan page and getting people to join your list.
They'll show you how to find Facebook groups that are related to your niche and how to send friend requests to people who have left their comments withing that group.
Weird ha? Well, it actually works.
All that is left to do now is to create your pages and start attracting visitors to your funnel.
If you manage to pull this off, you should start earning commissions. The percentage of your commissions is going to depend on the merchant.
And your total earnings on your ability to follow through and execute the training.
But I have to be honest with you.
The information from the sales page sounds exciting, I know. And making $ 100's per day is a dream.
However, you need to understand that this is not going to work as fast as Jason and Aidan said. It may take a lot of time to figure it out and to get some results finally.
But if you want to get there faster, then the next section of this Loop-It review is for you.
Related: How to Start With the Affiliate Marketing Business
Loop-It Price and OTO's
The front end price is only $13. For this price, you get access to Loop-It method, training area and support.
If you want, you can consider a few upgrades as well. Note that these appear as soon as you pay the front end price before you get inside of Loop-It members area.
OTO #1 ($37/$17) – Done-For-You Campaigns – this upgrade is all about some proven campaigns you can plug straight into for instant results which you can use straight out the gate. If you don't want to figure out Loop-It by yourself, just download the proven campaigns, upload them and hope for the best.
OTO #2 ($47/$27) – Loop-It Secrets – this upgrade contains the secrets for maximizing Loop-It sales and commissions. You get the advanced tactics Jason and Aidan use to take all of their campaigns to the next level with just a few minutes of work. They will show you exactly how to scale big and profit much easier than ever before.
OTO #3 ($47/$27) – 10 Best Selling Offers – this upgrade gives you access to 10 top-selling products from top WarriorPlus + JVZoo Vendors. You get instant affiliate approval. And you can use this upgrade for scaling your Loop-It campaigns.
OTO #4 – ($97/$47) – Licence Rights – as its name suggests, this upgrade gives you the right to resell Loop-It and keep 100% of the commission.
30-Days Money-Back Guarantee
Your purchase is covered with a refund policy. This means that you can get your money back.
But you need to try the product first and then send an email to Jason and Aidan if you wish to get your money back.
Some Good and Some Bad Things
Before I conclude this Loop-It review and give my final opinion, you should take a look at some pros and cons. Like every other program out there, Jason's and Aidan's has some good as well as a few bad points.
Things They Do Good
The training is in a step-by-step format, which makes it easy to follow through and to apply the content.
Loop-It method is based on a legitimate way of making money online called affiliate marketing.
The front-end price is affordable, and the product is ok.
They give you access to support and to private Loop-It Facebook Group.
You can get your money back during the first 30 days if you're not satisfied.
Things They Do Bad
Compared to the reality of this method, it's not going to as easy as they claimed on the sales page.
Loop-It is based only on one traffic method. They could have added a few other ways to get leads.
Related: Re-KaChing Review – Can You Make Money With This System?
Conclusion
In conclusion, Loop-It is legitimate training for making money online with affiliate marketing.
For $13 (plus upgrades), you get access to a proven method that should work if you follow through.
Jason and Aidan have been using this method themselves to make money online, and there are no reasons it shouldn't work for you too.
Only, I wouldn't be so excited about making $ 100's as soon as you start.
As I've said, my Loop-It review is based on my personal experience with this program.
I like the training, but I know from the experience that you'll have to hustle a lot before you make your first dollar with affiliate marketing.
That's the other side of the coin that Jason and Aidan haven't mentioned.
As one last suggestion, I would recommend taking a look at my #1 recommendation below.
The company that I recommend is an authority figure in the field of affiliate marketing for 15 years!
If you are looking to make money online, you should seriously consider them as well.
Thanks for reading! 🙂
THE BEST WAY TO MAKE MONEY ONLINE IN 2023 >>
If you need any help or you have a question, feel free to share them in the comment box below.
And don't forget to share this post with your friends and family!
All the best, Ivan. Founder, and CEO @freeaffiliatemarketingbusiness.com