Welcome to this Banner Code review where you'll discover why it's a dirty scam designed to rob you!
How would you feel if someone handed over to you a check for $13,574.80 just like that? I bet you would be ecstatic!
But what if that check was a phoney designed only to steal your confidence and make you give away your hard-earned cash?
I received an email a couple of days ago with an offer to confirm my latest PayPal payment.
There was a check for $13,574.80 from an unknown sender together with a link. The attached link took me to a Banner Code scam website.
As soon as I've laid my eyes on the site, I knew that it's designed to rob people blindly.
So, how do I know this? Well, let me show you more!
By the way, congratulations on researching before giving away your hard-earned cash.
If you are looking for a legitimate way to make money online, check out the best way to make money online.
In this Banner Code review, I share what's behind the sales page and explain how this scam works.
I show you how much could it potentially cost you, and I give a few proofs that it's a scam and has nothing to with real life!
Banner Code Review – Overview
Product Type: Banner Ads Network
Product Price: $250+
Product Owner: Unknown
Money-Back Guarantee: No
Recommended?: No! SCAM ALERT
Overview: Banner Code is an online trading platform where you can make money by investing your hard-earned money into banner ads.
You've been told that you can even quit your job in a matter of a few days!
In reality, Banner Code is a scam designed to funnel you to an unlicensed broker where they will professionally convince you to start investing.
But the whole thing falls apart once you decide to take out your winnings.
In other words, they won't let you do so! (See the evidence in my review!)
Update: Banner Code website is now Bitcoin Evolution, which is another trading scam you should avoid because it's dangerous and could cost you a lot of money! Bitcoin Evolution is a rehashed version of Bitcoin Code and Bitcoin Loophole scams.
If you are tired of scams and bogus websites, MLMs and pyramid schemes, check out a 100% legitimate way to make money online below I used to go from $0 to earning four-figure passive income online!
THE BEST WAY TO MAKE MONEY ONLINE IN 2023 >>
What Is Banner Code About?
Greg Allen claims that the Banner code is your unique opportunity to start making money online directly from banner ads.
Greg is so confident in his business operation. He guarantees that you'll never have to go back to your job after you try it out.
First of all, Greg is a liar.
Secondly, ads have indeed revolutionized the entire digital marketing world. Google and Facebook do make billions in revenue each year by allowing people to run ads on their platforms.
However, Greg is not the person who can help you to take your piece of the pie; trust me.
Thirdly, people who do make money off banner ads don't' purchase them from a shady character like Greg Allen.
Instead, they create a system that consists of many essential parts like a website, profitable offer, and such. The system takes months to perfect and, if everything is done right, to generate the first profit.
And most importantly, legit marketers pay Google and Facebook to run ads on their trusted platforms, certainly not to some shady site like Banner Code.
Greg is just using this business model to convince you of a seemingly legit opportunity for making money online by investing in banner ads. The promo video is the work of professional marketers, but it has little value and nothing to do with real life.
All this is going to be proved fake in my Banner Code review.
How Does Banner Code Work?
Scams like Banner Code serve as a funnel to a third-party website where you can start investing in banner ads.
If you fill in your details, you'll be taken to a site called Click2Sell.co. It's a self-service advertising platform where you can create advertising campaigns.
I wrote a review of Click2Sell just a few days ago. You can read more about the platform there.
In a nutshell, once you register to open an account, you get access to the platform.
From there, you can choose between done-for-you campaigns from the Marketplace, or you can create a custom campaign based on your preferences.
The whole point is to fund your campaigns and let them run on third-party websites. Every time someone clicks on your banner ad, you make money.
And if a person clicks through your banner ad and buys the service, you'll get paid a commission after the sale is made.
Sound like a great way to make money, but it gets a lot worse after that, trust me. I'll explain more in a few moments, let me say this first.
Click2Sell is not the only platform that offers this kind of service. I wrote about them in reviews where I mention other sites that sell the same crap as Banner Code.
Here are just a few examples of the top of my head, Banner Bit, Clicks Dealer, and Clicks Rally. These sites are known for scamming people using the same banner ads business opportunity.
This is what happens to people who fall for the story about investing in banner ads.
Many people reported that once they started with the whole scheme, everything was fine. Some even said that they've been making money just as it's been advertised.
However, according to numerous complaints all over the net, once you try to take out your winnings, the company will ignore you.
In other words, a lot of customers claim that they've been scammed and they can't get their money back.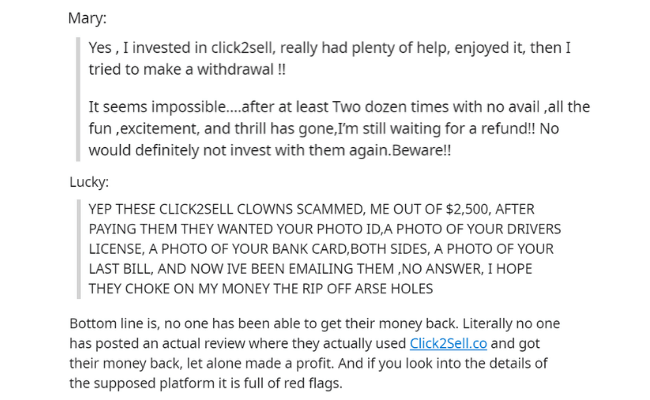 How Much Could Banner Code Cost You?
There's no way to tell how much could you lose with a Banner Code scam. As you can see on the images above, some people were ripped off pretty hard.
The company (Click2Sell) offers membership packages so that the price can be astronomical. The most expensive one costs $25,000.00!
These packages are supposed to make your campaigns more profitable since you are going to get some bonuses, mentorship, and such. But in reality, they're useless.
So my best advice is to put your credit card back.
Can You Get Your Money Back?
In case you already have invested some money into a Banner Code scam (Click2Sell), there's a high risk that you'll never see your money again. I couldn't find any information on their website that can prove that you can get your money back.
You can try some of the advice from WikiHow such as contacting your credit card company, or even law enforcement.
Banner Code Warning Signs!
As I said at the top of this review, I've seen a few other websites that are copy-paste version of Banner Code scam. The names are changed, but the scheme stays the same.
One is called AD Formula. Another one is Digital Payday. There's one more called AD Code. Here's what they all have in common.
Greg Allen is Daniel Bluth, and Who Know What Else
The man who claims that his fish tank has been featured on a popular TV show has told the same story already in another video for another miraculous site only under a different name.
In the Banner Code video, he calls himself Greg Allen.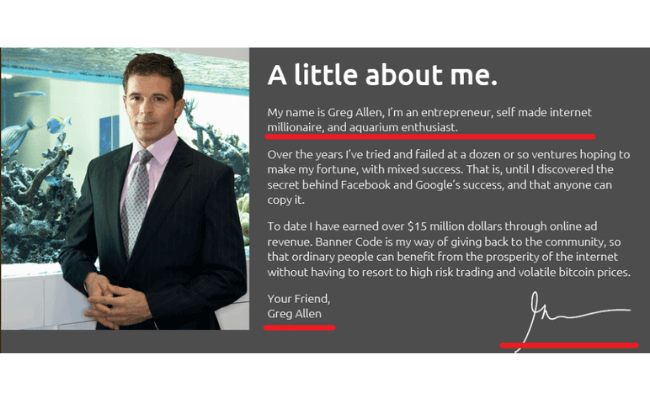 On the other hand, you could see the same guy in the Digital Payday scam.
There, his name is Daniel Bluth. He is a creator and owner of the super-secret website for making thousands of dollars in only 10 minutes.
Long story short, Daniel Buth or Greg Allen doesn't exist.
If the man behind Banner Code has something on his hands that can help people to make money, he would be transparent like every other legit company owner out there. Scammers hide behind fake characters.
Investing in Banner Ads Is Not a Real Thing
If you try to search the net for more information about investing in banner ads, all you get back are sites that teach you how to run Facebook or Google Ads.
As I explained, it's a legit way to make money, but it takes an awful lot of time to make it happen. The business requires highly professional marketing skills.
On the other hand, you won't find any information about making money with already done-for-you banner ads. Or about a system that could make you thousands of dollars in the next 24 hours.
Why? Well, because the whole business model is fake.
Besides, the Click2Sell platform is not legit or even licensed by FTC or FCA. It means that the site has full control over your money and they can do whatever they want.
It puts you in a weak position in case you wish to withdraw your earnings or ask for a refund.
There's a High Risk of Identity Theft
According to my research, if you want to remove your money from the Click2Sell platform, you'll have to upload extremely personal information.
They'll ask you to upload a copy of documents such as driver's license, photo ID, Bank statement, and even a copy of a utility bill.
These documents are only required when you have business with government institutions or banks. And since FTC or FCA do not license Clicks2Sell, anyone who uploads these documents puts him or herself at risk of identity theft.
Fiverr Actors Play Customer Testimonials
Greg Allen is not the only fake character there. A few people that show up during the promotional video are only acting to be happy customers.
You can find them on Fiverr where they offer their service. There's nothing new about this marketing method. Many sites and products use fake customer testimonials as well.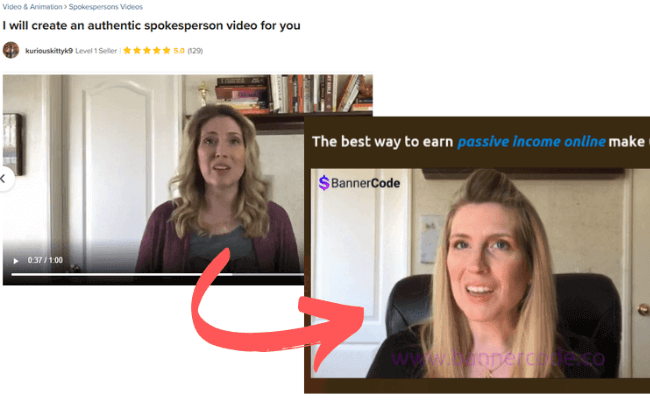 But how many of those products or services have survived until this day? Very little. I wonder why.
Also, if Banner Code or Click2Sell were a legit business opportunity, it would be an effortless task to find a few real faces that can confirm or even help you to repeat their success.
The Promo Material is Full of Get-Rich-Quick BS
As a cherry on top, the promo video is full of 'make-money-overnight' and 'get-rich-quick' extravaganza.
They flash you with screenshots of alleged earnings that every high-school kid could fake with Photoshop. What's even worse, they literally tell you that you can fire your boss by tomorrow!
I like to repeat this to my readers a lot.
The only way to get rich quick is if you win the lottery.
The internet is full of websites that claim they have some magic formula for making money. In reality, making money online is more than possible, but it takes months to learn the system and even years to create something sustainable
Is Banner Code a Scam or Legit? – Final Verdict
I've given you a lot of evidence to make your own decision. Based on the information presented in this review, Banner Code is a scam that's designed to bleed your wallet dry!
I wouldn't trust my shoe number to these people, let alone my money and my most personal information.
Unfortunately, some people take advantage of newbies who are looking for ways and means to make passive online income. A lot of scammers create fake offers that could eat up your savings in less than a week.
That's a harsh reality.
Banner Code is a school example of how a scam looks like. If you again stumble across a website that offers you significant gains in record time, you can be positive that it's another one in a row.
They'll promise you heavens and earth to get you in. But once they have you, you can say goodbye to your hard-earned money.
What To Do Now?
Thanks for coming to the end of this Banner Code review. It shows that you are a serious person who takes every step with the most attention.
If you are interested in learning how to make money online, I got something great here for you!
This process is proved by thousands of online marketers all over the globe. You are looking at the one right now.
Here is the process in a nutshell.
Firstly, you'll be choosing a niche.
A niche in affiliate marketing is an area of interest. For example, my niche is affiliate marketing training courses. Yours can be anything you want. If you like golfing, then golfing equipment can be your niche.
Secondly, you'll be building a website.
A website is not too hard to build. We will give you two free sites! We will develop and maintain your websites for you. All you have to do is choose the name, pick one of the preset themes, and the rest is on us. It's done in less than five minutes!
Thirdly, you'll be attracting visitors to your site.
The first roadblock in this business is finding the right source of traffic. We are going to show you well-kept secrets to unlimited FREE TRAFFIC from the internet. However, you'll have to work to get it. This is not a 'get rich quick' scheme!
Fourthly, you'll be selling the products of your choice to your visitors to make money!
We'll show you how to use affiliate links and Google Adsense to monetize your site and make those sweet affiliate commissions!
THE BEST WAY TO MAKE MONEY ONLINE IN 2023 >>
If you need any help or you have a question, feel free to contact me.
And don't forget to share this review with your friends and family!
All the best, Ivan. Founder, and CEO @freeaffiliatemarketingbusiness.com