When I first got introduced to affiliate marketing, I was confused with all the metrics and acronyms. But then once I learned what they mean, I wanted to know more. Do you want to know how to improve your EPC in affiliate marketing? Keep on reading…
EPC (earning-per-click) is definitely one of the most talked about metrics in affiliate marketing. It basically represents the amount of money you earn from one click on your affiliate link.
It is calculated automatically by most affiliate programs and networks.
Most importantly, your EPC shows you how good (or bad) your affiliate marketing is performing and whether you should try to improve or not.
And in this post, I will share a few valuable tips from experience on how to improve EPC in your own affiliate marketing campaigns. Maybe all you need is just one…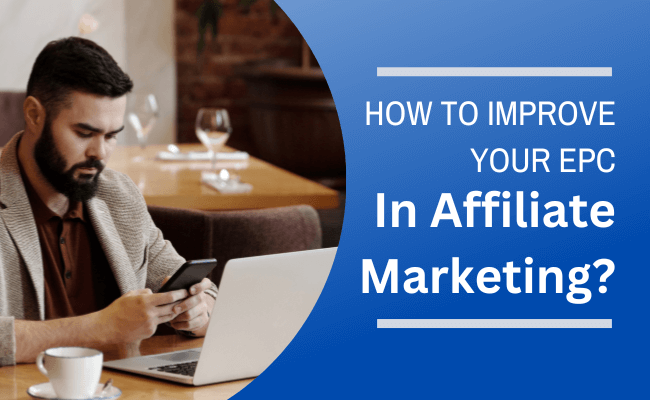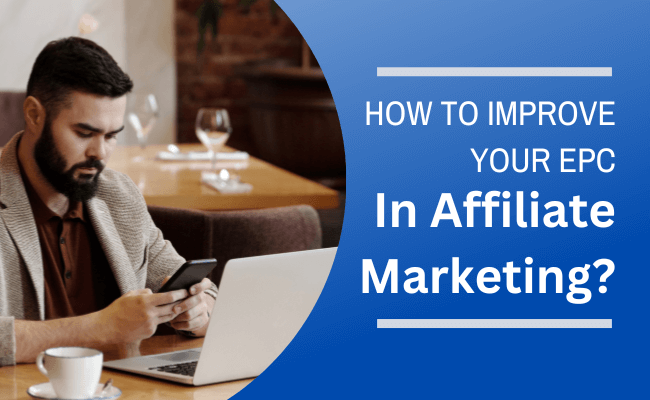 What Is EPC In Affiliate Marketing and Why It Is Crucial?
EPC in affiliate marketing is a popular metric to use, especially on per-click earning websites. It explains how much money you earn per single click on your affiliate link.
With a good affiliate program, analytical tools will offer you access to info about EPC. When affiliates track their performance, they can establish which elements are not working out, and why.
This is a substantial benefit, specifically for those who use a large range of platforms to promote links.
EPC, on the other hand, describes the income you make each time someone clicks one of your affiliate links. Simply put, EPC reveals how much you could earn through affiliating with particular firms or items.
Furthermore, EPC is often displayed by affiliate marketing networks to assist affiliate marketers evaluate and comparing their income potential to that of other merchants.
How To Calculate Your EPC (Earning-Per-Click)?
The formula for calculating your EPC in affiliate marketing is quite straightforward: Overall Amount of Commissions/ Number of Clicks Acquired by the Affiliate Link = EPC
Example: $200 commissions / 20 clicks = $10 EPC
You can use this EPC calculator to determine your rate or to estimate a possible rate for one of your brand-new affiliate campaigns.
To calculate EPC, you should merely divide their overall earnings by overall clicks, as seen above. An affiliate's EPC rate can assist predict a project's earnings potential, in addition to insights from the CPA rate.
That being said, you need not base your decision on whether or not to run a project entirely on the campaign's EPC or CPA rate.
Simply because a campaign has a high EPC rate and a low CPA, or vice versa, does not imply the project is an easy win or a lost cause.
Several elements can affect a campaign's success, such as :
vertical
traffic source
landing pages
innovation
target country or demographic
affiliate link placement
For example, if an affiliate gets a project in the gaming vertical, but is just experienced in the way of fitness vertical, they might not achieve success as their audience may not show interest in controllers or video games.
In this case, a lowered EPC is not reflective of a bad deal, but rather an indicator of the wrong audience for that offer.
How To Improve Your EPC In Affiliate Marketing?
Now that you know what EPC is and how it is calculated, do you want to learn how to improve your EPC in affiliate marketing? Here are 7 proven ways to increase your earnings per click from your campaigns.
A/B Test Your Landing Pages
For those affiliates who are wanting to or who have actually already optimized their material, it can be helpful to implement A/B screening to better understand what type of messaging or content finest resonates with their audience.
Those who take the time to A/B tests normally enjoy considerable benefits, with 58 percent of companies believing that A/B screening for improving your EPC in affiliate marketing is highly valuable.
By testing campaign techniques and examining the outcomes, you can sync more carefully with your audience or traffic sources, even increasing performance and significance – and in this case, increasing incomes.
Choose The Right Product For Your Audience
Another broad concern you need to respond to is whether the affiliate offer you're promoting is precisely what your niche market wishes to purchase. If it is, then you're probably already on your way to generating more affiliate income.
However, if a product isn't doing well, it can be because of a number of various elements. The only way to know for sure is to deep dive and do some research study.
Here are some reasons why your EPC may be lower than expected:
No need for the offer
Too expensive
Made complex to discuss
Inadequate worth for individuals to acquire
Or possibly your audience just does not find the deal appealing. These are all possibilities. You need to put yourself in their shoes to figure it out and to stand out as an affiliate…
Improve The Trust Of Your Audience
This one is a bit harder to determine than the previous example but is definitely important to think about.
Given the influencer and affiliate marketing booms, individuals have actually become less trusting of each other when it comes to promoted items and services. Some even say it is not worth it anymore because of this.
Are you promoting an offer because it truly is the very best thing for your audience? Or because they pay the greatest commission?
If you sell yourself out, your audience will catch on, and not trust you. This results in decreased conversion rates when it comes time to purchase, directly reducing your EPC.
Do the best thing, and only recommend what you've in fact used and think is helpful to people in your niche. While you might be pretty separated from the supply chain, you're affecting another person's life with your promotions.
Improve Your Affiliate Link Placement
Where you position your affiliate links can have just as much (if not more) influence on increasing or decreasing your EPC in affiliate marketing than any other aspect.
It's crucial that your affiliate links are placed in the most effective locations. For example, if you are composing a blog post to promote a deal your affiliate links might appear in various places within the post itself, in a sidebar, footer, etc.
Traditionally, it is the best practice to place your affiliate link "above the fold" whether it be in an ad, landing page, or blog post.
Making the effort to test the numerous positionings and types of links can go a long way to increasing your overall EPC.
Use Exit Popups To Convert Leaving Visitors
You can use a targeted exit-intent popup for your affiliate product and display it on your site.
How do exit-intent popups work for affiliate items? When visitors are searching particular websites, they will see a popup if they reveal an intent to abandon your website.
You will present a deal on your exit popup and add a call to action button that directs users to your affiliate items (or your landing page with your affiliate link on it).
If your audience takes an interest and buys the product eventually and you will increase the EPC of your affiliate marketing campaign in just one simple step.
The very best part is that in this manner, you will be made simply with your natural traffic. You will not require to spend on costly affiliate advertising campaigns.
That indicates there will be lower ad costs, high EPC, and higher total revenue.
Leverage The Power Of Email Marketing
Utilizing email marketing series is a reliable method to improve your EPC in affiliate marketing. But using it wrongly could also decrease your earnings per click dramatically.
The distinction between the two outcomes eventually depends upon your method. If you spam your audience with affiliate links, you will have a later scenario.
Email providers don't like spam emails at all due to the fact that it injures their open rate portions. When email automation services see an expansive email list sending out campaigns full of affiliate links, they perceive it as spam and shut it down.
That doesn't imply you can't include affiliate links in your emails.
You simply need to make sure to produce an email series that doesn't look spammy. You require to supply worth in your material and then highlight your affiliate items.
The best way to do it, and ultimately increase your affiliate marketing EPC, is to send them links to some valuable content on our site, and from there, recommend products.
Keep Track of Your EPC and Other Metrics
No marketing project can be called really successful unless you understand what it is you're intending for. Similar to business call forwarding, unless it gets to where it requires it to be, you aren't making the progress you meant to.
Prior to introducing your affiliate marketing campaign, select the targets you want to track. And make certain you have ways to monitor how well your project is doing as you go along.
Whilst being of obvious advantage in identifying whether you're on track to good EPC, these analytics can often recognize any specific concerns that you're having.
Removing these drawbacks can help with the total success of your earning-per-click rate.
There are programs out there that can monitor these metrics for you. Guaranteeing that you return to these programs frequently while the project is live is the best method of supervising your eventual success.
Improving Your EPC In Affiliate Marketing – Conclusion
EPC is not just another metric you need to follow. It is inherently linked to your turnover. If you're an affiliate marketer, EPC is one of the most crucial metrics you need to understand in order to determine if your affiliate projects pay or not.
Understanding the worth of your EPC implies understanding just how much you can anticipate in terms of income. By comparing this worth with other signs, you can get an extensive introduction to your campaigns.
By using the tips from this post, you can improve your EPC in affiliate marketing dramatically. I have personally seen an increase of 150% just by testing two different landing pages!
My advice is to test one tip at a time. Don't use them all at once. Be patient. If one doesn't improve the EPC of your affiliate marketing campaign, switch to another one and try again. Best of luck!
Do you have any tips on how to improve your EPC in affiliate marketing? Feel free to share them in the comment box below. And if you have questions, you're welcome to leave them too…
How I Make Money With Affiliate Marketing
The program that I recommend as my #1 solution for making money online with affiliate marketing is based on a 100% proven and tested system.
The best thing about this method is that it is passive in terms of results and income.
In other words, you could be earning an income from your affiliate business for years and years to come because this method is so POWERFUL and overlooked by many marketers.
Just take a look at commissions that I earn passively all thanks to my #1 training program.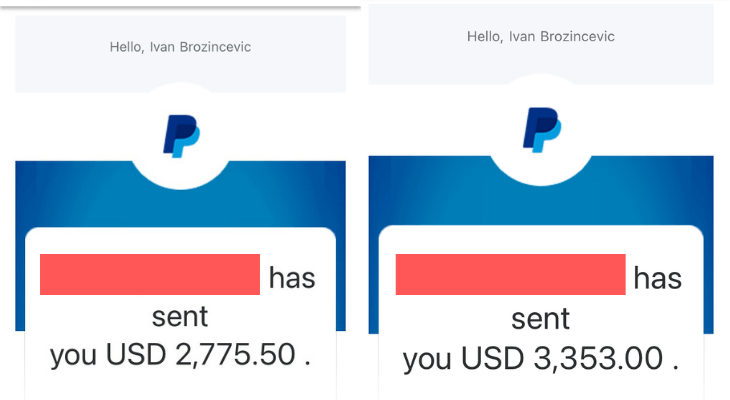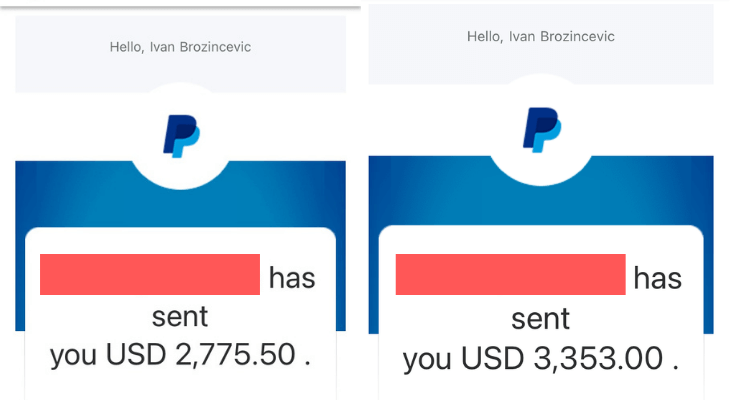 If you want to learn more about how you too can start making money online with affiliate marketing, click the button below!
After evaluating over 600+ programs on the web, my conclusion is easy. This is the best course to learn about ins and outs of affiliate marketing.
And if you're looking for the very same, click the button below!
START WITH AFFILIATE MARKETING TODAY!
If you need any help or you have a question, feel free to contact me.
And feel free to share this article with your friends and family!
All the best, Ivan. Founder, and CEO @freeaffiliatemarketingbusiness.com