Welcome to my IM Checklist review.
Kevin Fahey has been sending me these emails with a new IM Checklist every month or so.
Since I'm always looking for ways and means to improve my online business, I decided to check it out and share my review with your guys to help you learn more and make a well-informed decision.
I'm Ivan and I'm a successful online entrepreneur, by the way. I have reviewed 500+ programs, courses, scams, and schemes in order to find the best way to make money online.
Before we dive in, I just want to congratulate you on doing your own research first. That's how you avoid scams and find the best way to make money online.
In a nutshell, IM Checklist stands for Internet Marketing Checklist and is a premium program with a full white label and private label rights, over 48 hours of training, and more, created by Kevin Fahey and his team.
But is it any good? How can you use it to make money online? Is it going to cost you a fortune to get access? Are there any upsells? What bonuses do you get? What is inside these checklists? How does it work? Is it a scam?
With my IM Checklist review, I'm going to share the latest information related to Kevin's offer. Also, I will be answering all your questions one by one and will share my personal opinion about IM Checklist by the end of this review.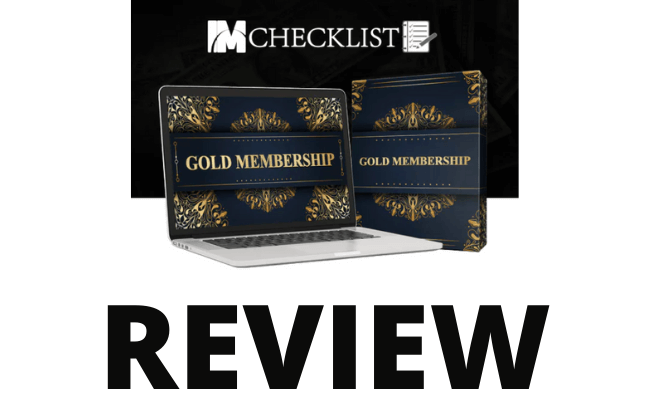 IM Checklist Review – Overview
Product Type: Affiliate Marketing
Owner: Kevin Fahey
Price: $3 for 5 days, then $17.95/monthly
Money-Back Guarantee: No, but you can cancel anytime
Recommended?: See the summary below…
Quick Summary: IM Checklist is a program that gives you access to PLR content in a form of checklists. You can use the content as your own and resell it, rebrand it, edit it, share it, learn from it, and more.
Each month, Kevin Fahey adds a new checklist and shares it with all members of the program. Also, he includes a set of training videos where he explains how you leverage these checklists to improve your online business.
You can download these checklists, print them, import them to Google/Excel spreadsheets, and more.
In addition, IM Checklist comes with three useful bonuses and two hidden upsells (not my favourite thing). You can try it out for $3 for five days and then, it's $17.95 per month to keep the access.
I personally like this product and would recommend it. However, this is not a step-by-step training program for making money online so if you're looking for such, don't waste your time on IM Checklist.
Alternative: My #1 recommendation is a 100% beginner-friendly step-by-step video training program that helped me to go from $0 to earning $100's per day with affiliate marketing! Wanna follow in my footsteps?
THE BEST WAY TO MAKE MONEY ONLINE IN 2023 >>
What Is IM Checklist?
IM Checklist is an internet marketing program created by Kevin Fahey. Basically, it is a set of white label and private label PLR products that you can use to improve your marketing efforts.
You can sell these products as your own, learn from them, give them away in your internet marketing campaigns, and more.
Each month or so, Kevin and his team release a new IM Checklist volume (PRL product). By the time of writing this IM Checklist review, they have released 40 volumes so far within this program.
Also, the program includes 48 hours of video training and live webinars where Kevin Fahey shows how to leverage these PLR products as well.
For example, he shows how to market them, edit them,  how to use them as freebies and lead magnets, and more.
Each product within the IM Checklist talks about a specific aspect of the internet marketing industry such as:
Membership sites
Lead sources
Planning, strategy, organization
Affiliate marketing
Ecommerce
Instagram marketing
Local marketing
Facebook ads
Content management
Online traffic for marketers
YouTube marketing
Review sites
Consulting
Securing your content
Split testing and optimization
Email marketing
SEO
List management
Solo ads
and much more!
When I first bumped into IM Checklist, I was sure that it was a training program for starting an internet marketing business. And since I have had bad experiences before, I was doubting it was a scam.
After a few hours of research, I learned that IM Checklist is a pretty clean product. In other words, it is fairly legitimate. But more about this at the end of the review.
Who Is Creator Of the IM Checklist?
I'm familiar with Kevin Fahey and his courses and can confirm that he is a legitimate online marketer.
So far, I've had a chance to review Project Restart, 20K Extra, Lazy Affiliate Method, and Commission Five. Today, I'm sharing my review of the IM Checklist to see whether he keeps up with the standard or not.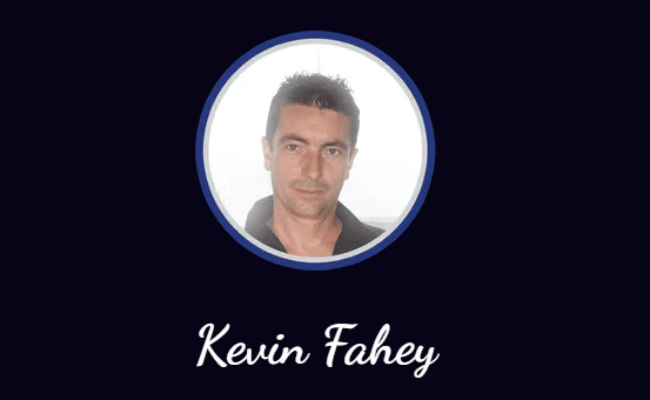 Just like many online marketing gurus and coaches, Kevin has been living a normal life. He was working in the corporate world, paying his bills, and trying to make ends meet.
Ever since he discovered the power of internet marketing, his life turned around.
After making it happen for himself, Kevin Fahey has decided to start sharing his knowledge and expertise in the form of courses and an IM Checklist.
As I said, I have been in contact with him. I'm glad to inform you that he is not a scammer. That said, let's see what you can learn from IM Checklist and Kevin Fahey.
How Does IM Checklist Work?
The way you can use these products inside the IM Checklist program is simple. Basically, you get PLR rights on each product inside the program, which you can then use as your own. For example, you can:
Rebrand & Sell Over & Over Again
Turn Into A Video Product Of Your Own
Rebrand & Use As An Upsell In Your Funnel
Turn Into High-Quality Unique Blog Posts
Use As A Bonus For Your Promotions
Use It As Content For Your Membership Site
Leverage Them To Build Your Email List
Increase The Value Of Your Existing Product
Turn Into A Webinar Presentation
Use Them In Your Coaching Program
Translate Them Into Different Languages
Another thing you can do with each volume inside Kevin's program is to learn from it! See, each volume contains legitimate information that could help you as an online marketer to improve your existing business in some areas.
So for example, if you want to get more traffic, you can use the information from the volume that talks about getting more traffic and apply the strategies to your own business.
Or if you want to learn about email marketing, there's a volume inside that covers this topic.
Just keep in mind that these are PDFs, which means that it is not a step-by-step training program for starting an online business from scratch.
In other words, if you're looking to start with affiliate marketing, IM Checklist is not going to help you too much.
However, some other products from Kevin's workshop might. My best recommendation is Wealthy Affiliate.
In any case, IM Checklist is a useful resource to have if you're into online marketing and are looking to receive a new piece of content each month.
See, all members of the program will get a fresh checklist each month for as long as this program is active, which is awesome in my opinion.
The only problem with this program is that everyone is going to get the same checklists.
However, the good thing is, inside the program, Kevin shows how to edit the content to make it unique. Speaking of which, let's take a look at the next section of the IM Checklist review to see what you get with the latest releases.
What is Inside the IM Checklist?
As said earlier, IM Checklist gives you access to 40+ PLR resources. All checklists come in five different formats.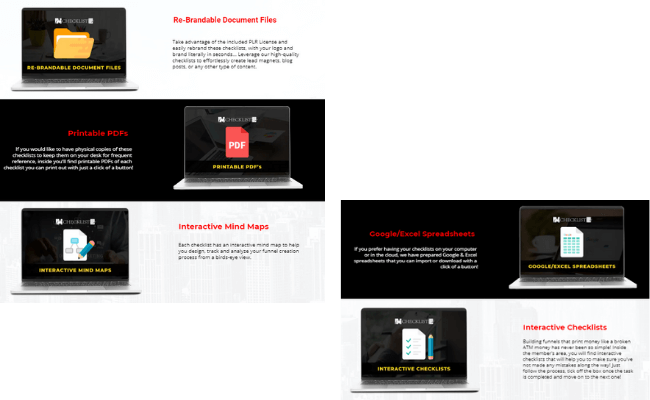 Rebrandable Document Files
All these checklists come with a PLR license, which means that you can easily rebrand each checklist.
For example, you can add your logo and brand, edit the content, and more. You can then use these documents as lead magnets, content for your blog, content for your email list, and more.
Printable PDFs
You can also print these checklists to have them in a physical form if you prefer the feel of the paper. Inside the IM Checklist members' area, you can print each checklist easily.
Interactive Mindmaps
Each checklist has an interactive mind map to help you design, track and analyze your funnel creation process from a birds-eye view.
Google/Excel Spreadsheets
For those of you who would like to download your checklists on your computer or store them in the cloud, you can do so by using the Google/Excel spreadsheets that you can easily download in a few clicks.
Interactive Checklists
Each checklist allows you to follow your progress by ticking off the box once the task is completed.
Inside the member's area, you will find interactive checklists and a ton of helpful information within each checklist that you can use to improve your own online business.
IM Checklist Bonuses
All members of the program will get three bonuses upon joining the platform. Here is what these bonuses are about.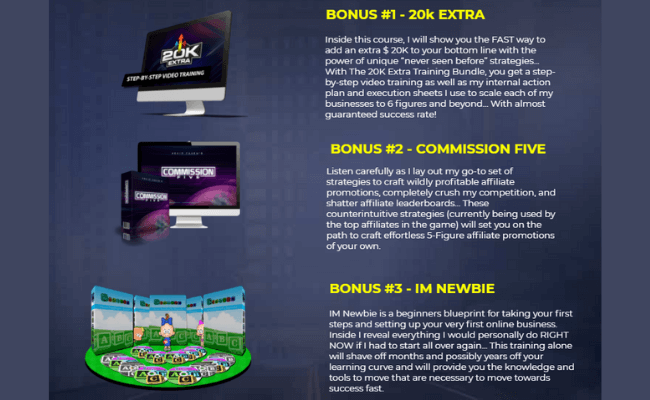 Bonus #1 – 20K Extra
Step-by-Step video course where Kevin shows how he turned his business from $0 to $20K per month.
Bonus #2 – Commission Five
Another training from Kevin's workshop where he goes over five strategies he uses to make money online.
Bonus #3 – IM Newbie
This is a step-by-step video training that shows how to get started with internet marketing as a complete newbie.
What You Get With The Latest Edition
The thing is, Kevin releases a new edition each month, which means that the information in this IM Checklist review contains the latest edition for 2021. All past editions are also included.
IM Checklist Volume 37 – Consulting
Conducting Market Research
Finding Your Niche And Ideal Clients
Defining The Services Of Your Firm
Writing A Business Plan For The Consulting Firm
Setting Up A Domain, Hosting And Website
Selecting A Location For Your Consulting Firm
Checklist For Tools Of Trade For Your Consulting Business
Creating A Basic Sales Script For Your Firm
Checklist For The Basic Requirements
Pricing Strategies / Structures For Your Services
Selecting Appropriate Marketing Channels
Developing Standard Operating Procedures (SOPS)
Checklist For Administrative Systems
Selecting A Lifestyle That Works For You
Monetizing Your Consulting Business
Strengthening Your Network As A Consultant
Optimizing Your Consulting LinkedIn Profile
Using Social Media To Market Your Consulting Firm
IM Checklist Volume 38 – Securing Your Content
Selecting A Reputable Hosting Provider
Creating Unique And Secure Passwords
Automating Website Backups
Securing The Website With Ssl And Https
Updating Plugins And Cms
Installing A Scanner And Firewall
Preventing Denial Of Service Attacks (Dos)
Obscuring Header Info
Defending Against SQL Injection Attacks
Securing Online Checkouts
Selecting Anti-malware Software
Safeguarding From Xss Vulnerabilities
Securing The Web Server Processes
Scheduling Regular Tests Of The Configurations
Using Secure Cookies
Disabling Insecure Cipher Suites
Enabling The HTTP Strict Transport Security
Setting Up A Virtual Private Network (Vpn)
IM Checklist Volume 39 – Split Testing and Optimization
Selecting A Data Analysis Tool
Researching On The Website's Performance/operations
Identifying What To Test
Formulating A Hypothesis
Selecting Your Goals
Analyzing And Segmenting Your Target Audience
Calculating Your Sample Size
Creating Variations
Selecting The Testing Method
Managing And Anticipating Problems Associated With Ab Testing
Prioritizing Your Testing Opportunities
Identifying And Eliminating Confounding Variables
Preparing Your Tests
Running The Test
Analyzing The Results And Deployment
Performing Data Analysis/analysis Of The Test
Replicating The Results
Reporting Your Findings
IM Checklist Volume 40 – List Engagement
Selecting Your Email Marketing Service
Defining Your Campaign Goals And Objectives
Segmenting Your Email List
Creating Targeted Email Campaigns For Your List
Setting Up Your Subject Line And Email Settings
Ab Testing Your Email Subject Line
Creating Your Email Content
Applying Contact Filters And Sending Your Email
Evaluating/monitoring Your Email Campaign KPIs
Creating An Email Auto-responders' Checklist
Reviewing Your Design And Links
Creating Opt-ins
Setting Up The Engagement Frequency
Checklist For Your Email Design
Boosting Your Email Open Rates
Avoiding Spam Filters (Tactics)
Using Lead Magnets For Your List
Surveying Your List
Who Is IM Checklist For?
Ideally, IM Checklist is for anyone who wants to get access to a ton of PLR content in a form of checklists. It could be for content marketers, affiliate marketing, bloggers, email marketers, social media marketers, etc.
The IM Checklist is a useful program that could help you to learn about a lot of different topics related to internet marketing such as mentioned earlier in this IM Checklist review.
Also, it could help to save time in creating your own content as well.
For example, an affiliate marketer could use some of the checklists as lead magnets.
A blogger could leverage some content for new blog posts. An email marketer could send checklists to his list to improve the relationship with subscribers and get more leads, etc.
All in all, it is a useful product.

How Much Does IM Checklist Cost?
The good thing about the price of the IM Checklist is that you can get five days of access to it for only $3. It's not what I would call a free trial, but it's enough to let you see whether or not it is for you.
Then, once the $3 five-day trial expires, you will have to pay $17.95 each month to keep access to all the checklists and to get access to the latest editions. In my opinion, it's a relatively cheap product.
Also, there are a few upsells waiting for as soon as you pay those three bucks to get access. I personally hate upsells.
How about you? Do you like hidden costs?
This is the only thing that I don't like about the IM Checklist program so far.
OTO #1 – 460 Marketing Checklists With PLR ($197)
Limited time special offer – access 24 complete volumes which include 460 checklists for a one-time low-cost investment. Checklist designed to make your marketing easier & more profitable.
OTO #2 – IM VIP Training Full Access ($147)
These exclusive video training courses cover everything from getting started, email marketing, affiliate marketing, product creation, video marketing, outsourcing, traffic generation, advertising & much more.
Is IM Checklist a Scam or Legit?
I admit, there are tons of scams all over the internet. I feel for dozens so far, and I'm not ashamed to admit it.
Sometimes, you really can't know until you try it out for yourself and see what it is about. Do you share my experience? I hope not!
So is IM Checklist a scam?
No, it's not. I'm 100% sure that IM Checklist is not a scam. This is the fourth product that I've had a chance to review from Kevin Fahey's workshop and like every time so far, I find it 100% legitimate.
If you ever get this product, you will get exactly what it says on the sales page.
The good sign is the fact that the sales page does not contain any scam signs like overhyped statements, unrealistic earnings claims, fake testimonials, etc. In other words, it's completely transparent and legitimate.
The only thing that I don't like about IM Checklist are hidden upsells and it is the only reason why some might call it a scam. But I'm so used to upsells and I always say no to them.
From a marketer's perspective, it's just a clever way to make more money from a sales funnel.
All in all, IM Checklist is legitimate. You can use this product to learn from it or use it in your online marketing campaigns as lead magnets, bonuses, etc.
Alternative: On the other hand, if you're looking for the best business model to earn passive income online as a beginner, there are other, more suitable, and cost-effective alternatives.
My top-rated course has helped me to go from earning $0 to $100's per day!
THE BEST WAY TO MAKE MONEY ONLINE IN 2023 >>
What I Like About IM Checklist
Fresh PLR products each month
Useful content
Has many different purposes
Relatively affordable
Kevin Fahey is not a scammer
$3 for a five-day trial
High-quality bonuses
What I Don't Like About IM Checklist
Hidden upsells
It's not a step-by-step program
Do I Recommend IM Checklist?
Having access to fresh PLR checklists and content each month could be a good idea.
I personally see a lot of good uses to these checklists and would recommend IM Checklist to anyone looking to learn new things, improve the existing online business, and more.
As I said earlier in this review, you can use them to get more leads by giving them away before signup.
Also, you can edit and re-brand the content and sell it as your own. You can give them away to your email subscribers to create more trust and improve your conversions, etc.
Related: SyndBuddy 2.0 Review
IM Checklist Review – Final Verdict
Now that you know what IM Checklist is about and it is not a scam, you can make your own well-informed decision about whether to buy it or not.
In my opinion, 3 dollars 5-day trial is good enough to give you more insights. So if interested or in need of PRL products for your online marketing campaigns, check it out.
That said, thanks for reading my IM Checklist review. I hope my article was helpful. What do you think about it? Do you have the experience to share with the rest of us?
Let us know in the comment box below. Would like to hear your opinion too!
How I Make Money Online
IM Checklist is a useful product. However, it is not a step-by-step beginner-friendly course that is going to show you how to start a successful online business from scratch and make money online.
If you're looking to learn how to do so, make sure to check out my #1 recommendation below!
My #1 recommendation is a step-by-step beginner-friendly affiliate marketing course that has helped me to go from $0 to earning $100's per day with affiliate marketing without any prior experience.
The reason why I recommend it over other courses is that my #1 recommendation is the leader in the affiliate marketing training industry.
Also, my #1 recommendation comes with all the tools like hosting, websites, keyword tool, etc., included with the course!
Moreover, my #1 recommendation is proven by 1000's from all over the world.
On top of it, my top-rated course is the largest online community of marketers of all levels.
This means that you can get help 24/7 and get answers from 1000's of expert coaches, including me!
Best of all, I used this exact system to go from $0 to $1000's per month in passive income!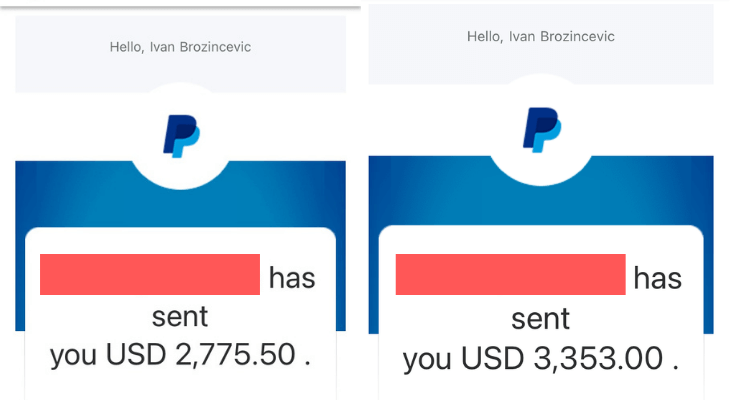 Among the best features of my # 1 ranked course is that you can take it for a test drive (just a $49 Premium subscription).
You will get one complimentary site and access to the very first ten lessons from the course to try things out.
After evaluating over 500 programs on the web, my conclusion is easy. This is the best course to learn about ins and outs of affiliate marketing.
And if you're looking for the very same, click the button below!
THE BEST WAY TO MAKE MONEY ONLINE IN 2023 >>
If you need any help or you have a question, feel free to contact me.
And don't forget to share this IM Checklist review with your friends and family!
All the best, Ivan. Founder, and CEO @freeaffiliatemarketingbusiness.com