Welcome to my Instant Passive System review.
Are you curious to discover a never before seen method that makes over $4417 every month even if you are a complete newbie? Need to know whether it is a real opportunity or a scam before you make any other moves?
This system has enabled the creator and many of his students to quit their day jobs and work from home or anywhere they like. It's so simple because you can now provide something that every internet marketer needs.
What would that be? Well, it's traffic. We all need traffic 24/7.
That said, let's dive into this review so that I can show you what Instant Passive System is about in more details. I'll also show you what you get with this program. We'll discuss the price and upsells, whether you should get it or not, and more!
Instant Passive System Review – Overview
Instant Passive System is a step-by-step training program for making money online by accruing and selling traffic to internet marketers. During the three video modules (12 lessons + 3 bonus lessons), you can learn how to become a seller on the popular Solo Ads website called UDIMI.
That's right! With this program, they show you how to make money providing the one thing every single marketer out there needs the most. And that is traffic. The owner claims that he's been using this method to rake in over $4000 every single month.
However, after seeing the content of the program, I'm slightly concerned about training quality, and what the owner's real intentions are.
You see, Instant Passive System training is concise, and the members' area is jam-packed with affiliate links to various digital marketing tools and products. In other words, the creator is using this program to promote other products actively. To me, this is more like one giant sales funnel.
Plus, there are tons of upsells after you pass the check-out point, which means more money out of your pocket.
In my opinion, Instant Passive System is not worth it. There's a chance for a newbie to complete the training, but I'm not confident that this is beginner-friendly. Advanced marketer (3+ years of experience) could find this training useful.
If you're a newbie and you're tired of programs that are designed to rip you off, make sure to check out my honest recommendation below and stop wasting your time and money on scams…
CLICK HERE TO DISCOVER THE BEST WAY TO EARN AN INCOME ONLINE >>
What is Instant Passive System?
Instant Passive System is a collection of training videos that are designed to show you how to become a Solo Ads provider. With this program, you get access to system and tools you need to start your own traffic business.
Anthony Rousek and Mark Wightley are the brains behind the Instant Passive System. With over five years of experience with internet marketing, buying and selling traffic, these guys have decided to display their skills with the rest of the world.
What You Get With Instant Passive System
In this section of Instant Passive System review, I'm going to walk you through the features and the content of the product. This way, you can see how it looks before you make your own decision.
That said, here's what you get with this product:
Step-By-Step Video Training Program
PDF Version of The Training Program
Getting Started Checklist
Full Access To The Instant Passive System Membership Site
Rolodex or Quality Traffic Providers ready to Arbitrage
Private Instant Passive System Facebook Group
Also, you're going to find a lot of AFFILIATE LINKS withing the training area. You see, the owner is using this program to promote a bunch of tools that you need to set up a traffic selling website. I'm going to disclose these in the latter sections of my review.
How Does Instant Passive System Work?
Have you heard about Solo Ads? Does UDIMI website ring any bells? You see, the primary purpose of the Instant Passive System is to teach you how to start your own traffic business. They show how to acquire a list and then how to sell the same to other marketers via Solo Ads marketplaces.
Inside of the training area, you get a set of training videos where Anthony Rousek and Mark Wightley explain the process in a step-by-step manner. Below is are the list of videos and steps needed to set up this system.
Training Module 1
The Overview
What are solo ads
Why Solo Ads Arbitrage
How to determine price structure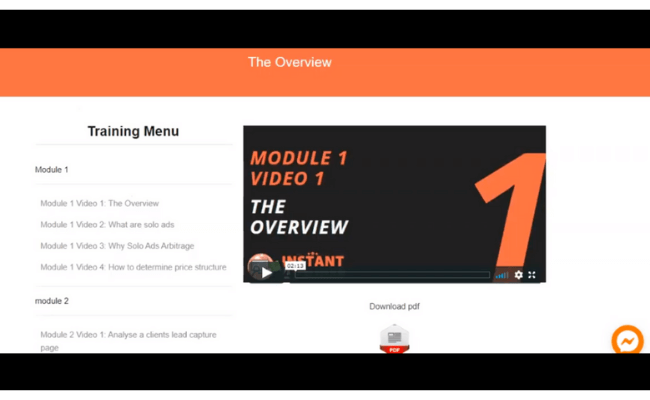 Training Module 2
Analyse clients lead capture page
Solo Ads Terminology
Creating Rotator link
Create Links for selling traffic
Staying Organized
Training Module 3
How To sell Clicks on UDIMI
Why Reputation Matters
Gathering social proof for selling clicks on Facebook
The Process of Buying Clicks For Reselling
Creating Your own Solo Ad Website
Process of Selling on Warrior Forum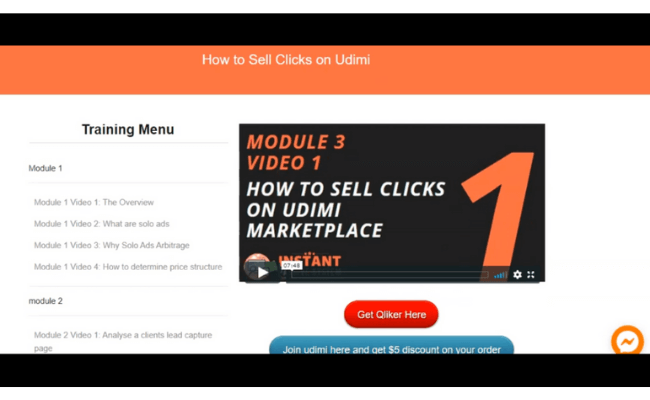 Now, the trick with selling solo ads is to build a list first. And this is the process that may take years. So to speed things up, guys have thought of the way that allows you to sell traffic without even owning a list of subscribers.
Sounds impossible, right?
They have partnered with well-knows solo ads sellers like Matija Baltic. So the purpose of the Instant Passive System is to teach you how to get orders from clients on sites like UDIMI and then resell the traffic from sellers like Matija and others.
So in other words, you're acting like an affiliate for already established Solo Ads providers. You come to them with orders, they will then send the traffic, and you get a piece of the profits. The clients will never know that you're not a real Solo Ad seller, but they will still get the traffic they ordered.
Is this system going to work like that?
Well, according to the owners, they've been doing this for years, and it could work, of course. But as I said earlier in this Instant Passive System review, there are some red flags that you need to know about. I'll show you these in the pros and cons section.
Related: 10 Minute Traffic Review
Instant Passive System Price and OTOs
To learn how to resell traffic (Solo Ads) to marketers using the Instant Passive System, you'll have to shell out $14 one time. This is the front end price. The program also comes with four one-time-offers (OTO) that are going to offered right after you buy the package.
The basic package includes step-by-step training videos, downloadable PDF version of the training, getting started checklist, full access to the membership site, Rolodex of quality traffic providers, and access to the private Facebook group.
Here is what you can get with OTOs.
OTO #1 – Affiliate Blueprint – $27
With the first OTO, the owners will show you how to scale your business with sales funnels and your email list using the solo ad traffic you're already selling to your clients.
This way, they will show you how to use the profits you earn with the Instant Passive System to build the list. In other words, they show how to reinvest earnings to set up a side hustle of your own.
Here are some of the things they teach with Affiliate Blueprint OTO:
how to send traffic
how to create an email capture page
how to create a thank you page
how to set up an autoresponder
how to set up a welcome mail
how to send autoresponders
how to promote affiliate offers
This OTO is an entirely new method that compliments the things they teach with the basic training. The training is in step-by-step video format where everything is laid out and ready to use.
OTO #2 – Google PPC success kit – $27
The Google PPC Success Kit is another set of training videos where they show you how to make money online with Google pay-per-click. In other words, they will show you how to get more traffic to your funnels with paid Google ads.
This method is precisely what Solo Ads sellers have been doing to generate leads and build lists. The target niche is Make-Money-Online (MMO).
If you take OTO #1, you'll have to take Google PPC Success Kit because this is the essential part of the whole process of getting leads and building an email list. The first OTO is about setting up the sales funnels, thank you pages, email autoresponders. This one is about getting traffic to your pages.
OTO #3 – Done for you service – $97
Now, if creating affiliate funnels and getting traffic through Google PPC is too much for you, the creator is offering a done-for-you service. In other words, he is going to build everything for you if you take this OTO.
This OTO includes:
Building the entire Affiliate Sales Funnel
Creating and Running an entire Google PPC campaign that Anthony optimizes and runs for a full two weeks
Plus a one-off coaching session with Anthony to make sure you're able to see great results
OTO #4 – Coaching – $197
The last OTO from the Instant Passive System funnel is 1-on-1 coaching. The author offers his coaching for 30 days. He promises to take your hand and lead you through the entire process on how to get started and see results as a solo ad traffic reseller and vendor.
Anthony is going to show you how to become a solo ad reseller, build your own email list, and how to set up Google ads.
Related: Explode My Payday Review
What I Like About Instant Passive System
The creator of Instant Passive System includes basic training and a lot of resources for a low price of only $14 one time. This basic package might not be good enough to make you any money, but it's got the potential. And if you don't like it, you can get your money back within the first 30 days.
Step By Step Video Training Included
Facebook Group and Bonuses Included
The System Has Got Potential
30-Days Money Back Guarantee
What I Don't Like About Instant Passive System
Ont the flip side of the coin, the system inside is not as beginner-friendly as advertised. Reselling solo ads is a method that requires a lot of precision and effort, and the success, especially to beginners, is not guaranteed.
One of the biggest cons to this program is the fact that the front-end product is not going in-depth and you'll have t take at least first two OTOs to complete the training. And even then making money is not guaranteed.
Lastly, to follow through with Instant Passive System, you'll have to buy a lot of extra tools and resources for which the owner earns affiliate commissions. These are not included with the program.
Not As Beginner-Beginner Friendly As It Seems
Basic Training Package is Not In-Depth
OTOs Are Needed to Complete the Training
The System Carries a Lot of Additional Expense
Is Instant Passive System a Scam?
The last matter of this review is whether or not the Instant Passive System is a scam. As you can see from the above sections, we have gathered lots of information that could lead us both ways. So is it a scam or legit?
In my opinion, this is not a scam. However, I'm not entirely comfortable recommending this program and here's why.
You see, you're lead to believe how instant passive system is a completely newbie-friendly method that is going to make you $1000's per month by merely working only 30 minutes per day.
To me, these claims are a significant scam sign, and they do not belong in marketing campaigns.
And then, instead of a secret system for making money online, you get a half-completed training where they introduce you to a method that is not complete without additional upgrades (OTOs).
In my opinion, this is the wrong way of doing business, and thus, this product loses trust.
That said, the method they teach with Instant Passive System is legitimate, but I'm not going to be recommending this to my readers. This is not 100% legitimate program.
Related: Juicy Profits Pro Review
Instant Passive System Review – Conclusion
Before I conclude this Instant Passive System review, I want to share a short story with you. You see, a few years ago, I got the idea to start my own online business and make money online. I was tired of my traditional job, and I was looking for freedom.
The same as you're doing right now, right?
On my quest to success, I've stumbled across many seemingly legitimate opportunities. Moreover, I ended up buying into these schemes trusting that this will be the thing that is going to lead me to success online.
Sounds familiar?
Well, I'm guessing that you're wearing my old shoes and you need someone to show you how making money online is done. If that is you, you've come to the right place!
I want to show you the way to making real passive income online through a popular method that almost every website online is using to make money.
That said, thanks for reading my Instant Passive System review. Now, click the button below to discover the best way to earning an income online!
CLICK HERE TO DISCOVER THE BEST WAY TO EARN AN INCOME ONLINE >>
If you need any help or you have a question, feel free to contact me.
And don't forget to share this review with your friends and family!
All the best, Ivan. Founder, and CEO @freeaffiliatemarketingbusiness.com