Welcome to my Invincible Marketer review. Can you make money with this course? Is it a good option for beginners? Is Aaron Chen legit? And above all; is Invincible Marketer a scam?
Aaron is one of the most popular affiliate marketers on YouTube today. And just last year, he released his first-ever training course for getting started with affiliate marketing.
The Invincible Marketer is a masterclass that contains over 80 training videos, a private FB community, DFY marketing resources and much more!
So should you go for it? Check out my review before you decide…
I purchased the Invincible Marketer Lifetime membership ($497), and I finished 98% of the training (the last 2% are purely motivational). That said, I tested this program, and got results…
Finally, I'm ready to share my ultimate review to help you make your buying decision.
Throughout my Invincible Marketer review, I will answer all your questions, and you can rest assured that you will get an honest and unbiased review from me.
Before we get into this review and answer those questions from the above, let me just quickly introduce myself…
Hi, I'm Ivan and I'm an online marketer who went from losing my time waiting tables to running a thriving affiliate marketing business.
I have tried and reviewed 600+ courses, scams, and even pyramid schemes to find the very best way to generate income online.
So if you are interested in the Invincible Marketer program, and are looking for a reliable source of information before you make your decision, this post is a must-read.
You will get insights into the program, I'll show you what is inside, reveal the full price, and more. I'll even share a set of pros and cons to help you, weigh it out!
Now let's get started with my review and see if the Invincible Marketer course is worth your money.
Invincible Marketer Review – Overview
Product Type: Invincible Marketer
Owner: Aaron Chen
Price: $67/monthly or $497 one-time
Money-Back Guarantee: 30-days
Recommended?: Yes
Overview: Invincible Marketer is a training course designed for people who want to become affiliate marketers. It was created by Aaron Chen – a legit online marketer and YouTube coach.
But is his course legit? Or is it a scam after all?
To answer these questions for you, I purchased the Lifetime Membership before writing this review. I finished the program and even generated some results that I will share below…
✅ Invincible Marketer PROS
The good thing about Invincible Marketer is that you can learn how to start a successful affiliate marketing business. Aaron Chen is a successful marketer and his training is packed with a lot of value.
I like the fact that you get actionable steps after each lesson. In other words, Invincible Marketer is a step-by-step course and it's suitable for beginners.
On top of the great content, Aaron gives away lots of valuable bonuses and has even organized a community where you can chat with other members too.
All that for only $67 a month! There is even an option to pay $497 one-time and get Lifetime access to all the features.
And if you are worried that the Invincible Marketer is a scam, you can try it out for 30 days without any risk.
Probably the best thing about Aaron's course is the fact that people are getting results with his "Sell Without Selling Method."
In just a week of using the system behind this affiliate marketing course, I earned $746 in affiliate commissions. I'm sure the results will only grow as I keep taking action with the Invincible Marketer.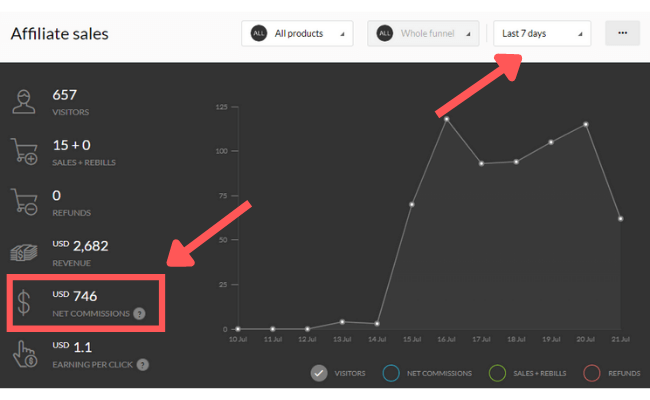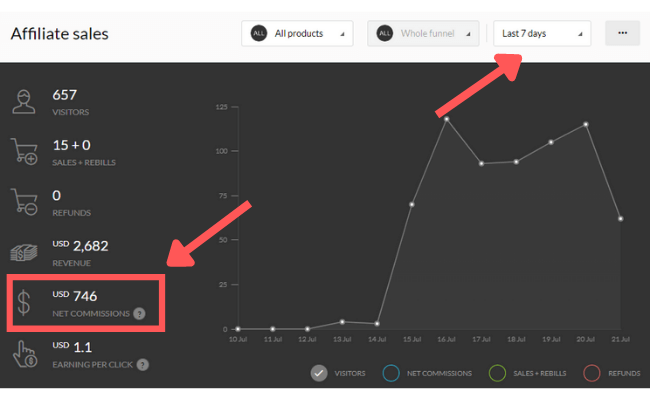 Keep in mind that I'm an established marketer, which is why I got so fast results. If you are a newbie, you could accomplish the same in 2-3 months of hard work.
? Invincible Marketer CONS
The downside of this course is the price is a bit expensive in the long run, and it will cost you some extra money. For example, you'll have to buy tools and traffic, and the price is recurring.
On the flip side, if you put the work and effort into this proven system (2-3 months), your investment could pay off (and multiply) quickly!
?? Scam or Legit? – Verdict
The bottom line is, affiliate marketing is a legitimate online business model, and you can earn a lot of money from it once you know what you are doing. And Aaron's course can help you with that.
After taking all the pros and cons into a consideration, Invincible Marketer is not a scam.
For only $67 a month, you will get access to a proven system for making money online.
That said, Invincible Marketer is a legitimate course and I recommend it.
In fact, after reviewing over 600 make-money-online courses, IM is my #1 recommendation! You can test drive the course for only $7 if you use the link below.
Or keep reading my Invincible Marketer review to learn more about the content of the course, pros and cons, price, and more.
Learn More About Invincible Marketer >>
What is the Invincible Marketer?
Invincible Marketer is an affiliate marketing training course created by Aaron Chen.
The course has 17 sessions that are divided into two different parts called The Core Training and Essential Mindset. The latter is something that I really like to see because mindset training is critical for success.
With this course, you'll also get access to bonus resources and a private support group.
Each session with Invincible Marketer contains specialized lessons that talk about starting an online business using Aaron Chen's proven "Sell Without Selling" method.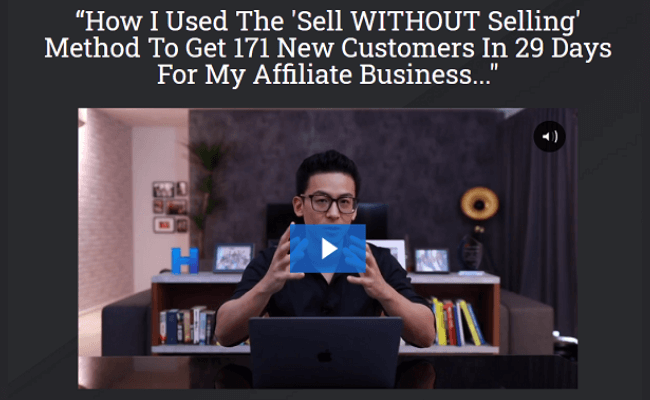 One of the best things is that students become successful entrepreneurs after using the same methods Aaron Chen uses to get new sales every month.
The first time I landed on this course and saw Aaron's face, I knew that this must be a very good and legitimate course.
However, there's always that small voice that doesn't trust people on the internet that easily, right?
But after a few hours of intensive research, I learned that Invincible Marketer is legit – more about this in the later sections of my review.
With Invincible Marketer, Aaron provides each member:
Step-by-step core training modules
Bi-monthly coaching calls
Done-for-you blueprints, templates, and handouts
Expert mentoring
Community help and support
What Will You Learn From Invincible Marketer?
Aaron's "Sell Without Selling" method is just a tricky phrase to describe affiliate marketing. Affiliate marketing is a legit process and Aaron is a guy who knows a lot about it.
Inside the training, you will get to learn the exact six-figure conversion model that Aaron is using to make money with his affiliate marketing business.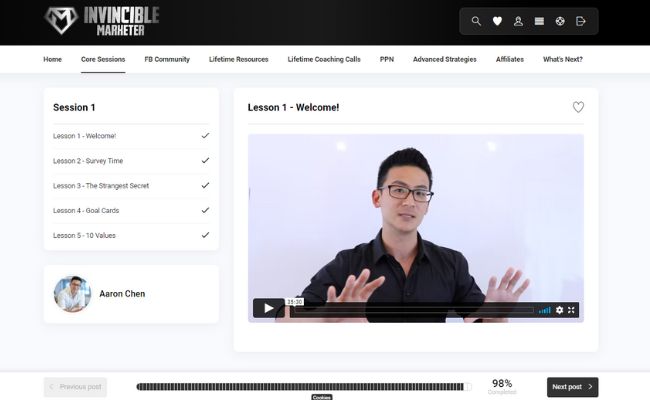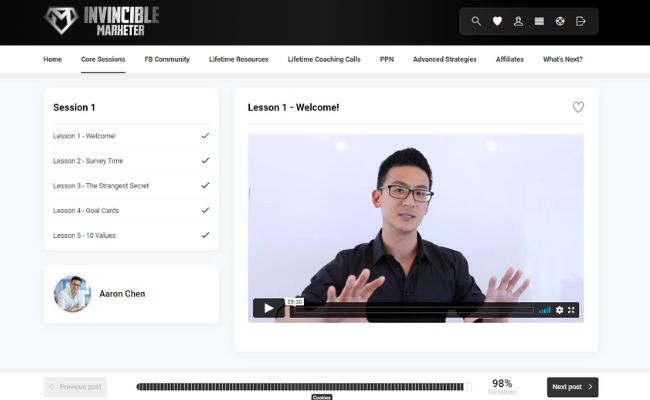 I've watched the entire course and can confirm that the information inside is 100% legit and based on workable methods.
In a nutshell, the Invincible Marketer shows how to start making money by promoting other people's products in return for commissions.
You will learn how to:
Choose your niche and find products
Build websites and write blogs
Create YouTube content
Drive paid and free traffic
Make money with Affiliate Marketing
and more
I'll be getting into more detail about the science of making money with Aaron's course. But before I do, let me introduce to you the man behind this course.
Ready to Go? Get Started With Invincible Marketer Today!
Who Is Aaron Chen?
You may already have heard or seen about Aaron Chen because he is all over the place with his reviews on Youtube, where he shares thoughts on products or businesses to see if they are legit or not.
His Youtube channel contains educational materials about affiliate marketing too.
If you like his YouTube content, you can check The Freedom Audio Show podcast, where Aaron dives deep into the big entrepreneurial ideas that will revolutionize the way you think and work.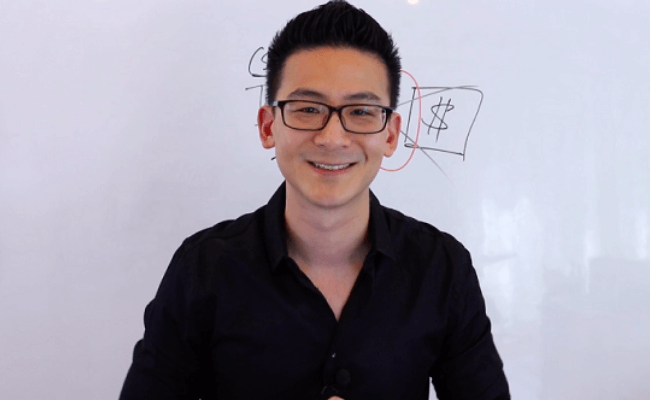 Aaron Chen has been in the business for a long time now, and he has tried different online businesses from MLM and dropshipping.
And just like many of us, he had to go through the "grind" before he earned his right to become successful.
In 2016, he found the right mentor, and that is where he started turning things around.
Right now, he makes a lot of money online and is doing it full-time. And with this course, he'll show you how to follow in his footsteps.
Learn More About Invincible Marketer >>
How Does Invincible Marketer Work?
The core training gives you everything you need to know how to build a profitable online business. As mentioned, you will get step-by-step training, coaching, group, and more.
The Invincible Marketer training will teach you how to make money with affiliate marketing even if you are new to the business.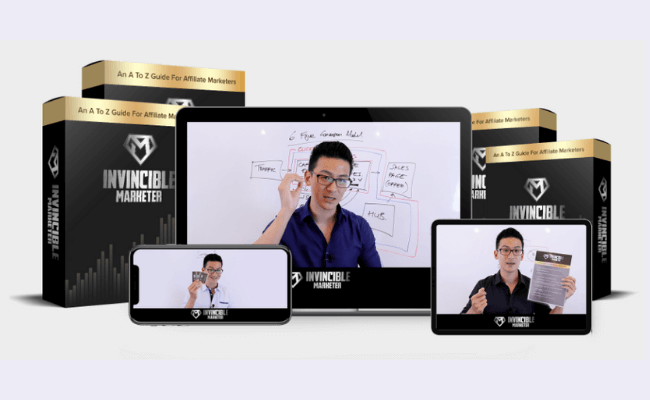 Over the 17 training sessions with Aaron, you learn how to:
Pick the right niche
Choose the right affiliate products to promote
Identify the needs of your target audience
Create a high-converting sales funnel
Have a successful mindset
Write compelling headlines and capture pages
Build an email list
Run profitable email marketing campaigns
Drive traffic from native ads, banner ads, social media, and search engines
Effectively manage your time and boost productivity
Build an authority website
Create a successful YouTube channel
Optimize for maximum conversions
And more
The main idea behind Invincible Marketer is to show you how to start making money online with affiliate marketing. In other words, promoting other people's products.
As mentioned, that's something Aaron is successfully doing for a while now.
It's a great thing that you will be learning from someone who knows his craft, if you ever join this course, of course.
Invincible Marketer Step-By-Step
In a nutshell, Invincible Marketer teaches how to choose a niche and find products that you believe in and would like to promote to others to earn commissions.
The next step is to create your own affiliate marketing funnel, which is your means of connecting with your customers.
Or should I say, future customers?
Once you have a sales funnel in place, you have to drive targeted traffic to your offers in order to make commissions and that part is covered with the training as well.
Aaron shows how to drive both paid and free traffic.
Paid traffic comes down to:
Native ads
Google ads
Social Media ads
The good thing is that if you don't have money to invest in paid ads, the Invincible Marketer course also shows how to build your own authority blog so you can drive free traffic as well.
If writing blogs is not your thing, Aaron Chen will show you how to create YouTube videos and drive free traffic from the second largest search engine to your funnels.
As a new marketer, you have to learn both ways!
All in all, Aaron's course has a beginning and an end. The method is legit, and if you take action and do everything Aaron suggests you do, you could start earning income soon.
In case you would like to see Aaron's Invincible Marketer review before you move on, watch the video below…
Inside Invincible Marketer
There are four parts to this program. The 2 parts are the actual training (Core training and Mindset training), and the other 2 are bonus content.
Here's what you will get from the program:
Core Training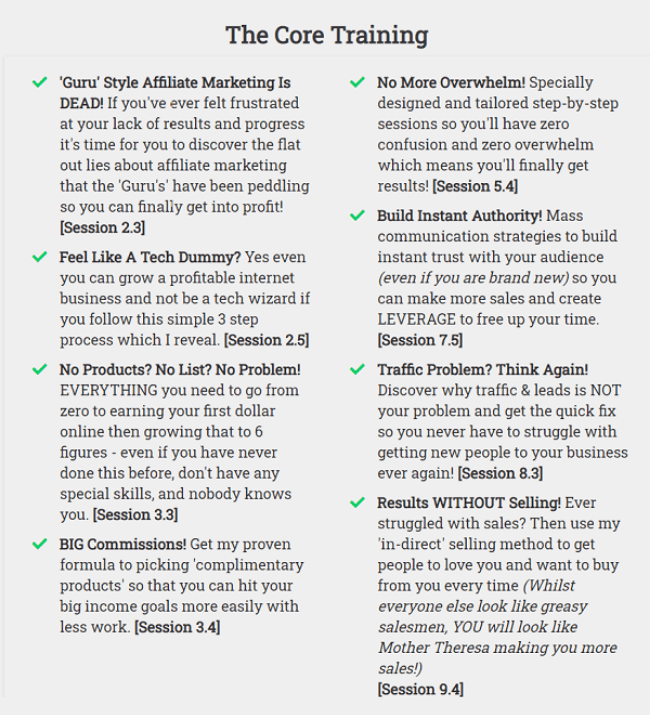 The core Training is where they will teach you about affiliate marketing, and here you'll learn the fundamentals of the business model.
As said earlier, he will teach you how to make money using affiliate marketing, how to build out your assets using affiliate marketing, drive traffic, how to drive traffic to your website, and much more.
You'll learn a lot from this topic; however, it doesn't cover some important topics such as building the website, what platform to use, etc.
Essential Mindset Training
This training focuses on the mindset. I'm a firm believer that the right mindset plus a proven system will lead to success 9 times out of 10!
This training will teach you how to overcome failure, be accountable, remain dedicated, and more. You will learn strategies on how to become successful with an online business.
Bonuses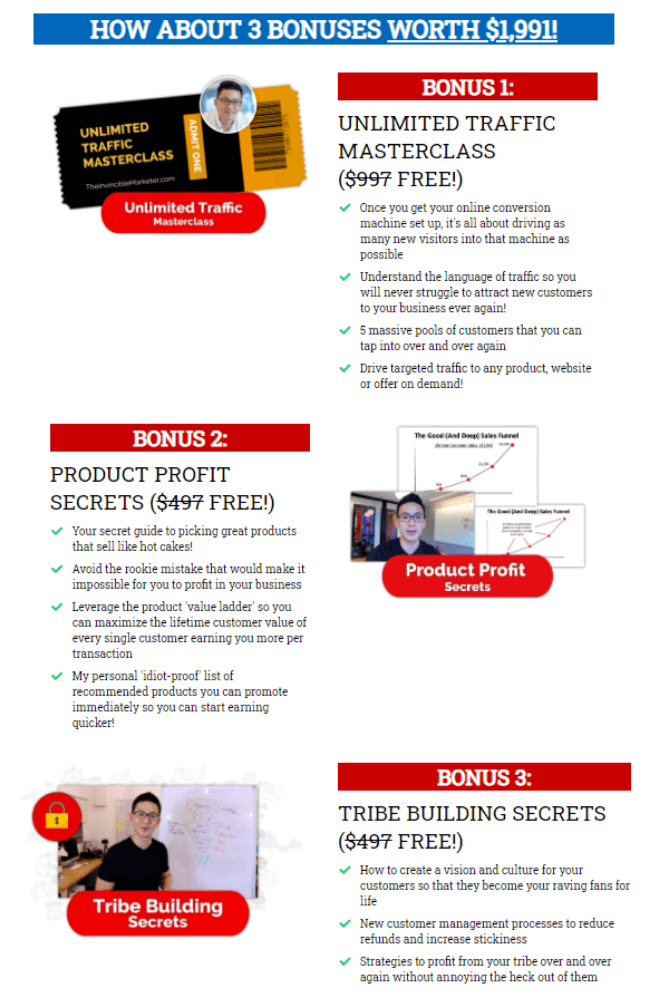 The bonus is only available for a limited time.
In this bonus, some mini-courses are designed for different aspects of affiliate marketing.
Here are a few of the bonus content of the program:
Unlimited Traffic Masterclass – This is a mini-course that talks about traffic. Traffic is the most important part of affiliate marketing.
Product Profit Secrets – This talks about picking the right products and taking them to market.
Tribe Building Secrets – This mini-course on branding will show you how to build your brand from scratch and get sales down the road.
The Invincible Marketer Facebook Community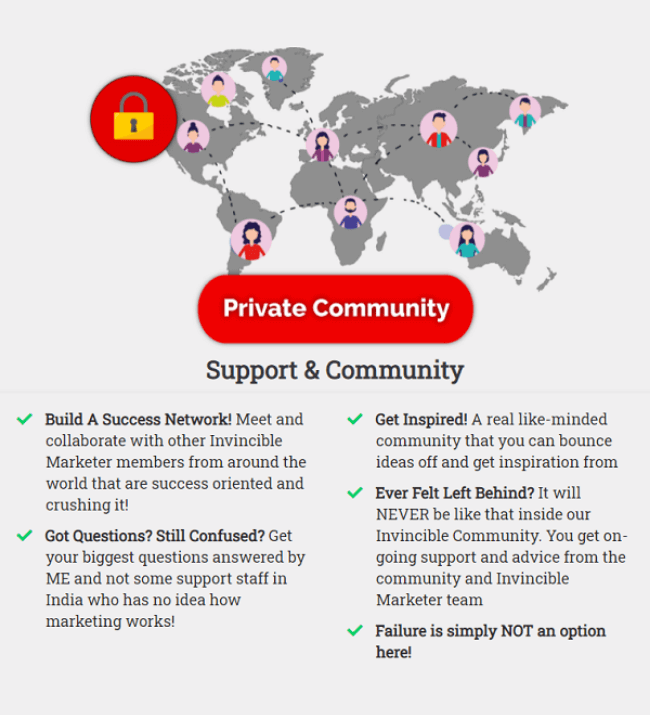 Lastly, with Invincible Marketer, you'll get access to their private Facebook mastermind group, where you will get support from Aaron Chen and his team of expert marketers if you have any problems with the course.
This is one of the most valuable features, in my opinion.
And that's about it when it comes to features and content. Let's see who is this course for, what are pros and cons, whether it is a scam or not, and more.
Shall we continue?
Ready to Go? Get Started With Invincible Marketer Today!
Who Is Invincible Marketer For?
Invincible Marketer is for everyone as long you are willing to listen, learn and want to build a business on your own.
If you are the type of person willing to commit and want to make money online, this course is for you.
Keep in mind that his course is not that cheap, and I will share how much it will cost you soon in this Invincible Marketer review.
Also, building a business online takes a lot of time and hard work. Not just that but, you have to go through some trials and errors along the way before you break through.
Now, I'm not discouraging you or anything; I'm just telling you that you have to be prepared because it is not that easy, but if you are ready and determined that you can do it, then go for it.
Just remember if you want to take this course you have to be serious and be prepared.
How Much Does Invincible Marketer Cost?
The regular price of Invincible Marketer was $197.
Right now, it costs $67 a month, and you'll get access to the step-by-step training, bonus content and the Facebook group as long as you're signed up.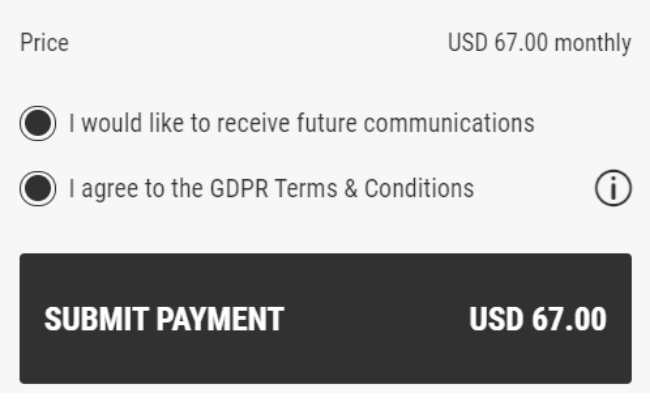 If you take the monthly subscription, right after the purchase you'll be offered to change it to a Lifetime membership.
The Lifetime membership costs $430 (one-time payment) and allows you access to the Invincible Marketer course, updates, and private group forever.
Plus, you will get access to:
Bi-weekly live Q&As with Aaron
DFY Capture Pages, Value Series, Emails, Bonus Pages
Advanced marketing strategies
Tested affiliate programs
Invincible Marketer affiliate program
Most importantly, it eliminates the monthly recurring costs, which is awesome. I'm a Lifetime member of the IM course for the very same reason!
And as the last step in the funnel, you will get an offer to buy the Video Authority Mastery course.
It is the second course in Aaron's products it compliments the Invincible Marketer training course, but it's not mandatory to take it to see success with the IM course.
The price is $497 one time payment.
Video Authority Mastery will teach you how to use Youtube to drive high-quality leads to your funnel so you can bank in commissions on a daily basis.
Is The Invincible Marketer Worth It?
Considering the fact that Aaron really gives a lot of value away, the price is fairly reasonable. It's not the most expensive course on the market, for sure.
When I compare it to some competitors, the price is more than fair and I know it's worth it.
Aaron Chen gives a lot of Bonuses and has created a community that's slowly growing in numbers. The only downside is that there are no tools such as hosting, websites, and keyword tools, included in your package.
This means that you will have to outsource these, which creates extra costs.
You will need to invest in:
ClickFunnels (funnel builder) $97 a month
ClickMagick (link tracker) $37 a month
GetResponse (autoresponder) $15 a month
But even so, if you take action with Invincible Marketer training, and invest all the time, work, and money into Aaron's "Sell Without Selling" method, you can return your investment quickly.
Not just that, once the ball starts rolling, your investment will multiply itself over and over.
So even though you don't get an all-in-one package, Invincible Marketer is worth the price and I do recommend giving it a try!
You can test drive the course for only $7 if you use the link below.
Learn More About Invincible Marketer >>
Is The Invincible Marketer A Scam?
Invincible Marketer is not a scam. It is a legitimate training course where Aaron Chen teaches you the basics of affiliate marketing.
In my opinion, this course is best for beginners because it focuses on building a proper mindset, which is something that most beginners lack.
On top of the Essential Mindset training, you will get step-by-step Core training that's proven to work by tons of users so far, a private support group, bonuses, and more.
The course is broken down into 17 different sessions, spanning two parts.
It might take you a few weeks to get through the program, but if you only want to get through Core Training, it might just be a few days for you if you focus on it.
Remember the course is not that cheap because you have to pay for the course per month. But in my experience, it may take 2-3 months to start earning so it could pay off quickly.
So if you want to give it a shot, the monthly fee makes it affordable and accessible even to those who have a limited budget.
And the fact that users are GETTING RESULT with Invincible Marketer shows that it's not a scam.
Ready to Go? Get Started With Invincible Marketer Today!
Can You Make Money With Invincible Marketer?
First of all, there are no guarantees being made. But yes, you can make money with affiliate marketing and therefore with the Invincible Marketer program.
Affiliate marketing is a real business model that's been growing in popularity since the early 2000s. The main reason is that you don't need any special skills or experience to become successful.
Essentially, all you need to make money online is a proven system such as Aaron's, a bit of time to do the work, some money to invest (not a lot), and some patience.
And the proof that Invincible Marketer works and users are making money is right on the sales page…and below.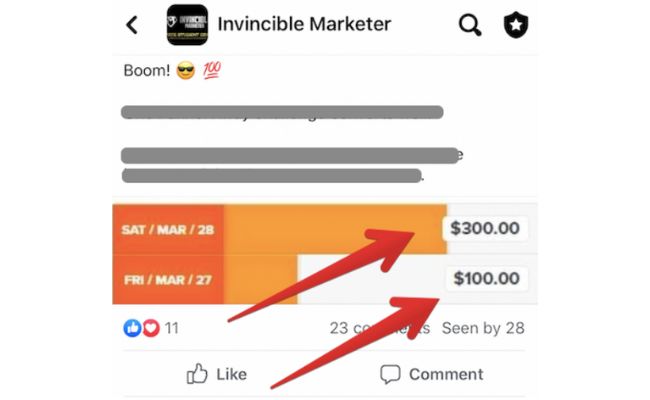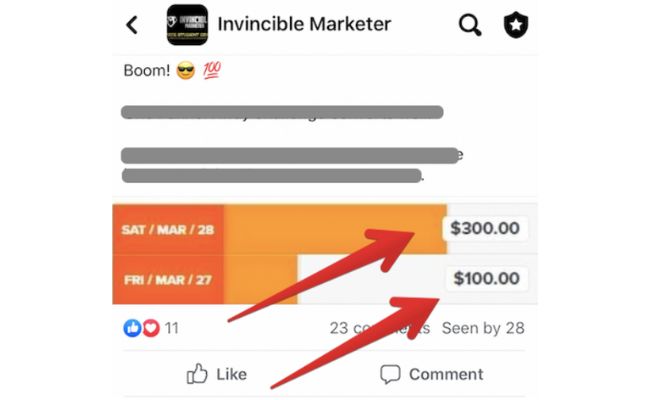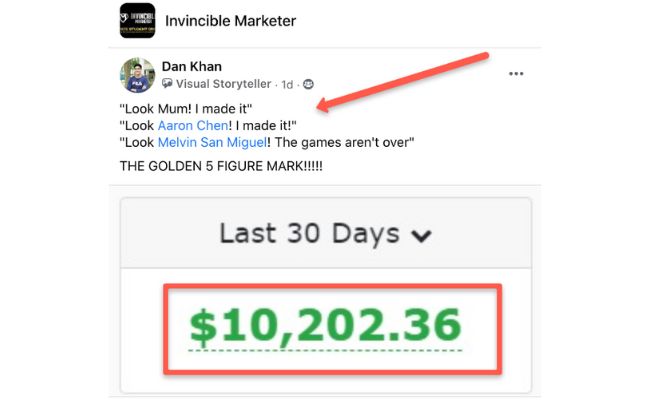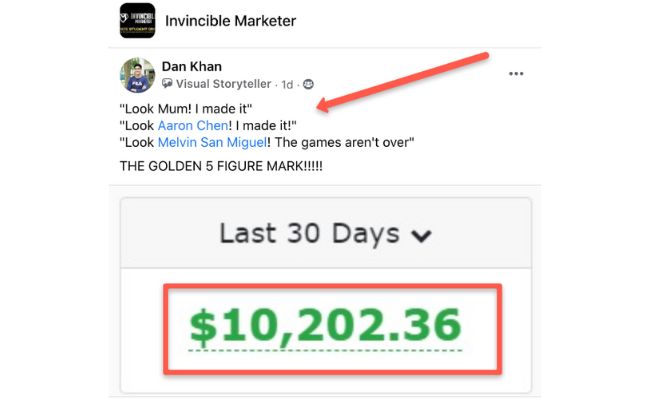 Once and if you join this training program, you will get access to the community. And inside, you will be able to check these results yourself.
I personally can't give you any guarantees that you'll be making money with this or any other course.
What's important is that you understand that affiliate marketing is a business. As such, your business needs some time to grow.
But the good news is that once it starts growing, the results usually come in a form of a snowball.
Learn More About Invincible Marketer >>
What I Like About Invincible Marketer
Engaging Videos and Sessions
What I like about Aaron Chen is that he is a professional person, and he puts a lot of effort into creating his videos and entertaining them at the same time.
You'll also see that his training videos have great quality and Chen's delivery of the lessons are concise but on point.
Aaron Chen Is a Real-Deal Marketer
One of the things that I really like about Invincible Marketer is the owner and creator. I've been following Aaron for a while. He's one of the rare legitimate online business coaches out there.
He owns a YouTube channel called Internet Marketing Reviews and has about 20K subscribers by the time of posting this very review of his course.
Aaron is the real deal marketer and that's a good thing.
No Hype, Fake Marketing, etc.
One of the cool things about the sale material is that its BS-Free. In other words, Aaron is not going to throw dust in your face in the effort to grab hold of your credit card.
His honest approach to marketing is one of the main reasons why Invincible Marketer is 100% legit.
Each Lesson Comes With Actionable Steps
With Invincible Marketer training, you will be assigned specific tasks at the end of each lesson. This means that your learning and success curve will be much faster than usual.
You are building out your foundation and then building on it as you go through the training.
Lots of Great Content and Bonuses
Another thing that Aaron does well with this course is the extra content and features. You get tons of valuable bonuses such as Unlimited Traffic Masterclass, Product Profit Secrets, and more!
All in all, for only $67 a month, there's a lot of great material packed in one course.
Coaching Calls Are Included In Membership
Once you become a Lifetime member, you will be invited to his live Zoom Q&A coaching calls with Aaron Chen, where you can ask any questions and show your work to him.
Unlike most courses, the coaching calls if you're a lifetime member are not only upselling opportunities but insightful brainstorm sessions.
Invincible Marketer Users Are Boasting With Results
Usually, I review courses that are full of boastful but fake testimonials. This time, it's different.
As you can see from the screenshots below, Invincible Marketer users are getting great and very real results, which compliments the legitimacy of Aaron's course.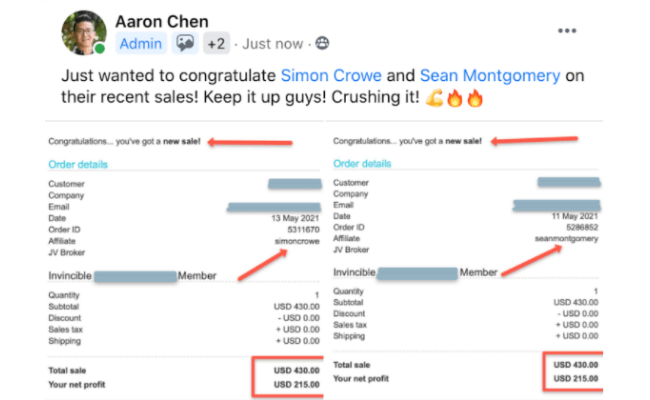 How do I know these results are real? Well, I personally know Simon Crowe and I recognize a few other faces and names among testimonials.
So no worries, these are 100% legit.
Ready to Go? Get Started With Invincible Marketer Today!
What I Don't Like About Invincible Marketer
Too Much Mindset Talk
As you already know, the course focuses on mindset. To some advanced users like myself, this might be too boring.
Remember you buy this course to learn more about affiliate marketing, and you want to learn different strategies and concepts.
If you want to improve your mindset, there are many out there on the web or social media.
But on the other hand, it's good to see that it's there because most newbies have the wrong mindset. And this course can help to fix it.
Costs Will Build Up
As you already know, the course costs $67. Since it is a recurring membership, the overall cost could quickly add up if you do decide to replicate Aaron's processes.
Also, you'll have to pay for separate tools to achieve the same results as he did. This will add a few monthly subscriptions to the total spend.
However, once again, if you focus and work your ass off, you could pay off your entire investment in less than 6 months.
Limited Web Traffic Options
One of the things that I believe the Invincible Marketer could do better is traffic generation. During the program, you will be learning about YouTube and paid ads like banner ads, native ads, etc.
The problem is that all lessons are quite narrow. In some cases, I feel that Aaron just skimmed over these methods.
The reason is that he pitches his Video Authority Mastery course inside the Invincible Marketer. It is an in-depth course where he teaches how to master YouTube marketing.
Invincible Marketer Online Reviews
While doing the research, I found a lot of great and positive online reviews of Aarons Course. This is a great sign that people are happy with the Invincible Marketer.
Here's what some of the customers have had to say:
Natalie S gave Invincible Marketer 5 stars
"Invincible Marketer helped me gain lots of positive energy/thoughts, and how to be passionate about what I am doing. I also love how this training program is so easy, detailed, and interesting to watch. I will be definitely continuing with the Invincible Marketer and can't wait to make incredible results!"
Noel G gave Invincible Marketer 5 stars
"My experience with the Invincible Marketer is very excellent. I am growing psychologically and I am learning a lot about building an automated business system on the internet, how to build my list, and the tools necessary for it.
The Invincible Marketer has transformed my way of doing business which was primitive into a more advanced automated system.
Thank you, Chen, keep on the good work"
Rico M gave Invincible Marketer 4 stars
"Hi there, it's me, Rico. Just wanna share my experience here in Invincible Marketer, since I joined and watched all the lessons I really appreciate and am impressed by Aaron's effort to create this course, it was very inspiring and awakening. One thing I really love is the one-time payment for a lifetime membership, compared to others because I've been in other online courses you need to subscribe to and pay monthly. I strongly believe that Invincible Marketer will become stronger and more people's benefiting."
All in all, most reviews are five and four starts all over the net.
I really tried to find some complaints and negative reviews to hear both sides. However, there are no negative experiences with Aaron's course.
Or maybe they just didn't come up to the surface yet.
We'll give it some more time and I'll try to look again and update my Invincible MArketer review if I find any negative reviews in the meantime.
Final Words and HONEST Recommendation
Invincible Marketer is an excellent course for those who want to get started with affiliate marketing and make money online.
The good thing about this course is that you will get support and guidance from Aaron Chen and his team of experts.
Also, you'll get access to their Facebook page where you will see other members like you, and help each other out.
Remember, if you are interested in this course, make sure you are prepared because costs might add up quickly. Most people aren't so they waste too much money.
Luckily, you are not one of those people because you're reading my review 🙂
So if you take some serious action with this course and do what Aaron tells you to do, you could start seeing results in about 2-3 months from joining.
This means that you have to invest only about $200-$300 instead of $1000s, which is the price of overhyped courses created by gurus who teach the same stuff as Aaron here.
Know that just like buying a gym membership, Invincible Marketer is the start of your journey, and the work starts now.
So if you are really ready to invest a lot of time and work into this course, then you should join Invincible Mareter today, lock yourself in, and hustle until you reach your goals!
Learn More About Invincible Marketer >>
Thanks for reading my review. What is your Invincible Marketer review? Feel free to leave your comments, results, and experience at the end of this post!
Related Affiliate Marketing Courses
And don't forget to share this Invincible Marketer review with your friends and family!
All the best, Ivan. Founder, and CEO @freeaffiliatemarketingbusiness.com