Welcome to my Profit Injector review.
Jamie Lewis is right! Millions are being made with YouTube. But is Profit Injector a scam or a legitimate way to leverage this multi-billion dollar industry?
YouTube is indeed a vast field ground to be played. It's the #2 search engine in the world, and it's getting bigger and bigger. Many marketers have used it to earn millions and even billions. Jamie Lewis is indeed one of them.
He's got something that's going to change your world too. Or at least that's what he claims.
You see, Jamie Lewis has created an overhyped sales pitch for the Profit Injector where he flashes with cash, cars, women, and other things that come with success. He knows that the package is selling the product.
But what about the quality? Is it any good? Or Profit Injector is a scam?
Within this Profit Injector review, I'll show you what it is about. I'm not associated with Jamie Lewis, so you don't need to worry, I'm not promoting it.
I'll show you what to expect from the software and give my honest opinion about whether Profit Injector is a scam or a legitimate way of making money. Shall we begin?
By the way, congratulations on researching before getting into things headfirst. I know it's hard to trust people on the net these days. But if you are looking for something real, check out this genuine way to make money with affiliate marketing.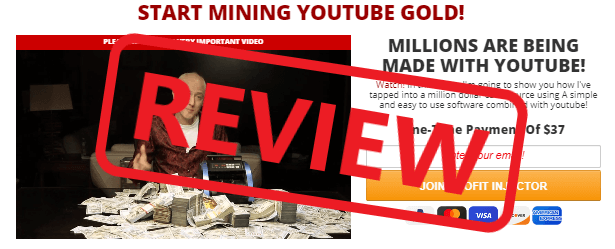 Profit Injector Review – Overview
Product Name: Profit Injector
Product Type: YouTube Software
Owner: Jamie Lewis
Price: $37 + UPSELLS
Rating: 1.5/5
Recommended?: No
Quick Summary: One of the first things I don't like about Profit Injector is the sales pitch. I like Jamie and I know he's a legit entrepreneur. But his videos are unethical and never reveal the true nature of the system inside.
The good news is, Profit Injector is not a scam. It's actually a legitimate system for making money with YouTube.
However, the quality of the program is highly questionable and I'm seriously doubting that this is going to work as Jamie said it should.
In other words, I'm afraid that this is not going to make you millions, but if you give it an honest try, it might produce some cash. In short, it's about using other people's YouTube videos to promote your products and make commissions.
Keep in mind that Jamie Lewis's Profit Injector is selling via the WarriorPlus marketplace and comes with a set of three upsells ($591!!!). Also, the refund is in place if you decide to use it. You have 60 days to test it.
On the other hand, if you're not too fond of overhyped and low-quality products, make sure to check out my PROVEN SYSTEM for making money online below!
My #1 recommendation is a legit training that made me go from $0 to earning $100's per day with affiliate marketing.
THE BEST WAY TO MAKE MONEY ONLINE IN 2023 >>
What is Profit Injector?
The Profit Injector is a YouTube marketing training course created by Jamie Lewis. Jamie is a legitimate marketer who's been around for years. In other words, he knows how things work.
But, that doesn't mean that this is a legitimate thing.
He claims it's a system that he's been using in combination with software to tap into a million-dollar cash source. And today, he's giving to the rest of the world — lucky us.
You see, I'm skeptical for a reason. I reviewed a lot of these software and other tricks for making money with YouTube. The reality of things is that 99% of them never deliver. Just take a look at Push Quick or Tube Profit Sniper. The former is a rebranded version of Profit Injector.
So why did he rebrand it? Well, to make more money, of course. So is it a scam then?
Before we move on, I'm sure that you're not going to take any of those claims from the sales page seriously. Jamie is a professional marketer. He knows what buttons to push.
Is Profit Injector a Scam?
Nope, Profit Injector is not a scam. It's a legitimate system from making money online using other people's YouTube traffic. In my opinion, it's not the best thing you'll find, but it's legit and might even work.
I personally don't like overhyped sales videos like the one used to sell this system. Jamie Lewis is one of those marketers that'll use every trick to make you buy his offer. It doesn't matter to him whether those tricks are right or wrong, he's going to use them as long as they sell the product and everything that comes with it.
Speaking of which, those upsells are annoying, not disclosed, and show that the owner has a secret agenda. That's never a good sign.
Other than that, I don't see why anyone would say that the Profit Injector is a scam. The method being used with this program is legitimate. You get all the tools and resources you need to make it work.
That is, of course, if you are willing to work on it. Don't expect some push-button system.
How Does Profit Injector Work?
The Profit Injector is a system for making money with YouTube. Basically, Jamie is going to explain how the system works and how to use the software as well. The system is based on affiliate marketing.
The method comes down to finding a video on YouTube that has a lot of potentials. In other words, you use the software to read data such as the number of views, clicks, and others. The most critical data is whether or not the owner has monetized the video.
If it hasn't been monetized yet, that's the one to go for. So basically, Jamie teaches to contact the owner and make a deal with him to use his traffic for affiliate marketing.
For example, you can offer the owner of the video a deal to market a third-party product via your affiliate link. If the owner agrees, you share the revenue with him or her. This way, you don't need to work to get traffic, but you need to work on striking deals with people who own traffic.
Withing the Profit Injector member's area, you'll get a training video where Jamie shows this method step-by-step. Also, you'll get the software as well as resources such as email swipes and other things you'll need along the way.
Will It Make You Any Money?
This is always a trick question. In my honest opinion, it is not the best way to make money online.
However, if you follow the Profit Injector method to the letter, you could end up in profits. Now, don't get me wrong, I'm not going to guarantee that you will. But the method is legitimate, and Jamie claims that he's been successful at it for years.
It's possible because it all comes down to dealing with people who own a lot of traffic. And traffic the critical ingredient for success with affiliate marketing. If, for example, the owner of a video agrees to your proposition, both of you will earn. One hand washes another, right?
On the other hand, the downside to this method is that you are not going to own those videos. So if the owner decides to cancel the deal for any reason, you lose the traffic and the revenue.
THE BEST WAY TO MAKE MONEY ONLINE IN 2023 >>
Profit Injector Price & Upsells
At the time of writing this review, Profit Injector is selling via JVZoo and WarriorPlus You can get the training and the software for a $37 one-time payment.
Also, you need to understand that Jamie is a pro marketer, and he's going to use this opportunity to upsell you a lot! In other words, after you pay $37, you're about to enter an expensive sales funnel.
Upsells
Training Class $197 one time
Training Class for 6 Months $97
Profit Injector Business in the Box $297
You are not required to take these. If you don't want any of those expensive packages, all you need to do is find the 'No Tanks' button. It's buried somewhere at the bottom of the page.
Is There a Refund?
Yes, the refund policy is in place. Jamie Lewis gives you 60 days to try and test Profit Injector. If, for any reason, you don't get results or don't like the system, he promises to give you your money back.

What I Like About Profit Injector
From the moment I landed on the website and started to watch the video, my first thought about Profit Injector was, "this must be a scam." It begins with a video where Jamie counts boatloads of money and promises hills and valleys. It's a classic sign of a get-rich-quick scheme.
However, after long consideration, I found a few things that I like.
1.) Software & Training Included
For $37, you get software that finds videos and shows which ones are best for striking a deal. Also, there are other resources included, such as step-by-step training videos, email swipes, and more.
2.) Profit Injector is Legit
After inspecting the software and the method that Jamie and the guys are showing, I concluded that it's legitimate, and could work. Jamie claims that he's been using this method successfully and seems exceedingly confident about it.
3.) Money-Back Guarantee
Another good thing about it is a 60-day money-back refund policy. Jamie promises to give you your $37 back if you decide to ask for it. They issue a refund with no questions asked, which is a good thing too.
What I Don't Like About It
Although the Profit Injector method might work and it could make you some money, I still think that it's a bit overhyped and has a few drawbacks. You need to consider these as well before you make your decision.
1.) The Way Jamie is Selling Profit Injector
Jamie starts the video by counting cash and telling you that you can consider yourself won the lottery. Now that's a bold statement. He flashes you with his earnings, house, and swimming pool to get your attention.
However, those are all nothing but dirty tricks, and I don't like them.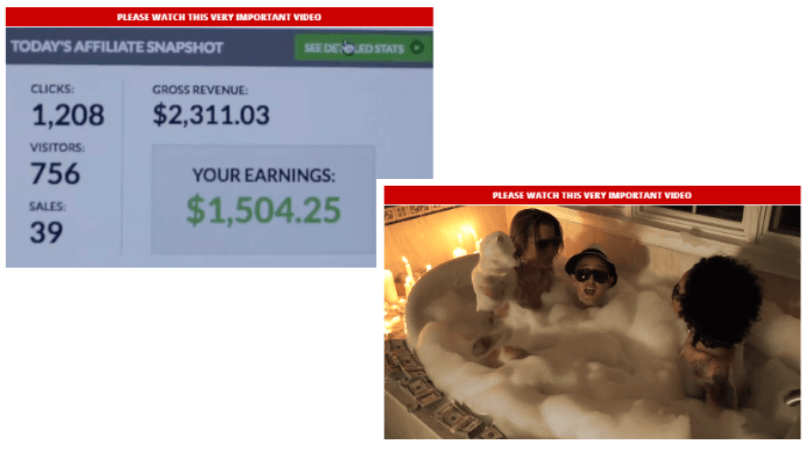 If  Profit Injector were really that good, there would be no need for those things. He could sell it with ease by being honest right from the start. This way, it leaves the impression of a 'get-rich-quick' scheme.
2.) You Don't Own the Traffic
The thing that bothers me the most is not the way this system's been advertised. The problem is the system itself. You see, the key to long-term success with online business is the ability to drive traffic to your offers using proven ways such as SEO and PPC.
With the Profit Injector system, this part is eliminated, which is why this method is not reliable.
Let's say that the owner of the high traffic producing video agrees to your proposition. And then, he realizes that he could get his own affiliate link and keep 100% of the profits and decides to cut you off.
In this case, you lose all your profits in a second! Worst of all, you need to hustle and grind again to find another good opportunity, which might just turn out the same.
3.) It's an Expensive Sales Funnel
I'm not a fan of upsells. What's worse, I hate to see them popping out unexpectedly as soon as you buy the front-end deal. And with the Profit Injector, there are three of them.
In my opinion, it shows that the owner is focused more on your wallet than helping you to succeed.
So as soon as you agree to purchase the system, the price jumps from $37 to a potential $591 in a matter of minutes! How do you feel about it?
Do I Recommend Profit Injector?
I don't recommend this offer for many reasons.
The main reason is that it's not the way to create a long-term business online. If that's what you're looking for, then I recommend staying away from this one.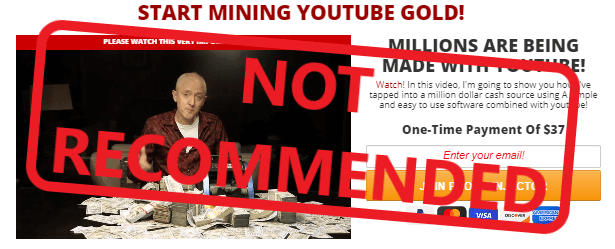 Why?
Although the system within Profit Injector is a legitimate way of making money online, you won't build the traffic yourself. This means that you're dependable on other people's traffic, which is not something that you want.
The key to success with online business is knowing how to get traffic using traditional methods such as SEO or PPC. Those two will get you a long way, trust me, even Jamie knows that. Everything else is, in my opinion, a quick way to failure.
Just remember the old one. Easy comes, easy goes.
How I Make Money Online
Thanks for reading my Profit Injector review. I hope I have helped you to learn more about what it is and how does it work and to answer your question, whether it is a scam or legit. If you have any questions about the program or maybe you can offer an experience, feel free to leave them in the comment box below.
Before I let you go, let me show you how I make money online by helping people just like you to find legitimate ways to make money online. The training program that I recommend has everything you need to get started online and nothing to do with getting rich by tomorrow.
The best thing is, it's entirely safe and free to join. No BS, no upsells, no push-button software, no scams. 
THE BEST WAY TO MAKE MONEY ONLINE IN 2023 >>
If you need any help or you have a question, feel free to contact me!
All the best, Ivan.