Is It Works a pyramid scheme? Is it a scam? Is it legit MLM? Keep reading my It Works review to learn everything about this opportunity before you go any further.
It Works is a company that sells nutritional supplements, beauty products, and more.
Like many other popular weight loss companies, It Works is a multi-level marketing business, meaning the company depends on non-salaried individuals to sell their products.
And that's why people claim that It Works is a scam pyramid scheme. Is it really?
Before we get into this review, let me introduce myself…
Hi, I'm Ivan and I'm an online marketer who went from losing my time waiting tables to running a thriving online affiliate marketing business.
In the meantime, I have actually tried and reviewed 600+ courses, scams, MLMs, and even pyramid schemes to find the very best way to generate income online.
Keep reading my It Works MLM review where I'm going to show you what this company is about.
Also, I show you how it works, and I share my opinion about whether It Works is a pyramid scheme or a legit MLM opportunity.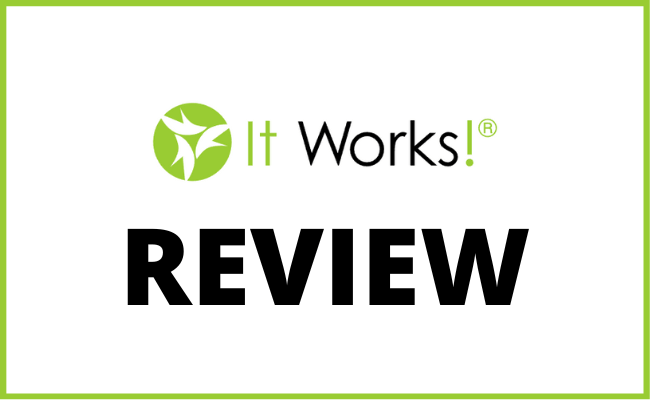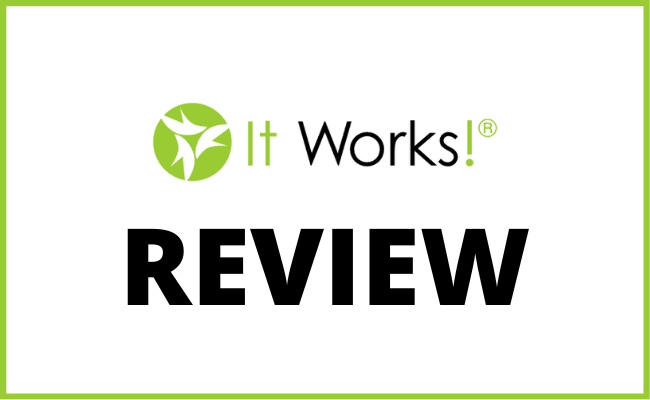 It Works MLM Review – Overview
Product Type: Nutrition, Skincare & Health MLM Compan
Owner: Mark and Cindy Pentecost
Price: $99 to start + recurring monthly fees
Money-Back Guarantee: not available
Recommended?: No
Quick Summary:  It Works is a weight loss company that you can join and become a part of their direct selling team. In other words, it is an MLM business opportunity.
And because of this, many people call It Works a pyramid scheme in disguise.
So is it a pyramid scheme? That question has been answered in detail in my It Works review. But if you're in a hurry, I can save you time and say that It Works is a legit MLM.
By joining this MLM, you get a chance to sell their products and (or) construct a team of salespeople through which you can earn additional compensation from their sales.
However, like every other company that utilizes this model it has issues. Keep reading my It Works MLM review to learn more before you make your very own choice.
Alternative: If you're a newbie who is looking to earn passive income online, there are other, more beginner-friendly, and cost-effective alternatives. My top-rated affiliate marketing course has helped me to go from earning $0 to $100's per day!
THE BEST WAY TO MAKE MONEY ONLINE IN 2023 >>
What Is It Works?
It Works is a multi-level marketing business based in Florida. It sells skin care as well as nutritional products made to make your body feel and look better. It was founded by Mark and Cindy Pentecost in 2001.
Prior to starting It Works!, Mark Pentecost was a public institution teacher in Michigan. He operated in a few various multi-level advertising and marketing firms until he realized that if he wanted to earn real money, he ought to start his very own.
So is It Works legit MLM? Or is it a nasty pyramid scheme? I will be covering that in-depth in the next few sections of my It Works MLM review, so keep reading.
Also, here's a YouTube video with more information about the company and its beginnings.
Is It Works a Pyramid Scheme?
First things first, It Works is not a pyramid scheme since it actually markets products like a starter set, body wraps, and weight-loss items.
Actually, it has run such an effective social networks campaign that currently the majority of its sales aren't for the flagship item referred to as the "insane wrap point".
As you know, pyramid schemes are illegal. Nevertheless, It Works does have certain qualities that make it appear like a pyramid scheme. Before I share more, let's discuss what a pyramid scheme is…
What Is a Pyramid Scheme?
According to Wikipedia, "A pyramid scheme is a business model that recruits members by promising payments or services in exchange for enrolling new members into the scheme, rather than providing investments or product sales".
You can check out a short video below to learn more…
So why do so lots of people assume that It Works is a pyramid scheme?
It's because you can make cash by hiring a lot of individuals right into the multi-level marketing plan. That's the most significant reason some individuals call it a pyramid scheme in disguise …
Is It Works a Pyramid Scheme in Disguise?
As I said in my review so far, It Works is not a scam pyramid scheme. They promise you commissions based on the sales made by you and others you register.
And since there are no straight repayments just for getting them to sign up, there is no shady activity. That said, It Works, once more, is not a pyramid scheme.
To put it simply, the company sells real items for people to consume.
The bottom line is that in pyramid systems you are forced to hire others in order to generate income from that firm. While in a multi-level advertising firm, you can earn money by hiring or marketing some physical items to prospects.
This is why It Works is not a pyramid scheme. It's a classic MLM scheme. But is It Works legit?
Related MLM Review: Team National
Is It Works a Scam or Legit MLM?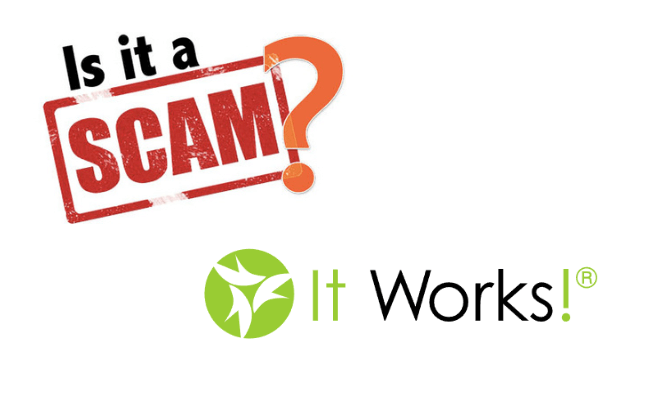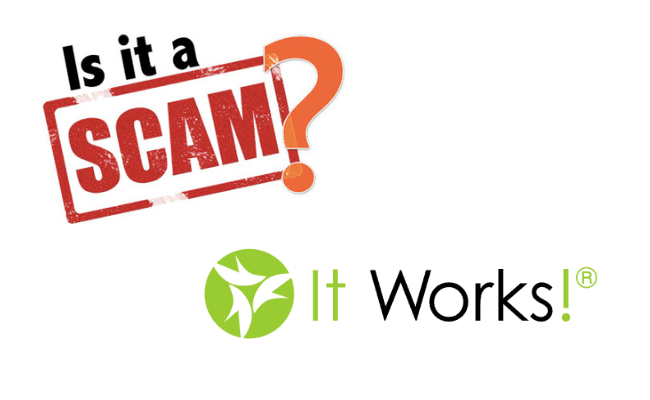 It Works is not a scam. As mentioned shortly before, there are two specific reasons why it's actually a legit mode.
You see, multi-level marketing companies pay their distributors based strictly on payment most of the time.
However, you can only make a specific amount based on your efforts by offering cheap products with a reduced compensation rate.
This is where multi-level marketing enters into play.
People (representatives) in the company will head out as well as upload on social networks to try to attract even more individuals (representatives) curious about business design.
What many people don't recognize until it's too late is that this service model draws on a lot of work and effort. They have to put in a lot of work and initiative to even make note-worthy income.
And because of this, close to 99% of people who join the company fail pretty fast.
That's the reason why you can hear that It Works is a scam or even a pyramid scheme. But as I have explained in my review, It Works is just another MLM company.
It Works is legit. But before you jump in, you should learn how it really works…
Alternative: On the other hand, if you're looking for the best business model to earn passive income online as a beginner, there are other, more suitable, and cost-effective alternatives.
My top-rated course has helped me to go from earning $0 to $100's per day!
THE BEST WAY TO MAKE MONEY ONLINE IN 2023 >>
How Does It Works MLM Work?
It Works does not have brick-and-mortar stores offering its items. Rather, the items are sold online through their 'Distributors,' who advertise on social media, making use of the items themselves and making videos displaying their results.
As with any online marketing, the Distributors not only make a payment by offering items, yet also by hiring new individuals right into the scheme.
Every person they hire becomes part of their downline, and so the more individuals they hire, the even more cash they make.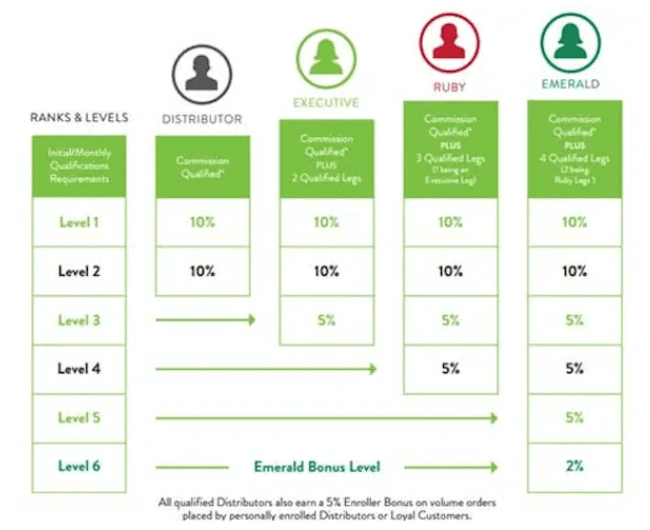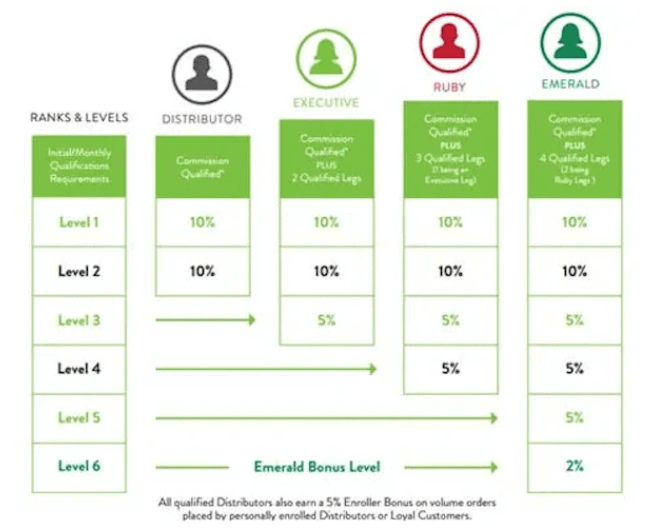 And as you can see from the compensation plan above, It Works is a really normal MLM firm in the way that it is structured.
Something that sets the It Works MLM aside from various other multi-level marketing firms is that it has a philanthropic wing of its firm called It Works! charity Foundation.
This is strong proof that It Works is not a scam or just some random company that is all about taking your money away.
What Products Does It Works Sell?
One of the most popular It Works products is a body cover named the 'Ultimate Body Applicator'. It claims to assist you to tighten up, tone, firm as well as lower cellulite, all within 45 mins, and is definitely the product that the business is most popular for.
It Works! additionally offers healthy protein powders, hair supplements and numerous other health and wellness and health items.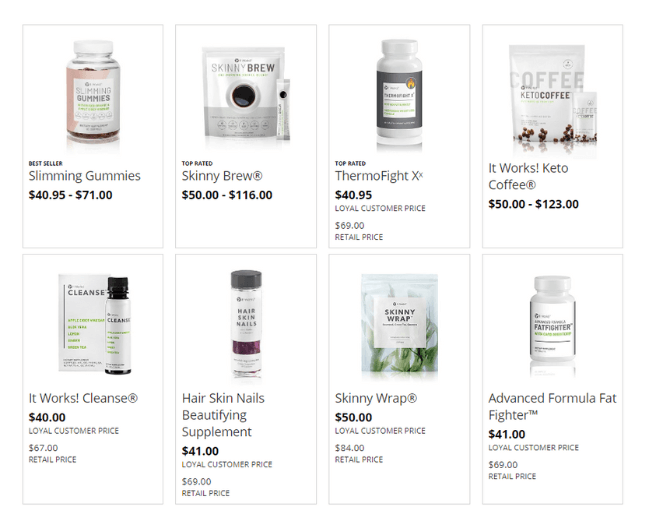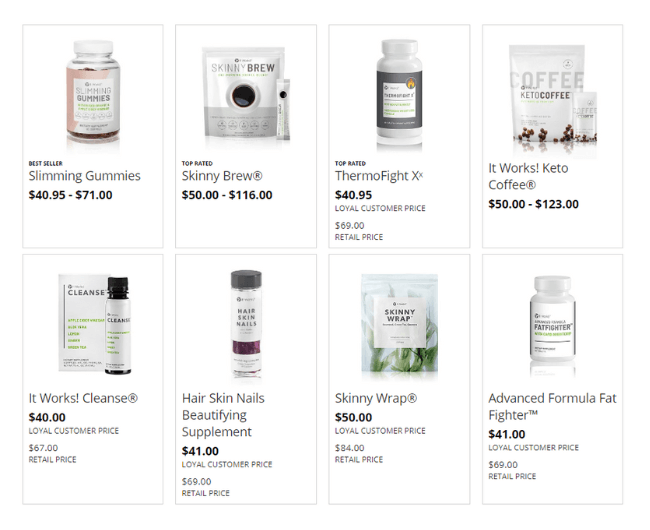 Are It Works Products Any Good?
First off, although It Works teaches about the unlimited health and wellness and fat-burning advantages of their products, it is important to keep in mind that none of the It Works! products have been assessed or authorized by the FDA.
The company have actually offered no clinical proof to back up health insurance claims that they make.
Actually, the FDA has provided certain warnings concerning body covers as a whole, saying that there are no long-lasting contouring effects which the technique can really threaten.
The way that body covers work is that they make you sweat out water, while the alcohol as well as green tea dry out the skin, which can make it appear tauter.
This only lasts for a day or more. But it is unreal fat burning because you can't slim down by rubbing something on your tummy, even if it is a 'non-woven cloth wrap instilled with an effective, botanically based lotion formula."
One more warning about the It Works products is that the mark-up rate is huge, meaning that any type of discount rate that you receive as a distributor or 'loyal client' isn't really a discount at all.
More about this later in my It Works MLM Review…
How Much Does It Cost To Join It Works?
First, you should acquire the business Builder Representative Package, which sets you back $99 and contains a pack of the wraps, little examples of the gel & some brochures.
When you've done that, you'll be a 'Wrapreneur'.
Furthermore, you will be given your very own site, which basically operates as a collection of affiliate marketing links. Any product purchased from your personal web page will count in the direction of your payments.
You have to pay a regular monthly $20 for this website.
Are There Any Extra Costs After Joining It Works?
There's also a $35 It Works! recurring yearly cost. But that's not all!
In order to get any kind of commission, you will need to maintain a monthly auto-ship of 80 system points per month, which is equivalent to about $112.
Your sales can count towards this but bear in mind that if you're going to achieve success at offering any products, you ought to be using them on your own and also showing off the results on social media sites.
You likewise have to market 400 units of products monthly, which totals up to around $560.
If you do not sell $560 well worth of items in a month, you will get no payment on things that you have sold that month.
If you include everything up, the expense of running an It Works! business goes to at least $1500 each year, which is greater than 83% of Distributors make (more about this later in this It Works review).
So, do you have to pay to play? Yes, you have to pay a lot to become and stay an active distributor. This suggests that It Works! has met another one of the criteria for being a pyramid scheme.
Related MLM Review: Juice Plus
How To Make Money With It Works?
As with most MLM companies, there are 2 ways you can make money from It Works!:
Sell their products and earn commission
Recruit other people to join the MLM program (plus get commissions from their sales)
The important point that establishes unlawful pyramid plans from Multi-level marketing is the physical item.
In order to avoid being classified as a pyramid scheme, a service should make 70% of its profits with retail sales to the general public as opposed to by recruiting others into the business.
Now, with It Works! we do see Distributors displaying the items online. Many It Works! Distributors will publish before as well as after pictures of themselves making use of the cover, along with a lengthy regarding how terrific they feel after using it.
While you can make some money on 'Retail Payment' as well as 'Faithful Consumer Compensation' (item sales), in order to make real cash with It Works!, you must concentrate on making 'Team Commission.'
This is residual income that flows up from your down line. The more downline members you build, the more compensation as well as perks you receive.
Likewise, the more individuals you recruit, the greater your ranking will be, suggesting that you get an even bigger slice of everyone's pie.
I'll be sharing more information in the next section of this It Works MLM review…
It Works Compensation Plan
There are 7 ways you can earn money from It Works:
Retail commission
Loyal customer commission- 45% of all their orders
Fast start bonus- $100 when you enrol a new distributor that completes the fast track program (they need to enrol 2 members to the MLM program)
Uni-Level management bonus – you can earn a commission when people in your downline make sales
Diamond generation bonus –
Diamond leadership bonus – you get $80-$150 when anyone in your downline enrols someone on the fast track program.
Leadership bonuses – incentive trips
You can get all the details about the compensation plan in the video below…
Can You Make Money With It Works?
In order to see whether It Works! Distributors are earning money, we should take a close take look at their Income Disclosure Statement.
An Income Disclosure Statement is a document that permits us to see specifically the number of individuals making money with It Works!, as well as how much of it they're making.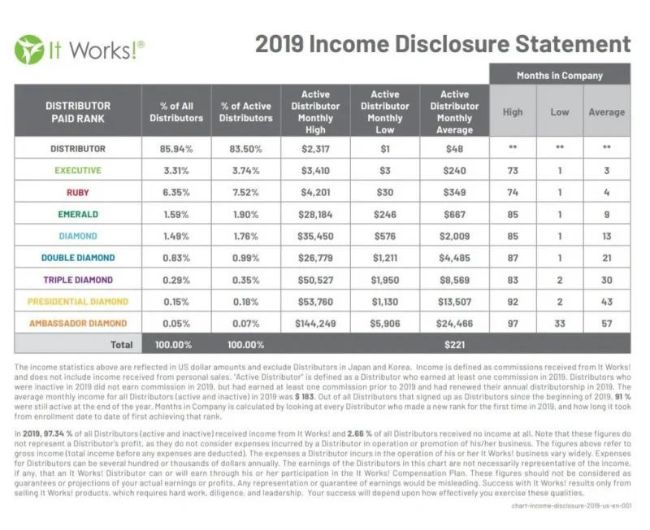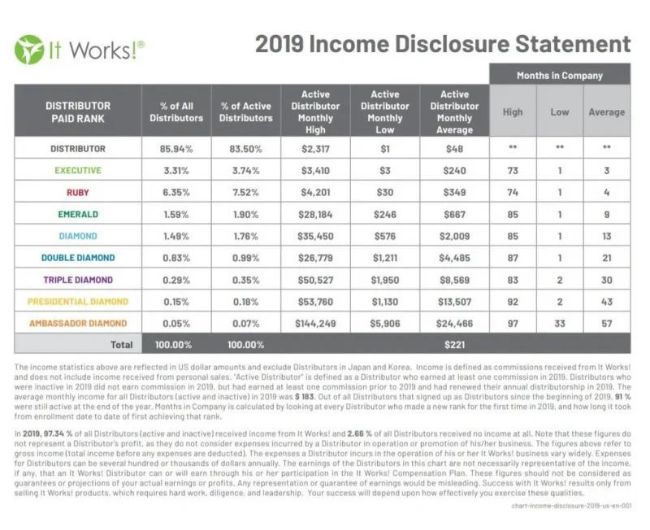 It Works Income Disclosure shows us that in 2019, of all distributors, 85.94% earned an average of $48 monthly with It Works!
Just 1.49% of Distributors earned $2009 a month and less than 2% of active It Works! representatives earned a bare minimum.
That said, the truth is that over 98% of people in the business are earning less than minimum wage!
Related MLM Review: Isagenix
It Works MLM Review – Pros
As I have said earlier in my review, It Works is legit. And here are some of the main reasons for saying so…
They Use Modern Marketing Strategies
Numerous online marketing programs still make use of traditional strategies such as "home parties" to show the items as well as try to hire new members.
This kind of marketing has actually ended up being very inadequate with individuals being sceptical more than anything.
The good news is that It Works does concentrate on the new members utilizing social networks as well as utilising their ready-made website.
Positive It Works Reviews Online
One of the best ways to find out whether It Works is a scam or legit is to read some online reviews.
Many people state just how they get to meet awesome new people as well as can work remotely. Nonetheless, you are about to learn that not everyone is happy with their experience at It Works!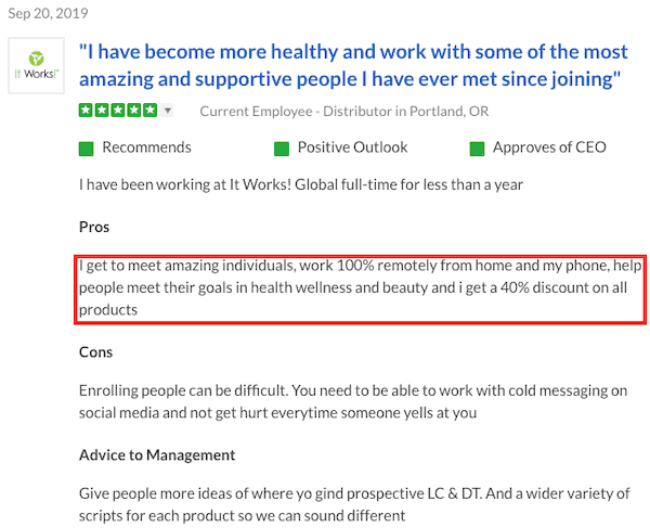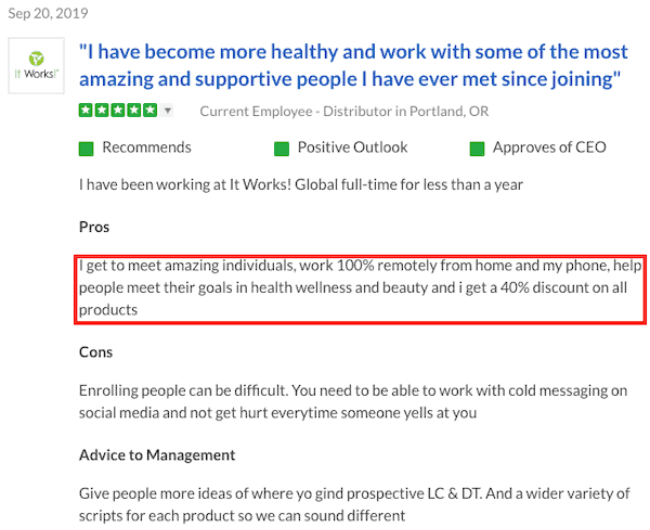 Range of Products to Promote
It Works sells a wide range of products that you can promote to make money. The wide range suggests you're not pinned to sell just one product and one product alone.
This is great for affiliates because it allows you to find the niche that works best for you.
Discounts In The First Month
In the first month that you join the It Works MLM, you will get some unique discount rates you can use on other people also.
This means you can kick-start your home business rapidly. It is very important to be conscious that the very first month is in fact the hardest time to encourage others to join as you won't have any kind of record on your own!
It Works! Charity
It Works gives cash to different charities to help most of the world's troubles. It is so crucial that companies have a bigger factor for why they do something than "to generate income".
Related MLM Review: 7k Metals
It Works MLM Review – Cons
I have established that It Works is not a scam. It's not a pyramid scheme either. But there are still some problems with this business model and the company itself…
Overpriced Products
Elizabeth Tanzi, MD, skin doctor cases there's never ever been any real clinical evidence that supports body wraps drawing contaminants out of your body whatsoever.
Even if they do work, you can buy the same (almost) product on Amazon for far less money!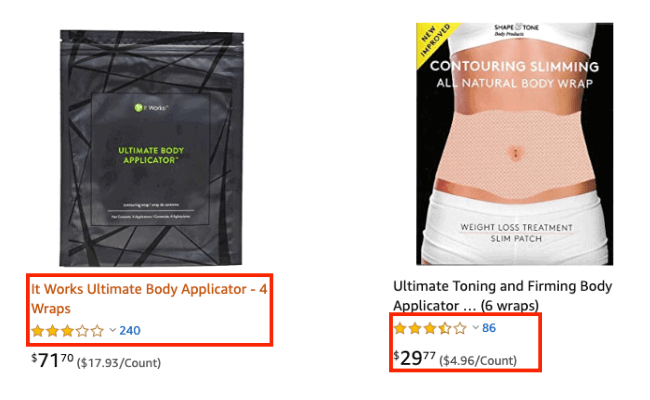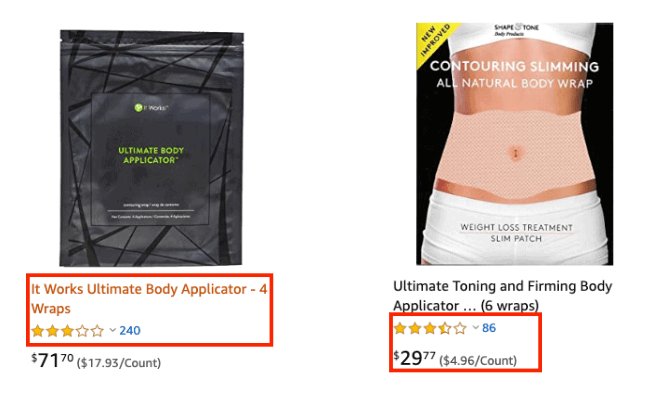 The "Loyal Client Program" Scam
The Loyal Client Program makes it sound like there is no "membership cost". Nevertheless, they charge you a particular quantity for products for 3 months.
If you attempt to cancel your program before 3 months they will bill you $50.
And you can find lots of complaints about this where people even call It Works a scam…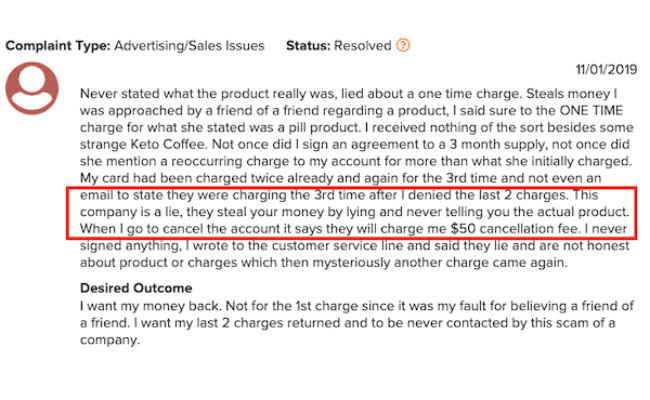 Expensive Start-Up Costs
As you know from my It Works review, $99 to start a service is not costly.
When you add the $20 monthly for your website as well as the additional $100 a month you'll have to spend on products to remain active, it comes to be rather steep really quickly.
And because of this…
90% Of Recruiters Make No Money
Take a look at the It Works earnings disclosure statement once again. 90% of all distributors make almost nothing.
As you can see the average complete month-to-month earnings is $208. So when you consider some people are being paid $115,473 a month, the huge bulk is going to be gaining next to nothing.
In other words, any individual earning under $250 a month will certainly be losing cash from It Works on a monthly basis.
It Works is a Pyramid Scheme in Disguise
Yes, there are lots of legitimate items that It Works offers. So practically, It Works is not a scam or a pyramid scheme (as you have actually already found out in this It Works review).
Nonetheless, the only way you can make major earnings is if you hire a lot of people. There is no other way to make excellent earnings from it.
That's why most MLMs are labelled as pyramid schemes in disguise.
Negative It Works Reviews on BBB
It Works has actually gotten 484 complaints in the last 3 years as well as has a 2.2 ranking out of 5 or a C+ score.
That is not good!
One of the troubles is that their site has more misleading info pertaining to the returns policy. They claim it's 100% ensured yet there are a lot of people whining they can't get a refund!
If you head over to their BBB profile, it's usual to see people complain It Works is a scam.
Related MLM Review: ACN
It Works MLM Review – Conclusion
Most MLMs carefully resemble pyramid schemes and It Works! is no different. With a big emphasis on employment, costs to join and pushing you to buy items in order to hit targets, It Works! definitely appears to be working like a pyramid scheme.
What I don't like the most is that a lot of It Works! Distributors are not making a profit, therefore the idea that this is a legit service is simply not real to me.
You definitely can become a millionaire from multi-level marketing. However, the only means to do this is if you are sitting at the top of the scheme (pyramid). T
99% of people will lose money in a network marketing system. That said, multi-level advertising is not the best industry to be a part of, nor does it provide an actual shot at success for the masses.
If it had not been clear by now, I do not suggest joining It Works!, or any other MLM scheme!
Thanks for reading my It Works! review. What is your opinion? Is It Works! a pyramid scheme/scam? Were you a part or maybe still are a member of this business?
Feel free to leave your reviews at the end of this page!
Related MLM Review: Pampered Chef
Is There a Better Way To Make Money Online?
I know how hard it is to trust websites these days. There are too many scams out there, especially in the make-money-online world. I know, because I reviewed over 600+ sites so far!
See, It Works is just one of the many MLM companies I have reviewed…
While searching for the best ways to make money online myself, I bumped into a platform where you can start making money online in the best way possible.
It is a 100% legit company that helps people to create a successful affiliate marketing business.
These guys are the best opportunity out there for many reasons. They will give you all the training, the tools, and access to a world-class support system. And they do this for 15 years and counting!
So if you want to succeed online and make money finally, my best and only recommendation is affiliate marketing. Best of all, all you need is an email address to get started.
Keep reading for more info…
How I Make Money With Affiliate Marketing
The program that I recommend as my #1 solution for making money online with affiliate marketing is 100% based on free traffic from SEO and blogging.
The best thing about this method is that it is passive in terms of results and income.
In other words, you could be earning an income from your site for years and years to come because this method is so POWERFUL and overlooked by many marketers.
Just take a look at commissions that I earn passively all thanks to my #1 recommendation.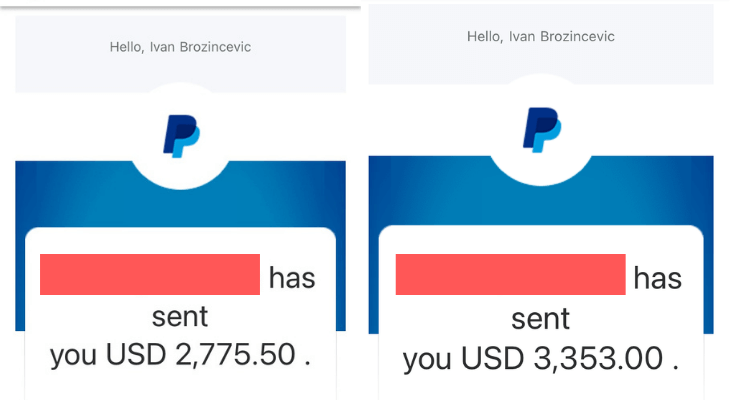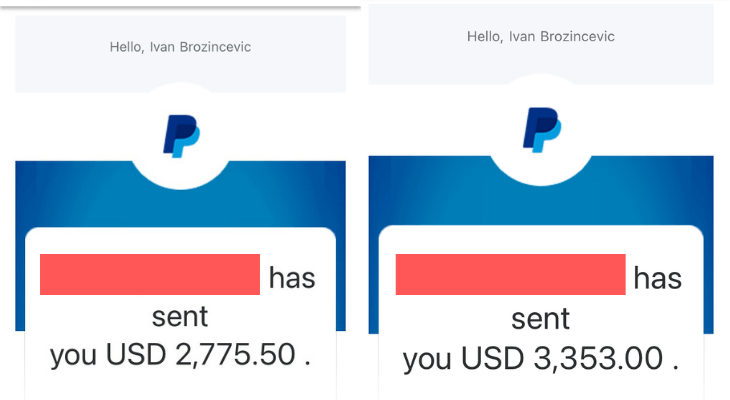 If you want to learn more about how you too can start leveraging SEO to get tons of visitors to your website and make money online with affiliate marketing, click the button below!
Among the best features of my # 1 ranked course is that you can take it for a test drive (just a $49 Premium subscription).
You will get one complimentary site and access to the very first ten lessons from the course to try things out.
After evaluating over 600+ programs on the web, my conclusion is easy. This is the best course to learn about ins and outs of affiliate marketing.
And if you're looking for the very same, click the button below!
THE BEST WAY TO MAKE MONEY ONLINE IN 2023 >>
If you need any help or you have a question, feel free to contact me.
And feel free to share this It Works review to help others as well!
All the best, Ivan. Founder, and CEO @freeaffiliatemarketingbusiness.com
Related MLM Review: USANA