Welcome to my iTraffic X review.
I'm guessing that you're a newbie looking to make money online and this product caught your attention.
How couldn't it! Am I right?
I mean, iTraffic X promises free traffic on a click of a button. So while you are free to have fun and drink cocktails on the beach, the software makes you tons of cash on autopilot. Wow!
Don't get offended, please, but only newbies are going to fall for this.
The fact is, this product is specifically designed to trick newbies. Senior marketers like me are already well aware that these things are in 99% of the cases a pure scam!
In the next few sections of my review, I'm going to show you what's inside iTraffic, you can see a quick demo, and I'll show you a few things why I think this software is pure BS.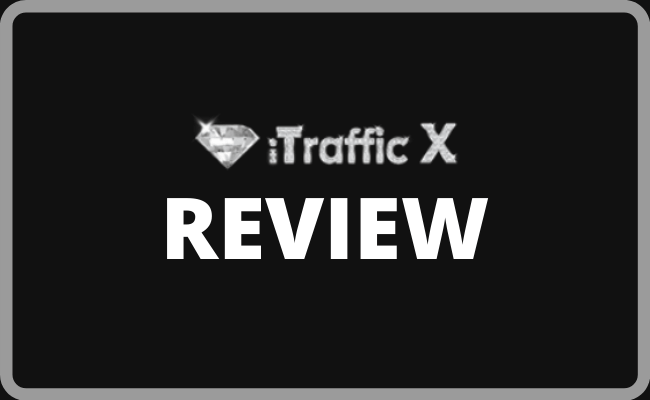 iTraffic X Review – Overview
iTraffic X is a software that gets you free, unlimited buyer traffic to any offer in 52 seconds or less. You don't need hosting, domain, or skills to do this. Simply click on a few buttons and watch your sales explode.
But the truth is, iTraffic X is just another BS software that is not going to get you free unlimited traffic. The things you've seen on the sales page is just a dirty marketing, nothing more.

There are no ways to get free unlimited traffic on a push of a few buttons, guys. That's just marketing fairytale.
Don't get me wrong. This product works, but you're not going to achieve those benefits from the sales page using this straightforward software for creating lame videos and sharing them on social media.
That's what this software is all about, really. And I'll show you how it works in more details later in this iTraffic X review. Prepare yourself to be shocked!
Before I reveal the "magic" behind this tool, let's take a look at the member's area first.
Or if you are sick of junk software that never works as promised, make sure to click the button below…
CLICK HERE TO DISCOVER THE BEST WAY TO EARN AN INCOME ONLINE >>
What Do You Get With This?
The product does not contain too much content, which didn't surprise me at all. There are a few simple features of iTraffic X, such as:
Web-Based App For Video Marketing
1-Click Connect Feature For Sharing on Social Media
Built-In Video Maker for Creating Simple Videos
Video Tutorials (a few short videos, nothing special)
Bonus Features
Support
You can use these features apparently to create marketing videos and post them on social media using 1-Click Connect feature of iTraffic X software.
Also, you get training on how to use the software. But this is nothing like a real, in-depth training on video marketing—just a bunch of short tutorials.
So with that part covered, let's jump to the section of the iTraffic X review where you can see how this software works without any BS from the sales page.
This is the truth, and you're not going to like this.
Related: Commission Map Review
How Does iTraffic X Work?
They say that this software is going to get you free, unlimited traffic to any website, blog, or a funnel in just 52 seconds or less. All you need to do is click the button a few times, and you're going to earn tons of cash.
By the way, this is classic get-rich-quick BS these guys are selling to newbies every single day. Here are the steps that are supposed to make you tons of money.
Log-In to the Cloud-Based Software
Tell the Software Where You Want Your Free Traffic Sent To
Sit Back While the Software Gets You TOP-QUALITY Traffic in 52 Seconds or Less…
Do you believe that these are the steps that will make you money online? C'mon guys! Let's be real here and understand that making money is not a child game. It's a business, and you should take it like that.
But for the sake of this review, let's go through actual steps that you have to take inside iTraffic X dashboard to get that free traffic. Let's see what's going to happen.
So the first step is to create a campaign. You need to give it a title, description and upload the video you want to share. If you don't have the video already, you can use the Video Maker feature to create one.
However, as you're about to see in the demo below, these videos are rubbish and have zero value.
Now, once you have the video ready, and you have published your campaign, you get some links. You should use the 1-Click Connect feature to deploy those links on your social media accounts.
And this is where the trouble begins, and the sales page BS falls into the water.
The software is going to share those links on your social media, that's true. But with who? Who is going to watch and click on those links? How many targeted followers you have on your social media?
You see, iTraffic X is a cute software, I admit that.
But it's also a complete BS that I'll never recommend to my readers.
And in the next section of the iTraffic X review, you'll get another reason why I'm not comfortable recommending this overhyped piece of junk.
iTraffic Price and OTO
Wouldn't it be cool if you can get a software that gets free unlimited traffic on a push of a button all day long and makes you tons of cash on autopilot for only $27?
Now, use your common sense. Would you sell something like this for only $27?
You see, the reasons why the sales page is so overhyped and the price is so low is that you get excited about it and buy the product. It's a classic marketing trick for newbies.
And once you fall for it, here's what's going to happen. They will bitch-slap you with tons of upsells in effort to squeeze your wallet dry.
With each upsell, they will promise you more and more cash and other BS just to get you to buy the product.
Here's the list of upsells (OTO) that come after you purchase iTraffic X software.
OTO 1 White Gold Edition – $67
OTO 2 Rose Gold Edition – $67
OTO 3 Pearl Edition – $47
OTO 4 Black Sapphire Edition – $47
OTO 5 Pink Diamond Edition – $197
I believe you get it now, don't you?
What I Like About This
To say that I like something about iTraffic X would be crazy. The only good thing about this offer is the money-back guarantee. But you need to be careful with that too. These guys will keep your money if they decide to.
Related: Traffic Takeover Review
What I Don't Like About This
I promised you on the beginning of this iTraffic X review to show you a set of reasons why I think this product is pure BS and here they are.
Unfair and Misleading Claims
There Almost No Training At All!
Low-Quality Software
Spamming Social Media Is No-Go
Designed For Owners Benefits
Unfair and Misleading Claims
The owners of iTraffic X are known for creating overhyped sales pages, followed by low-quality products. In other words, they are serial product creators looking to earn cash from gullible newbies.
That's why you can hear stupid claims like free buyer traffic in 52 seconds, no skills or experience required, point-click-profit software, and other BS that is utterly wrong!

I hate to see those things present because it gives you the wrong picture of how making money online works. I've seen this 1000's of times and I'm already used to it. But if you are a newbie, you shouldn't be watching that stuff.
There Almost No Training At All!
You would expect to get at least some sort of training that could show you how to make money online. And they do promise some training, but it's also a pure BS.
Once you step inside of the iTraffic X training area, you'll be shockingly surprised to find only five training videos. Can you guess how much content is in there? Around 16 minutes of training! That's right, it's not a typo.
Video 1 – Overview
Video 2 – Accessing the Software
Video 3 – Finding Offers
Video 4 – Your First Campaign and Getting Traffic
Video 5 – $423 Case Study
The last one is not even a training video. It's just a short clip where the guy brags about some random earnings from who know what campaigns just to make you believe that this is going to make you $423 as well.
Not only that iTraffic X training is crap, but the product is also, so let's talk some more about that.
Low-Quality Software
I've seen a lot of software for getting traffic. Some involve traffic exchange, while some others require link sharing and other BS. And all of them work only in the imagination of the owner.
You see, these traffic tools are all practically a hoax wrapped into a shiny packaging. You think you're getting something awesome. But once you get the software in your hands, the reality hits you.
All you get here is a simple tool that makes videos, uploads them to YouTube and share on social media. What is so special about it? How is this going to get you tons of free traffic and make you massive cash?
The answer is, it's not going to do any of those things.
In my opinion, iTraffic X is a shiny-object and very close to being a scam, which I'll discuss in the last section of the review. Let's share a few more about the method this software is using to get traffic.
Spamming Social Media Is No-Go
So basically, with this software, you're going to get a chance to create lame videos that no one wants to watch and share them on social media. While this method works for pro marketers, I can't see how it's going to work here.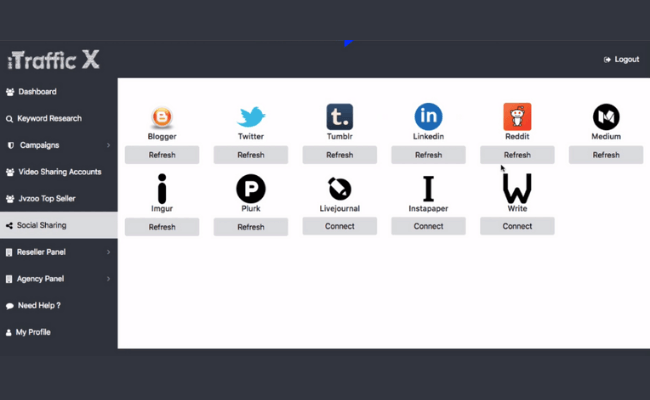 Most importantly, social media won't let you spam the feed with random videos using a software pointlessly. Besides, who is going to click on those anyway? How is this going to convert into tons of free buyer traffic?
It seems to me that iTraffic X is going to get you only in trouble and in the risk of your social media account to be banned.
Designed For Owners Benefits
Lastly, the thing is, this product is best for owners. You've seen how many upsells are there, right? Well, that's the main focus of iTraffic X. They want to BS you some and rip you off hard.
Everything from the sales page is designed to excite you up and then lead you inside where they wait for you to take your skin off.
You're going to be hit by one upsell after another. They will throw in a bunch of special discounts for you and do everything they can to convince you that the next upsell is going to make you even more money.
Do you believe that for $27 you're going to get some magic software that makes cash on autopilot?
Related: Traffic Trapper Review
iTraffic X Review – Conclusion
We would all want to see some software that is going to do the work for us. Just ask every marketer out there.
But the truth is, there's no running away from work. There is no secret software that is going to get you unlimited free traffic in 52 or less…
That's all BS!
I would want to say that iTraffic X is a scam, but I can't. The product, as a product, is legitimate. But the rest of it is pure BS that has nothing to do with getting traffic and making money online.
I highly recommend staying away from this junk.
Thanks for reading my iTraffic X review. I hope it was helpful and you got all the answers you were looking for.
And since you've come this far, I want to point you into the right direction.
I'm guessing that you are a newbie with a keen interest in making money online. But, you don't know where to start, so you keep bumping into scam after scam.
Well, I've been there…
That is why you should click the button below and discover something real that requires some honest work but pays off quickly if you are willing to follow the training.
You'll find more info on the next page. Thanks!
CLICK HERE TO DISCOVER THE BEST WAY TO EARN AN INCOME ONLINE >>
If you need any help or you have a question, feel free to contact me.
And don't forget to share this review with your friends and family!
All the best, Ivan. Founder, and CEO @freeaffiliatemarketingbusiness.com