Long-tail keyword research is a core principle in getting high rankings in Google and other Search Engines for most bloggers and site owner today.
Way before you could write an article stuffed with selected keyword phrase all over it and get high rankings.
The quality of content, however,  was not so outstanding but still ranked high.
Internet marketer has recognized this opportunity fast.
However, Google has also recognized its mistake quickly.
Google then decided to make playing fields even for all by introducing new algorithms that look more for quality content over the number of keywords within the article.
Nowadays, Google gives rankings to sites that are most relevant, consistent in publishing material, provide their readers with helpful and high-quality information.
Those are the three factors you should aim at.
Research is a first step in getting high rankings, and this long-tail keyword research guide will help you to do it step-by-step.
I will show you the best method (in my experience) for doing long-tail keyword research that I've learned at Wealthy Affiliate. WA is the top online place to learn how SEO works!
Step 1. Know Your Niche
The first step of this long-tail keyword research guide is to understand your niche. You have a lot of knowledge about your niche, and that's great!
You have to know your people as well.
You see, to become an authority within your niche,  you will have to know the problems of your readers, as well as to be able to provide with a solution.
In other words, you'll have to know your stuff.
It is important to be good at your interest because if you are in it just for the hell of it, the chances to rank high will not be good.
On the other hand, if you know how to 'get inside of the head' of the people who are interested in your work, soon you'll be on top!
After you finish with this guide, you'll fit the last sentence.
Before doing the long-tail keyword research act itself, I would suggest you meditate, or sit back and think about what might be the pressing problem to someone out there in the real world.
It will help you to get the creative juice flowing.
It's a neat mental trick you can use to get into your creative zone.
Step 2. Choose Your Topic Keyword
Now let's explain the second step of this long-tail keyword research guide. You are getting warmed up, and now you already have a few ideas in your mind.
Now, pick the one you're going to target.
In my case with this post, it was a problem of not knowing how to do keyword research. Therefore, I've decided to target 'keyword research' topic keyword.
However, this simple keyword is too broad and in most cases already taken by competition. It can be hard to rank my content.
A two-word search phrase is not enough.
It might not be enough for you as well, but it's a natural thing in the process so don't worry.
To rank your content high and fast, you will have to create a long-tail keyword just like I'm about to show you with this guide.
What is a Long Tail Keyword?
In a nutshell, a long tail keyword is a term used for search terms that are more narrow and specific compared to your initial idea.
The rest of this guide will help you to understand and use long-tail keywords.
Learning how to leverage this method is going to be of the most value in your content marketing campaign.
Let's do it correctly then.
Step 3. Ask Around With Google
To get the shadows of your longtail keyword while doing research, the best way to start is by asking Google.
After you type in your primary keyword, Google will give you two blocks within search results containing also some relevant searches.
In other words, what people also ask.

It is the best way to start getting ideas for your long-tail keyword under the selected topic idea.
You can use those suggested ideas to create your keyword, or you can use those long-tail keywords served by Google directly.
This little piece of action can save you time and time in creating working keyword ideas.
In this business, time is all you have at the beginning so use it wisely.
Moreover, it can be a smart move to open up a few high ranked websites and read what they might be suggesting to their readers.
You can upgrade your knowledge as well as take care that your future readers will be well informed.
Furthermore, at the bottom of the search results is a second block containing more relevant ideas.

Use it also to keep the flow of ideas going.
Step 4. Pick You Long Tail Keyword
I've decided that in my case I will take a suggested idea by Google and go with 'how to do keyword research' idea.
In addition to my idea, I have created a list of a dozen more long-tail keywords that will help me to hit the nail with my topic.
The procedure is simple. This is what you have to do.
Open up a notepad on your PC and copy-paste some long-tail ideas suggested by Google.
After you have three or four ideas in your notepad, start writing some variations of your own.
In other words, brainstorm some more potential keywords.
This piece of the action will help you to understand a selected topic as if you were looking at it under the microscope.
It's a brilliant way to prepare your mind for writing your content.
By now, you should be having a concrete long-tail keyword idea in your mind.
It's time to see is it available to say it like that.
Step 5. Use Free Keyword Research Tool
This is the best part of this long-tail keyword research guide! A couple of years ago, online marketer, boggers, and web writers had to be very creative in the process.
You see, they had to do everything manually because there were no reliable keyword research tools.
Today it's an entirely different story.
The struggle to perfect a method for picking the right keywords gave birth to some fantastic keyword research tools.
Some of them are free to use while for some you'll have to pay money to use.
In my case, I stick with Jaaxy.
It's the best free long-tail keyword software that I was able to find on today's market.
For the rest of my presentation, I will use Jaaxy to show you how easy and fun it became today.
All you have to do is enter your selected long-tail keyword to see should you or should you not target this particular variation.
In other words, you will be looking to see that the keyword makes sense and how high or low is the keywords competition.
Also, you will be looking at the most critical aspects of your research, that are search and traffic volume.
I will explain all the parameters under the next headline.
At this moment, I am happy with my selected long-tail keyword and I am ready to start using Jaaxy and see is my keyword worth of trouble or not.
Here is how it looks with Jaaxy free keyword research software.
Step 6. Analyze Your Competition
The next step of this long-tail keyword research guide is to check out what's your competition doing. It's a smart move to learn how to get ahead of them.
As you can see on the image from above, we have some acronyms and numbers on the screen that help us to determine the value of your long-tail keyword.
Finding this information was like finding a gold vein back in the days of content marketing pioneers.
However, today you have them served in less than five seconds.
a) Average Number of Searches
The first thing you should be looking at in Jaaxy is Avg – Average Number of Searches per Month.
This parameter shows you how many people search for Google and other search engines for that exact long-tail keyword you want to rank.
The ideal scenario would be at least 50 to 100 searches per month.
Everything above that is excellent!
As you can see in my example, I hit a pretty nice number.
However, that's not the only thing. Now we have to take a look at the second parameter as well.
b) Traffic
This metric is pretty self-explanatory.
The number tells you how much traffic can you expect from search engines per month if you rank first for the selected long-tail keyword.
In other words, it tells you how many visitors can you expect just from one blog post ranked on number one position.
It is pretty fantastic info to have!
You, a content marketer, should be excited every time you find a number over ten visits per month.
The number is usually much higher as you can see in the picture.
This metric can help you to determine a potential traffic size to expect if you rank for thirty or forty good blog posts.
When looking at the things, in the long run, you can hit a lot of traffic source when you start using this information on every topic you'll cover.
The next parameter that we are going to cover is equally critical if not even the most important metric.
c) QSR
Quoted Search Results is a parameter that tells you how many competitive websites already rank on Google for this particular topic.
Whenever you hit a keyword under 100 QSR in your research, you are good to go!
Even if you find that QSR number is more significant than 100, like in my case here, you can always extend your long-tail keyword.
In other words, add one more word to its long tail to get a better QSR score.
In my example, the competitions for 'how to do keyword research' was over 100.
Therefore, I used the Alphabet Soup on Jaaxy to find the even longer tail.
Alphabet Soup is an excellent piece of artificial intelligence that helps you to quickly brainstorm a couple of variations for your selected keyword.
It's pretty simple and it's a critical part of this long-tail keyword research guide!
I found a solution to my problem under the letter C.
Jaaxy's Alphabet soup has suggested to me that I can extend my search term and therefore, I can narrow my topic some more to get a better QSR this time.
Viola!
The new results have amazed me.
I found a perfect long-tail keyword for my marketing content.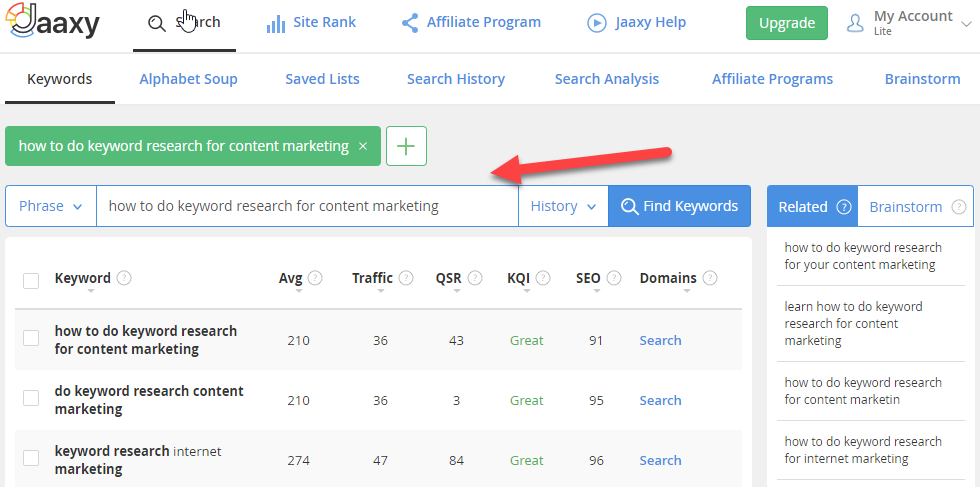 At this moment you should be having a full-scale picture of your keyword as well.
You long-tail keyword should be relevant to your niche. It should have a good ration of searches per month and traffic as well.
Furthermore, it should be low in the competition which is going to result in fast and high ranking once you finish writing your marketing content.
In addition to those three critical parameters, you can also see a few more metrics to reassure yourself that it is worthy of ranking.
d) KQI
KQI or Keyword Quality Indicator is self-explanatory also. It shows three scores.
Green for Great, Yellow for Average, and Red for Poor.
Most of the time KQI is Green.
Sometimes, if you choose a long-tail keyword which is already taken by many other websites, Jaaxy will give you a warning by indicating Yellow or Red Quality.
It tells you to reconsider your choice.
This will lift your keyword game on the next level!
e) SEO
SEO stands for Search Engine Optimization and that's the whole point of this long-tail keyword research guide.
This score is based on traffic and competition. In other words, it gives you a grade from 1-100 using those two data as metrics.
The higher the score you get, the better the chances will be to rank your selected keyword high in Google and other search engines.
Everything over 90 is great!
In most cases, if you do all the steps correctly it will show close to 100 each time you do keyword research by following these methods.
f) Domains
If you find an excellent keyword variation with a huge number of searches, good number of expected traffic, with all green lights telling you that it is a valuable keyword, you can see if there is a domain name available to purchase.
Sometimes you might hit a golden nugget worth of digging deeper so you might want to buy a domain name to ensure high rankings.
Just another great option to have with Jaaxy.
Many content marketers are using this tool to secure great domain names for their future business.
Step 7. Double Check Your Long-Tail Keyword
This is critical, so don't miss this part of my long-tail keyword research guide.
Like every other good student, you should always go through the process one more time just to see if everything is done as it should be.
You don't want to risk hours of work to go to waste because you have missed a thing or two in your keyword research.
If you are in the business of content marketing, you should know that your keywords are the core of your business.
A well-researched content is King Content!
Once you have double-checked all your metrics, you can start writing your material with a piece of mind.
Moreover, all this work was a pain in the arse and mostly manual five years ago.
You and I have it all served in front of us on a silver platter today!
All you have to do is follow the instructions, read the metrics, and approach the last step.
Step 8. Start Writing Your Masterpiece
As I have said at the beginning of this long-tail keyword research guide, I will lead you through the process all the way.
Here you are at the last step in creating a perfect piece of marketing content, that is writing your material.
Finding a perfect long-tail keyword will help you to rank fast and high in Google and other search engines.
However, that is only half of the job done.
The second step is equally fun and exciting.
Those of you who enjoy writing your own content will discover how it is easy to write once you have done a good prep work.
I hope this guide has helped you to understand the process of long-tail keyword research in more depth.
Learn From the Best!
For a few years, I am a member of the best affiliate marketing community online.
Wealthy Affiliate has changed my perception of doing business online to a point where I can see things with more clarity and learn with such a speed, that it makes my head spin.
You can find there all you need to learn and master the art of affiliate marketing.
Moreover, if you stick with them for one year, you will reap some great results in the end.
You can get free websites, free training, access to a vast community of affiliate marketers, keyword research tool (Jaaxy), live help, and much more!
These guys are the best long-tail keyword research guide you'll ever find!
Feel free to check it out.