Hey there! Welcome to my Monstermode 700K review.
Because I know that you don't believe that this is really a 1-click app for stuffing your inbox with 500+ a day that requires copying and pasting, the main question that I want to answer with this review is:
What Is Monstermode 700K REALLY about?
You're lead to believe that this app is going to stuff your inbox with commissions. On top of that, it is so simple to use it that it takes only 90 seconds to set it up and it even comes with built-in free traffic and makes commissions on autopilot.
In other words, it is the usual marketing BS that I see every single day.
The sales page for this product is hyped, overhyped, mega-overhyped and it probably just does not reflect the true nature of this product.
That is why I want to show you my honest Monstermode 700K review to help you see whether the backend product really matches the sales page.
On top of that, I'm going to be sharing how this app really works whether it works or not, and most importantly, whether Monstermode 700K is a scam or something that you want to invest in.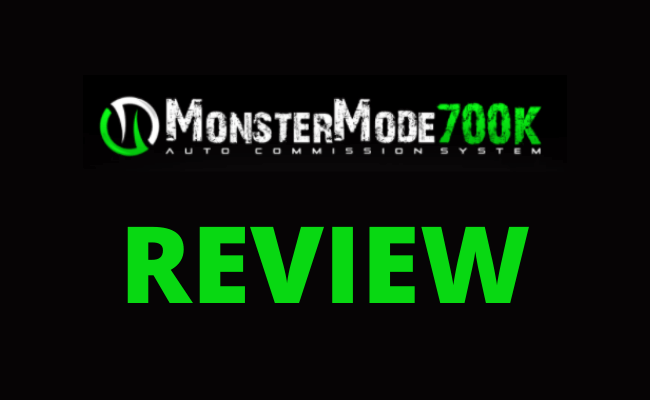 Monstermode 700K Review – Overview
Product Type: Affiliate Marketing
Product Owners: Bryan Winters
Price: $18.95 + Hidden Upsells
Money-Back Guarantee: 30-Days (Questionable)
Recommended?: NO!!!!
Quick Summary: In my opinion, Monster 700K is an unethical, overhyped, misleading, and expensive offer. The back-end product and the sales page are in a complete mismatch, which is the main reason why I don't recommend this "1-click" app that makes $100's on autopilot in 90 seconds after activation.
To get more information about this app, read the rest of my honest review.
If you're tired of get-rich-quick schemes and scams, I invite you to discover this training program below that enabled me to go from $0 to earning $100's per day by investing a lot of time and effort into this PROVEN SYSTEM!
THE BEST WAY TO MAKE MONEY ONLINE IN 2023 >>
What Is Monstermode 700K About?
The main thought behind my review is to see whether the sales page claims and the backend product really match each other. See, Bryan Winters has made a lot of bold claims on the Monstermode 700K sales page that it just sounds too good to be true.
For example, he claims that this is a 1-click app that somehow generates $500+ per day with affiliate marketing on complete autopilot. In other words, all you have to do is click a button and commissions will flood your account.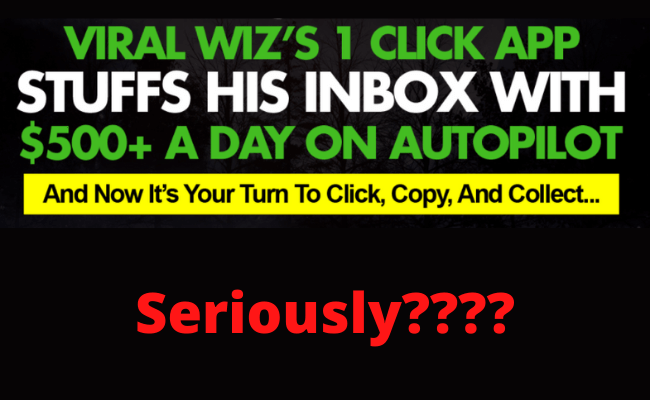 Really, Brian?
Then, he claims that this app is 100% beginner-friendly and it takes just 90 seconds for you to set it up and start profiting. Now, don't get me wrong. Anyone can reach $500+ paydays with affiliate marketing.
But there's just no way that a complete beginner can make so much money the way Brian claims.
In essence, the sales page for Monstermode 700K has been designed to lead you to think that this app is going to make everyone who buys it filthy rich with ease. I mean, we all want to work less and earn more, right?
So what Bryan is actually selling you here is an idea, which I'm fine with. However, the way he does it makes me want to say that Monstermode 700K is a scam, a get-rich-quick scam that is never going to work as advertised.
Speaking of which, let's take a look at the next section of my Monstermode 700K review to learn more about how this 1-click app is supposed to work and make you $500+ per day in affiliate commissions.
How Does Monstermode 700K Work?
You're lead to believe that Mostermode 700K works on complete autopilot. In Bryan's own words, it takes 90 seconds, a bit of copy-pasting, one to two clicks of your mouse for money to start pouring into your bank account while you're watching on the sides.
So what he's talking about here is that you don't have to work at all, which is, well, a blatant lie.
If affiliate marketing and making money were that easy as Brian claims, everyone would be doing it. But it's not! It's actually a very tough business that takes a lot of time and effort before you can see any results from your work.
The problem is that Brian wants you to believe that Monstermode 700K is a push-button solution, while in reality, it is far from it. So in my book, this claim is a HUGE RED FLAG and a sign that this offer could be and probably is just a marketing scam.
But before I jump to any conclusions, let's take a look at how this app really works, ok?
What You Really Get & How It Really Works
So essentially, for $19, Brian Winter is going to give you access to 5 DFY sales funnels. This means that you're getting DFY products, landing pages, squeeze pages, etc. These sales funnels are all designed to promote five of Bryan's previous products.
Here's what you get:
CB Money Vine Sales Funnels
5Figure Day Sales Funnel
5iphon Reloaded Sales Funnel
IG Money Tree Sales Funnel
Shop Monopoly Sales Funnel
The main idea behind Mostermode 700K is to customize these funnels with your own affiliate links and get traffic to them so you could potentially start making sales.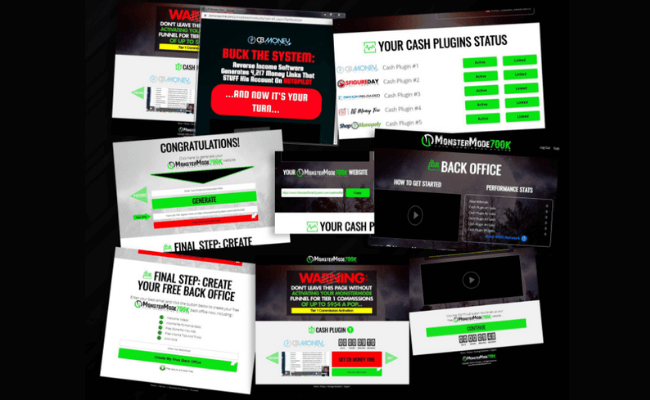 In theory, stuff like this could work.
However, there are 100's of reasons for me to say why this app is not going to work as Brian said earlier on the sales page!
First of all, and this is CRITICAL, everyone who buys Monstermode 700K gets access to the same sales funnels. This means that you will get the same content as 1000's others who bought this system.
The problem with this is that people who are going to be bombarded with these funnels will notice it and will hardly ever convert. Imagine seeing the same ad every hour over and over again. Would you be annoyed?
See, there's no uniqueness in this, which means that products like this will hardly ever work as advertised.
I tried copying other people's funnels and my conversion rates were low, extremely low. However, once I injected my own personality into my own sales funnel, well, things started to take off.
Secondly, there's no training inside Monstermode 700K with which Brian is going to teach you the basics of affiliate marketing such as lead generation, creating a relationship with your visitors, helping them to solve problems and other things that are critical to success with affiliate marketing.
If you don't learn these critical components, well, you'll never succeed online.
Then, there's another problem with this app. There's no real training on traffic generation within Monstermode 700K program. Brian is just going to share some tips for getting traffic, but he is never going to really teach you how to get 1000's of visitors per day.
And mark my words, you need 1000's of clicks per day to make $500+ daily.
So, in my opinion, Monstermode 700K is Brians's clever way to sell five sales funnels all of which lead to HIS OWN products. In other words, it's another get-rich-quick scheme that I'm not going to be recommending.
Related: Affiliate Marketing Mastery Review
Monstermode 700K Price & Upsells
Monstermode 700K will cost you only $18.95. That's not a lot of money, at first. However, like every other overhyped product, it comes with some surprises down the road.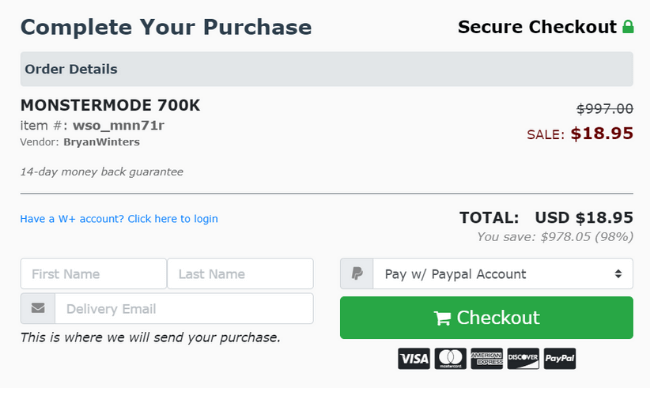 Yeah. I'm talking about hidden upsells
I personally don't like them. It's showing me that the owner has no real intention to help you make money. It's obvious that this product has been created to make money from him.
Just look at the names of these upsells and everything will be clear.
Upsell 1 – Autopilot Traffic Pool – $97
If you want to leverage a traffic rotator that will send you every fifth visitor from the traffic pool, you will have to shell out $67.
Upsell 2: Push Button Leads – $67
This upsell gives you access to ten squeeze landing pages. You can use these to try and build an email list.
Upsell 3: 1 Click Monthly Commissions – $97
This is just another overhyped upsell that promises more money if you buy it.
Upsell 4: Backend Commission Stuffer – $97
Another overhyped upsell that allegedly helps you to make $100's more with Monstermode 700K.
Upsell 5: 5X Commission Booster  – $197
The last upsell inside the funnel allows you to earn 100% commissions on all five plugins instead of just one.
THE BEST WAY TO MAKE MONEY ONLINE IN 2023 >>
What I Like About Monstermode 700K
I'm not all against Monstermode 700K, which is why I have included this section in my Monstermode 700K review. There might be a few good things about this product after all. Actually, there are two good things about it.
You Get 5 DFY Sales Funnels
In my opinion, DFY sales funnels are a one-way ticket to failure. Why? Well, first of all, you're getting the same content as every other customer, which is going to lead to duplication, saturation, and extremely low conversion rates.
Secondly, when you buy something that is DFY, you'll never learn how to do it yourself! And if you want to become successful with affiliate marketing, you will have to learn how to do it yourself!
However, since there's some value in these 5 sales funnels within Monstermode 700K, I'm guessing that is a good thing. I mean, if you would have to pay someone to create 5 sales funnels for you, it would cost you at least $500, probably even much more.
So in this case, you're getting 5 DFY sales funnels for only $19, which makes it a good deal. But keep in mind, you get what you pay for, so don't expect that these funnels will make you rich instantly as Brian claims.
The Product Is Backed Up With A Refund  Policy
Another good thing about Monstermode 700K that is worth mentioning is the money-back guarantee. Basically, you have 30 days to give it a try and ask for your money if it doesn't work as Brian promised.
However, there's another word of warning that I must give you before we move on with this review.
See, I've bought dozens of products on the WarriorPlus marketplace just like Monstermode 700K. I asked for a refund in 95% of the cases and vendors ignored me almost every single time.
In other words, there's a big chance that Brian Winters might ignore your refund request as well and decide to keep your money anyway.
Related: 12 Minute Affiliate Review
What I Don't Like About Monstermode 700K
Now, this section of my Monstermode 700K is going to a bit longer than the previous one. From the moment I laid my eyes on the sales page, I found at least 5 red flags that I want to share with you now.
There's No Such Thing As "1-Click App"
If I had a dollar for each time I reviewed a "1-click app" that makes money instantly, I would have had a million dollars in my pocket right now. See, there's no such thing as a 1-click-profit app that is going to make you rich.
To be honest, the only reason why the creator of Monstermode 700K uses this description is to pump up the sales of this product. That is why he placed it on the top of the sales page so that everyone can see it.
He's aware that there are 1000's newbies out there who are looking for stuff like this. But what these newbies don't know is that stuff like that does not exist in the real world.
Brian Claims It Takes Only 90 Seconds To Profit
If 1-click to profit was not enough, the creator of Monstermode 700K has decided to sell you another lie. He says that it takes only 90 seconds to set this app up and make profits.
I'm sure that, by now, you're already aware that those claims are nothing but marketing tricks with which Brian attracts gullible newbies to buy his app.
Every single experienced marketer will see through these overhyped claims right away and know what the real intention behind this product is.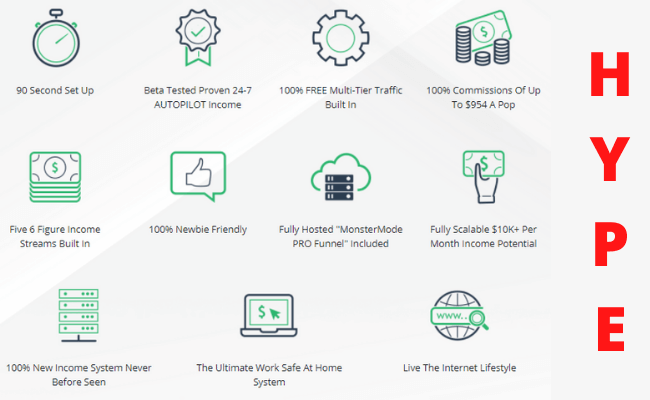 Brian Promises Huge Earnings Instantly and On Autopilot
To top it all off, Monstermode 700K has been allegedly designed to make money on autopilot. In other words, you're lead to think that once you click your mouse, this app is going to earn you $500+ every single day in the background.
So to summarize, all you have to do is click your mouse, wait for 90 seconds, and then just sit back and chill while Monstermode 700K app makes you massive commissions every single day.
Gee, I wish something like this really exists LOL
No Real Step-By-Step Marketing Training
Now, let's talk about some real issues with Monstermode 700K app. First of all, all you get are 5 DFY sales funnels and some narrow instructions on how to activate and use these funnels.
The problem is that you're not going to get access to step-by-step marketing training where you can learn how to find your own products, build your own UNIQUE sales funnels, communicate with your audience, help them to solve problems, etc.
If you don't learn all these things, well, you can buy 100 Monstermode 700K apps, and you will still be struggling to make money online. The reason is simple. There are no shortcuts to success!
No In-Depth Training On Traffic Generation
Another critical problem with Monstermode 700K is the lack of training in traffic generation.
The thing is, you're going to get some videos where they show you how to share your funnels online on Facebook, Instagram, etc. But this is not going to get you any traffic!
See, traffic generation is a delicate matter, which takes a lot of time, effort, and in some cases, a lot of money before you can master it and get 1000's of clicks per day to your sales funnels.
Most importantly, you simply CAN'T activate some app that magically gets 1000's of visitors per day to your business because those things are not real! If they were, everyone would be using them to get traffic.
So the thing that bothers me about Monstermode 700K is that the creator openly admits that these things are real and that you're getting them if you buy this product.
Monstermode 700K Comes With Hidden Upsells
The reason why this product comes with so many overhyped and misleading statements and holes inside the system is that you reach out for upsells once you get stuck.
See, Monstermode 700K sales funnel contains 5 hidden upsells that could cost you well over $500+ if you buy them! Here's the short breakdown:
OTO #1 – $97
OTO #2 – $67
OTO #3 – $97
OTO #4 – $97
OTO #5 – $197
I have reviewed 100's of apps like this that use the same tricks to get you to first buy the cheap front-end product and then to clean out your bank account as soon as you get inside. Some examples are Instant Sales Berzerker, Loophole Commissions, and Millionaire Society.
In my opinion, products like this are best for their creators.
Is Monstermode 700K a Scam?
Now the real question. Is Monstermode 700K a scam or legit? There are so many ways to go about this question now. In my opinion, it is not a scam, it's legit.
I'm aware that I've said a lot of bad things about this offer, and I stand behind each word 100%. However, the reason why I can't call it an outright scam is that you get products in return for your money.
If you ever buy Monstermode 700K, you will get access to five DFY sales pages that could even make you a few dollars here and there if you know what you are doing with them.
But the reality is, this app is not going to work as advertised.
The owner oversells this product a bit too much for my taste. He uses misleading claims such as "1-click app" or "it takes 90 seconds to set it up" and "100% free traffic built-in" etc., just to increase the sales, which is, in my opinion, the main reason why I don't recommend this app.
This product may not match the sales page, but technically speaking, it is not a scam.
Do I Recommend Monstermode 700K?
Absolutely NOT! I don't recommend Monstermode 700K to my readers. In my opinion, this app is best for Brian Winters and those affiliate marketers who write fake positive reviews to make sales.
Real people, those real customers will hardly ever going to benefit from this app.
Monstermode 700K Review – Conclusion
We live in a day of age when internet marketing as a business model is becoming more and more available to people from all over the world. Today, everyone can start a successful affiliate marketing business.
However, because of this increasing interest, there are more and more products like Monstermode 700K that will try to take the advantage of gullible newbies who are looking for ways and means to profit fast.
If you're one of them, mark my words, there's no such thing.
In my opinion, this app is just going to waste your time and money. You'll be lucky if you a single dollar with this app. But that is just my personal opinion. You're free to make up your own mind about it.
Thanks a lot for reading my Monstermode 700K review. I hope you can now make a wise decision about whether or not this app is worth your time and your hard-earned money.
Related: The Super Affiliate Network Review
How I Earn Commissions Every Day
Before I succeeded online, I wasted my time and my money on DFY sales funnels, apps, and a whole army of magic solutions for making money online.
It took me about two to three years, and a few $1000's to finally realize that those things are just taking advantage of me and my bank account, so I decided to STOP!
Then, after quick internet research, I found this LEGITIMATE system for starting a successful online business. I saw tons of great reviews and tons of success stories related to this system, so I decided to give it a go.
The one thing I liked about this system is that they told me from the first day that it takes time and effort.
There were no lies about making money instantly using some 1-click apps like Monstermode 700K, or fake claims about making $1000's per day just by copy-pasting some stuff from the internet.
Instead, they gave me a step-by-step program, all the tools, and access to help and support 24/7.
I had nothing else to do so I started to work on this program like my life depends on it.
Today, a few years later, I own a successful online business that earns me a consistent passive income every single day. I might even make some money while writing this sentence, you never know.
My point is, if you're looking to make money online, you should STOP chasing these shiny objects.
Click the button below and discover how to REALLY make money online.
THE BEST WAY TO MAKE MONEY ONLINE IN 2023 >>