This MOZ Keyword Explorer Review is going to be as simple as the tool itself. Keyword Explorer is part of the MOZ Pro tool kit collection. What got me the most is how clean and straightforward it is. I like simple keyword research tools.
How about you?
While I was testing SEMrush and Long Tail Pro, I've lost a couple of hairs off my head. Those guys have designed their tools to freak you out. Or at least that's what I was thinking while trying to figure how to use them.
I'll never forget the experience, especially with Long Tail Pro. OMG!
I'll use these opening lines to congratulate the guys from MOZ team on work well done. Check out MOZ Keyword Explorer for free. The tool is what every digital marketer looks for in keyword research tools, a perfect relationship.
Are you looking for a tool that is smooth as butter?
If you do, welcome to my MOZ Keyword Explorer review!
Even though I have a deeply developed relationship with Jaaxy (my #1 recommendation), Keyword Explorer managed to seduce me in many ways. As I've said already, I'm a simple guy, and I like simple stuff.
What is MOZ Keyword Explorer for?
Like every other simple keyword research tool, MOZ Keyword Explorer is what its name suggests. It helps you to explore keywords. Keyword research is fun, and it should stay like that.
Unlike some other tools that are complicating keyword research to Alber Einstein level of understanding, this one is straight oriented to help you find the right keywords for your content and SEO strategy.
I mean, it's simple.
This one helps you to understand a couple of primary keyword metrics, and that's all there is to it.
Or is it?
MOZ Keyword Explorer has a couple more aces in its sleeve.
Many content marketers suffer to find keywords with good volume or low competition. With MOZ Keyword Explorer you will have them in a couple of seconds.
My business depends on long tail keywords. Being able to find narrow keywords described in the paragraph above has helped me to drop a massive boulder from my shoulder.
Not every keyword research tool is reliable in this way.
You should know that long tail keywords are the future of content marketing and organic traffic. Every good research tool should be able to fulfill that need.
This one is up to the task!
Moreover, you can use this tool for creating lists of topic ideas by using its Keyword Suggestions.
Keyword Explorer is for analyzing your competition as well. And, not in the complicated way that some other tools are doing. As I have said, this one is pretty simple and fun to use, but more about all of that in the rest of this review.
Who is MOZ Keyword Explorer for?
Keyword Explorer is for all digital marketing beginners. And even if you are on Alber Einstein level, you'll find that this tool from MOZ is going to fulfill your need perfectly. It's for people serious about online business.
This tool is also for all marketers who love writing their content. Every good piece of material starts as keyword research. To write a perfect piece of content for your blog, all you need is a good kickstart from your keyword research tool to get you going. The rest is on you.
Also, Keyword Explorer is for those who have a deep monthly budget. Even though it's an excellent piece of software, I think it's a bit overpriced compared to some others.
However, the keyword tool is not the only thing that you'll get if you decide to purchase with MOZ. Keyword Explorer is a part of the tool kit from MOZ Pro. So, if you want a complete SEO service, this kit might be the right one for you.
I still think it's overpriced, but let's move on. That's just cheap me talking.
In my review, I'm going to stay keyword research oriented. But before we learn about Keyword Explorer, I'm going to overview the tool kit quickly to check out what else can you expect within MOZ Pro.
MOZ Pro Tool Kit Overview
The main priority is keyword research. However, MOZ Pro tool kit has a lot more to offer.
It took me a while to get all the pieces together, but now I can see that you are up for a great ride. Digital marketing is getting more popular because of tools like this one.
The first thing I've noticed is its SPEED!
Other tools like SEMrush and Long Tail Pro are too slow. It takes them ages to get results. This one is as fast as the bullet! MOZ Pro is the first tool I've found that can measure with Jaaxy when we talk about the speed of software.
Once you start using MOZ Pro, you'll have to create your first campaign. All you have to do is enter the URL of your website and follow some instructions for the MOZ team.
For example, MOZ will automatically gather all your web data and start with analysis.
You'll be able to see some cool metrics such as your DA (Domain Authority) which tells you how good your site is.
Moreover, they offer an SEO Audit for your site. You can discover crawl errors or technical issues that may stop you from getting ranked higher. I've applied for it, and my results were satisfying. They found a couple of errors and technical difficulties on my site. Along with the report, they will give you tons of recommendations to improve your SEO.
One of the best things is the link analysis or Link Explorer. You'll get a full backlink profile. It's a cool thing to see how many links you have. It even shows you the DA of your backlinks.
You can use it to analyze your competitions backlink profile as well. If you want you can try and get backlinks from the same sources as them.
A bit unfair advantage I must say.
You can start using the On-Page Grader tool to analyze your on-page SEO. It shows you an overview of your selected page together with the things that you're doing good and the things you can fix to improve your on-page SEO.
I've analyzed a few of my URLs. The results that I've got were pleasing. I can see that my SEO skills are pretty good. I've got almost a perfect score each time! WooHooo!
Do you want to give it a shot? It's free!
All in all, I found this tool to be an excellent solution for all digital marketers, bloggers, and website developers in general.
MOZ Pro has all you need to quickly and effectively improve your SEO game. Now, I'm looking forward to starting this review in more keywords oriented tone. That's what interests me the most.
MOZ Keyword Explorer in Action
While I was working with MOZ Keyword Explorer to do this review, it won me over with its simplicity the most. The interface is clean and comfortable to read. All the metrics that are displayed are easy to understand. The team from MOZ Pro takes care that all data is continuously updated. In other words, they take care that goods are always fresh.
Out of many keyword research tools that I've tried and tested, MOZ Keyword Explorer is going on the top of the list after this review.
It fits perfectly in my taste and fulfills all my keyword needs.
What do you look for in keyword research tools?
Monthly Volume
It's not easy to discover how keyword research tools get this particular data. You see, I've been using various sources to get volume data for the same keyword. The results were different from one to another. Some did match. However, most of them were showing different data.
It made me wonder, how do they get those numbers? Do they guess them or what?
While I was using MOZ Keyword Explorer to write this review, I've discovered how the guys from MOZ Pro gather their data.
We use clickstream data from Jumpshot as well as data from Google AdWords and then some PPC AdWords campaigns we run and have access to when we build the models for our volume data. As such, we've got very high confidence in these numbers — 95%+ of the time, a given keyword's monthly search volume on Google will fall inside that range.
Transparency is the key to long term business relationship.
In my experience, monthly keyword volume is one of the top metrics that I'm looking for while keyword researching. It's not the only metric that interests me, but it's essential.
I already mentioned that I aim to find long tail keywords. You see, long tail keywords usually have low monthly search volume. Because of the fact, they are easier to rank. A couple of rankings for long tail keywords with low monthly volume is much more traffic than low ranking for a high score keyword.
That's how I look at it. Moreover, that's why it's essential for me to have an accurate number when it comes to keyword search volume.
MOZ Keyword Explorer proves it's simplicity and accuracy. It helps to retrieve valuable volume data for your SEO strategy.
It's going to be hard for me to stay unbiased with my review. This keyword research tool is fantastic so far. Let's see what else is there.
Keyword Difficulty
Every content marketer on the Internet is obsessed with this one! I believe that information about keyword difficulty is worth its weight in gold today.
While working with SEMrush, I was disappointed to see that they don't offer KD for every keyword that I was searching for. Sometimes I got data, while some other times there was nothing available. Long Tail Pro can't offer anything valuable or useful. Jaaxy does provide something similar to KD.
MOZ Keyword Explorer, on the other hand, has some fantastic news!
For every single keyword that I was searching for, I've got a keyword difficulty score. Now, I know that this number is not 100% reliable.
However, the guys from MOZ did their best to explain how they get those numbers. By the way, the score is measured on the scale from 0 to 100. Closer to 100 means that it's more difficult to rank.
Keyword Difficulty is based on the PA and DA scores of the results that rank in Google's top 10 for a given keyword, as well as several other factors (like how many homepages vs. internal pages appear, use of query terms in the results, and more). In general, scores roughly correspond to a weighted average of the PA of the top 10, and the other inputs (DA, homepages, query term use, etc) modify that weighted average.
You should keep in mind that you shouldn't depend on this number every time. There are a couple of things that you have to consider from your perspective as well — data such as your DA (Domain Authority) and PA (Page Authority). If you have a high DA, that means that KD is not very important data for you. Websites with high DA generally have no troubles ranking for a heavy keyword if it fits into their website topic niche.
When I take everything into perspective, I like to have this data. It's good for building my confidence if nothing else.
You see, MOZ Keyword Explorer helps to build faith in your SEO abilities. While writing my review, it made clear to me how some other tools are doing precisely the opposite. Excellent job team MOZ Pro!
Organic CTR
Organic CTR is something interesting. It's a metric that shows you an estimated percentage of the organic clicks. A high rate means that you can expect a lot of clicks if you rank on top of the search engines.
In their own words:
MOZ Keyword Explorer looks at the SERP features that appear in a set of results (e.g. an image block, AdWords ads, a featured snippet, or knowledge graph) and then calculates, using CTRs we built off our partnership with Jumpshot's clickstream data, what percent of searchers are likely to click on the organic, web results.
This particular metric is something special from MOZ. It's their brainchild that they've developed. I believe that it shouldn't be critical for your keyword research. You should take it with a grain of salt.
MOZ Keyword Explorer got me a little bit confused with this metric, to be honest. Maybe that's something they could improve more. From my point of view, I don't see how can this data can be useful.
However, I can see that MOZ Pro team is very proud of their unique metric. My task with this review is to give my unbiased opinion, and so I did. Let's move on.
Priority
Another custom data from MOZ. This one is not so confusing like Organic CTR. Moreover, Priority score can help you to quickly eyeball your keywords to decide which ones are the best. This data comes in handy especially if you are creating lists.
MOZ Keyword Explorer combines all data (volume, difficulty, and Organic CTR) and calculates the Priority Score. It ranges from 0 to 100. Of course, closer to 100 means that the keyword should be having a perfect combination of all other metrics. A high score indicates that a keyword has a high search demand, high CTR, and low difficulty score.
In my eyes, a Priority score is an excellent metric which can help you to see the real value of your keyword.
You can use it to pick that low hanging fruit. In other words, long hanging fruit is a long tail keyword that has a high ranking opportunity which big players in your niche have overlooked. It has decent search volume (traffic opportunity), yet very low difficulty hence the name.
Here is a quick summary of my MOZ Keyword Explorer review before we move on.
It's simple.
I like it.
Keyword Suggestions
The burning problem of all content marketers and bloggers is finding relevant long tail keyword ideas. I'm networking a lot with other people, and it was too easy to detect this issue. Unfortunately, that's one of the top reasons why people give up this business too fast.
When you write for a living, you have to develop a high level of creative skills if you want to survive in the business.
The ideal keyword research tool should help to develop those skills fast. MOZ Keyword Explorer is up to a challenge.  In my experience so far, there is only one keyword research tool that beats Keyword Explorer in this category. And that one is Jaaxy.
However, let's stick to our point of the review and let's see how good MOZ is when we take a look at this data.
First things first! Tons of keyword suggestions! Hell yea!!!
The Keyword Suggestion feature is off the hook. You can get hundreds of relevant keyword ideas. They are neatly lined up in front of you. You can choose to see them by relevancy or by monthly volume. Taking in the consideration that the guys from MOZ take care that monthly search volume is accurate, it's fantastic to have an immediate insight to each keyword individually.
Secondly, above the table, there is a couple of filters you can play with to sort the results. You can mix and match to get results by relevancy. Also, you can group your keywords. And, you can even choose to get results by search volume. For example, if you want to see only keyword suggestions with monthly search volume between 500 and 1000 searches, select the range, and that's it.
All in all, I'm fascinated and happy to see all those suggestions in simple language. It makes my keyword research more relevant. And, what's more important, it makes it straightforward.
If you have a desire to see the results based on the country, you can do so as well.
MOZ Keyword Explorer is confirming its reputation. I have to express my fascination. I hope you don't mind. We have a little bit more to cover with this review. However, right now, I'm more than happy to say that you won't regret this tool.
SERP Analysis 
So far everything was simple to understand and apply with MOZ Keyword Planner. It's logical to expect that SERP Analysis is going to stay in the same tone.
SERP Analysis gives you an insight into some compelling details about your competition. It analyses the top of Google's results for the selected keyword.
From there, you can see how developed is your competition. In other words, you can see their Domain Authority as well as the Page Authority score. There are two more data to read. One is the number of linking RDs to the page itself. The other one is the number of linking RDs to root domain.
Furthermore, you can see Adwords results showing up on the top of the page for your selected keyword, if there is any. Keyword Explorer shows the position of the Related Question snippet as well.
In my experience with keyword research tools so far, this is the second tool that I've found which shows simple SERP analysis results. The keyword research tool Jaaxy was the only one that I've seen which is not complicating this data. Jaaxy goes a step further and shows you the number of words within each page. If you can use both tools to compare SERP results, you'll be a winner!
The review is coming to an end, and I feel bad that it's going to finish soon. My experience with MOZ Keyword Explorer and MOZ Pro tool kit was beyond all my expectations. Maybe I'm still green in this area, but I don't have to be an expert to see that this one is doing an excellent job.
Let's see what I liked as well as the list of the things I dislike. It's going to be hard to complete the second list.
MOZ Keyword Explorer Pros:
Straightforward keyword research
Speedy software
Accurate search results regarding keyword volume
Simple SERP Analysis
Tons of keyword suggestions
Country-based keyword research
30 days of free trial available
Live help center
MOZ Keyword Explorer Cons:
As much as I was determined to find something that I didn't like to include in my review, I think I failed. MOZ Keyword Explorer is indeed an excellent piece of software. The guys from MOZ are doing a great job to keep it simple yet powerful.
Maybe the only bad thing that I can say about this keyword research tool is that it's a bit pricy.
However, the price itself is justified. For $99 per month, you'll get MOZ Pro SEO tool kit which includes Keyword Explorer as well.
MOZ Pro Price
I've touched the price of MOZ Pro under the previous headline. Here we'll take a look at some more options.
You can choose from two billing options, monthly and yearly. With an annual subscription, you can save 20% on the price of the service.
Standard $99-per-month
5 Tracked Sites
300 Tracked Keyword Rankings
100,000 Crawled Pages/Week (50,000/Campaign)
150 Keyword Queries/Month
10,000 Rows/Query
5,000 Link Queries/Month
10,000 Rows/Query
10,000 Rows/CSV Export
1 Link Tracking Lists
1-on-1 Product Walkthrough
24hr Online Help Team
Medium $179-per-month
10 Tracked Sites
900 Tracked Keyword Rankings
500,000 Crawled Pages/Week (50,000/Campaign)
Instant Site Recrawl
Branded Reports
5,000 Keyword Queries/Month
30,000 Rows/Query
30 Keyword Lists
20,000 Link Queries/Month
40,000 Rows/Query
40,000 Rows/CSV Export
30 Link Tracking Lists
1-on-1 Product Walkthrough
24hr Online Help Team
Large $249-per-month
25 Tracked Sites
1,900 Tracked Keyword Rankings
1,250,000 Crawled Pages/Week (100,000/Campaign)
Instant Site Recrawl
Branded Reports
15,000 Keyword Queries/Month
50,000 Rows/Query
60 Keyword Lists
70,000 Link Queries/Month
50,000 Rows/Query
50,000 Rows/CSV Export
60 Link Tracking Lists
1-on-1 Product Walkthrough
24hr Online Help Team
MOZ Pro Free Trial
Before you decide to purchase MOZ Pro, you'll have an option to take it for a 30-day test drive. This period is going to be more than enough to taste the true powers of this SEO tool kit developed by MOZ.
Unlike some other SEO kits and keyword research tools, MOZ Pro keeps all doors open. You can use and test all of its options during those thirty days.
I had the best time while using this tool kit for free to write my review! If you are looking for SEO tools that might come in handy, feel free the check out this one.
I guarantee you won't regret it!
MOZ Pro FREE TRIAL.
However, if you are looking for something more than an SEO tool kit, then keep on reading because I have something special for you.
Who Can Match With MOZ Keyword Explorer?
Now, as I'm very passionate to always strive for better and I rarely get satisfied with results, I've wanted to see is there anything or anyone who can match MOZ.
The world of SEO is evolving continuously. If you want to keep up to date, you'll have to find many resources as well.
There is no doubt that MOZ is one of the best, if not even the best SEO resource on the Internet. However, I think that they lack a bit more to be the best.
If you want to be the best in your business, you'll have to co-operate with the top players in the digital marketing industry. They should help you to understand the market in simple words, give you help and support in the form of training and tools, offer you live classes and other learning opportunities.
When I ask myself is there anyone better than MOZ who can help you to succeed online, I have only one name in my mind.
Wealthy Affiliate is, in my opinion, the best educational service when we speak about digital marketing and SEO. Moreover, they provide with top tools that no one can match. 
SiteRubix is the best web hosting platform on the internet. You can get two free websites to start!
WebSite Builder is the fastest site-building platform today. It takes less than five minutes to build a website!
Jaaxy is one of the best keyword research tools available. It's free with Wealthy Affiliate Premium Membership!
Online Entrepreneur Certification is the best affiliate marketing training with 15 years of experience. 
Wealthy Affiliate University is the largest online community where you can network with thousands of other affiliate marketers 24/7!
I'm a member of Wealthy Affiliate. As much as I've enjoyed working with MOZ Pro, Wealthy Affiliate is my place of business. I invite you to check it out!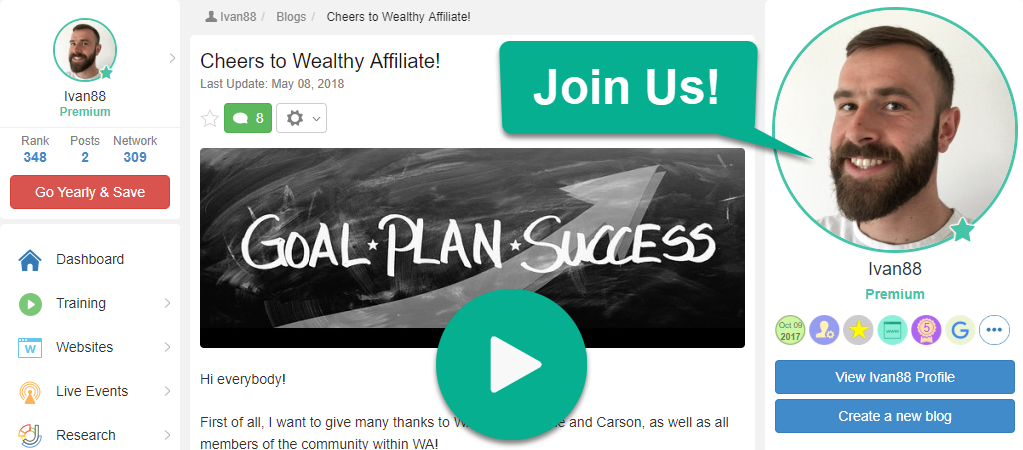 PRESS PLAY TO LEARN MORE!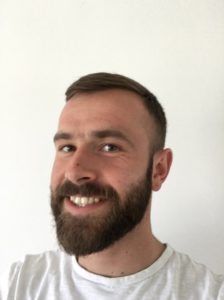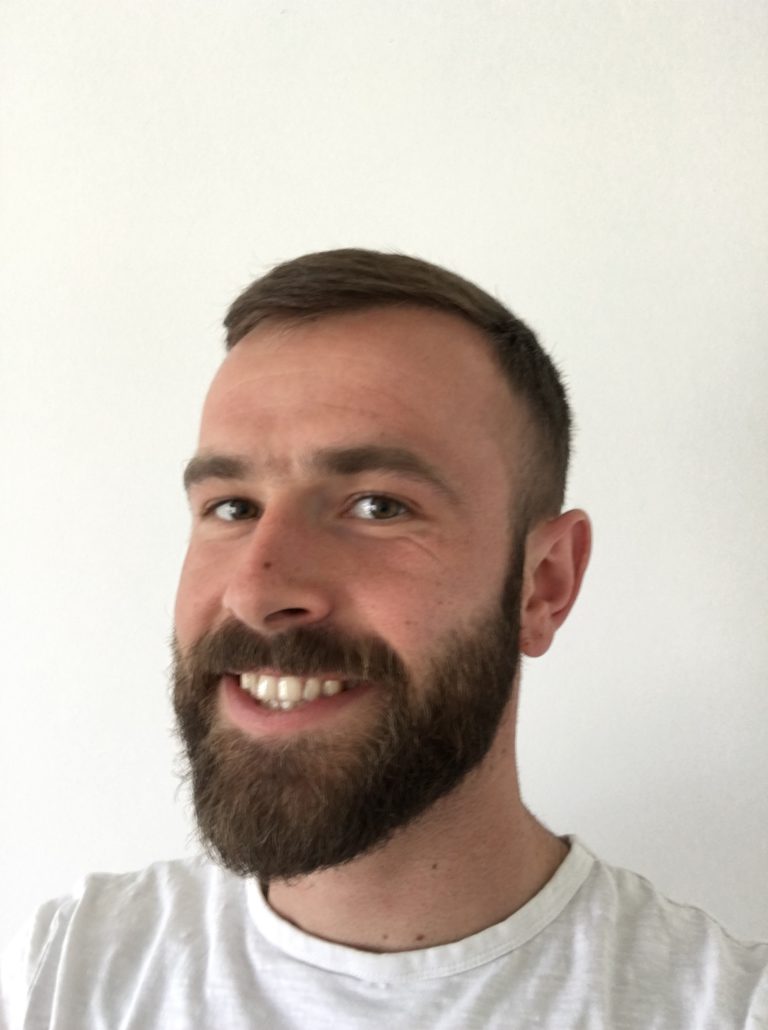 I wish you a successful online marketing journey!
If you need any help or you have a question, feel free to contact me!
All the best,
Ivan,
founder, and CEO at
freeaffiliatemarketingbusiness.com