Welcome to My EuroUS review.
At first glance, the website looks like a legitimate opportunity to make money online. They say you can earn more than $150 per day. They even say how you can earn an income from the first minute!
Wondering whether or not My EuroUS is a scam?
As you're about to see in this review, this website tricks folks into signing up by giving away a $10 bonus and a lot of fake promises. But in reality, they will scam you into working for free.
You see, this site is busted for not paying out. They use fake testimonials, fake endorsements from fake companies, and more!
Make sure to read the rest of my EuroUS review to learn more…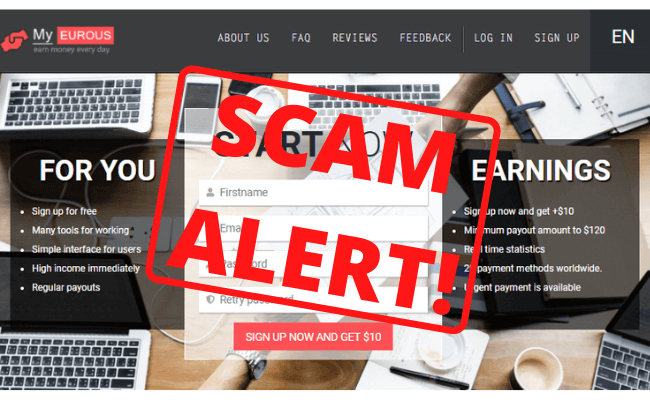 My EuroUS – Overview
Product Name: My EuroUS
Product Type: Make Money Online
Owner: Unknown
Price: $0
Recommended?: No! Scam!
Quick Summary: My EuroUS is a website that promises a $10 bonus for signing up and $100's and $1000's in passive income for sharing their links online.
The business model this site promotes is legit, but this site isn't!
My EuroUS scam uses fake testimonials to get your trust. The owners are impossible to track. They use fake brands and misleading claims to get your attention.
The worst thing is, this website is a clone of IT Linker and many other websites that use the same tricks to make you join and work for free!
That's right…for free.
If you join this site, you will get a chance to earn some imaginary money. But the owners of this scam will not pay you out, ever!
In other words, you'll waste time and effort to make someone else rich.
See the rest of my EuroUS review to read how it works, and to reveal all the red flags including customer complaints, and more!
If you're sick of scams, click below to discover my top recommended program for earning an income online.
My #1 recommendation has helped me to go from $0 to earning $100's per day with affiliate marketing!
THE BEST WAY TO MAKE MONEY ONLINE IN 2023 >>
What Is My EuroUS About?
My-EuroUS is a unique affiliate program that has no competitors or analogs. They only promote proven advertising products on social networks around the world. Working with this website, you will receive:
Regular payouts
Daily money bonuses
High income immediately after registration
24/7 support
That is what the official website has to say about the business operation. At least they admit that it is an affiliate program.
But how real it is?
They also, say you can make over $150 per day and even go as far as to say how you can start making money from the first minute you sign up.
Isn't that a bit too fast, don't you think?
You see, these promises are a regular thing among internet scams. They say how you can join for free and make tons of money without any investment.
Think about it. If those things were real, everyone would be a millionaire by now.
How Does My EuroUS Work?
In a nutshell, My EuroUs is just one out of many scam sites that you can join for free, receive a $10 bonus and start earning more money by sharing affiliate links on social media.
And every time you manage to refer a new person to the site, they will pay you a commission.
That is a theory, of course.
And the method that this site is allegedly helping you to leverage to earn an income online is called affiliate marketing.
While affiliate marketing is a 100% legitimate way to make money online, My EuroUS is a scam site that is just using this method to attract unsuspecting people like you to waste time and money.
You see, this site does not pay out its workers as they promise.
I managed to find tons of complaints all over the place from people who say that they've been scammed by My EuroUS and other sites alike.
In other words, it is a scam, and here is my evidence…
By the way, you can take a look at the IT Linker scam as well. It's literally a clone version of My EuroUS scam!
My EuroUs RED FLAG – Fake Testimonials
On My EuroUS website, you can see a set of testimonials that look pretty legitimate at first sight, right? However, I have evidence below that these testimonials are fake.
In other words, this website is not legitimate as it may seem at first sight.
A woman named Maria Harper says she's been working with this website for a long time and had no problems with receiving payouts.
But as you can see on the image below, this image has been used on many other sites too. In other words, it is a generic stock photo.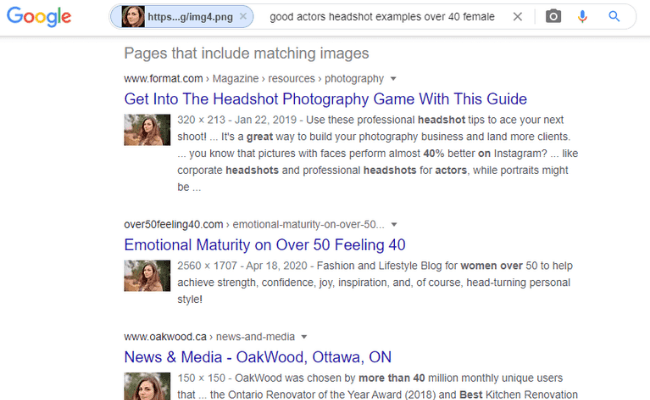 Then, we have Donna Jones, who says almost identical things as Maria.
However, a quick image search shows that this is also a generic stock photo that has been used on other, unrelated to My EuroUs websites.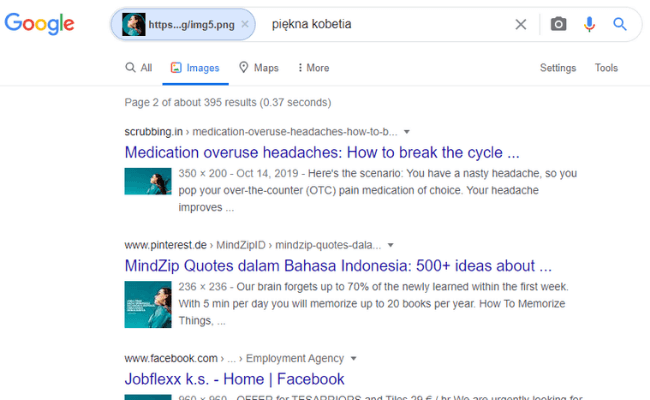 Lastly, Arron Stafford is a man who has joined the affiliate program and has nothing but great things to say about it.
And as with the other two testimonials, his is also fake!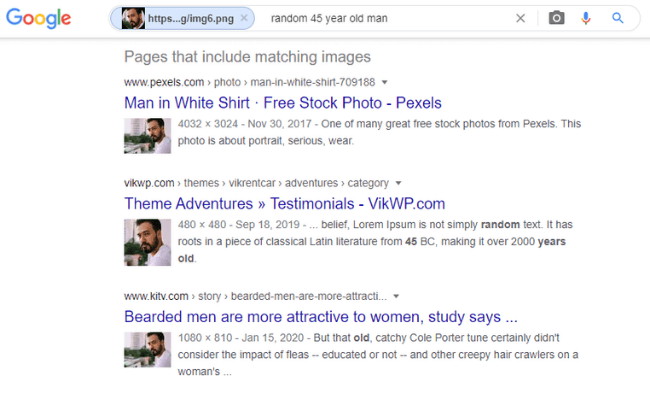 And that's not it, keep reading my EuroUS review to see more scam signs I've found on this website.
My EuroUs RED FLAG – No Address, Fake Contact
The About Us section of the website does not tell you a single thing about the origins of My EuroUs, nor do they offer any names to show us who the founding parties are.
This is another scam sign that you can find common among internet frauds.
They do offer an email address and a phone number at the bottom of the page, but as you're about to see in the next sections of my review, those contact details are fake. The email address and the phone number are not working…
My EuroUs RED FLAG – Fake Brand Endorsements
To make the opportunity look as legitimate as possible, the owners of the site show you a few logos of some companies they are in partnership with.
But can you see how similar those logos are?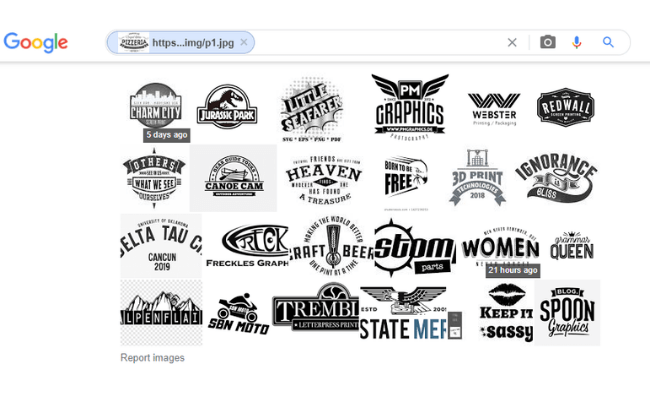 You see, those companies are not real, and those logos displayed on My EuroUS website are fake as well the story behind them.
As you can see from the image below, these are generic logos available in the public domain that you can use for whatever you want.
So not only that they use fake testimonials, but they also use counterfeit endorsements from companies that don't even exist!
My EuroUs RED FLAG – Misleading Claims and Fake Numbers
To say that you can make money from the first minute of joining the site is like saying that you can speak Chinese without taking any lessons. In other words, it is impossible.
And yet, the unknown owners of My EuroUS scam claim that you can do so and some more!
And to back up those claims, not only that they give you fake testimonials, but they also show you some counterfeit numbers that are supposed to provide you with peace of mind.
But in reality, these statistics are as fake as the whole platform itself.
How come they couldn't find at least one genuine testimonials if they have, as they say, 163,647 happy users?
Well, you've guessed it right. It's all fake and to show you that I'm not the only person who knows this, take a look at the next section of my EuroUs review to see what others have to say.
My EuroUs RED FLAG – Tons of Complaints
As you can see from the screenshots below, not one, but tons of folks from all over the place say that the site is not paying out earnings and that the whole thing is a scam.
Who do you believe? These folks or those fake testimonials?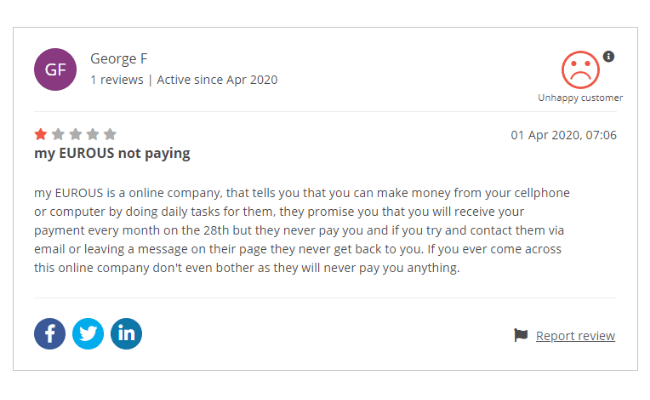 And the reason why they don't pay you is that My EuroUS is among many things a data harvesting scam.
They will get your information and trigger some more scams in your way. They will waste your time for nothing!
My EuroUS is a Part of a Scam Network!
Beware because My EuroUS is just one of many, identical scams that you can stumble across the internet.
As per my findings from some previous reviews, these sites are coming from Russia and that's all there is about them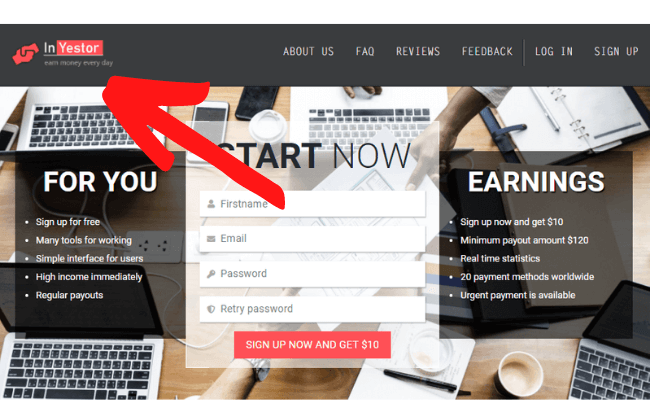 As you can see from the image above, they don't change a single thing except for the logo of a scam. Everything else stays the same.
They use the same fake testimonials, media endorsements, and other BS with which they feed you to sign up and start wasting your time.
Verdict – Is My EuroUS a Scam?
It's clear by now. My EuroUS is a scam! I've bumped into tons of these clone sites all over the internet.
Someone is cloning these sites and giving them different names to scam people like you and me.
If My EuroUS were a legitimate website for making money online, there would be no need to use fake testimonials.
Moreover, the creators of this site would be proud to stand next to the name of the site.
There would be much more positive testimonials and almost zero to no negative reviews.
But as you can see from my review, this website fails in every single way to earn your trust, and basically, it is designed to trick you into wasting your time and money!
I've reviewed 100's of affiliate marketing offers on this site, so trust me when I say that this site is nothing to mess with.
You could waste a lot of time and money to discover what I'm just telling you right now!
Conclusion
These scam sites are all over the internet. And the worst thing of all is that, to an untrained eye, they look as real as it gets.
You're lucky for finding this My EuroUS review before falling on another internet scam that tricks internet surfers into wasting their precious time and even their hard-earned money!
The bottom line is, My EuroUS is a website that you want to avoid at all costs. They will fire you up to start doing these affiliate tasks for them, and they will promise you tons of cash for your service.
But don't be fooled…
How I Make Money With Affiliate Marketing
If you're serious about making money online, make sure to check out my 100% legitimate recommendation below…
My top-rated business model is called affiliate marketing and it has nothing to do with scamming other people.
It's actually a rapidly growing online business model because it is based on helping other people to find the answers and products that will improve their lives!
I use this exact system to earn $1000's per month in passive income.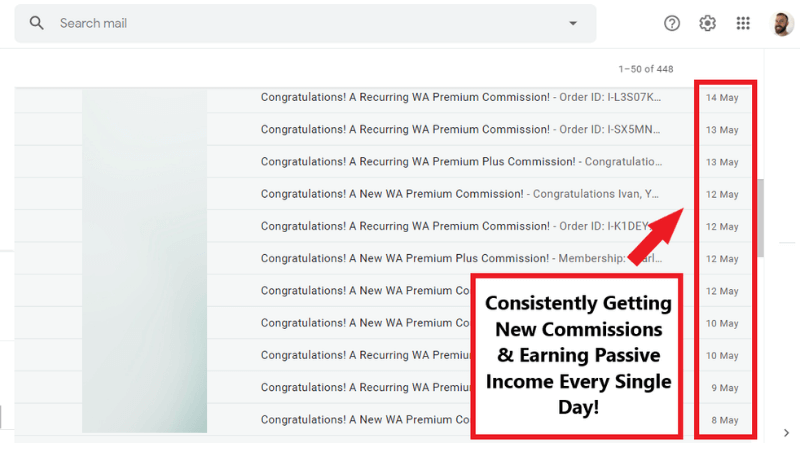 Make sure to click the button below to learn more!
THE BEST WAY TO MAKE MONEY ONLINE IN 2023 >>
If you need any help or you have a question, feel free to contact me.
And don't forget to share My EuroUS review with your friends and family!
All the best, Ivan. Founder, and CEO @freeaffiliatemarketingbusiness.com
Related Reviews: