WARNING: You're About To Discover The Best Way To Earn A Passive Income Online In 2021 & Beyond…
Are you tired of working at a boring 9-5 job that doesn't pay you enough or give you the freedom to enjoy your life?
Do you spend your days doing something that you don't enjoy, just to make somebody else wealthy?
Do you want to live the life of Your Dreams?
Turn Your Passions & Hobbies into a Successful Affiliate Marketing Business!
Imagine waking up whenever it suits you because you don't need an alarm clock.
Then, once your eyes open, you don't have to rush to get ready and go to a job that you hate.
Instead of running around like the headless chicken, you allow yourself a few more minutes in your cozy bed, stretch a few times, and then get up.
You walk to your kitchen, grab a hot cup of coffee, say hello to the birds outside, greet your family with a cheerful, "Good morning," and start your day with a nice, healthy breakfast.
Ahhhh…what a lovely morning.
When you're ready, you pick up your smartphone and open your email account, which puts an even bigger smile on your face.
"Congratulations, you've just earned a commission!" – say several messages.
You realize that you've been making money while you were asleep, and it feels awesome!
You take your time to finish your coffee and breakfast, and if you're like me, you might even go for a morning stroll around the neighborhood as well.
Once you come back home, you flip open your laptop and start working on your online business.
No boss is around to yell at you at 7 AM.
No annoying coworkers drain your energy right from the start of your day.
You didn't even have to sit in traffic for hours to get to work.
Freedom!
Instead of trading your time for money, you can work from the comfort of your own home and write your own paycheck.
You can work whenever you want, wherever you want.
You can make money from anywhere in the world as long as you have your laptop and WiFi.
Your income potential has no limits.
Above all, you don't have to answer to a boss. You're your own boss.
In other words, you're an online business owner.
Can You Imagine It? Well, I'm Actually Living It 😀 And So Can You Too!
YES! I WANT TO TURN MY PASSIONS & HOBBIES INTO PROFITS TODAY!
Hey there! I'm Ivan, an ex-restaurant waiter, and a proud online business owner.
I used to wait tables in a restaurant, and I hated it.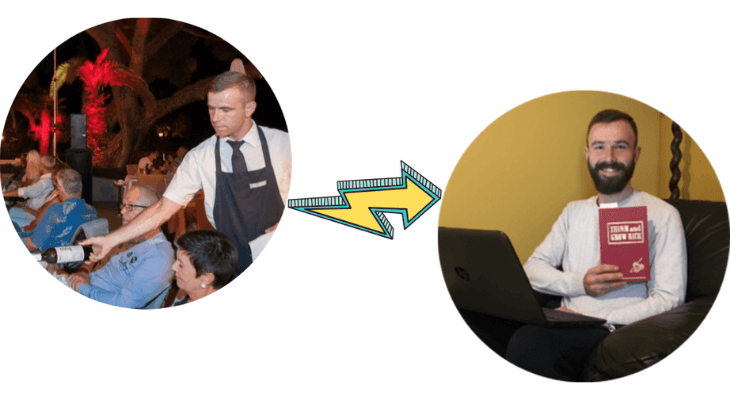 Today, I earn thousands of dollars from home as my own boss, and I love it!
My online business allows me to travel, spend more time with my family, hang out with my friends, write my own paycheck, save money, invest in my future, help others, and more!
A few years ago, I learned that anyone from any walk of life can turn any passion or hobby into a successful online business, so I joined the movement.
A few short months later, this started to happen…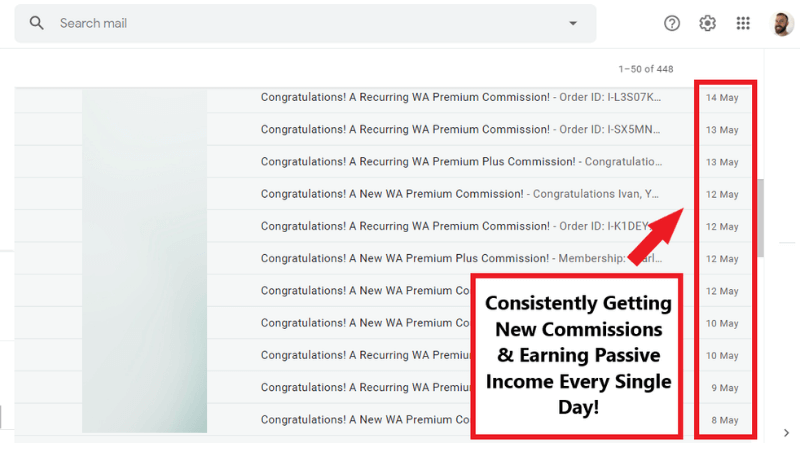 The screenshots above are some of my latest affiliate commissions.
Thanks to this proven system, and a lot of hard work and effort, I went from $0 to earn $1000's in passive income every single month!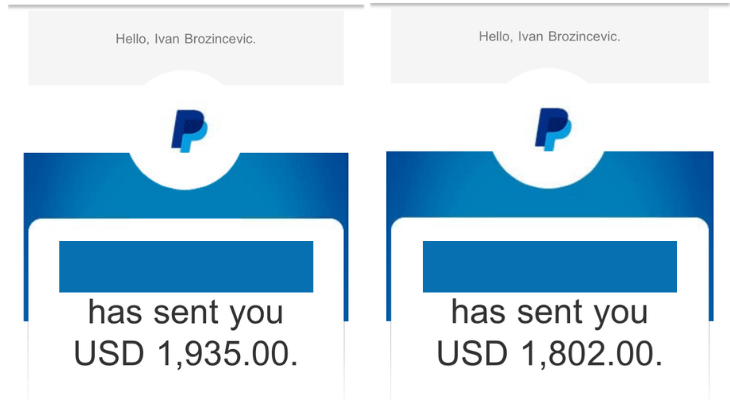 I will not only be getting this kind of 4-figure paychecks month after month, but it will be growing every single month.
See, unlike a traditional job, my affiliate income keeps growing and growing the more work I put into it.
Do you want results like this?
If You Can See It, You Can Have It! 🙌
YES! I WANT TO TURN MY PASSIONS & HOBBIES INTO PROFITS TODAY!
All these folks in the examples below are regular people like you and me.
They found themselves wanting the same things as you—things like more freedom, more money, and more time with their friends and family.
They discovered the same system that I'm about to show you, took action with it, and now, they have all the bragging rights…
🔥 Eddy has made over $1 million with affiliate marketing using this EXACT system.
🔥 Brok finally joined the $10K-per-month club in January using this EXACT system.

🔥 Crystal recently celebrated her first thousand-dollar month using this EXACT system.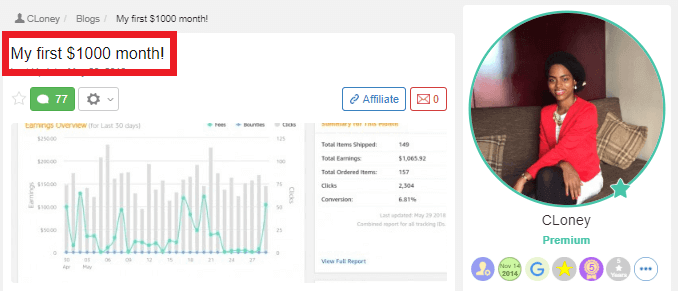 🔥 Grant is a step ahead and just reached $2000 in one month using this EXACT system.
So How Do We Make Money Online? 🤔
It's straightforward.
We make money online by creating simple websites that we use to connect people with the products they are looking for.
And we get paid juicy commissions by sellers like Amazon, Etsy, eBay, Nike, Apple, ClickBank, and many others, for doing so.
It's called affiliate marketing and it's the best thing you will ever learn!
Affiliate marketing is a multi-billion-dollar industry that's been growing rapidly over the last few years.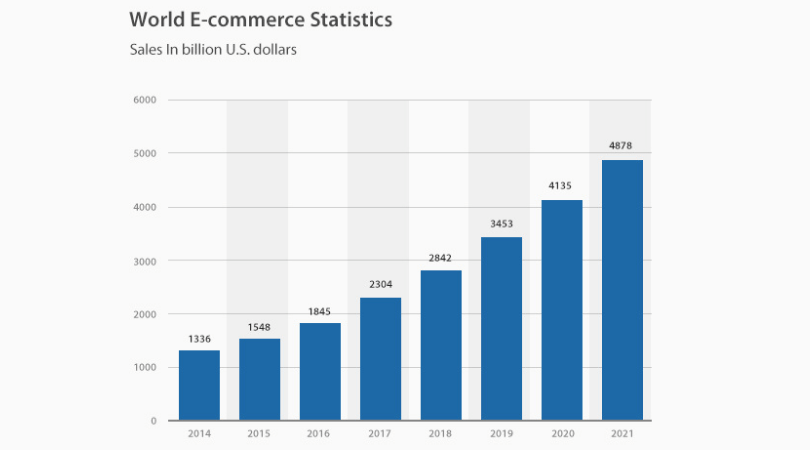 Can you see the upward trend?
It means that more and more common people like you and me are starting their own sites and are successfully promoting other people's products.
See, with affiliate marketing, there's no product creation.
You don't have to own products either.
That's why affiliate marketing is the most newbie-friendly and one of the fastest-growing eCommerce businesses.
Best of all, affiliate marketing creates passive income!
Meaning, you can earn money for years and years on autopilot from one single website even while eating, sleeping or having fun.
Sounds too good to be true?
Well, keep reading this page because I will be revealing to you the secrets I'm personally using to get this kind of result day in and day out.
How You Can Turn Your Passion Into a Successful Online Business ✅
YES! I WANT TO TURN MY PASSIONS & HOBBIES INTO PROFITS TODAY!
To succeed in the online business world, just like in the 'real' world, all you need is one good idea and access to a PROVEN SYSTEM.
If that system works for others, why would it not work for you as well?
The four-step formula below has existed for over 15 years, and millions of people (so far) have used it to start an online business from scratch.

Best of all, it will continue to work for another 15 years and beyond.
It requires no special skills, no previous experience, no particular genius, and no fancy diplomas.
All you need to do is follow the steps and work hard to make it happen.
Can you do that?
See, if you're willing to roll up your sleeves, put all your energy into this four-step formula, and stay committed for as long as it takes, the formula will work for you, too.
It is the single best thing I've ever learned in my entire life.
And it all starts by choosing something you already love to do—a passion.
"But I don't have any passions…" 
Don't worry!
You can literally turn ANYTHING you want into a successful online business simply by following those four steps… literally, anything you want.
Even the "stupidest" idea can turn into profits with this proven system!
I'm 100% sure that you have at least one passion or a hobby in your life, right?
The example below is not stupid, but it's an example of how a simple passion for basketball shoes can become a successful online business.
Example #1…
My friend Julius owns a website called ShoesForHire.com where he shares his passion for basketball kicks.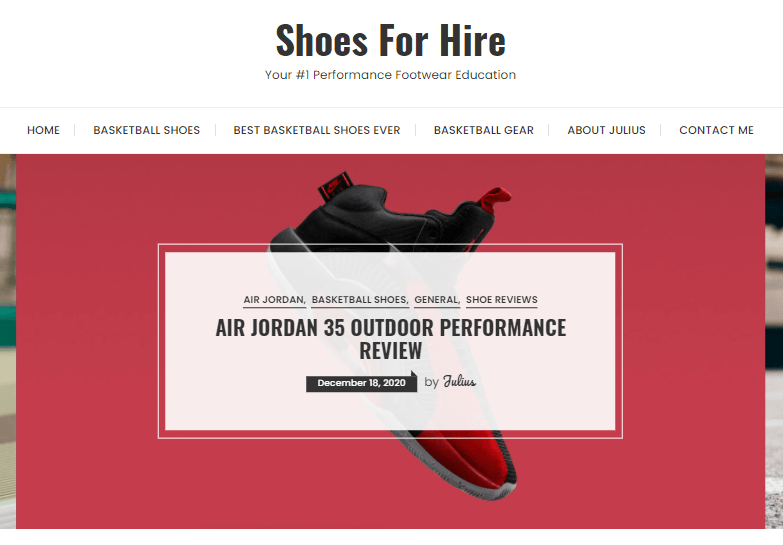 Julius is collecting commissions by helping people who are looking for basketball shoes to find the best online places to buy.
In this case, that would be Amazon.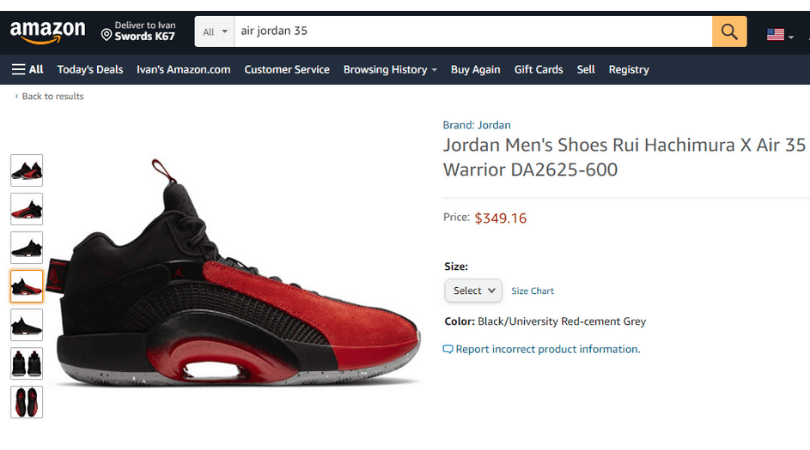 You wouldn't believe how many people shop for basketball shoes online!
Have you ever bought something online?
If so, the chances are that you have helped a marketer like Julius here to earn a commission through your online purchase.
Example #2…
Another example is my friend Kathy and her website AllToDoWithCats.com where she shares her passion for cats.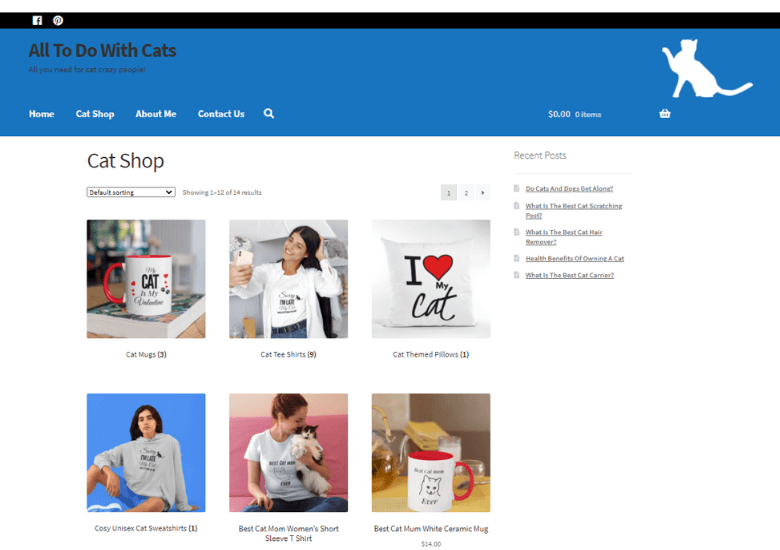 Kathy is earning a consistent passive income every single month from her site by helping people to shop for cat-related products.
In her case, Kathy makes money by referring people to Etsy.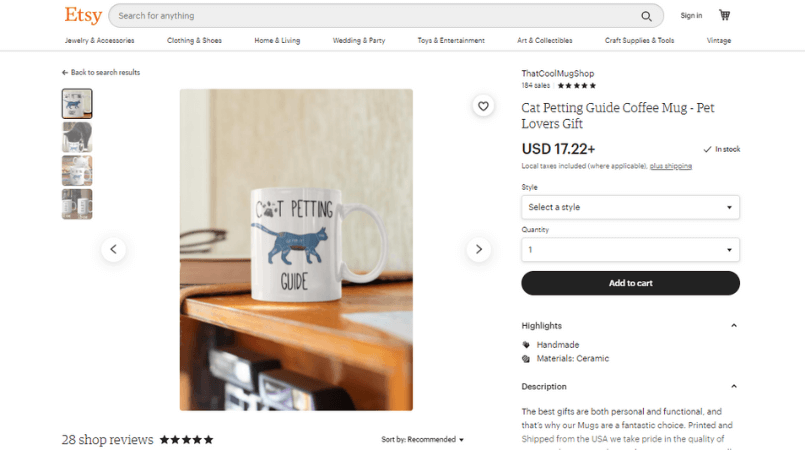 There are millions of cat-lovers all over the world who are looking for Kathy's website and are ready to purchase a product or two!
Example #3…
Here's one of my own websites called YourPersonalDevelopment.org where I share my passion for personal development.
I earn passive income from this website by promoting personal development products like courses, eBooks, seminars, etc.
In my case, I send people to ClickBank.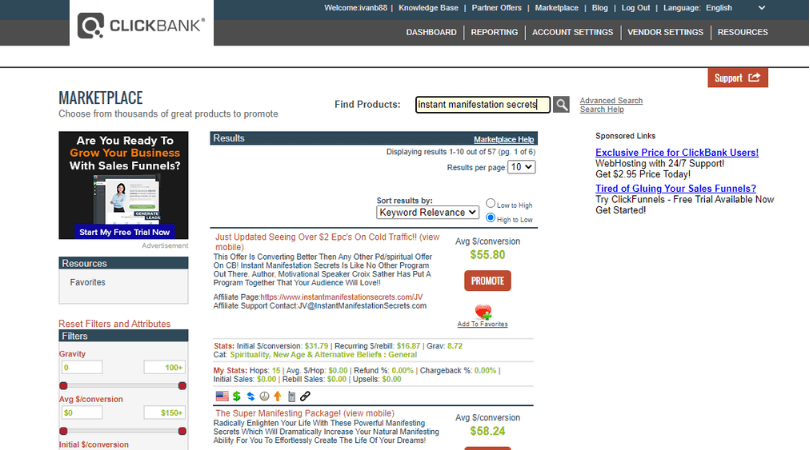 Each time someone purchases something that I recommend via my website, I earn a nice commission!
Quite a cool way to earn an income from something you already love, right?
"But I'm not a techie person," 
Well, neither am I; yet I managed to build a couple of websites so far and run a successful online business.
Even today, three years later, I still have no clue what CSS, HTML, JavaScript even mean!
It's all an alien language to me.
However, I don't have to know anything about it, and neither do you.
You can build a free, profit-ready website in less than three minutes, and I will show you how.
It's really simple, so don't stress out.
All you have to do is (1) choose a free domain option, (2) choose a name for your site, (3) enter a title, and (4) choose one of the preloaded themes from the theme library.
In less than 30 seconds, an app will create a profit-ready website for you and you'll be ready to rock and roll.
So what then?
Then, once you have a site and an idea (passion) in mind, all you need is to share your passion with others to get FREE traffic to your site.
And then, just send that traffic to Amazon, eBay, Etsy, Target, etc., using affiliate links.
Once people buy stuff through your affiliate links, you earn juicy commissions!
It's that simple.
This EXACT SYSTEM works extremely well for me and 1000's of affiliate marketers from all four corners of the world!
If it works for others, why would it not work for you as well?
You're a Few Steps Aways From Turning Your Passions Into Profits 💰
🔥 Leo just passed $35,000 so far this year in a tough niche.

🔥 Steve made $8,871.03 with affiliate marketing in just one month.

🔥 Jerry earned $6.2K in a single month with affiliate marketing.

🔥 Nathaniell makes a whopping $1500 per month from a $1.00 recurring commission.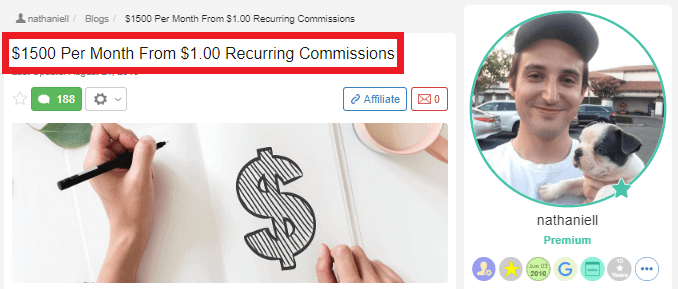 Are You Ready to Turn Your Passions & Hobbies Into a Successful Online Business? 😃
YES! I WANT TO TURN MY PASSIONS & HOBBIES INTO PROFITS TODAY!
On the next page, you will get access to the step-by-step training.
You'll learn how to master the four-step formula that we use to earn $100's and even $1000's per day!

Along with step-by-step instructions, you will get all the best tools, a 24/7 help and support system, and much more.
On top of that, you will get a special BONUS – my private coaching.
In other words, I will be your private coach and mentor and will help and support you and answer all your questions.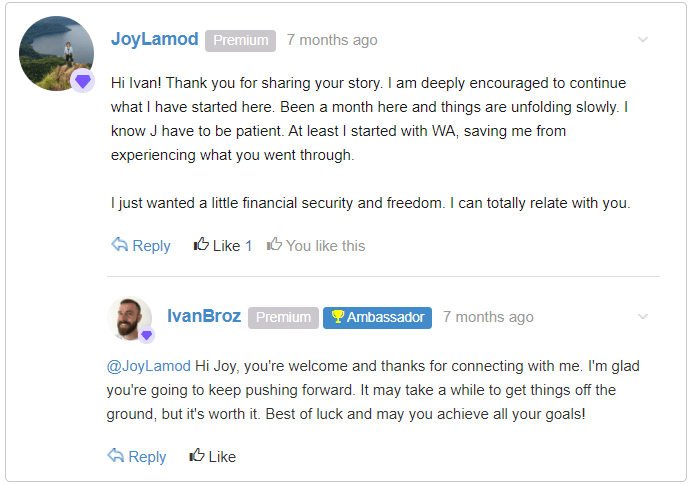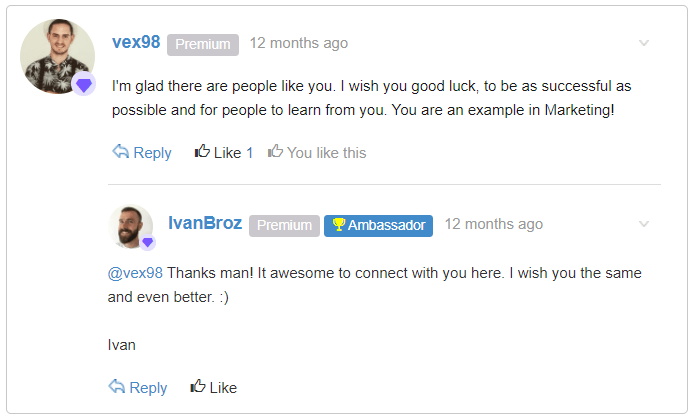 These are just a few messages I get from people who joined our training.
It's simple, we help people to turn their passion into a successful online business every single day for 15 years and counting and we will help you too!
✋ One Last Thing Before You Start…
You've probably been wandering around the internet searching for ways and means for making money online for a while, am I right?
You've also bumped into a few get-rich-quick schemes, scams, done-for-you systems, push-money websites, secret loopholes, and other BS.
And I'm 100% sure that you're probably already thinking that everything on the internet is a scam.
I've been there…it sucks!
This system is nothing like that.
The training that you're about to get access to on the next page absolutely works!
However, I can't guarantee your success. No one can. It's all up to you.
In other words, you're the only one responsible for your success.
So if you're not willing to work for it…please, leave this page.
But if you're dead-set on investing a lot of time and some elbow grease into your own successful online business, then I'm absolutely sure it's only a matter of time before you see the first results.
This PROVEN SYSTEM fails only if you fail to work on it…That's a fact!
So are you ready to work for it?
Are you ready to earn your success like thousands before you?
If so, click the button below and I'll see you on the inside!
YES! I WANT TO TURN MY PASSIONS & HOBBIES INTO PROFITS TODAY!
Disclaimer: This is NOT a get-rich-quick scheme. This is a proven system for making money online. This EXACT SYSTEM made me go from $0 to earning $100's per day!