Welcome to my Partner With Anthony review. Who is Anthony Morrison? Is his partnership program legit? Or is Partner With Anthony a scam? Keep on reading this article…
Partner With Anthony (PWA) is a training program designed to teach you how to access affiliate and email marketing tools. It aims to help you promote PWA to others.
Initially, I had reservations about PWA, as it seemed to have characteristics of an MLM or a pyramid scheme.
However, after receiving numerous emails from Anthony and spending hours researching, testing, reading, and watching everything about the program, I decided to share my unbiased review.
I want to clarify that I am not promoting Anthony Morrisson's course to earn commissions through my links, nor am I one of Anthony's partners.
With that said, let's begin this Partner With Anthony review and determine whether it's a scam or a program worth your time and money.
Shall we?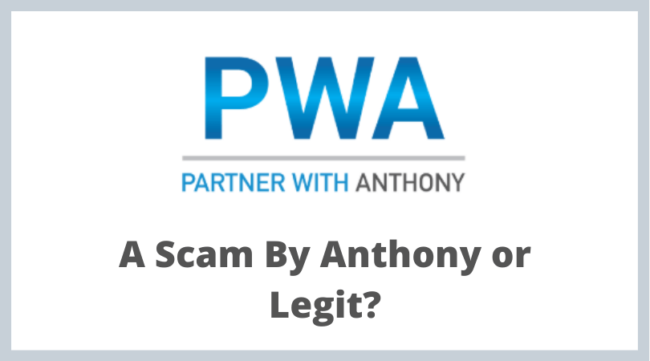 Is Partner With Anthony a Scam?
Partner With Anthony is not a scam, at least not technically. It's a cleverly designed marketing system where you have the opportunity to promote Anthony's course and more using affiliate marketing methods.
While you receive training and a chance to earn money as promised, I don't recommend Partner With Anthony due to its lack of honesty and transparency.
Anthony seems to prioritize gaining as many customers as possible rather than benefiting those who join.
The program requires significant investments in tools and traffic, which are not mentioned upfront. Additionally, it's not as easy as Anthony claims, especially for newcomers.
Partner With Anthony may be a legitimate program, but it's not my top recommendation. Its primary focus appears to be benefiting Antony, similar to his previous systems.
While you can make some money promoting his product, it's not a sustainable long-term business.
For more information, refer to my detailed Partner With Anthony review.
Alternative: On the other hand, if you're looking for the best business model to earn passive income online as a beginner, there are other, more suitable, and cost-effective alternatives.
My top-rated course has helped me to go from earning $0 to $100's per day!
THE BEST WAY TO MAKE MONEY ONLINE IN 2023 >>
Who is Anthony Morrison?
Anthony Morrison is the owner and creator of the Partner With Anthony system.
If you have been navigating the "make-money-online" realm for a while, chances are you've been contacted by Anthony at least once. He is a self-proclaimed guru and online marketing specialist.
The truth is, Anthony Morrison is a legitimate guru who knows how online marketing works. He has been in the industry for over a decade and has become an expert, author, and well-known figure in the MMO industry.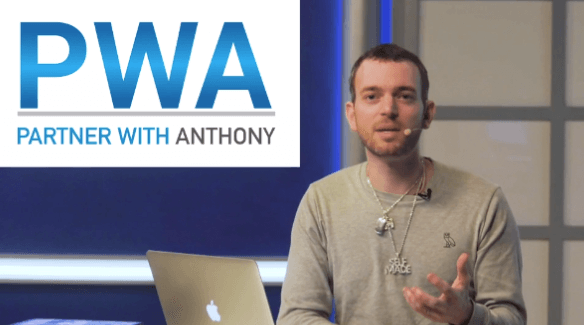 Unfortunately, like many other 'gurus' out there, Anthony has gained a bad reputation. Some even claim he's a scam artist.
The reason?
Well, Anthony has published numerous courses through MorrisonPublishing. Partner With Anthony is just another one in a row of questionable courses, where his primary intention, as always, is to make money for himself first.
In the following sections of my Partner With Anthony review, I'll explain this in more detail. The fact is, Antony and his course have received a lot of negative reviews, and there's a strong reason behind it.
Since I've purchased the Partner With Antony program, this might be the next review. You see, Anthony is a slick salesman, but his ability to help people succeed online might not be that great.
Let me show you more…
What is Partner With Anthony About?
As you may have heard, Partner With Antony is an affiliate marketing program that offers the opportunity to partner with Anthony and generate online income by leveraging his expertise. However, it's important to note that this statement only provides a partial explanation.
In reality, Partner With Anthony is a comprehensive 14-session training course designed to teach you how to establish an affiliate marketing business from the ground up. The primary objective of Partner With Antony is to become an affiliate for PWA and earn commissions by implementing marketing funnels to sell Anthony's materials to others.
Although this clarifies the concept of partnership, it's vital to emphasize that once you purchase this course, despite Anthony's promises and claims, you will be left to your own devices. Anthony will not be available to provide support or assistance as he initially suggested during the sales pitch.
This raises the question of why you would be assisting him in making money first.
In many ways, Anthony's system resembles a self-promoting scheme called Perpetual Income 365, as it demonstrates how to utilize email marketing and paid ads to generate income by promoting similar products or services.
Unlike PI365, Partner With Anthony doesn't rely as heavily on hype and misleading information to attract individuals, which is certainly a positive aspect.
Nevertheless, I must admit that I'm not particularly fond of systems that are primarily designed to enrich the owner at the expense of your financial and marketing efforts.
Furthermore, let's delve into more detailed information about how this process will unfold.
First and foremost, it is crucial to address the pricing aspect.
How Much Does Partner With Anthony Cost?
Anthony used slick marketing tactics and the power of persuasion to make you believe that Partner With Anthony would only cost seven bucks.
I was convinced and ended up purchasing the course. Here is the confirmation email: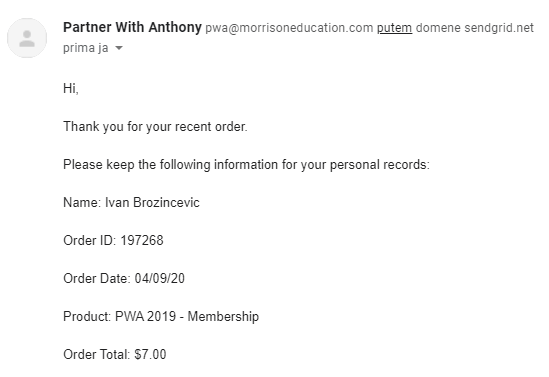 When I joined Partner With Anthony, I immediately found myself inside a strange free sales funnel. In the second stage of the sales pitch, he even mentioned that he would include all the upsells for free, acknowledging their annoyance.
Additionally, he was uploading all of them to your account as he spoke.
As Expected, Here Come Upsells
Unexpectedly, he presents not an upsell, but rather an "exclusive member offer" out of the blue sky.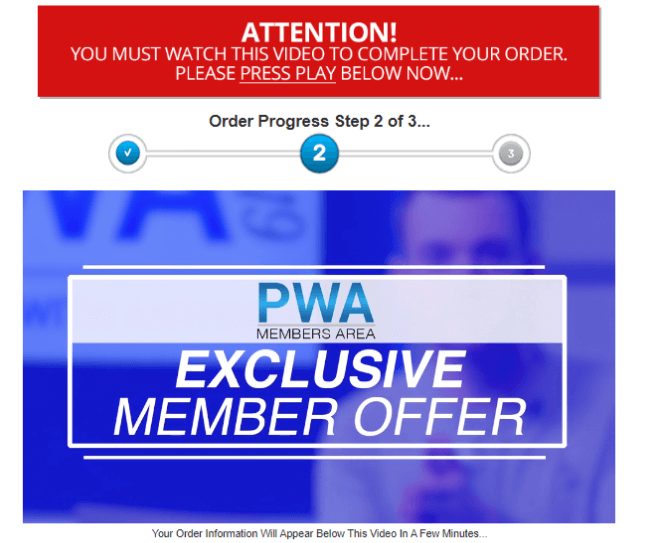 He explains that every online business depends on traffic. Without traffic, you can't succeed online.
Therefore, the exclusive offer is a Traffic Bootcamp upsell on top of the Partner With Anthony front-end offer. This upsell allows you, as a member, to purchase traffic directly from Anthony's sources.
However, it also emphasizes that you can't make money with Partner With Anthony if you don't know how to get traffic on your own or if you don't take the UPSELL.
I haven't purchased the Traffic Bootcamp since I know how to get tons of free traffic.
So, unfortunately, I have no idea whether it's worth it or not.
Also, you'll be offered to purchase more programs and courses from Anthony down the road, which you can promote yourself.
Digital Marketing Mastermind (Anthony's membership site) – $69.95/year
M Insider Newsletter (monthly newsletter from Anthony) – $9.95/month
PWA Ambassador Program – $1497
Internet Traffic Consulting – $1197
Digital Marketing Mastermind – $7/month
Insider Newsletter – $10/month or $100/year
Then, You Have To Buy a Bunch Of Tools
Once you take advantage of the exclusive offer, you'll receive a basic system in video format. Additionally, you'll have the opportunity to invest more in the tools and resources necessary to put this system together.
Firstly, for Partner With Anthony to be effective, you'll need to purchase tools such as:
ClickFunnels (funnel builder) $99 – $297 per month
BuildRedirects (link tracking software) $19.99 – $99.99 per month
GetResponse (autoresponder) $15 – $1,199 per month
Aweber (autoresponder) $19 – $149 per month
Everwebinar (webinar software) $499 per year
PurchaseYou.com (domain name & hosting) $8.99 – $69.99 per month
You can find the links to all those resources within your Partner With Anthony dashboard.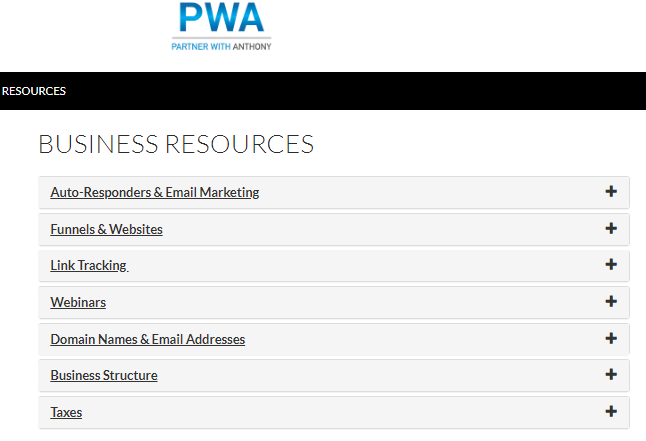 To summarize, in order to implement the Partner With Anthony system successfully, several tools and resources are necessary. This means that the initial cost of $7 will only be the tip of the iceberg. You will need to allocate a few hundred dollars per month to get started.
It's worth noting that once these tools are purchased, Anthony will earn a commission. This is how the Partner With Anthony system operates, with Anthony prioritizing his own earnings.
However, you will soon discover that by diligently following the program, you can achieve similar results for yourself.
Alternative: On the other hand, if you're looking for the best business model to earn passive income online as a beginner, there are other, more suitable, and cost-effective alternatives.
My top-rated course has helped me to go from earning $0 to $100's per day!
THE BEST WAY TO MAKE MONEY ONLINE IN 2023 >>
What Is Inside Partner With Anthony?
The Partner With Anthony program consists of 30 sessions. Upon subscribing, you instantly receive access to the first session. However, you will have to wait 24 hours before gaining access to the subsequent sessions.
Therefore, it will take you at least 30 days to complete the entire course.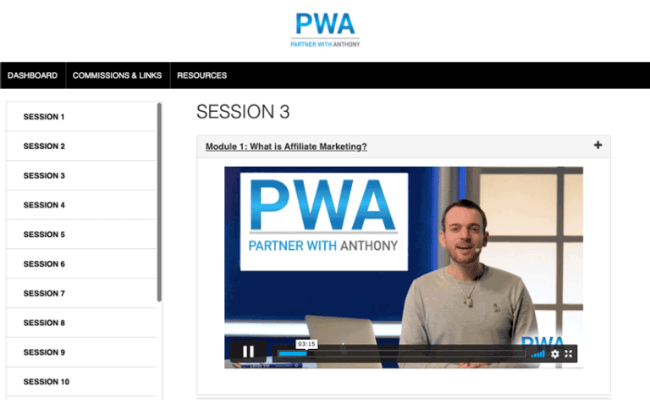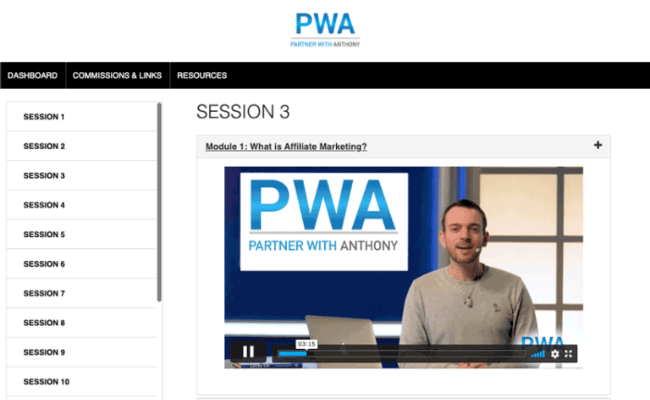 The training is excellent for anyone interested in learning the fundamentals of internet marketing. Anthony covers various subjects such as:
Setting up your PWA funnel
Solo ads (Fast Traffic Source and Udimi)
Copywriting
Facebook ads
Getting free traffic
YouTube review marketing
Email marketing
By registering for PWA, you gain access to Anthony's exclusive Facebook group. As a member, you can participate in a live training session hosted by Anthony every Thursday evening.
Related Review: Invincible Marketer
How Does Partner With Antony Work?
As mentioned earlier, Partner With Anthony teaches you how to promote the PWS using sales funnels. The main goal is to become Anthony's affiliate.
For each sale you make, both you and Anthony earn a commission.
However, it's important to note that this can be a costly endeavor. On the bright side, if you follow through, set up the system, and generate traffic to your funnels, you have the potential to make money.
Once you purchase the recommended tools and resources, you'll receive your affiliate link and qualify for commissions for each sale you make.
This is referred to as an "ecosystem" by Anthony, and from a marketing perspective, it's a clever approach that he has been using for ten years. However, it's important to understand that it won't be easy.
Partner With Anthony consists of 14 sessions with video modules that must be followed diligently in order to achieve success.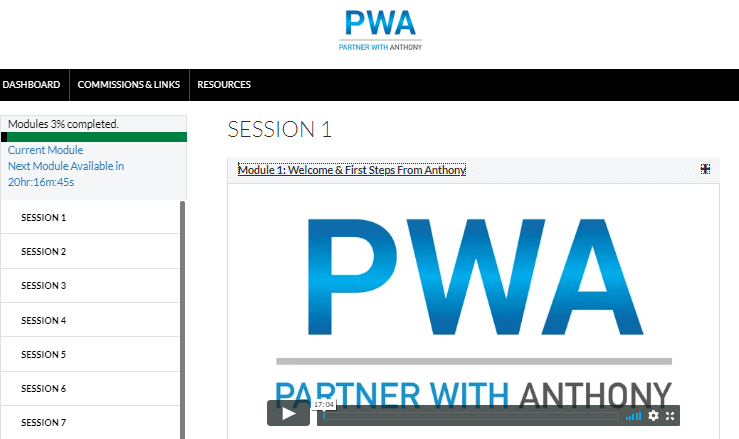 You should also consider having a significant budget for traffic. Remember, Anthony will demonstrate how to generate traffic through paid advertisements, which can be quite expensive.
To get started with Partner With Anthony, you'll need a few hundred dollars. So, don't expect a push-button system where Anthony does all the work for just $7.
Having such an expectation would be foolish and unwise.
Related Review: Secret MLM Hacks
Is Partner With Anthony Worth It?
Anthony guarantees to make creating an affiliate business effortless with his tried and tested done-for-you funnel. However, relying on these systems rarely leads to success.
Why? PWA has thousands of trainees using the same sales funnels, promoting identical sales pages, and sending identical emails. It's impossible to stand out.
As a result, people have become tired of the repetitive sales pages, causing opt-ins to decline and conversion rates to plummet.
Furthermore, the Partner With Anthony course may appear affordable, but there are hidden fees not mentioned in the promotional video.
In summary, this training course offers a money-making opportunity, but it requires an investment of time and effort.
While Partner With Anthony may be worth the price, it lacks value when considering the required time and effort.
Alternative: On the other hand, if you're looking for the best business model to earn passive income online as a beginner, there are other, more suitable, and cost-effective alternatives.
My top-rated course has helped me to go from earning $0 to $100's per day!
THE BEST WAY TO MAKE MONEY ONLINE IN 2023 >>
Who Is Partner With Anthony For?
Realistically speaking, Partner With Anthony is best for the owner himself because he can earn a ton of commissions by promoting the tools inside the dashboard.
However, it could also be beneficial for anyone interested in email marketing since the tools are legitimate and come with training on how to promote them for commissions.
However, I personally don't view it as a beginner-friendly system. It tends to be expensive, which may confuse beginners.
Additionally, the price of Partner With Anthony is not newbie-friendly, despite Anthony's efforts to make it appear so.
Related Review: Affiliate Marketing Mastery
What I Like About Partner With Anthony
As mentioned in the beginning of my review, I was a paying member of Partner With Anthony. I would now like to highlight a few aspects of this program that I truly appreciated.
Anthony Is a Marketing Expert
Despite his bad reputation, Anthony is a marketing expert with a knack for making money online. He has been featured in numerous magazines and TV shows.
Additionally, Anthony is an author and a speaker, further solidifying his credibility.
If you're looking to learn the ins and outs of making money online, Anthony could be your go-to 'guru.' As evident from his long-standing YouTube channel, he has been running his business for quite some time now.
You Get a Decent Training
"Partner With Anthony" is a decent marketing training course.
It consists of 14 sessions where Anthony guides you on setting up the system to make money. Unlike other courses, this one is focused and straightforward. Just follow the directions and apply the training.
However, it does lack comprehensiveness, which is a significant downside.
You Get 30 Days to Test the System
Partner with Anthony offers a 30-day money-back guarantee.
Anthony pledges to refund every cent if, for any reason, you are not satisfied with the training.
Related Review: Legendary Marketer
What I Don't Like About Partner With Anthony 
In this section of my review, I will be sharing my thoughts on the Partner With Anthony program as a user. I wasn't particularly thrilled about certain aspects, and I'll elaborate on that.
Anthony is Not Honest About the Price
Upon initially exploring Partner With Anthony, the first thing that caught my attention was its price. However, as I delved deeper into the system, the true cost became less clear.
The story presented was that of joining Anthony as a partner for a mere $7 per month.
Yet, once inside, things became convoluted. Setting up the Partner With Anthony system alone would require an investment of at least $169.64 per month.
Furthermore, as you progress, the need to upgrade several of the tools would significantly increase the monthly expenses.
Additionally, there is the matter of paying for traffic, which further adds to the startup costs. While $7 per month may initially seem appealing, the reality is much pricier.
It would be more transparent if Anthony were forthcoming about these details.
Does Not Show How to Get Free Traffic
Partner With Anthony offers valuable insights on generating traffic, but it comes at a cost. Anthony also presents an exclusive member offer called Traffic Bootcamp, where he teaches you how to drive customers to your funnels.
However, it's important to note that the core training lacks this crucial aspect. With a payment of only seven bucks, you gain access to a set of instructional videos that guide you through system setup.
But be aware, this may come across as just another marketing ploy to attract unsuspecting beginners.
One can only wonder how many people have paid seven bucks, only to discover that success with Partner With Anthony requires further financial investment.
It's Not Done-For-You
Anthony claims that Partner With Anthony is a DFY system, which is false.
While they provide a few resources like landing pages, email swipes, and additional bonuses that you can use later, you will still have to put in a lot of effort to assemble this system.
In other words, this is another ploy to make you hastily jump into it without much consideration.
I mean, what is there to contemplate when someone promises to do almost all the work for you, right?
You're Not Building Your Own Business
Once you begin the training, you'll focus solely on promoting the Partner With Anthony program. It's important to note that this is not a step-by-step course for building your own affiliate marketing business.
Instead, it operates as an MLM structured ecosystem where you are encouraged to promote specific tools and programs to others.
Partner With Anthony Review – Conclusion
Looking for the best way to make money online? Well, let me tell you about Partner With Anthony.
Now, I gotta be honest with you. PWA is based on legit and workable methods. If you're persistent and have enough money to invest, you can make some money too.
But here's the thing: PWA won't teach you how to build your own business. Instead, you'll be part of Anthony's business, helping him get even richer.
Sure, this could pay off. But what if he shuts down the Partner With Anthony program? How will you keep making money then?
And to make matters worse, you'll be left without the knowledge and skills to rebuild your income.
Thanks for reading my Partner With Anthony review. I hope this post was helpful.
If you have any questions about this program or if you want to share your own experience, feel free to leave them in the comment box below.
Related Review: Making Sense Of Affiliate Marketing
Partner With Anthony Pros:
You can get a refund within 30 days
You get decent step-by-step training
PWA has a cheap entry fee
Ability to earn income from multiple promotions
You get access to the PWA community
Anthony Morrison is a legit marketer
Partner With Anthony Cons:
Feels like MLM to me
Anthony uses questionable marketing
You are "forced" to promote PWA
You can't start a business in any niche of your choice
After all these years, there are not too many success stories
The dashboard looks and feels outdated
Full cost is not disclosed right away
Based only on paid traffic (solo ads) – no free alternatives
Is There a Better Way To Make Money Online?
I know how hard it is to trust websites these days.
There are too many scams out there, especially in the make-money-online world.
I know, because I reviewed over 700+ sites so far!
Why did I review so many sites? Well, I wanted to find the best (and cost-effective) way for a beginner to start income online.
While searching for this information, I bumped into affiliate marketing.
Thanks to a decision to learn more, I went from waiting tables in restaurants to earning a full-time passive income online.
And today, I like helping people as you follow in my footsteps,
Keep reading…
How I Make Money With Affiliate Marketing
I earn online by creating simple affiliate websites that I use to connect people with products they are already looking for.
It requires no special skills or previous experience, which makes it the best way to start online.
The best thing about affiliate marketing is that it is passive in terms of results and income.
In other words, you could be earning an income from your affiliate website for years and years to come, even when you sleep.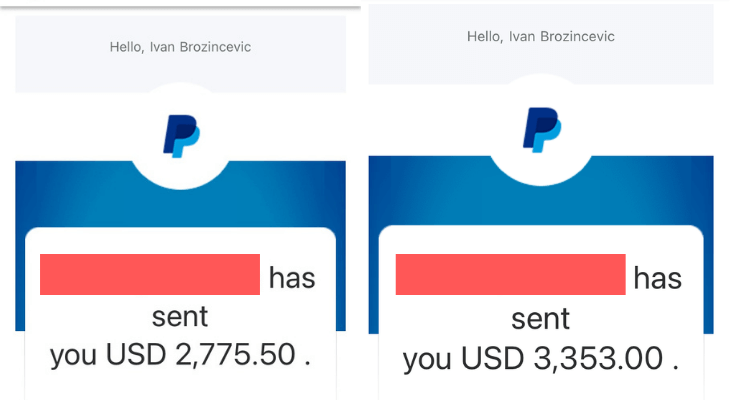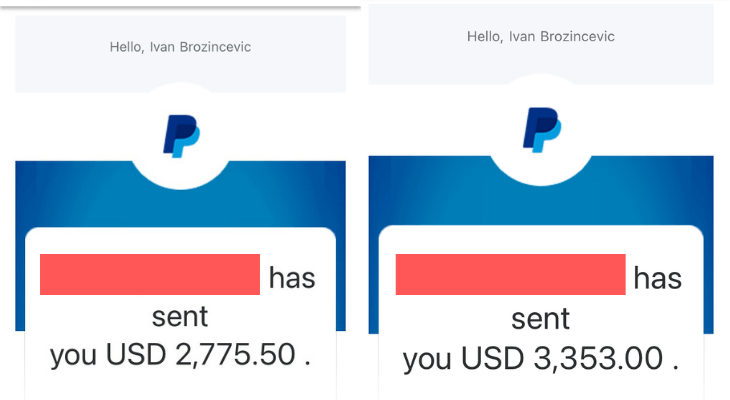 If you want to learn more about how you can start making money online with affiliate marketing, click the button below!
After evaluating over 700+ programs on the web, my conclusion is straightforward. This is the best way to start earning passive income online.
And if you're looking for the very same, I'll see you on the next page…
THE BEST WAY TO MAKE MONEY ONLINE IN 2023 >>
If you need any help or you have a question, feel free to contact me.
And don't forget to share this Partner With Anthony review with your friends and family!
All the best, Ivan. Founder, and CEO @freeaffiliatemarketingbusiness.com
Related Review: Wealthy Affiliate