Welcome to my Profit Bank review.
Allegedly, this 1-click software will make you $1099.20 per day without having to do any work. All you need to do is push a button and you're ready to stuff your bank account with the commission on autopilot.
Do you know what is the official term for these offers?
Get-rich-quick or push-money scams! So is Profit Bank a scam as well? In my opinion, yes, it is a marketing scam. However, since there's some backend product, we will hold the final verdict until the end of this review.
Within this Profit bank review, we're going to cover everything you need to know before making your decision. I'm going to show you how this 1-click software really works as well as a set of pros and cons.
The last thing we will talk about is whether Profit Bank is a scam or legit.
So without any further ado, let's roll.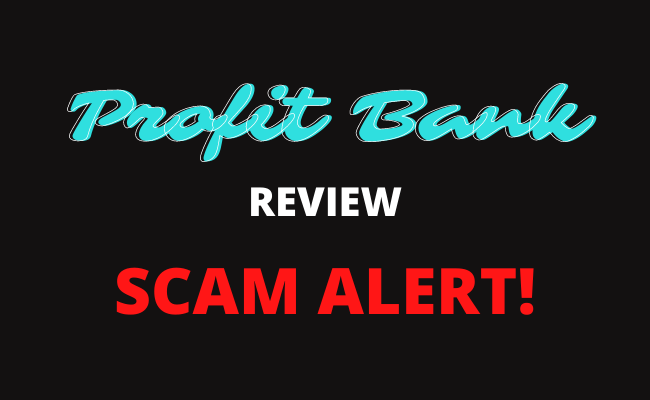 Profit Bank Review – Overview
Product Type: Affiliate Marketing
Product Owners: Thomas Black
Price: $27
Money-Back Guarantee: 30 days
Recommended: No. Scam Alert!
Quick Summary: Profit Bank is advertised as an opportunity to earn $1099.22 per day using a one-click software that requires no skills or experience.
Sounds like a scam, right? That's because it is.
In reality, Profit Bank by Millionaire Society is an unethical and outdated program that promises impossible things. You can't earn $1000's per day pushing a button so, in my opinion, it is a scam!
Do yourself a favor and keep your distance from 1-click push-money scams. Or read the rest of my Profit Bank review to see what this is a scam.
By the way, my #1 recommendation helped me to go from $0 to earning $100's per day in one year (not with one click!).
THE BEST WAY TO MAKE MONEY ONLINE IN 2023 >>
What Is Profit Bank About?
Profit Bank is a program that's been advertised as a 1-click software that works on autopilot and has the ability to earn $1000 per day. Allegedly, this software is one of a kind and you don't need to invest time or money on ads or marketing to earn commissions.
These claims are unfortunately a clear sign of a scam in progress. A lot of product owners today like to promise moon and stars just to get you to sign up. But in reality, things never work as advertised.
In this case, the owner of Profit Bank by Millionaire Society claims that all you need to do is download the software and you're ready for massive profits. There's no building a website involved or any tech or marketing skills. The software does everything for you.

But the more I listen to the Profit Bank sales pitch, the more I'm convinced that it is a scam.
See, all you get is three simple websites with affiliate links. Your task is to change the links with your own affiliate links and the software is going to make you money on autopilot.
In my book, those claims mean one word, scam. Let's skip to the next section of my Profit Bank review to show you how this program really works.
Who Owns Profit Bank?
Have you noticed that the owner of Profit Bank never reveals his identity? Usually, scams and get-rich-quick schemes never do so because the owner doesn't want to be traced or even worse, sued.
The lack of information about the owner is a serious sign of a scam.
Legitimate courses like Wealthy Affiliate or Savage Affiliates always have owners available at your hand in case you have questions or need a hand. And they are proud to stand behind their products.
How Does Profit Bank Work?
I'm sure that by now, you're not buying the crap from the sales page anymore and you want to know how Profit Bank really works. No worries. I'm 100% honest with my review because I don't make sales by promoting this crap.
As I was saying, once you log into the dashboard, you'll get access to three one-page websites. These sites are outdated and poorly designed. However, they do contain affiliate links and are indeed ready for sales. Each site is in a different niche.
Making money online
Weight loss
Cleaning your computer system
So your task is to join ClickBank and replace the affiliate links with your own. Also, you'll be instructed to connect the autoresponder (Aweber) with each page so that you can start collecting leads as well.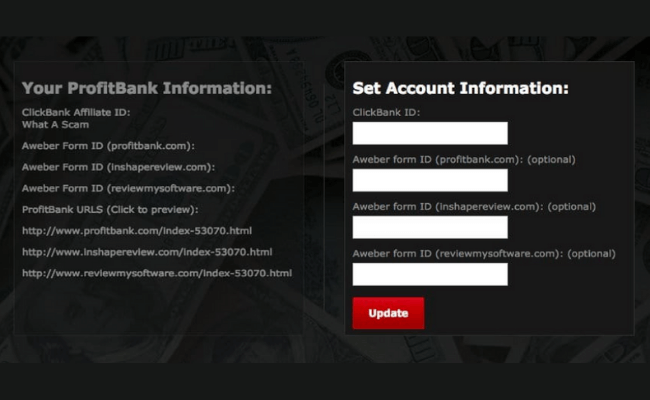 The modus operandi of Profit Bank is called affiliate marketing. Basically, you can use these websites to promote other people's products. Each time you send a person to the vendor's page and she or she makes a purchase, you earn a commission.
And according to the creator of this program, you can earn $1000's per day just by pressing a few buttons within the program.
I don't know about you, but whenever I read those claims, I get a strong laugh attack! Being in affiliate marketing for a few years, I know that those claims are fabricated and have nothing to do with affiliate marketing.
See, these pages will not work as it has been advertised, and here's why.
You need the traffic to make money online. Now, these pages have very little content (just one page), which is not even close enough to get free traffic from search engines.
Moreover, each member of the Profit Bank is going to get the SAME pages, which means that Google will read them as duplicated and exclude them from the search results.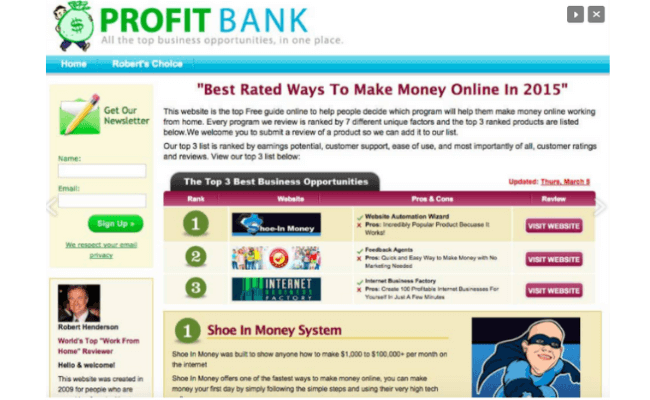 In other words, you can kiss goodbye free traffic. So what else can you do to make sales?
You can try paid ads. But unfortunately, you will not get training on this topic with Profit Bank.
See, the main idea behind this product is actually to sell you a dream about making a ton of cash overnight so that the owner can bank commissions.
They will get you to sign up for $25 per month to get access to these sites. Then, once you're inside, you'll find more content but it's all going to be locked.
In other words, they will upsell you to the Millionaire Society program, which is going to about $35 per month.
That said, this program is just one big get-rich-quick scam that is the best for those who own it. Let's see for whom else this product is in the next section of the Profit Bank review.
Who Is Profit Bank For?
As I said, this is the best for owners. I would recommend Profit Bank to my worst enemy! In my opinion, this program is practically useless, outdated, and will never work as advertised.
An ideal customer for this product is a person who has got zero ideas about how affiliate marketing works. In other words, it is for absolute newbies who are looking to earn money without having to give something in return.
But mark my words, there's no such thing as something for nothing!
To become successful in ANY business, including affiliate marketing, you have to learn a few new skills, work your butt off, and invest a lot of time and money into proven systems and stop looking for get-rich-quick schemes.
What I Like About It
What I Don't Like About It
1-Click Software is a joke
There's no such thing as 1-click software for making money online.
Profit Bank uses the most unethical marketing methods to get customers to buy this fake system designed to promote another scam.
Promises $1000's per day without any effort
You can't earn tons of cash overnight without any work and effort. It takes years and years to make money online. In my opinion, just for those ridiculous claims, we can say that Profit Bank is a scam!
No information about the real owner
Did you notice that the owner never reveals his identity? Why is that? It's because he or she doesn't want his or her name to be associated with this scam.
Content (websites) is outdated
Once you get inside the Profit Bank website, you will get a bunch of outdated information instead of one-click software. This information is basically useless and won't make you any money.
No means of getting traffic to sites
On top of the worthless training, they will not show you how to get traffic to those websites inside. In other words, this system will never work unless you get traffic.
Sneaky upsells within the members' area
In my opinion, Profit Bank was designed to get you inside an expensive sales funnel where you will get a chance to spend more money on questionable products.
That's is always the case with internet scams.
Is Profit Bank A Scam?
In my opinion, the Profit Bank is a scam. Maybe it's not a real scam where they take your money and run away without giving anything in return. But in a moral and ethical sense, it is a scam for sure.
You were promised a system that generates commissions in just one click and on complete autopilot. These promises have absolutely no connection with reality and are just a marketing trick.
The main idea here is to get you to buy this product without giving it a second thought so the owner can make money by scamming people.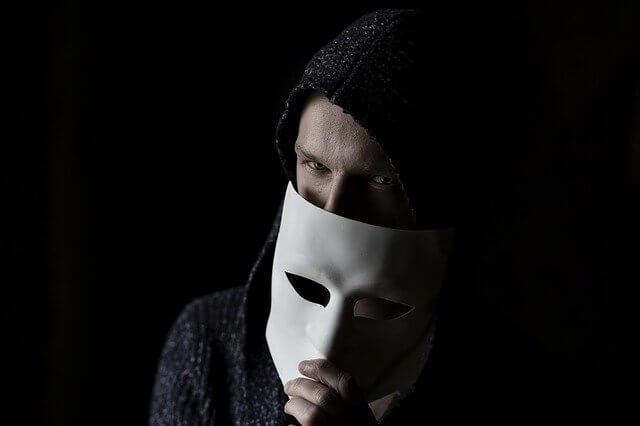 However, since you do get some "value" in return for your money, it's hard to say that Profit Bank is an outright scam. You get three websites that could earn commissions if you would only know how to get traffic to your pages.
Unfortunately, this system does not contain any step-by-step training on this topic.
Getting traffic is the hardest and the most expensive link in the affiliate marketing business. Moreover, there is no 1-click software that is going to do this for you!
Profit Bank Review – Conclusion
In my opinion, Profit Bank is an outdated, misleading, and unethical product that is best to be avoided.
The worst thing about this offer is that many newbies will actually fall for these claims and pay $27 in hope of making $1000's per day without any work and effort.
The bottom line is, products like this one give affiliate marketing a bad name and are the best for those who make them. I don't recommend it! It reminds me of the Instant Cash Solution scam and the Affiliate Millionaire Club scam.
Thanks for reading my Profit Bank review. Have you tried this product or upsells such as Millionaire Society? Have the experience to share? Feel like you've been scammed? Feel free to reach out in the comment section below!
How I Make Money With Affiliate Marketing
While you're on this page, let me show you how I make REAL MONEY with affiliate marketing every single day by promoting products I don't even own!
The platform that I recommend above all others is 100% legitimate, trusted by millions, and most importantly, it is a PROVEN SYSTEM that anyone can use to earn an income online.
I've joined a few years ago, and thanks to this decision, I went from a struggling newbie to earning $100's per day from my laptop and I want to show you how to do the same!
Learn more on the next page!
THE BEST WAY TO MAKE MONEY ONLINE IN 2023 >>